If you fancy yourself a denizen of the automotive community, you've likely partaken in the search for the fabled "sleeper car." In an effort to find something that will work seamlessly as a daily driver, an unassuming grocery-getter, and a speed demon (when the need arises), we've all gone out of our way to find something that isn't the greatest when it comes to looks but can deliver the goods when it comes to performance and power.
The search for the sleeper isn't easy, nor is it meant to be. Throughout history, there have been a handful of automotive platforms that have garnered the title of the industry's most deceptive daily drivers, adopting unattractive bodywork, drab design principles, and less-than-spectacular personas than can easily throw would-be challengers off of your tire-shredding trail. So, to make things easier for you guys, we've decided to aggregate some of the auto world's finest and most unassuming competitors, curate them into a well-rounded list, and give you some insight as to why, and how, these vehicles have become so prolific.
2004 Chrysler 300M
The Chrysler 300M might not be an eye-pleaser (depending on who you are), but it kicks off our list as one of the automotive industry's most dubious sleeper cars. Its stature as a full-size luxury sedan fell under immediate scrutiny from the performance-oriented consumer base when it was announced in 1999, leading many to discredit the vehicle without giving a second glance at the car's actual output. That was the industry's first mistake, however. Below its hood, the 300M's 255-horsepower V6 engine sat in wait, allowing it to garner the title of "sports sedan" when it was exported to Europe. Although the Chrysler was a bit cumbersome, its exceptional powerplant allowed it to get up and go at the drop of a dime, giving many buyers an interesting daily driver to take on the morning commute.
2006 Mazdaspeed 6
For many, the title of Mazdaspeed doesn't come without its own reputation as Mazda's performance-oriented automotive line. But when it comes to outward appearance, the company's 2006 Mazdaspeed 6 couldn't be more atypical. Its dull exterior and unassuming silhouette leave a lot to be desired in terms of raw aesthetic prowess, but it's what's under the hood the counts — a 274-horsepower engine that also boasts a significant 280 lbs-ft of torque. As one of the manufacturer's sportiest models, the sedan was hand-selected to remain entirely manual, banking on the fact that the majority of its buyers would be interested in the purest driving experience possible.
2003 Mercury Marauder
In much the same vein as the Crown Victoria — an unassuming Ford sedan that was adopted by American police forces due to its dependability and power — the 2003 Mercury Marauder looks like a vehicle from decades past. From the get-go, its inability to capture the eyes of passersby makes it a quintessential sleeper vehicle. A rounded body, medium-range seating, and interior peripherals from a bygone era give the Marauder a bad reputation, but for those who actually bought the car, a true surprise was about to be revealed. Beneath its hood, a 302-horsepower, 4.6-liter DOHC V8 engine — and the very same that had made its home in the 2003-2004 Mustang Mach 1 — served as its pounding heartbeat. Weight and outward appearance aside, the Marauder could leave most other vehicles in the dust, thanks to its 7.5-second 0-60, making for common hilarity while out and about.
2003 Volvo V70 R
The 2003 Volvo V70 R was devised as the wagon to end all wagons. What the automotive community got, however, was a boxy, unattractive vehicle that will go down in history as one of the industry's most confusing platforms, especially when you take its design into account. The car's saving grace came in the form of a 2.5-liter, five-cylinder transverse engine that would output 300 horsepower and 295 lb-ft of torque, allowing it to rocket from 0-60 in just under 5.6 seconds. And if that wasn't enough, the V70 R was also introduced with the company's Haldex all-wheel drive, semi-active suspension, and Dynamic Stability and Traction Control, allowing it to keep its composure amidst all that power. A turbocharger never hurt either.
2019 Honda Accord 2.0T
Honda's Accord has become a household name for more reasons than one. Its dialed-back appearance, economical performance, and subdued design made it a go-to choice for drivers looking for a dependable car to take on the everyday commute. But over the years, the Accord made the conscious choice to foster an entirely new persona, resulting in the sporty and formidable 2019 2.0T. While this vehicle has become a bit more appealing in terms of aesthetics, its improvements under the hood have earnt it a spot on virtually every sleeper-car list, calling upon a 252-horsepower turbocharged engine, 273 lb-ft of torque, and a 10-speed automatic transmission to do its bidding. And although the car hasn't found its way in the realm of wholehearted performance with the likes of a manual-only transmission and enhanced base options, there's no doubt that you'll be able to keep up with some of the roadway's quickest platforms, without all the flashiness.
2018 Toyota Camry V6
Much like the 2019 Honda Accord 2.0T, the 2018 Toyota Camry V6 started its life as a low to mid-range consumer vehicle without an ounce of aesthetic presence. While it's evolved into something a bit more attractive since its conception, the economical car has adopted a powerful new under-hood system to give it a competitive edge over its counterparts. The XSE (and XLE) model of the Camry has been gifted with a formidable 301-horsepower, 3.5-liter V6 engine, calling upon direct fuel injection to boost the vehicle by almost 33 horsepower when compared to earlier models. But if you're looking to go a little more "green" with your used model, don't fret; you'll get somewhat similar power from the Camry's 2.5-liter inline-four hybrid, which utilizes a gas/electric engine for more stable fun in the sun.
2017 Volkswagen Golf R
Volkswagen's Golf platform is known by many automotive enthusiasts as one of the industry's finest offerings, and while the GTI is definitely not a sleeper car, its sibling, the Golf R, is a spruced-up iteration that's actually surpassed the legendary import in terms of performance. Housed below the hood of this small, lightweight monster lies a 2.0-liter TSI AWD engine that's capable of putting out around 300 horsepower, allowing it to catapult from 0-60 in less than five seconds. Pair that with its dialed-back exterior, and you've got the perfect formula for an unassuming sleeper that will take older muscle cars, Porsches, and some of today's contemporary cars to the races.
2019 Ford Flex EcoBoost
As one of the most interesting picks on this list, the 2019 Ford Flex EcoBoost might just be the most ridiculous sleeper the brand has introduced in recent years. Depending on who you ask, this boxy SUV might not be inherently attractive, it might not solicit feelings of high-performance auto culture, and it might be passed off as just another vehicle making the morning commute. What people don't realize is that the Flex is available in two formidable trim options, with the first adopting a powerful 287-horsepower 3.5-liter V6, and the next, a mind-boggling twin-turbo V6 that's good for 365. For its weight and stature, it might come as a surprise to hear that the EcoBoost can shoot from 0-60 in under 6.2 seconds, making it a surefire hit among individuals who want to ferry their kids to soccer practice a bit quicker than the other parents.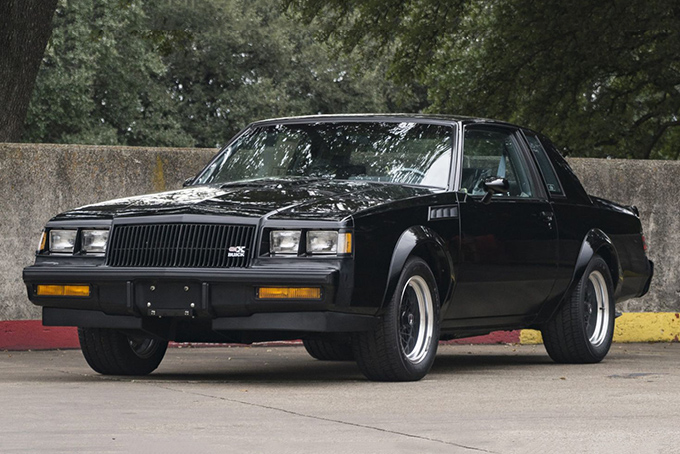 1987 Buick Grand National GNX
Buick's limited-edition Grand National GNX was famous long before its debut in the Fast and Furious movie series, but it wasn't until it was thrust into the national spotlight that it was realized to be the ultimate sleeper. This angular vehicle was at its peak in 1987, where it was an ahead-of-its-time release that demanded respect from its street-fairing counterparts; largely due to its below-the-radar persona. If you were unlucky enough to come upon the beastly GNX, however, the final nail was already in the coffin. Below its subdued hood, a turbocharged, 276-horsepower V6 gave the vehicle the gumption it would need to outrun almost any automotive platform, including Chevrolet's legendary Camaro and Corvette — albeit, with a much less refined aesthetic.
2015 Polestar Volvo V60
Volvo's Polestar line might not be the most unassuming vehicle platform around, especially when you're well-versed in the world of quick cars. But the 2015 Polestar Volvo V60 was on an entirely different level when compared with the company's alternative vehicles, adopting a handful of ridiculous performance peripherals to make it a wolf in sheep's clothing. After introducing high-end braces, mounts, and bushings to hone in on responsiveness and handling, the V60 was gifted with a powerful 345-horsepower engine to accent is various suspension, aero, and braking modifications. But what made this upgrade so curious wasn't its steadfast speed, it was the V60's shockingly-similar emissions, crash-test ratings, and fuel economy when compared with its R-Design counterparts.
2019 Ford Taurus SHO
Ford's Taurus has never garnered a reputation as a raging bull, but that all changed when the manufacturer introduced 2019's SHO model. If you've been paying attention to your local police force's undercover vehicles, you might have seen one or two of these around — and for good reason. The SHO boasts a 3.5-liter twin-turbocharged EcoBoost engine that's capable of 365-horsepower and over 350 lb-ft of torque, making it a monstrous automotive platform in its own right. It can rocket from 0-60 in around five seconds, giving almost any vehicle on the roadway a run for its money; and the best part? Everyone will think that you're the long arm of the law, meaning that a test of wills might not happen in the first place.
1992 Vauxhall Lotus Carlton
The 1992 Vauxhall Lotus Carlton is a testament to the average. From its mid-90s, middle-ground styling, all the way to its questionable aerodynamic choices (see rear wing), the Carlton doesn't instill an air of confidence in its critics; but as we've already learned, the exterior isn't always the best signifier when it comes to capability. Below its hood, the Vauxhall boasts a 3.6-liter Opel C36GET twin-turbocharged engine that's capable of churning out 377 horsepower, as well as an astounding 419 lb-ft of torque. After it was done out-accelerating virtually every vehicle on the roadway, the Carlton's 180 mile-per-hour top speed — which could usurp more than one Ferrari, and even a Lamborghini, or two — would leave onlookers in awe. If you can get your hands on one today, you'll be in ownership of one of history's finest sleepers, so hold on tight.
2017 Chevy SS
It's no secret that Chevrolet's SS platform is a performer, but in this day and age, it's often forgotten. The platform's 2017 model year, for example, was powerful enough to take on a variety of high-end sports cars, and even a few of the industry's lower-end supercars. A 6.2-liter LS3 engine pulled straight from the bay of the company's C6 Corvette, gifting the vehicle with over 415 horsepower and 415 lb-ft of torque. What makes the SS even more interesting, however, is the fact that it's exclusively rear-wheel driven, pairing with Tremec's six-speed manual transmission and a GM-sourced Magnetic Ride Control Suspension to keep all of that power in check.
2018 BMW M550i xDrive
If you pull up next to a 2018 BMW M550i xDrive at a stoplight, chances are, you're going to assume that it has some hidden power. Like the brand's other vehicles, it focuses on luxurious aesthetics more than anything, meaning that most bystanders won't think twice about its performance capabilities. Admittedly, that's where things get interesting, especially since the seemingly-relaxed sedan boasts a 456-horsepower, twin-turbocharged 4.4-liter V8 under its hood. Pair that with a paddle-shifted eight-speed manual transmission and an all-wheel-drive system to deliver its power to the ground in a calculated manner, and you've got a quintessential sleeper in the form of one of the industry's best-looking sedans.
1995 Audi RS2 Avant
Audi's 1995 RS2 Avant rounds out our list, and its price tag is a staunch reflection of its prestigious capabilities. It might not look it, but this boxy wagon was co-designed alongside Porsche, adopting many of the legendary brand's design principles and performance-oriented figures. Below its hood, a 2.2-liter inline five-cylinder engine brings the Avant in-line with some of the 90s' most powerful platforms, garnering 311 horsepower and using it in spectacular fashion. When paired with the company's Quattro all-wheel-drive, the car's extra power transitions smoothly to the blacktop via its six-speed manual transmission, allowing on-point drivers to accelerate from 0-60 in just 4.8 seconds. For a five-door variant, insane acceleration figures and a 160 mile-per-hour top speed make the RS2 Avant a true sleeper that will leave the vast majority of modern vehicles in the rear-view mirror.
10 Simple Car Mods To Improve Your Car's Performance
Now that you're a bit more up-to-date on some of the industry's under-the-radar sleeper platforms, head over to our guide on the simple mods to improve your car's performance for ideas to make your own vehicle a bit more formidable.