When it comes to travel, it's often less about the destination itself and more about the journey to arriving there, and this is especially true with road trips. And one way to maximize the comfort, entrainment, organization, and overall enjoyment of your time out on the open road is to be equipped with the right gear. With this grand American tradition existing since the creation of the U.S. Interstate Highway System after World War II, manufacturers have had decades to develop equipment catering to the unique wants and needs of those traveling by motor vehicle, which you can now benefit from if you're planning on hitting the road.
While this has resulted in some great gear over the years, it's also given way to an incredibly oversaturated market, rife with outdated offerings and inferior imitation products. So, to ensure you gear-up with the right equipment and get your travel firing on all cylinders, we've rounded up today's best purpose-built gear for road trips and touring, as well as a few other quality pieces of kit that just happen to lend themselves particularly well to on the road travel to bring you this guide to the best road trip essentials.
The Best Road Trip Essentials Breakdown
Best Water Storage

Scepter Military Style Water Container

Best Car Blanket

Matador Pocket Blanket

Best Tumbler

Stanley The Quencher H2.0 FlowState Tumbler

Best Road Atlas

Rand McNally 2023 Road Atlas

Best Mobile Coffee Maker

Aeropress Go Travel Coffee Press

Best Road Trip Snack

Stemple Creek Ranch Beef Jerky 3-Pack

Best Cook Set

Sea to Summit DeltaLight Camp Set 2.2

Best First Aid Kit

Adventure Medical Kits Smart Travel FAK

Best Roof Rack

Yakima EasyTop Car Rack

Best Road Trip Pants

prAna Hybridizer Joggers

Best CB Radio

Cobra HHRT50 Road Trip CB Radio

Best Cabin Storage

Smittybilt GEAR Front Seat Cover

Best Jump Starter

Stanley J5C09 Portable Jump Starter

Best Headlamp

Petzl Swift RL Headlamp

Best Top Carrier

Rightline Gear Sport 3 Car Top Carrier

Best Multi-Tool

Leatherman Surge Multi-Tool

Best Sunglasses

Persol PO3225S Sunglasses

Best Action/Dash Camera

GoPro HERO11 Black + Accessories Bundle

Best GPS Nav Unit

Garmin DriveSmart 76

Best Car Fridge

LionCooler Mini Solar Powered Car Fridge
How We Chose Our Roadtrip Essentials
Packing for a road trip can be a bit tricky, as your route, stops, destination, and even the season and time of year will also massively impact the type of gear that you should be bringing. With that said, there are a few road trip gear staples that are solid choices no matter where you platoon traveling. Below, we'll briefly outline some of the most important traits to consider when purchasing road trip essentials.
Size & Weight: No matter what type of gear you're considering, you should always consider the size and weight of any item. This is particularly important considering that cars have limited storage space, and excessively heavy gear will not only impact vehicle performance, but will also hinder fuel economy.
Function & Utility: Any item brought on a road trip should possess a clear function or utility. With that said, due to the limited space offered by cars, we always recommend seeking out items that serve more than one function — such as a jump starter with a built-in power bank and flashlight.
Versatility: When purchasing a piece of gear for a road trip, it's always wise to consider possible second and even third uses for an item, as a general air of versatility will generally increase the overall value and bang for your buck of any product.
Convenience & Preparedness: More specifically, pieces of gear brought on road trips should all tick at least one of two boxes in the form of convenience and/or preparedness. No matter the item, if it doesn't bolster either of these two areas, it probably isn't worth bringing along.
Durability & Materials: No matter what you're shopping for, the materials used to craft any product will play a monumental role in its overall quality and durability, making a piece of gear's construction and materials an essential area to review when acquiring gear before hitting the open road.
Scepter Military Style Water Container
Why It Made The Cut
A rugged 5-gallon vessel for potable water with a rugged high-density polyethylene construction & spill-proof spout.
Best Water Storage: It's always advised to travel with extra water, should you get stuck roadside for a prolonged period on a scorching summer day (or should you need to top off a radiator or clean a cut). This particular military-inspired, jerry can-style vessel stores five gallons and, in addition to being clearly labeled for potable water, is adorned in a light blue finish for the purpose of being easier to distinguish from traditional red gasoline fuel cells. Weighing only 3.6lbs when empty, this item's high-density polyethylene construction (and spill-proof spout) make it ideal for strapping to an external rack or jerry can holder, though with a compact 13.3″ x 7.3″ x 18.3″ footprint, it can also easily be stashed away in the trunk or behind a seat.
Construction: HDPE
Volume: 5 Gallons
Matador Pocket Blanket
Why It Made The Cut
A pocketable sub-4oz waterproof PU-coated nylon blanket that opens up to a 63" x 44" form.
Best Car Blanket: When you've been driving through the night, or have just had a long day out on the road and need to catch a few Z's, it's inevitable that you'll probably wind up catching some shuteye at a rest-stop. And few items will help you recharge your batteries better — or more importantly, more comfortably — than a blanket, and this highly compact item from Matador is the perfect throw for car travel. Fitting into an included pouch that you can fit in the palm of your hand and expanding to 63" L x 44" W when opened, this puncture-resistant camp-style blanket is made from a fully waterproof PU-coated nylon. Weighing under 4oz, it also features weighted corners and integrated corner stakes, should you get the urge to pull over for a roadside picnic.
Primary Construction: PU-Coated Nylon
Unpacked Size: 63" x 44"
Weight: 3.8oz
Stanley The Quencher H2.0 FlowState Tumbler
Why It Made The Cut
A dishwasher-safe doubled-walled tumbler with an included straw that's made from recycled 18/8 stainless steel.
Best Tumbler: Stopping off for refreshments has always been a part of the American road trip tradition, and this 30oz mug from Stanley is designed to enhance that experience. Offered in an enormous slew of different color options, the mug features a three-position screw-down lid with a built-in reusable straw, supplemented by a regular pour spout. Dishwasher safe, the mug boasts stainless steel, double-walled, vacuum-insulated construction, enabling it to keep your hot drinks hot or cold drinks cold for hundreds of miles in-between fill-ups. The bottom third of the mug's diameter is also reduced, enabling it to fit in most cupholders.
Primary Construction: Recycled 18/8 Stainless Steel
Volume: 30oz
Weight: 1.1lbs
Rand McNally 2023 Road Atlas
Why It Made The Cut
The latest edition of Rand McNally's expansive North American road atlas that contains over 350 cities and 25 national parks.
Best Road Atlas: With the rise of smartphones and GPS, cartography and traditional printed maps are increasingly going the way of the dodo. And while this makes sense, we'd still argue that it's well worth the investment to arm yourself with a proper printed map if you plan on doing any extended touring. Should your phone break, die, or simply not have service, this 144-page road atlas is the most up-to-date iteration, and includes an enormous array of easy-to-read maps, including that of 350 cities and more than two dozen US National Parks, as well as detailed maps of each individual US state and a robust highway network map. This spiral-bound road-guide also boasts an unabridged index and contact information for construction information and weather conditions.
Size: 10.875″ x 15.375″
National Parks: 25
Cities: 350
Aeropress Go Travel Coffee Press
Why It Made The Cut
A super compact and super easy-to-use mobile coffee press with an 8oz capacity.
Best Mobile Coffee Maker: Traditionally, spending time exploring the country's highway network has meant being at the mercy of whatever gas station coffee happens to be available on hand, though the AeroPress changes that, enabling its user to brew up 1-3 fresh cups off hot coffee in around a minute's time (or cold brew coffee is approximately two minutes). The entire setup breaks down and neatly fits inside the system's coffee mug, including the travel filter case, which can hold 20 of the 350 free paper micro-filters that come free with the kit. Incredibly compact and lightweight, this on-the-go coffee system also lends itself incredibly well to backpacking or camping.
Primary Construction: Polypropylene & Food-Grade Silicone
Liquid Capacity: 8oz
Weight: 11.5oz
Stemple Creek Ranch Beef Jerky 3-Pack
Why It Made The Cut
A three-pack of gourmet jerky made by a 4th-generation California ranch using only 4 ingredients in total.
Best Road Trip Snack: While part of the fun of a road trip comes from stopping off at gas stations and truck stops in random flyover towns to stock up on snacks, it's never a bad idea to bringing along a few basic sustenance staples like trail mix or beef jerky. Available here in packs of 3 or six, the Stemple Creek Ranch Beef Jerky is a gourmet snack made by a fourth-generation ranch in Tomales, California, and is comprised of only 4 ingredients — three of which are salt, pepper, and pasture-raised grass-fed beef. You may have noticed this jerky is markedly more expensive than your average gas station jerky, though you really do get what you pay for here, as the taste and overall quality of Stemple Creek Ranch's dry jerky really is next-level.
Origin: California
Included Packs: 3
Meat: Grass-Fed Pasture-Raised Beef
Sea to Summit DeltaLight Camp Set 2.2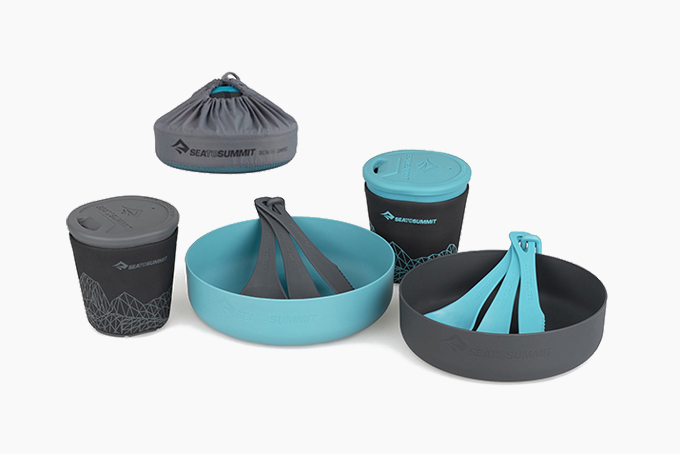 Why It Made The Cut
An all-in-one prep and eating camp set comprised of a pair of bows, insulated mugs, and cutlery sets.
Best Cook Set: Whether you're exploring the backwoods or the backroads, a proper camp mess set is an essential piece of gear to possess on any adventure, road trips included. This two-person dinnerware set includes a pair of cups, bowls, and two cutlery sets. Microwave and dishwasher safe and BPA free, the set is made from lightweight glass-reinforced polypropylene, neoprene, and EU food-grade silicone. And, like the AeroPress, this entire set is of the nestling variety, conveniently breaking down and fitting inside itself before slipping into an included nylon storage pouch. Furthermore, the whole thing is designed to fit inside Sea to Summit's 2.7L Alpha and Sigma camp pots, should you also be in need of camp kitchenware, too.
Primary Construction: Glass-Reinforced Polypropylene & Food-Grade Silicone
Weight: 14.4oz
Included Items: 2 bowls; 2 insulated mugs; & 2 cutlery sets
Adventure Medical Kits Smart Travel FAK
Why It Made The Cut
A robust 69-item FAK that tips the scales at just over 1lb.
Best First Aid Kit: The very nature of road trips often means spending time on remote and desolate roadways, and anytime that you're a considerable distance from trained medical intervention, it's best to bring along a solid first aid kit. Designed to treat a diverse area of potential injuries often sustained while traveling, this kit from leading FAK brand, Adventure Medical Kits contains a plethora of medications and basic medical supplies — all neatly organized in a zippered, trifold nylon case. Just as important is this kit's included "Comprehensive Guide to Wilderness & Travel Medicine" booklet, teaching how to perform impromptu procedures and treatments while in the field.
Weight: 1.0625lbs
Intended Group Size: 1 – 7 People
Included Items: 69
Yakima EasyTop Car Rack
Why It Made The Cut
A soft rooftop storage system that can accommodate up to 80lbs of gear while weighing only 4.5lbs.
Best Roof Rack: Offering the utility and protection of a regular rooftop cargo rack without any of the hassle, commitment, or modifications involved with utilizing, Yakima's aptly-named EasyTop is a universal system that transforms the top of your car or SUV into a soft rack that's capable of supporting up to 80lbs of goods and gear, be that bags, kayaks, canoes, snowboards, skis, surfboards, or whatever else you've got. Able to be installed in a matter of minutes, the EasyTop also comes with a pair of heavy-duty straps and tie-down ropes.
Weight: 4.5lbs
Gear Capacity: 80lbs
Straps & Tie-Down Ropes: Included
prAna Hybridizer Joggers
Why It Made The Cut
An insanely comfortable pair of hybrid jogger pants with stretch & moisture-wicking properties.
Best Road Trip Pants: Finding clothing that's conducive to road trip applications primarily comes down to comfort, and while you could opt for a loungewear-based getup, there's something less-than-dignified about rolling up midday in sweatpants. Enter: Prana's Hybridizer jogger, a pair of relaxed-fitting, draw-string pants that offer pajama-comparable comfort levels in a more presentable (yet still decidedly casual) package. Made of a moisture-wicking, quick-drying, stretchy, breathable, and lightweight performance fabric, these pants also lend themselves particularly well to outdoor recreational activities in between stints behind the wheel, with a zippered pocket for keeping crucial items secure while on the trail, and elastic leg openings that can be rolled up to beat the heat or water crossings.
Primary Construction: Spandex-Infused Polyester
Moisture Wicking: Yes
Stretch: Yes
Cobra HHRT50 Road Trip CB Radio
Why It Made The Cut
A 40-channel car-specific CB radio that comes with an included magnetic-mounting roof antenna.
Best CB Radio: While smartphone technology has rapidly evolved over the last decade, those who spend more time on the US highway system than anyone else: truckers, tend to still rely on the use of a traditional citizen band (or CB) radio. Powered via a car's cigarette lighter, this modern take on the CB packs an omnidirectional microphone and a high-efficiency weatherproof antenna that affords the Cobra offering a range of up to four miles. And, in addition to 10 NOAA weather channels, this CB also boasts a 40 channel range, as well as the ability to simultaneously monitor two channels at once.
Channels: 40
Antena Mounting: Magnetic
Smittybilt GEAR Front Seat Cover
Why It Made The Cut
A military-style MOLLE & PALS storage system that's sold with 7 included Velcro-mounting pouches.
Best Cabin Storage: Without the right organizational gear, your road trip storage setup will likely consist of haphazardly stuffing your belongings in the glove compartment or center console, or simply tossing stuff in the back seat. For those seeking a bit more order in their organizing, Smittybilt's seat cover is a fantastic option, transforming the bare surface behind your seat with well-over a square foot (14" H x 11" W) of MOLLE webbing. Available in stealth black or coyote color options, this military-inspired item is constructed from hardwearing 600D polyester and features a polyvinyl chloride liner, and includes several buckle and/or zipper-secured, MOLLE-compatible pouches and Velcro sections to accommodate patches.
Primary Construction: 600D Polyester
Included Pouches: 7
Stanley J5C09 Portable Jump Starter
Why It Made The Cut
A mobile jump starter with 1,000 peak amps and a built-in LED flashlight and 120-PSI air compressor.
Best Jump Starter: Equipped with a battery that boasts 1,000 peak amps and 500 instant starting amps, this standalone device is able to jumpstart a vehicle's dead battery via its powder-coated clamps, or it can juice up mobile devices or whatever other electronics through its 12V outlet and USB port. Backed by a one year manufacturer's warranty, this Stanley offering also packs a 120PSI air compressor for inflating flat tires (or sleeping pads, rafts, etc). There're also LED battery level indicator lights, a reverse polarity alarm, and a 270-degree pivoting LED spotlight for guiding your way through tasks in the dark.
Peak Amps: 1,000
Max PSI: 120
Petzl Swift RL Headlamp
Why It Made The Cut
An IPX4-rated headlamp with 900 lumens and up to six hours of burn time.
Best Headlamp: Whether setting up camp, preparing food, or just rifling through a bag for gear, when the sun goes down, being armed with a quality light source is absolutely essential, and one of our favorite late-model offerings in this space is Petzl's Swift RL LED headlamp. Boasting multiple light modes, the Swift RL is extremely potent, putting out an impressive 900 lumens. The headlight's Lithium-ion battery is recharged via micro-USB, affords up to six hours of burn time, and has its remaining life displayed through a five-level LED light meter. The elastic adjustable headband wraps around the back of its wearer's skull, separating into a two-piece loop that cradles the head and provides a secure yet comfortable fit.
Weight: 3.5oz
Max Lumens: 900
IP Rating: IPX4
Rightline Gear Sport 3 Car Top Carrier
Why It Made The Cut
An oversized rooftop storage containers with a semi-rigid structure and rugged materials.
Best Top Carrier: Traveling long distances in a car tightly packed with luggage and supplies is extremely uncomfortable, which is why we'd recommend opting for a supplementary rooftop cargo vessel, especially if you plan on traveling with several friends or family members. This item from Sightline boasts nearly 600-liters of storage space and was designed to sit on the roof of a van or SUV, with or without a roof rack. Largely impervious to the elements, this top carrier is made from a rugged blend of waterproof, UV-protected PVC semi-coated mesh XT and Hydrotuff fabric, and has a urethane-coated zipper with an overhanging protective flap, as well as welded seams. This product has also been designed with aerodynamics in mind, and as such won't catch the wind and reduce fuel efficiency, and it can be folded up and stowed away when not being used.
Primary Construction: Waterproof PVC
Gear Capacity: 31,104 cu in
Weight: 8.625lbs
Leatherman Surge Multi-Tool
Why It Made The Cut
A 21-function,USA-made multi-tool that weighs just 12.5oz and spans only 4.5" when closed.
Best Multi-Tool: The open road can be wildly unpredictable, which is why it's so imported to always be as prepared as possible, with the right gear on hand to get you out of a jam if needed. And one highly-versatile and extremely travel-friendly item that offers loads of utility is a multitool, like this Leatherman Surge. Constructed from hardwearing 420HC stainless steel, the Surge is armed with 21 built-in tools, including regular and needle nose pliers, wire cutters, stripper, and crimper, regular and serrated knives, scissors, bit driver, diamond-coated file, and a bottle opener, just to name a few. Sold in a nylon sheath and backed by a generous quarter-century warranty, this particular version of this Leatherman Multitool comes is a limited edition model with black tools and silver housing.
Number Of Tools: 21
Blade Steel: 420HC
Weight: 12.5oz
Persol PO3225S Sunglasses
Why It Made The Cut
A high-end pair of Italian driving glasses constructed around an acetate frame.
Best Sunglasses: A quality pair of driving sunglasses is another absolute must-have staple for any road trip. These beautiful, Italian Persol glasses offer a solid mix of utility and style, with acetate frames — offered in black or light or dark brown — housing a pair of wide 0.56mm lens — available in green, brown, or light blue. This classic design is complemented by a decorative silver hinge arrangement, with metal accent "arrows" wrapping around to the front of the glasses. And, with a two-year international warranty, you can rest easy knowing Persol will replace them should something happen. Regardless as to what model or color you opt for, this is one purchase that your eyes will thank you.
Origin: Italy
Frame Material: Acetate
Lens Width: 56mm
GoPro HERO11 Black + Accessories Bundle
Why It Made The Cut
The latest & greatest action camera & accessories bundle from the market leader in the space.
Best Action/Dash Camera: If you want to record your journey to share with friends and family, it really is hard to do better than the latest GoPro model: the HERO11 Black, which offers stellar video quality and resolution in a highly compact and ridiculously durable package. This offering is GoPro's HERO11 Black + Accessories Bundle, which, in addition to the action camera itself, also includes a number of GoPro accessories a head strap, shorty grip, and a spare Enduro battery — an incredible value considering it's only $50 over the camera's MSRP. So, whether you're looking to create a massive time-lapse of your journey or just document some fun stops along the way, this is almost certainly the camera you want to be using.
Weight: 5.4oz
Max Resolution: 5.3K
Max Photo Megapixels: 27.13MP
Rear Display Size: 2.27"
Garmin DriveSmart 76
Why It Made The Cut
A state-of-the-art GPS nav unit with a 7" TFT touchscreen and a built-in 1080P dashcam with a 140° FOV.
Best GPS Nav Unit: The latest and greatest, most cutting-edge GPS unit from arguably the most reputable brand in the entire space, the Garmin DriveSmart 76 is a state-of-the-art driving GPS unit that boasts an impressive laundry list of features including 3D city and terrain mapping, a slew of preloaded maps, GPS and Galileo connectivity, automatic incident detection, forward-collision warnings, lane assist with junction view, voice-control compatibility, speed limit indicators, and connectivity to the Garmin Drive App. Best of all, despite its compact footprint, the back of this GPS unit's 7" TFT display has been fitted with a built-in dash cam with a 140° FOV and the ability to record 1080P footage at up to 30FPS.
Display: 6.95" TFT
Camera Resolution: 1080P
Weight: 9.56oz
LionCooler Mini Solar Powered Car Fridge
Why It Made The Cut
An app-connected, LCD display-equipped, solar-powered fridge & freezer made specifically for use in vehicles.
Best Car Fridge: Engineered specifically for use in vehicles, the LionCooler Mini Solar Powered Car Fridge is a small but powerful appliance that offers 190 quarts of storage space and a cooling range of between -4°F and -43℉. This smart ice chest can also bee connected to an app and controlled and monitored via a smartphone, plus the actual fridge itself comes with a large onboard battery that enables it to double as a mobile power bank. Rounding out this fridge and freezer combo is a touchscreen LCD display. This purpose-built car fridge is also offered without a battery for around $380.
Cooling Range: -4°F to -43℉
Volume: 190qt
Weight: 24.2lbs
The Best Motorcycle Road Trip Essentials
Two-wheelers more your speed? Then be sure to cruise on over to our guide to the best motorcycle road trip essentials for a curated selection of the latest and greatest essentials on the market.