Motorcycles provide you with a visceral experience of motion, connecting you to the freedom of the open road and your fearless spirit. They're the epitome of cool all on their own, but put a memorable one in an exceptional film and the bike becomes immortal. In the world of cinema, there are a plethora of two-wheel road burners to drool over. However, there are only a select few that are worthy of special praise.
Sifting through the endless selection of mostly action movies featuring memorable bikes, we've chosen ones that will stand the test of time. In some cases, the rider makes the bike, but with these choices, the motorcycles enhance the cool factor of the protagonists riding them. Each bike we've picked has a memorable design or has made quite an impression based on its use within the film. These timeless two-wheelers deserve their own posters and demand the spotlight for being metal masterpieces and badass co-stars. We considered real motorcycles, as well as fictional ones with designs too stunning to pass up. Step into our cinematic garage filled with the ultimate wish list of movie motorcycles any bike enthusiast would love to own.
Akira spawned the Japanese cyberpunk genre, paving the way for Japanese anime like Ghost in the Shell and Cowboy Bebop, but no one can fully capture the swagger of teenage bike gang leader Kaneda with his stolen two-wheeler. In the famed manga and 1988 anime adaptation, Kaneda blazes the streets of a post-apocalyptic Neo-Tokyo on his futuristic red motorcycle. Once you see the sleek red bike, you'll instantly wish it was real and want to ride the laid back speedster yourself. The bike is so popular that a few builders took a stab at constructing their own and some of them are quite impressive. The design by Katsuhiro Otomo was inspired by the original Tron light cycle. However, the design for the Tron bike was cut in half for a slimmer look and several adjustments were made to allow Kaneda's bike to differentiate itself from the Disney design.
Year: 1988
Director: Katsuhiro Otomo
Designer(s): Katsuhiro Otomo
The armored motorcycle used by the ruthless but fair Judge Dredd is dubbed the Lawmaster. The heavy-duty motorcycle is run by a regulated computer with standard artificial intelligence and packs machine guns to help cut down perps on high-speed chases. The two-wheel monster looks like it could charge through a brick wall without missing a beat. The Lawmaster motorcycles in the film are based on Carlos Ezquerra's original comic book art, however, the filmmakers made the design more ergonomic so it could be easier to steer. Each Lawmaster in the film started out as a Suzuki GSX 750 with an extended chassis.
Year: 2012
Director: Pete Travis
Designer(s): Carlos Ezquerra
Easy Rider
Harley-Davidson Captain America Chopper
Easy Rider is easily one of the best motorcycle movies in cinema history and there's no shortage of stellar bikes in the film, but the 1959 Harley Davidson Captain America Chopper is by far the most extravagant and memorable of the bunch. Peter Fonda and Dennis Hopper star in this road trip movie about two bikers cruising from L.A. to New Orleans on a personal odyssey. Everything about this bike embodies what you would envision in a chopper, including the ultra-high-back bar seat, American flag tank, and chromed out parts. The bike started out as a 1952 Harley-Davidson Hydra-Glide, which Fonda bought at a police auction, and was customized by Tex Hall and Dan Haggerty.
Year: 1969
Director: Dennis Hopper
Designer(s): Tex Hall, Henry Fonda, and Dan Haggerty
First Blood
Yamaha XT 250
The darker, somber tone of First Blood makes it the best Rambo of the bunch, but it doesn't lack in the action department, especially with its motorcycle chase scene. The film deals with a crazed killer in the woods reminiscent of horror icon Jason Voorhees, but this time he's a heroic former green beret. One of the best moments in the film is Rambo losing a police officer on his Yamaha XT 250, utilizing the tough 22 horsepower bike to dash through the woods. Making its debut in 1980, the dual-sport motorcycle became a staple of backroads and farms, making it the perfect bike to give the police the slip. Rambo uses the off-road bike to jump over train tracks, rip through muddy terrain, and tackle a downhill slope.
Year: 1982
Director: Ted Kotcheff
Designer(s): Yamaha Motor Company
Kill Bill Vol. 1
Kawasaki ZZR 250
Matching Beatrix Kiddo's Bruce Lee-inspired Enter The Dragon martial arts attire, the bright yellow Kawasaki ZZR 250 with black accents will make you think of the bloody revenge flick. Racing down the neon-lit streets of Tokyo, the nimble, razor-sharp bike looks as deadly as an incomparable Hattori Hanzo samurai sword. The six-speed bike with 40 horsepower was a sporty ride for The Bride and it looked stunning as she rode it on the way to collect the limbs and heads of O-Ren Ishii and her Crazy 88 squad. Beatrix's sun bright Kawasaki ZZR 250 really oozed style and is probably known to many as the Kill Bill bike.
Year: 2003
Director: Quentin Tarantino
Designer(s): Shunji Tanaka
Mission Impossible Fallout
2017 BMW R nineT
Tom Cruise is famous for doing his own stunts and he topped everything he's done before in Mission: Impossible Fallout. Cruise leaves you hanging on the edge of your seat riding the beefy 2018 BMW R nineT. The rugged motorcycle was fitted with fork gaiters/bellows, the high-mount exhaust, toothed footpads, and the solo saddle from the scrambler. Playing Ethan Hunt, Cruise enters a busy Paris roundabout on the beautiful BMW R nineT in his attempt to shake the cops off his tail. With 110 horsepower and 86 ft-lb of torque, the burly bike provided the senior agent with the boost he needed.
Year: 2018
Director: Christopher McQuarrie
Designer(s): Ola Stenegard, Roland Stocker, and Thrass Papadimitriou
Rumble Fish
1981 Kawasaki 440 LTD
Rumble Fish is a story about a street thug named Rusty James who desperately wants to live up to his older brother's legendary reputation. The Motorcycle Boy, played by the always dedicated Mickey Rourke, rides what looks like a Triumph but is actually a 1981 Kawasaki 440 LTD four-stroke, air-cooled, twin-cylinder motorcycle. Captured on film in dreamy black and white, this bike is the perfect ride for the wild but wise Motorcycle Boy. It almost feels like he's riding a mechanical stallion as he appears from the smoke to save the day. He even manages to use his bike nonchalantly as a projectile weapon to take out a thug.
Year: 1983
Director: Francis Ford Coppola
Designer(s): Shunji Tanaka
Incredible opening action sequences are expected from James Bond movies, but none caught our attention more than 007 racing on the rooftops of Istanbul on a Honda CRF250R. Looking rusted and worn out, the speedy bike is utilized by Bond to chase down the enemy. The bike lends itself well to progressive riding, weighing a feather-light 227 lbs with an advanced 48mm inverted Showa cartridge fork, Pro-Link Showa single shock with spring preload, and a durable aluminum frame. After zipping through the streets and storming across the rooftops, Bond ends the scene by flipping the bike and landing on a moving train. What a way to start a movie and what a bike to do it with.
Year: 2012
Director: Sam Mendes
Designer(s): Mitsuyoshi Kohama
Star Trek
2240 Police Hovercruiser
Our introduction to James T. Kirk in J.J. Abrams' Star Trek reboot featured an incredible futuristic hoverbike design by John Eaves. In the year 2240, Iowa police officers get around in a hovercruiser, which zips by floating over the road, maneuvering smoothly to keep up with a reckless young Kirk in a Corvette. This 23-century anti-gravity bike rides like a motorcycle and floats like a boat. The design alone is noteworthy but the character-introduction chase scene involving the hovercruiser with "Sabotage" by The Beastie Boys blasting hard helps solidify this motorcycle as a slick ride to chase down wrongdoers.
Year: 2009
Director: J.J. Abrams
Designer(s): John Eaves
Terminator 2
Harley-Davidson Fat Boy
Terminator 2: Judgement Day is one of the best sequels in cinematic history and Arnold Schwarzenegger's motorcycle-riding, shotgun blasting T-800 character had a lot to do with the film's popularity. Now, when you think of the T-800's tools, you definitely think of his Harley-Davidson Fat Boy. From the moment he gets on the beast and the engine growls to when he's being saving John Connor from the T-1000 in a semi-truck, flip-cocking his shotgun and blasting away, the motorcycle is legendary. They picked the perfect heavy-duty 49 horsepower two-wheel machine to fit the imposing frame of Schwarzenegger.
Year: 1991
Director: James Cameron
Designer(s): Willie G. Davidson and Louie Netz
The Dark Knight is one of the best movies of all time and the film is filled with plenty of iconic gadgets, costumes, and vehicles. One of our favorites is definitely the burly, rugged Batpod that detaches from the Batmobile /Tumbler, reigniting an epic chase scene with the Joker. The beastly ride is armed with cannons, made from fiberglass, and has sideways-rotating wheels to prevent skids since the tires don't lock. Sitting on two monstrous wheels that look like they can trample over anything blocking their path, the Batpod is a tactical motorcycle fit for the intimidating caped crusader. There were six Batpods built and used for filming, so keep your eyes peeled for film auctions.
Year: 2008
Director: Christopher Nolan
Designer(s): Nathan Crowley
The Great Escape
1961 Triumph TR6 Trophy Bird
The Great Escape is one of the best movies of the '60s and one of the greatest action movies of all time. There are plenty of iconic moments in this film but none more memorable than Steve McQueen's motorcycle chase scene with the legendary 1961 Triumph TR6 Trophy Bird. McQueen was able to do all of his own motorcycle riding save for one: the exhilarating 60-foot jump over a fence, which was performed by stuntman Bud Ekins. Bike fans across the globe instantly recognize this machine as one of the best to be captured on film. McQueen was also very fond of the "desert sled" model.
Year: 1963
Director: John Sturges
Designer(s): Edward Turner
The Matrix Reloaded
2001 Ducati 996
The sporty 2001 Ducati 996 was just the bike Trinity needed to escape the agents in The Matrix Reloaded. With 112 horsepower and a blistering top speed of 161 mph, Trinity sliced through the cars zooming head on. The Wachowski Brothers spent a couple million dollars to construct a 1.5-mile faux freeway to film the chase scene with this legendary dark green Ducati. The combination of the Matrix-green Ducati 996 with an athletic cut and the intense stunt work, in which stunt driver Debbie Evans survived a head-on collision to complete the scene, reserves a spot for this bike in our cinematic garage.
Year: 2003
Director: Wachowski Brothers
Designer(s): Gianandrea Fabbro, Miguel Galluzzi, and Giorgetto Giugiaro
The Wild One
Triumph Thunderbird 6T
The Wild One is a classic film containing three iconic aspects: Marlon Brando's performance, the Schott Classic Perfecto Leather Jacket, and the Triumph Thunderbird 6T. Brando's character Johnny, a bike gang leader, rode the legendary motorcycle and it helped him become the poster boy for wild, free-spirited rebels everywhere. The 1953 classic bike is powered by a two-cylinder 650cc engine and is a rare sight these days. Triumph Motorcycles initially didn't want their bike to be featured in a film full of heinous motorcycle gangs, but now they state that the Thunderbird 6T helped to "cement the Triumph legend."
Year: 1953
Director: Laslo Benedek
Designer(s): Edward Turner
We have to give credit to the original Tron Light Cycle design, but the evolved version of the futuristic ride in Tron: Legacy is a flawless work of art that honestly surpasses the original. Syd Mead created the original back in 1982 but the new design by Concept Vehicle Designer Daniel Simon is a gorgeous update. The smooth, seamless motorcycle with neon accents is pure eye-candy. The design is so popular that Tron super fans have actually built fully-functional light cycles. The sleek movie motorcycle from the 2010 sci-fi film is a masterpiece that's better than the film itself. It's a bit of a chore to get one built for you, but you can always go to Shanghai Disneyland and ride the Tron Light Cycle coaster.
Year: 2010
Director: Joseph Kosinski
Designer(s): Daniel Simon
10 Most Iconic Movie Jackets Of All Time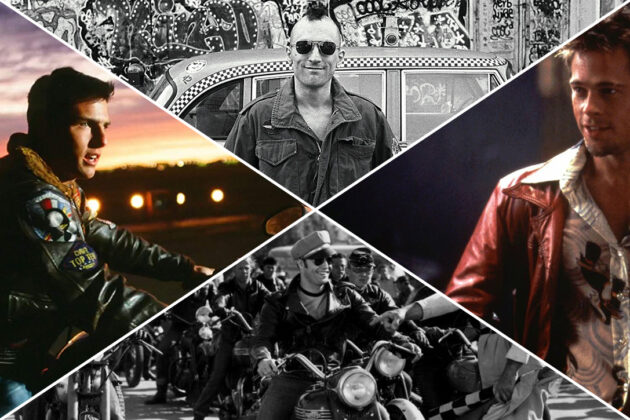 Whether you track down your favorite movie motorcycle or decide to build one yourself, you're going to need a jacket to go along with it. Check out our list of the 10 best movie jackets of all time. You can even purchase some of our picks.