If you're going to be climbing onto a motorcycle and hitting the road, you should absolutely always wear a helmet, lest you intend for that ride to be your last. And while there are a number of different styles of skull protector to keep your head safe — simple half-helmets, 3/4 styles, and more — the safest is undoubtedly a full-face motorcycle helmet.
Completely encompassing your head, these comprehensive safety devices have come a long way, especially in recent years. No longer are they just for stunt and performance riders, nor just for the colder months of the year. Now, there are varieties suitable for all types of riding and all seasons. It's with this in mind that we rounded up the following list of the 15 best full-face motorcycle helmets for your riding pleasure. Whether you just need something simple to keep your head safe or you want the utmost in material protection and onboard technology, you'll find it here.
HJC CL-17 Full-Face Motorcycle Helmet
Straightforward without being basic or boring, the HJC CL-17 is about as good as it gets when it comes to full-face budget-friendly motorcycle helmets. It's built from a sturdy advanced polycarbonate — the same durable shatterproof material used in the creation of bulletproof glass — so you can count on it to keep your head safe, even if you take a spill. Plus it's DOT certified and features a simple clear shield for easy visibility.
Material: Advanced Polycarbonate
Weight: 3.91 LBS
Biltwell Gringo Full-Face Motorcycle Helmet
Arguably Biltwell's most popular (or at least most recognizable) full-face helmet, the Gringo is perfect for anyone who wants to imbue their motorcycle gear with some vintage styling without sacrificing on modern technology and/or protection. It's built from durable injection-molded ABS plastic, boasts comfortable internal padding, and can be affixed with a snap-on visor for sunny rides. It's also compatible with goggles, so you can keep your eyes protected from incoming weather and light.
Material: Injection-Molded ABS
Weight: 2.99 LBS
ScorpionExo Covert Motorcycle Helmet
Technically speaking, the ScorpionExo Covert full-face motorcycle helmet is actually modular in its construction — so it can be used as a full-face helmet (with a chin guard and everything) or it can be taken apart and worn as a 3/4 helmet (if you're riding in the heat and prefer a bit of airflow). One way or another, the whole rig is built from super durable and protective polycarbonate, it comes with both clear and tinted visors (which are also retractable), and the modularity functions via a series of neodymium magnets. It helps, too, that the tactical stylings of this helmet make it look pretty menacing.
Material: Advanced LG Polycarbonate
Weight: 3.97 LBS
Husqvarna Pilen Motorcycle Helmet
There's no denying the striking appearance fo the Husqvarna Pilen Helmet — just like the bike with which it shares its name. But it's also a super sturdy head protector, courtesy of a 100% fiberglass construction. That material also makes it remarkably light to wear, which is great for long-distance rides. It also boasts an effective ventilation system, a quick-change scratch-resistant visor, and can be worn with glasses (if you're required to wear them while driving).
Material: Fiberglass
Weight: 3 LBS
Marko Full Moon Motorcycle Helmet
Looking like it time-traveled straight out of the heyday of cafe racer motorcycles, the Marko Full Moon motorcycle helmet is certainly not wanting for style. Nor does it skimp on modern technology, as it boasts a composite fiberglass shell, built-in high-performance ventilation system, a removable antibacterial fabric interior, and even comes with multi-density EPS inserts to allow for the best fit possible. Style and substance, this full-face motorcycle helmet has it all.
Material: Fiberglass
Weight: 3 LBS
Sena Momentum INC Motorcycle Helmet
There's no denying that Sena is at the forefront of Bluetooth technology in regards to motorcycle helmets. And with offerings like their Momentum INC full-face example, it's easy to see what makes them so great. On top of killer styling and construction — this one is built from a fiberglass composite — it also has a built-in communication system that allows for up to 20 hours of talk time and even boasts noise-canceling technology. Of course, if you don't have any riders to chat with you while you're on the road, you can also pipe in tunes from your phone or the built-in FM tuner.
Material: Composite Fiberglass
Weight: 3.86 LBS
Arai XD-4 Full-Face Motorcycle Helmet
While we definitely think everyone should be wearing a helmet when they're on the road, off-road we think it's an absolute necessity at all times — and a full-face motorcycle helmet will always offer the best protection in such circumstances. Take, for instance, the Arai XD-4. This helmet is stylish, protective, comfortable, and has excellent ventilation. It's also Snell M2015 approved, so you can count on it to keep your head safe.
Material: CLC Complex Laminate
Weight: 3.66 LBS
Feher ACH-1 Air Conditioned Helmet
Especially in the summertime, wearing a helmet can be very uncomfortable. Rather than forgo wearing one, however, you could pick up the ACH-1 Air Conditioned Helmet. As the name suggests, this brain bucket boasts a high-tech ventilation system designed to cool down your head while you're riding. But it's not just on this list for that innovation; it's also made from ultra-durable reinforced fiberglass and boasts a classic silhouette we'd be happy to don.
Material: Synthetic Fiber-Reinforced Multi-Layered Fiberglass
Weight: 3.2 LBS
Simpson M30 Bandit Motorcycle Helmet
Even if you ignore the fact that the Simpson M30 Bandit full-face motorcycle helmet looks like what Marvel's Punisher might wear if he were going out for a ride, it's still an excellent option for head protection on the road. With features like the wide-angle visor, carbon fiber construction, and superb ventilation, this beauty of a helmet is comfy and protective enough to wear on any ride, rain or shine. And if you don't like the matte colorway or carbon fiber construction, it's also available in different materials and finishes.
Material: Carbon Fiber
Weight: 2.5 LBS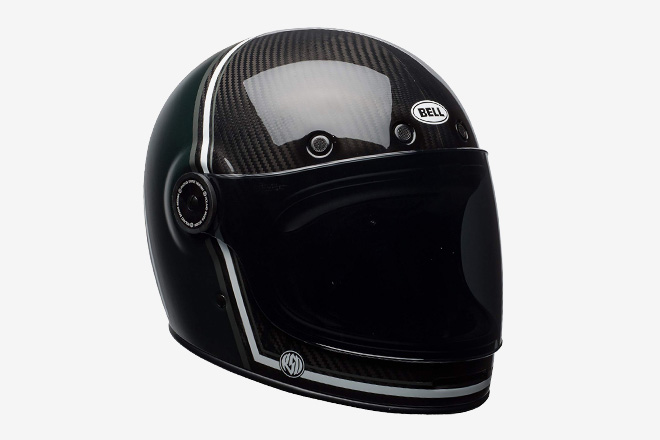 Bell Bullitt Carbon Motorcycle Helmet
It might be presumptuous to say that Bell's Bullitt is the most iconic motorcycle helmet of all time, but it also might be true. And the Carbon version only improves upon what is already a monstrously good full-face motorcycle helmet. On top of its signature styling, it also boasts a removable and washable antibacterial liner, is a super-low profile for comfortable all-day wear and lightweight, comes with two interchangeable shields, and can support an interior speaker system — for piping in tunes or staying in touch with your fellow riders.
Material: Carbon Fiber
Weight: 2.82 LBS
ICON Airframe Pro Ghost Carbon Helmet
You spent a long time and a lot of money to get your sleek performance bike, so shouldn't you also invest in a full-face motorcycle helmet to match? The answer, obviously, is yes — and you can't go wrong with the ICON Airframe Pro Ghost Carbon. This absolutely stunning cranial protector meets safety standards in the USA, Europe, and Japan. It also boasts an ultra slim profile, has a fog-resistant quick-release shield, is made from carbon fiber, and has a moisture-wicking liner to boot. We're not saying this is the best performance motorcycle helmet ever made, but we're not saying it isn't, either.
Material: Handcrafted Carbon Fiber
Weight: 3.37 LBS
Shoei Neotec II Motorcycle Helmet
If the ICON helmet above isn't the best performance full-face motorcycle helmet, it's probably because of the Shoei Neotec II. Available in a whopping 14+ different colorways, this impressively adaptable helmet is surely something special. And that's only truer when you consider that not only is it made from a proprietary "super" material, boasts advanced aerodynamics and ventilation, and can be integrated with a SENA communication system — but it also features a unique "flip-up" design that allows you to expose your face without having to take the whole rig off. It's an unnecessary feature, but it's incredibly handy, as well.
Material: Multi-Ply Matrix
Weight: 4.12 LBS
Vozz Helmet RS1.0
One of the bigger problems we have with most motorcycle helmets is that the chin strap can be a pain to manage and also causes quite a bit of discomfort. Well, with the Vozz Helmet RS1.0, that's not a problem at all. You see, this helmet doesn't have a chinstrap at all. Rather, it uses a clamshell-style construction to close and latch over your head without the need for any kind of secure strap to keep it on. Of course, it's also still secure and well-built enough to keep you safe in a spill. If comfort and convenience are near the top of your list of requirements, this helmet has you covered.
Material: Composite Carbon Fiber
Weight: 3.92 LBS
Vanguard FF Carbon Helmet
Between its carbon fiber shell and titanium hardware, this is one of the lightest and toughest full-face motorcycle helmets available. And it certainly doesn't hurt that it is one of the most handsome, as well. Available in both DOT-certified and ECE-certified version, as well as with an optional Fusar Bluetooth integrated headset, this beautiful and lightweight helmet stands head and shoulders above much of its competition. If you can swing the admittedly high price tag, there's little out there that stands up to Vanguard's FF Carbon.
Material: Carbon Fiber & Titanium
Weight: 2.38 LBS
Skully Fenix AR Motorcycle Helmet
AR technology will eventually be a standard feature for all motorcycle riders. Until the future comes, however, there's the Skully Fenix AR full-face motorcycle helmet. With a built-in HUD, this high-tech skull bucket can actually project a wealth of pertinent information right before your eyes — including weather conditions, instrument gauge information (like speed), GPS navigation, and it even has a rear-facing camera to keep an eye behind you. Plus. it's DOT certified, built from carbon fiber, and boasts an onboard speaker system for communication and music streaming.
Material: Carbon Fiber
Weight: 3.85 LBS
10 Best Bluetooth Motorcycle Helmets
Especially if you're riding in a convoy, having the ability to communicate with your fellow riders can be of the utmost importance. And you can manage that much easier by strapping your skull into one of our picks for the ten best Bluetooth motorcycle helmets.