The Batmobile is the ultimate superhero vehicle. Whether it's Wonder Woman's invisible plane, Steve Rogers' (Captain America) Harley, the Green Hornet's Black Beauty, the Avengers' Quinjet, or the X-Men's Blackbird, not one of those vehicles holds a candle to the Batmobile. From the days of Detective Comics to the Tim Burton film in the late '80s, all the way up to Baffleck's portrayal, the Batmobile has undergone an extensive evolution. Slowly but surely, it has progressed from a cartoonish and sometimes garish creature into one of sleek, militaristic veneer.
Of the many iterations of batmobile, a few have stood out as truly quintessential. Varying greatly in style and appearance, these batmobiles have marked different times in our culture — stylistically, artistically, and otherwise. Below are seven of the greatest Batmobiles to ever ferry the caped crusader around Gotham (plus one special edition). Take a look below, and see which one best emblematizes the Dark Knight to you.
7. 1963 Television Batmobile
Though it resembles the Batmobile ridden in by Adam West and Burt Ward, who played Batman and Robin in the classic series that ran from 1966-1968, the Batmobile from 1963 was never driven on the show. Instead, it was the first ever custom-made car to go on tour as a Batmobile. The '63 Batmobile has a truly unique story. Built by Forrest Robinson at the Robinson family farm, the car began as a 1956 Oldsmobile 88 frame before Robinson and friend Len Perham reconstructed it as the vehicle for their favorite comic book character. The car was officially sanctioned by DC Comics to be used as a promotional vehicle in 1966, just as the TV series was beginning.
Film/Show: None
Year: 1963
Batman: None
Designer: Forrest Robinson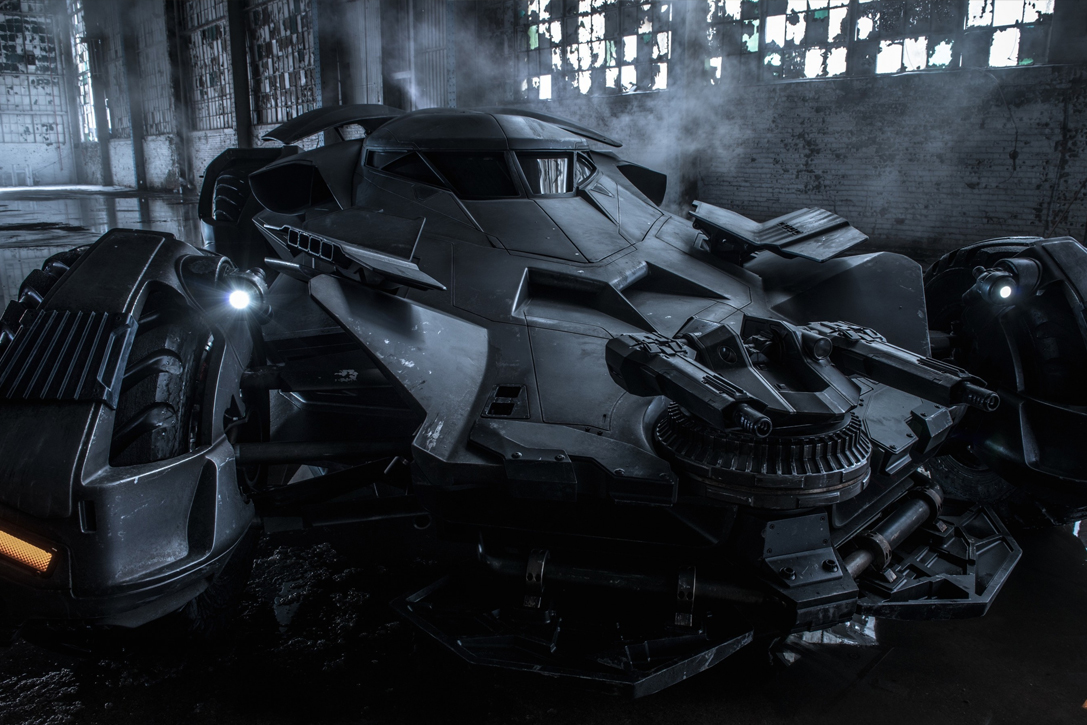 6. Batman v Superman Batmobile
The Batmobile driven by Ben Affleck in Batman v Superman: Dawn of Justice takes inspiration from the Tumbler driven by Christian Bale in the Christopher Nolan trilogy. Incredibly, it's even tougher this time around with more ballistic armor than its predecessor. The vehicle, weighing around 8,800-pounds, was designed by a collaborative effort between five key figures: Patrick Tatopoulos, Kevin Ishioka, director Zack Snyder, Ed Natividad and Joe Hiura. The movie car comes with an electrified skin-deterrent, ballistic missile defense system, high-powered Gatling gun, and a number of other heavy-artillery weapons. All told, the elaborate and intricate vehicle took around one year to produce.
Film/Show: Batman (TV Series)
Year: 1966-1968
Batman: Adam West
Designer: George Barris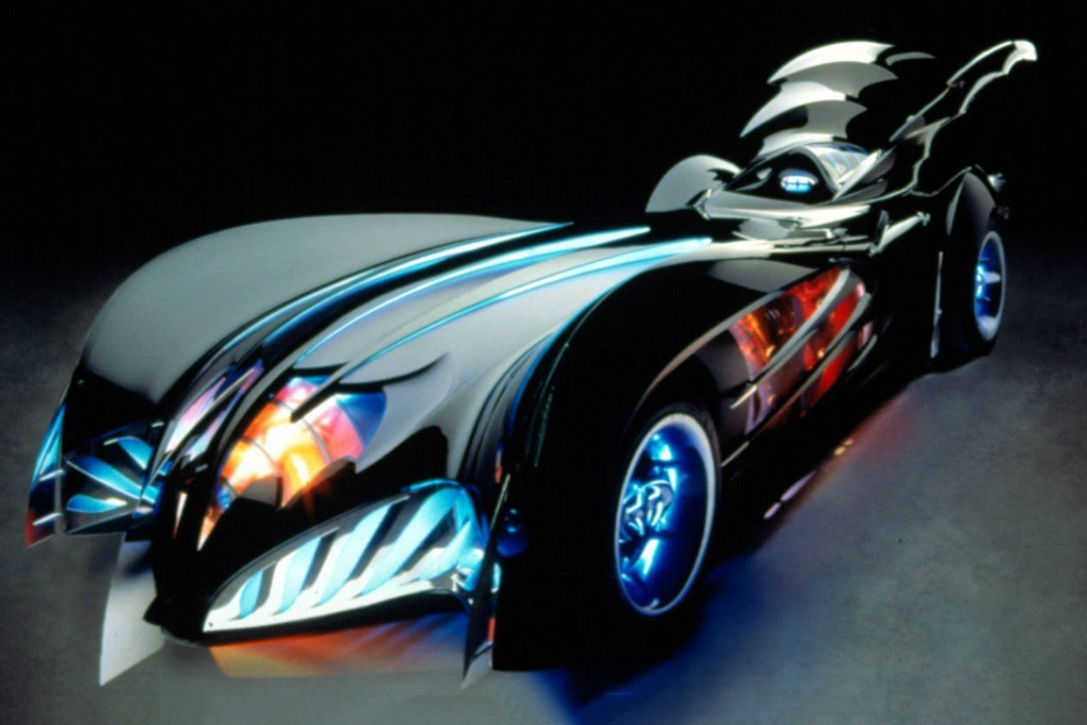 5. Batman & Robin Batmobile
Though the 1997 film starring George Clooney and Chris O'Donnell as the Dynamic Duo, entitled Batman & Robin, is considered by many to be the worst Batman film in history (garnering a mere 10% rating on Rotten Tomatoes), it definitely had a style of its own. That style was gaudy, theatrical, overindulgent, and ridiculous (remember Arnold Schwarzenegger's one-liners as antagonist Mr. Freeze?). But the Batmobile that Clooney's Batman drives imparts a neo-noir, slightly futuristic look that is not terrible. Designed by Harald Belker, the unique shape of the "T" axis wheelbase gave the Batmobile gyrometric stability for high-speed turning. The long nose of the car references an old Duesenberg (though considerably more powerful). Film specs say that the '97 Batmobile could reach 230 mph on the open road and hit 350 mph with afterburner thrust.
Film/Show: Batman & Robin
Year: 1997
Batman: George Clooney
Designer: Harald Belker
4. Batman 1989 Batmobile
The 1989 film starring Michael Keaton, titled simply Batman, was received fairly well by critics and audiences alike. The trademark style of director Tim Burton was on display, and not just with the cinematography, but the props, too. One of these props was the sleek, turbine-engine-powered Batmobile seen here. Designed through the collective efforts of Anton Furst, Terry Ackland-Snow, John Evans, Keith Short and Burton, the Batmobile from Burton's 1989 and '92 (Batman Returns) films channels an Art Deco aesthetic that's rooted deeply in the Batmobile drawn by Frank Miller in his graphic novels and comics. It sits low and extends forward a total of 33 feet. Like its brethren, this Batmobile comes armed to the teeth with deployable sphere bombs, twin M1919 Browning machine guns, and a side-mounted Batdisc ejector. With the help of a back booster, it is averred to be able to reach 330 mph.
Film/Show: Batman
Year: 1989
Batman: Michael Keaton
Designer: Anton Furst, Terry Ackland-Snow, John Evans, Keith Short and Tim Burton
3. Batman Forever Batmobile
Another mediocre entry to the caped crusader's canon, 1995's Batman Forever, directed by Joel Schumacher, had a lukewarm reception from audiences and critics alike. However, the Batmobile that Val Kilmer drove was iconic. Designed by Tim Flattery, this iteration was edgy and fierce, the perfect action-figure companion to the Dark Knight. The car was built out of fiberglass, around a Chevrolet 350 ZZ3 high-performance motor — meaning it could fly. Another cool feature of the '95 Batmobile was that it could turn its wheels 90-degrees (perfect for easy parallel parking on Gotham's crowded streets).
Film/Show: Batman Forever
Year: 1995
Batman: Val Kilmer
Designer: Tim Flattery
2. 1966 Television Batmobile
Just as everyone must admit that Sean Connery is the original Batman — no matter which actor is their particular favorite — everyone must admit that Adam West is the first and original Batman. Though you could make a case for the lesser known Forrest Robinson, or Batman creators Bill Finger and Bob Kane who technically drew the first Batmobile in Detective Comics #27, which debuted in 1939, it's simpler to say that George Barris was the father of the modern Batmobile as it appeared in film and television. Taking a 1955 Lincoln Futura concept car, which never went into production, Barris created the Batmobile that West would drive for the entirety of the series. Other replicas were produced by Barris, built out from three '65 Ford Galaxies, and one from a drag racer. The original '66 Lincoln Futura-based Batmobile sold in 2013 for $4,620,000.
Film/Show: Batman (TV Series)
Year: 1966-1968
Batman: Adam West
Designer: George Barris
1. Batman Begins 'Tumbler' Batmobile
It's hard to deny that the "Tumbler" featured in Christopher Nolan's realistic and gritty reimagining of Gotham City and its enigmatic protector is one of the rawest, bestial vehicles ever whipped by a Batman. Superheroes are meant to be caricaturish, whimsical and fun, ut the stark world of Nolan's creation deserved a Batmobile that was much more than that. In the film, the vehicle was created by Wayne Enterprises' Applied Sciences Division as a prototype, which Bruce Wayne purloins for professional use. In reality, the "Tumbler" — was not designed by the Morgan Freeman helmed R & D department, but by production assistant Nathan Crowley, who wanted to create a more muscular "workhorse" edition of the iconic vehicle. Each vehicle made for the production was forged from 65 carbon fiber panels and cost $250,000 to build. The "Tumbler" is also modular and able to shed much of its bulk to transform into a motorcycle known as the "Batpod."
Film/Show: None
Year: 1963
Batman: None
Designer: Forrest Robinson
1975 BMW 3.0 CSL
Honorable Mention
"Fledermaus," is the German word for Batmobile (so says Google translate, at least). That's not what they called this German-engineered 1975 BMW 3.0 CSL. But it has long been referred to as the "Batmobile," if only for the bat-like spoiler/fin on the rear bumper. The super-light 3.0 CSL, introduced in 1975, has served as a hugely successful platform for BMW to engage in races and rallies across the world. Its major success in the European Touring Car Championship and Euro Racing at-large during the 1970s cemented the BMW "Batmobile" as an iconic car.
The 30 Best Superhero Movies Of All Time
Love The Dark Knight? Check out our list of the 30 best superhero movies ever made and see where the Caped Crusader's best flicks land.