Though they admittedly don't come cheap, luxury cars offer a markedly more comfortable and high-performance driving experience compared to your run-of-the-mill coupe or economy car. And while owning one of these elite vehicles new is typically reserved for society's more affluent upper crust, buying a luxury car secondhand can help to drastically lower the cost of entry, opening the door to a wide range of prestigious rides that can often be had for only a fraction of the car's original MSRP.
The prospect of owning a modern European supercar or a V12-engined classic may seem like a pipe dream to the average auto enthusiast, though if you're willing to shop secondhand, you may be shocked at some of the ultra-top-shelf cars that are within your reach. But with dozens of new luxury models being released every year, it can be difficult to sort through the sea of available offerings to cess out which models and years offer the best value, amenities, and performance relative to their pre-owned price. So, with this in mind, we've scoured the high-end auto sector to generate this hand-picked list of the best affordable used luxury cars.
Disclaimer: All used car prices shown reflect Kelley Blue Book values for "Good" condition cars purchased through a private seller and showing average mileage based on the model year.
2015 Alfa Romeo 4C
We won't begin to deny that the 4C was a pretty major commercial flop, though the automotive community's disdain for the car has resulted in what is an objectively cutting-edge high-performance mid-engined supercar that can be snagged used for a bargain. The car is built around an F1-inspired carbon fiber monocoque chassis draped in unmistakably Italian bodywork – also made of carbon fiber. With a sub-2,000b curb weight and a turbocharged all-aluminum 1.75L four-banger, this accessible exotic exhibits razor-sharp handling and is simply a pleasure to drive. And though they do cost more, Alfa has also produced a handful of even higher-specced limited-edition 4C variants such as the 4C Spider 33 Stradale Tributo and the 4C Competizione.
Engine: Turbocharged 1.7L Inline-Four
Power: 237HP & 258FT-LBS
Top Speed: 160MPH
New Price: $55,195
Used Price: $33K -$38K
2008 Aston Martin Vantage
While $30,000 is admittedly a good deal of money to throw at a used car, for a modern Aston Martin capable of 175mph speeds, that price is nothing short of a steal. Available with a six-speed manual transmission or the brand's automatic Sportshift system, the 2008 Vantage represents a major step up from the prior model year, with an extra 0.4L of displacement that bumps horsepower and torque output up to 420hp and 346FT-LBS, respectively — a noticeable improvement over the 2007 model's 4.3L's 380hp and 302ft-lbs. And though the Vantage's handling is already pretty phenomenal, we'd nonetheless recommend keeping an eye out for 2008 specimens that are armed with Aston Martin's Sport Pack.
Engine: 4.7L V-8
Power: 420HP & 346FT-LBS
Top Speed: 175MPH
New Price: $126,400
Used Price: $22K – $35K
2017 Audi A4
Audi's A4 has long been one of the best-selling four-doored sports cars on the market since its debut more than a quarter of a century ago, and the 2017 model year maintains all the hallmarks that have made the A4 an automotive icon and still offers relatively state-of-the-art tech, features, and amenities. Additionally, the 2017 model year still sports a modern appearance and design language that doesn't differ much from the latest generation of the A4. The A4's 2.0L inline-four engine also helps to keep weight down, thereby bolstering handling, and fuel economy, and making for a cheaper vehicle to insure when compared to larger-engined models like the A6.
Engine: Turbocharged 2.0L Inline-Four
Power: 252HP & 273FT-LBS
Top Speed: 155MPH
New Price: $31,900
Used Price: $23K – $25.5K
2010 Audi A6 4.2 Quattro
Stepping up to a more high-performance machine with double the cylinders and more than twice the displacement of the A4, we have Audi's venerable A6 4.2 Quattro — the top-of-the-line version of the full-sized German sedan. The car ticks pretty much every box one would want in the luxury segment, with genuinely capable performance, a plush and roomy interior, solid safety and crash test ratings, and an elegant appearance. Plus, if you happen to just be a fan of the 2010 A6's appearance and aren't as interested in performance, you can save even more by opting for the lower-specced 265hp 3.2L V6 version of the Audi.
Engine: 4.2L V8
Power: 350HP & 325FT-LBS
Top Speed: 155MPH
New Price: $60,950
Used Price: $11K – $15.4K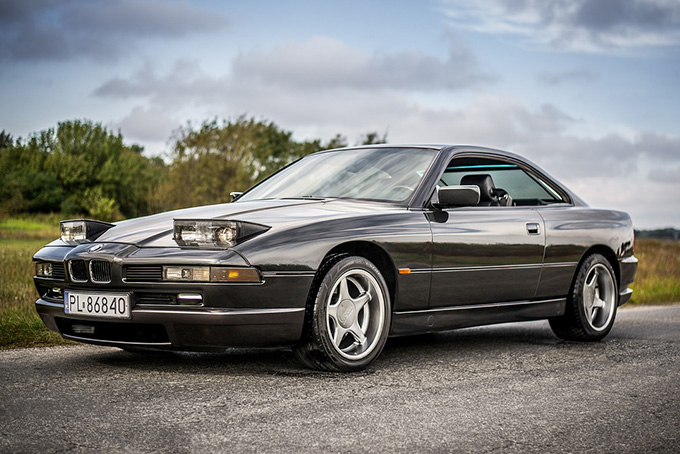 1995 BMW 850CSi
The most high-performance (and expensive) BMW you could buy in the 1990s, BMW's 8 Series was a unique high-performance two-door that was sold in multiple variants, the most noteworthy of which was undoubtedly the mighty 850CSi. Limited to just 1,500 units worldwide — only 225 of which were earmarked for US shores — and produced exclusively with a six-speed manual transmission, the 850CSi was powered by a 372hp V12 engine that would later go on to become the basis for the dozen-cylinder powertrain found in McLaren's legendary F1 supercar. The 850CSi routinely sells for six-figures (just as it did when new) and is only further appreciating in value, though the lower-spec versions can be found for as little as $12,000.
Engine: 5.6L V-12
Power: 372HP & 402FT-LBS
Top Speed: 150MPH
New Price: $100,950
Used Price: $12K – $50K
2008 BMW M5
A bonafide legendary in the automotive community, the BMW M5 is a pure driver's car that needs no introduction in the car world, and the 2008 model year M-class 5 Series not only featured heavily updated bodywork, but also an enormous bevy of tech including a windshield-integrated HUD and sport seats that actively cradle your body in the opposite direction of travel when cornering. Winner of back-to-back International Engine Of The Year Awards, the M5's ultra-potent 500hp 5.0L V10 engine is mated to a sequential seven-speed transmission and — when its limiter has been removed or bypassed — is capable of propelling the more-than-decade-old German GT car to speeds of 200mph.
Engine: 5.0L V-10
Power: 500HP & 383FT-LBS
Top Speed: 155MPH
New Price: $83,900
Used Price: $14.5K – $16.8K
2016 Cadillac CTS-V
Cadillac undeniably makes some great cars, though quite possibly more so than any other brand, the Wreath and Crest company's cars lose a staggering percentage of their value the second you drive a new one off the lot. And while this is less-than-ideal for new Caddy owners, this means used car shoppers are treated to a wide range of incredibly capable models available for a fraction of their dealership price. The CTS-V is a stellar example of this, as an American super-sedan with a thoroughly luxurious cabin, a sharp and aggressive outward aesthetic, track-grade componentry, and a well-massaged supercharged 6.2L V8 that allows for a 200mph top speed and 0-60mph runs in just 3.7 seconds.
Engine: Supercharged 6.2L V-8
Power: 640HP & 630FT-LBS
Top Speed: 200MPH
New Price: $84,990
Used Price: $56K – $60.5K
2012 Land Rover LR4
First hitting the scene in 2009, Land Rover's L319-gen LR4 didn't represent as drastic a step forward as the Discovery 3 in 2004, the Discovery 4 was a markedly more refined 4×4 vehicle all-around, benefitting from a myriad of kinks that the British luxury marque had ironed out since first designing the second-gen. The Discovery 4 has a commanding yet dignified appearance and places a major premium on a top-shelf fit and finish, though that's not to say its 5.0L V8 is anything to scoff at. It is worth pointing out that, even though you can purchase a clean used example for as little as eleven grand, parts, maintenance, and insurance are still going to be fairly steep, especially if you have a few blemishes on your driving record.
Engine: 5.0L V-8
Power: 375HP & 375FT-LBS
Top Speed: 121MPH
New Price: $50,000
Used Price: $11.3K – $18K
2008 Lincoln Navigator
Just after the turn of the millennium, the automotive saw an enormous influx in popularity of super-sized luxury American SUVs, with models like the Cadillac Escalade, Chevy Suburban, and GMC Yukon Denali. Lincoln was another marque that tossed its hat into the XLSUV ring, taking a more upscale route that catered to a more affluent demographic with its ridiculously spacious and plush cabin. In terms of performance, the Navigator isn't really anything to write home about, though if you're looking for an incredibly smooth and comfortable ride with plenty of room, then the Navigator is well worth considering.
Engine: 5.4L V-8
Power: 300HP & 365FT-LBS
Top Speed: 129MPH
New Price: $53,120
Used Price: $10K – $15.6K
2016 Mercedes-Benz E400
Though now half-a-decade old, the German brand's E-Class is still competitive in almost all regards, still standing as a fantastic candidate for anyone in the market for a premium luxury car that isn't overly concerned with performance figures. Like the Navigator, the E-Class offers a tremendously plush and upscale driving experience, though unlike the SUV, the Benz is new enough to sport a good deal of the latest automotive bells and whistles — blindspot detection, auto-braking, lane-keep assist, etc — and tech and connectivity. We're personally partial to the E400, as the 3.0L V6 version is relatively affordable while still being peppy enough to make for an enjoyable drive through the canyons.
Engine: Turbocharged 3.0L V-6
Power: 329HP & 354FT-LBS
Top Speed: 130MPH
New Price: $63,100
Used Price: $23.4K – $26.7K
1993 Mercedes-Benz 600 SL
The body style of the 600 SL is offered with a variety of engine options across the R129 range, though if you're shopping for a '90s era SL, the V12 version is almost certainly the way to go. Tipping the scales at just 5,095lbs at the curb, the SL 600 offers some serious behind-the-wheel thrills without the bevy of electronic intervention that is present on production vehicles in today's safety-obsessed world. With a dozen cylinders, seals, and spark plugs, upkeep on the SL600 is, at the very least, going to be quite labor-intensive, so if you are considering picking one up, we'd recommend learning some basic mechanic's skills, otherwise, be prepared to shell out quite a bit at your local shop.
Engine: 6.0L V-12
Power: 389HP & 420FT-LBS
Top Speed: 155MPH
New Price: $123,800
Used Price: $3.3K – $9.8K
1993 Mercedes-Benz 600SEL
Another mid-1990s Benz that's kicked along by a genuine V12 engine, the 600SEL is a thoroughly upscale grand tourer that's good for everything from long-distance road trips to track days to basic daily commuting and family chauffeuring duties. The appearance feels a little dated both inside and out, though the interior — which seemingly contains several cows worth of leather and half a forest in woodgrain pieces — is still incredibly comfortable and features a surprising amount of amenities and tech for a nearly three-decade-old vehicle. Like its two-door SL counterpart, maintenance on the V12 won't be cheap, but it's a small price to pay to be piloting such an elite machine.
Engine: 6.0L V-12
Power: 389HP & 420FT-LBS
Top Speed: 155MPH
New Price: $132,700
Used Price: $2.4K – $24K
1995 Porsche 928
We'll start by addressing the elephant in the room in that yes, the Porsche 928 isn't typically what springs to mind when discussing affordable used luxury cars. However, if you're patient enough, good deals do pop up on a semi-frequent basis on eBay, Craigslist, and Bring-A-Trailer, and, more importantly, the value of a 928 has been steadily on the rise for some time now and will likely only continue increasing. Though it doesn't sport the iconic bodywork of a 911 or the classic Porsche flat-six, the Stuttgart brand's '90s era 928 models are still crazy fast even by today's standards and still corner very competently. And, like the SL, the 928's 5.4L V8 and its nearly 370ft-lbs of torque are fully unleashed upon the driver without the intervention of modern electronic assists, making for a true driver's car.
Engine: 5.4L V-8
Power: 345HP & 369FT-LBS
Top Speed: 171MPH
New Price: $82,260
Used Price: $25K – $54K
2004 Porsche Cayenne
Upon its release, the Porsche Cayenne was treated to a rather lukewarm reception, though it also didn't help that the luxury SUV had problems with its center bearing breaking as well as melting issues with some of its plastic cooling tubes. Though if you do your homework and find an example that's had these issues remedied — which should be the case considering Porsche paid out or reimbursed owners for these faults following a class-action lawsuit — the Cayenne is a great car with a used asking price that might make you do a double-take. In recent years, the model has even gained popularity in the off-road and Overlanding communities, as the SUV's competent performance right out of the box makes the platform ideal for further modifications and upgrades to face the dirt.
Engine: 3.2L V-6
Power: 247HP & 228FT-LBS
Top Speed: 150MPH
New Price: $42,900
Used Price: $5.9K – $8.7K
2010 Volvo S80
It's true that Volvo's sales pale in comparison to those of BMW, Audi, or Mercedes-Benz, though if you're in the market for a comfortable luxury sedan with solid performance capabilities then the Swedish marque's wares are more than worth a look. And while it's hard to go wrong with most models from Volvo, the brand's 2010 era S80 offers a pretty monumental discount over its original MSRP, with the used specimen's only commanding about one-fifth of the car's $50,000 price only a decade ago. Despite being so accessibly priced, your $7.9K – $11.7K gets you a plush Scandinavian-designed interior and a muscular outward appearance that packs a powerful 4.4L V8 under its hood.
Engine: 4.4L V-8
Power: 311HP & 325FT-LBS
Top Speed: 155MPH
New Price: $50,950
Used Price: $7.9K – $11.7K