If you've taken a closer look at what many people have been wearing lately, you'll notice a familiar trend: it looks like a lot of them are getting ready to go camping. And while it may come across as unorthodox at first, it's something we've grown used to, and anyone who hasn't yet should surely try to. Hiking apparel has always been relatively fashionable, for the most part, and while that sentiment pertains to some pieces more than others, there's no denying that many brands put a serious effort into crafting nothing short of the sleekest product possible when crafting their stylish hiking gear.
However, like with any other branch of fashion, several select labels outdo their competitors from a form and function standpoint when it comes to fashionable outdoor clothing. Don't consider this a guide to staying trendy, but more of a guide to looking good no matter what you get yourself into — after all, what's the difference between dressing well to grab dinner and doing the same when you're going hiking? The way we see it, you should be finding ways to stay sharp regardless of the occasion, which is why we've compiled an array of 20 stylish pieces of hiking gear for men to wear when hitting the trails.
lululemon Water-Repellent Hiking Short Sleeve Shirt
lululemon is new to this game, having released its first hiking apparel collection this past month. To no surprise, the introductory capsule didn't disappoint, and this unique top is one of its standouts. The Water-Repellent Hiking Short Sleeve Shirt is composed of water-and-abrasion-resistant materials that deem it ideal for unpredictable treks. It's also refreshingly breathable thanks to its underarm mesh panels that keep air flowing in and out. Lastly, it comes available in a quartet of chic colors, so make sure to match the rest of your gear accordingly.
L.L.Bean x Todd Snyder Packable Anorak
Anoraks are an outdoor staple, and this retro-inspired one from L.L.Bean and Todd Snyder is a great way to dial it back a couple of decades. This joint effort blends a pair of the Maine-bred label's staples, its Baxter State Parka and signature anorak, resulting in a jacket with loads of style, comfort, and convenience. The fully packable, quick-drying piece is equipped with a trio of roomy pockets to store all your gear and a side zipper to let you throw it on and off easily.
Patagonia Classic Retro-X Jacket
If you were a fan of the previous pick, then odds are you'll appreciate this other outdoor icon. Patagonia's Classic Retro-X Jacket implements elements of its iconic pile jackets and pulls it off in a sustainable manner. It is Fair Trade Certified and crafted from as much as 85% recycled polyester, so you're doing the environment a favor by buying this, too. Above all else, it's as warm as it looks, boasting windproof capabilities and quarter-inch pile fleece. There are a handful of colors to choose from, but the 'Natural' look is arguably the best.
Arc'Teryx Faraday 1/2 Zip Neck
Arc'Teryx is manning the ship when it comes to the GORPcore trend, and the Canadian clothier's System_A collection only bolsters its catalog for the better. This handsome half-zip is crafted from cozy, Polartec Power Stretch Pro fleece that is as warm as it is breathable. Aside from comfort, it has a pair of zippered side pockets to stow your gear and Velcro patches on the sleeve if you want to add a personal touch.
The North Face 1996 Nuptse Jacket
TNF's beloved puffer jackets sit in the same pantheon of outdoor outerwear as Patagonia's fleece pieces, so it was only a matter of time before we brought one up. The S.F.-bred heritage brand's retro-inspired 1996 Nuptse Jacket has a hefty 700-fill goose down for optimum warmth when needed and a water-repellent finish that makes it perfect for stormy forecasts. This unmistakable jacket is rounded out with a pair of zippered hand pockets for security, a bungee cinch-cord for adjustability, and is available in several colors. All in all, this might be the best cold-weather hiking jacket ever.
Honorable Mention
An Extra Layer
and Wander Kevlar Shell Hooded Jacket
and Wander is one of the most influential brands in techwear right now, but it's hard to out-do a jacket coated in something as sturdy as Kevlar. The Tokyo-bred label's innovative garment features a chic spread collar and pleats at its single-button cuffs. It's even rounded out with reflective contrast stitching for enhanced visibility — but who are we kidding? The uber-sturdy Kevlar composition is the main attraction here, and it's all the reason necessary to shell out on this piece.
Gramicci Pant
If you want to stay sleek on the trails without spending an arm and a leg, Gramicci's legendary hiking pants are a perfect place to start. The popular bottoms are crafted from cotton with a soft hand-feel for easy-going comfort. Then, they're finished off with a built-in belt to provide you with maximum adjustability. Above all else, it's a great choice if you have lunch plans after your trek, as they are simply versatile enough for any occasion.
Snow Peak Takibi Light Ripstop Pant
It's hard to determine what Snow Peak is better at manufacturing between gear and attire, so we figure it only makes sense to start by shedding some light on the latter. The Japanese heritage brand's Takibi Light Ripstop Pant has been heralded by countless hikers and GORPcore enthusiasts alike thanks to its double knee-reinforcement and unique fire-resistant finish, the latter of which is thanks to its cotton and Kanecaron-blend.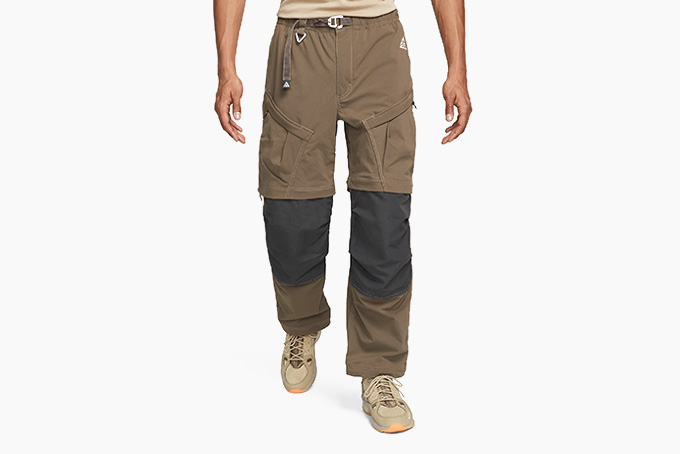 Nike ACG Smith Summit
Nike's outdoor-centric sub-label crafts a pair of water-repellent hiking bottoms that could very well be deemed the most popular in this category. The Oregon-bred brand's ACG Smith Summit serves as much more than a pair of durable pants, as they can easily convert into a pair of shorts when the temperature picks up, so you can adjust them as you see fit. Speaking of fit, the bottoms are rounded out with an elastic waistband and a buckled webbed belt to assure the perfect size.
Arc'Teryx System_A Eislin Cargo Pant
These all-white cargos would look great with the aforementioned half-zip from Arc'Teryx's System_A line, but they can easily stand alone, too. The Eislin silhouette may appear streamlined, but there's a major process that goes into designing the high-performance pant. It boasts a double-weaved, water-repellent composition that stays breathable and stretchy, meaning it checks every necessary box. Above all else, its velcro tabs at the waist are easy to adjust for a perfect fit.
Canada Goose Tundra Pant
Like any product from Canada Goose, the Tundra Pant is engineered to tackle the Canadian climate with its 625 fill power duck down insulation, which makes it the ideal choice for cold-weather adventures. While the technical bottoms could double as loungewear at first glance, they boast a sturdy composition that throws that notion out the window. Thanks to their water-resistant outer layer, knee reinforcement, and added seat panel, there's no need to worry about wear-and-tear coming along anytime soon. For added functionality, they feature a set of pockets and belt clips.
Honorable Mention
Luxe Legwear
Acronym Cargo Pocket Pant
It's safe to say no one in techwear is quite like ACRONYM, and the same applies to the Munich design house's meticulously-made cargo pants. They are predominantly constructed from water-repellent nylon but feature a hint of elastane to provide the perfect amount of stretch. Most importantly, they feature a whopping eight pockets and a removable carabiner, just in case you have too much gear on your hands — but we all know you can never have too much.
Shoes
Stompers & Steppers
adidas TERREX Free Hike GORE-TEX Hiking Shoes
Like most products from adidas TERREX, this streamlined pair of sneakers still has a touch of streetwear influence to them thanks to the unmistakable three stripes. The shoe's GORE-TEX membrane is its main draw, but several other elements bolster its composition. The two most notable components are the brand's proprietary Primeknit-crafted upper that paves the way for optimized breathability, and the Boost cushioning that provides robust energy return with every step you take.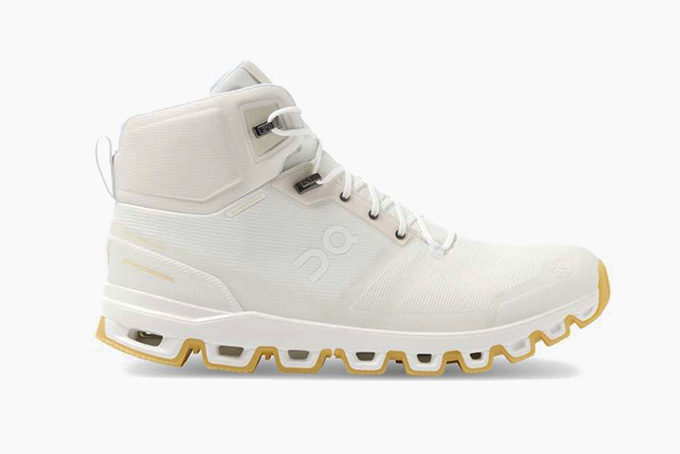 ON Cloudrock Edge Raw
While you may be familiar with ON's acclaimed running shoes, its other branches of performance-tailored footwear are just as noteworthy. The Cloudrock Edge Raw sits on the Swiss shoemaker's signature Missiongrip sole for maximum traction along any terrain. Plus, the shoe is sustainably-made, using recycled Polyurethane to craft its waterproof membrane while roughly 40% of the shoe is recycled, overall.
Season Three The Ultralight Hiking Boot
This up-and-coming brand doesn't have very much to its portfolio, but the Ultralight Hiking Boot makes enough of a statement on its own. Season Three claims that these handmade leather stompers are "refined enough for the museum," and anyone would agree there. For the sake of temperature regulation and added comfort, the boots are fully lined with merino wool and sit atop a Vibram outsole. Above all else, there is a sprawling selection of colors, so make sure to match with the rest of your outfit.
ROA x A-COLD-WALL Andreas Hiking Boot
As a pair of fashionable stalwarts in the techwear community, it only made sense for ROA and A-COLD-WALL* to team up. The collaborative hiking boot features all the standard elements that make the Andreas silhouette so great, to begin with, including a grippy Vibram outsole and metal-fitted lacing closure. Then, it's made even sleeker with reflective embellishments acknowledging the joint effort, so you'll be able to distinguish this pair from a common one.
Moncler Vancouver Striped Suede Hiking Boots
It's hard to top Moncler when it comes to high-end outdoor apparel, and that much is made clear with one look at these city-ready boots. The suede-crafted Vancouver stompers are as versatile as it gets. They serve as a seamless blend between upscale dress shoes and weather-ready boots, so you can throw them on for any scenario that comes to mind. The sleek Sand colorway is exclusive to MR PORTER, which has never steered anyone the wrong way in the style department, so there's no need to second guess how fashionable these are.
Accessories
Take Extra Gear
The James Brand The Redstone
The James Brand's Redstone has become one of the gear space's hottest commodities, and for good reason. The pocketable folding knife oozes style as a result of its array of colorways, but this woodsy, tonal look is our personal favorite. While this model is a Huckberry exclusive, it features all the same elements that make the standard version so great, like a 2.5" drop point Sandvik 12C27 steel blade and a unique island design on the handle that allows you to achieve the perfect grip.
Snow Peak X-Pac Nylon Waist Bag
As we said earlier, you can never go wrong with clothes or gear from Snow Peak, so why not consider picking up two pieces? The X-Pac Nylon Waist Bag is water-resistant, UV-ray resistant, and, above all else, conveniently lightweight, so you can safely stow your gear without worrying about toting any extra weight. Plus, thanks to its distinct pair of straps, you can wear it around the waist or as a crossbody.
Veilance Bucket Hat
Anything you buy from Veilance, ArcTeryx's premium sub-label, is sure to bode well out on the trails, and this GORE-TEX-crafted bucket hat is one of many examples in the accessory department. Do yourself a favor by withstanding the elements with the help of this sleek, piece of headwear fit with a hidden adjustable cord.
Rumpl Puffy Blanket
Rumpl's flagship product is available in an endless array of colors, so you can choose the option that suits you best. Most importantly, the water-and-stain-resistant Puffy Blanket is sustainably made from post-consumer recycled materials and is incredibly easy to wash. All you'll need to do is toss it into the machine and call it a day — but, its DWR finish guarantees that you won't need to do so very often.
District Vision Takeyoshi Altitude Sunglasses
While District Vision's catalog predominantly pertains to running, the niche L.A.-bred lens crafter's Takeyoshi Altitude shades are perfect for taking on the backcountry. It features a lightweight titanium core for mobility's sake and a hypoallergenic notepad for easy wearability. Most importantly, the brand's shatterproof and oil-resistant D+ Water Gray lenses are made to take on water-based activities, deeming it an ideal pair in case you come across a lake or river on your next adventure.
Honorable Mention
Stay On Track
Suunto 9 Peak Full Titanium Smartwatch
Is it a gadget? Is it a stylish accessory? Whatever you consider Suunto's feature-filled 9 Peak Smartwatch, it's sure to come of assistance when you're in the wilderness. Its sleek titanium bracelet and razor-thin composition are part of why the smartwatch won the Good Design Award. Function-wise, the 9 Peak offers top-tier route and turn-by-turn navigation with an enduring battery life of up to 7 days when using Tour mode. On top of that, it will provide accurate fitness specs throughout any hike, including your heart rate, blood oxygen, and more.
The 20 Best Summer Hiking Gear Essentials
Now that you've tackled how to look good on the trails, all you need is the right gear to go along with it. Find all the summer hiking essentials necessary with help from our guide.