Too busy to peruse Amazon for its latest slew of Prime-exclusive deals? If so, we can't blame you — there's a whole lot going on out there. Nevertheless, the two-day sale event is overflowing with notable discounts that come to a close at midnight tonight. Luckily for you, yours, and any potential giftees you have in mind, we've narrowed down the 20 best last-minute Prime Day deals so you won't have to.
iWALK Portable Charger 9000mAh
Power up your phone on the low no matter where you go thanks to this long-lasting portable charger.
Hydroflask wide mouth bottle
Stay hydrated all day long with the help of ice-cold vacuum insulation. While it might not be a smart bottle, a trusty HydroFlask still gets the job done as well as any reusable bottle around.
Casper original Pillow
Everyone's favorite bed-in-a-box brand is cutting prices on pillows, so you can sleep well tonight knowing you'll be getting a night of even better sleep in two days.
Cuisinart evolution x handheld blender
Whether making pasta sauces or silky smooth soups, everyone can benefit from having an immersion blender in their kitchen.
LEGO MARVEL NANO GAUNTLET
Why spend an eternity finding the Infinity Stones when you can just build them yourself? LEGO discounts are hard to come across as it is, so don't overlook this deal.
Solo Stove personAL CAMPFIRE
Portable campfires have become a favorite among the common camper, deeming this Solo Stove a great choice for one-man backcountry crews.
SanDisk 512gb microsd card
Make some space on your Switch for next year's Zelda game with this fully-loaded MicroSD.
AEROGRADEN HARVEST 360 WITH SEED KIT
Grow fresh herbs in the heart of your kitchen for over half off this Prime Day. Keep in mind that the discount only applies to AeroGarden's black model.
CHEMICAL GUYS CAR WASH KIT
If you can't find anything you really need to buy during the sales event, there's no way to go wrong with cleaning products — after all, everything gets dirty eventually. 
Le Creuset toughened nonstick shallow braiser
Cook stews and short ribs all winter long at a lower price than usual. Le Creuset's cookware is virtually unmatched, making this discounted braiser a total steal.
VANTRUE 21 2.5K DASHCAM
Whether you're a ride-share driver or want to document your journey on the road, this high-quality dash cam is bound to come in handy.
23andMe+ Premium Bundle
Discover your family lineage at over half off with help from 23andMe+'s premium bundle, equipped with a year-long membership.
Bose Frames Tenor
Block out the sun and sound around you with this innovative pair of shades from Bose.
Bissell air400 profession air purifier
While you may be more familiar with Bissell's vacuums, its carbon-filtered air purifier is made to help you breathe easily all year round.
THERABODY THERAGUN PRIME
Achieve maximum recovery with the wellness brand's mid-tier massage gun, now seeing a pretty major discount.
Oral-B iO Series 9 Electric Toothbrush
Brush away the high-end way with Oral-B's dentist-approved electric toothbrush. It boasts 3D teeth-tracking technology to provide the cleanest result each time.
KitchenAid Artisan Tilt Head Stand Mixer
You've seen it in countless television and movie kitchens — it's time to add it to your own countertop.
JBL BOOMBOX 2
This outdoor-ready speaker from JBL boasts a full day's worth of playback time, but you'll be reaping in the benefits of this discount as long as you have it.
Sony WH-1000XM5 Headphones
Sony's updated pair of flagship over-ears boast industry-leading noise-canceling capabilities that are too good to ignore, especially when you can get them at a lower price than usual.
ROBOROCK S7+
Cleaning your home can be a hassle, but having a robot do the job for you makes it much easier for everyone involved. Equipped with enough storage for two months' worth of dust and a self-empty dock, this nearly $1,000 dollar gadget is here to lend a helping hand for over $200 off.
The 100+ Best Amazon Prime Day Deals 2023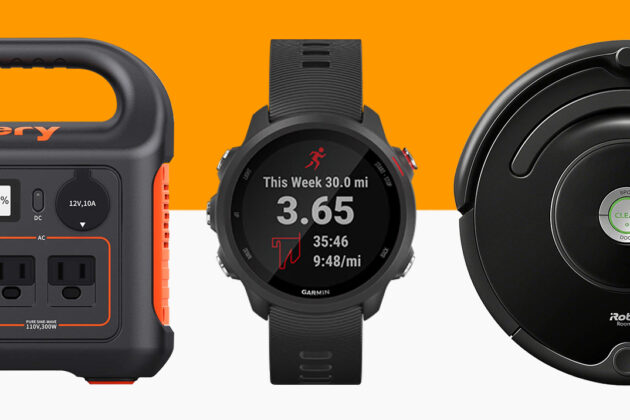 While these deals are bound to end soon, we've laid out over 100 markdowns that you should keep an eye out for this Prime Day.