For the past 95 years, LEGO has practically served as the gold standard in toy making, and the resale market can attest to that. This past year, studies suggested that investing in some of the manufacturer's builds is as lucrative as investing in gold, stock, bonds, and art. While this may be hard to believe, it's clear that the demand for these branded bricks is as high as ever, and that applies to people of all ages. –yes, it's safe to admit that LEGO builds are not just for kids.
In case the exorbitant price tags tacked on to some of their more extravagant builds haven't convinced you yet, then we don't know what will. Maybe it would take a 9,090-piece replica of the unmistakable Titanic or a model of the Atari 2600, the latter of which is safe to assume no child under 10 has ever even heard of. Nevertheless, we are not here to convince you that the world-famous toy brand's sets are also for grown-ups, because that much has been made widely evident. However, we are here to wheel out a sprawling guide to the 25 best LEGO sets for adults to build.
LEGO Flower Bouquet
Forgetting to water your plants is easy, so we wouldn't blame you for going with a much more permanent option. LEGO's vibrant bouquet is 756 pieces of floral admiration and will instantly serve as the centerpiece to any room you put it in. Like any other bouquet, feel free to display them in a vase (or separate vases). However, unlike an actual batch of flowers, you can customize the petals to your liking, so feel free to get creative.
LEGO Ideas Seinfeld
This build is the first of LEGO's fan-driven IDEAS sets that appear on this list, and it truly begs the question: what's the deal? This diorama of Jerry Seinfeld's living room from his iconic sitcom features several easter eggs that fans will recognize in a heartbeat. From Jerry's eclectic cereal cupboard to George's loaf of marble rye to Kramer's coffee table book about coffee tables and Elaine's dying fish, there's simply no way any Seinfeld fan won't appreciate this build – until Newman comes along.
LEGO adidas Superstar
When it comes to silhouettes that speak for themselves, the adidas Superstar sits among the Air Force 1 and Air Jordan 1, deeming it only fair to receive a unique model from LEGO. The authenticity trickles right down to the shoe's inimitable shelltoe at the forefront and even arrives in shoebox-themed packaging that captures the feeling of picking ups a new pair of kicks.
LEGO T-REX Breakout
Being a popular film franchise doesn't automatically get you a LEGO build or two or down the line, but it's usually safe to bank on it. Critical reception aside, the Jurassic Park series has been a fan favorite since it first hit the big screen, and this brick-built take of the first film's most memorable sequence is downright awesome. The model features a quartet of mini-figures, including Dr. Alan Grant, Ian Malcolm, and both Murphy children — oh, yeah, and a tyrannosaurus rex that is far from mini.
LEGO Ideas Jazz Quartet
You don't even have to be a jazz fan to appreciate this plastic-crafted take on a traditional quartet. This fan-made model comes equipped with a pianist, bassist, trumpeter, and drummer, allowing you to can channel your inner stage designer as you arrange the four musicians however you see fit.
LEGO Ideas Ship In a Bottle
There's no more handsome addition to your study than a classic ship in a glass bottle. This build consists of all the standard elements that put together this traditional collectible, including six cannons, three masts, and a captain's quarters within the ship. Additionally, you can build the wax-seal-styled cork and make your own body of water using over 280 translucent-blue pieces.
LEGO Ideas Fender Stratocaster
From Hendrix to Harrison, the Fender Stratocaster is possibly the most recognizable silhouette in the history of guitars, so it shouldn't come as a surprise that a fan took it upon themself to design a 14-inch LEGO version of it with a classic '65 Princeton amp to boot. Guitarists rejoice, as this 1,074-brick build serves as unique a centerpiece as any and might even draw more attention than a standard Strat.
LEGO Ideas The Office
In case you've grown tired of streaming The Office all the time, here is your first chance to build it. From Jim and Pam to Dwight and Michael and everyone in between, this 1,164-piece build features all your favorite members of Dunder Mifflin's Scranton branch. As you may have guessed, countless references to the show are sprinkled throughout the diorama, including Kevin's spilled pot of chili and Michael's pompous "World's Best Boss" mug.
LEGO Empire State Building
LEGO's gorgeous Architecture line interpreted several of the world's most impressive buildings and skylines in brick form, but none of the products were as memorable as the Empire State Building. The 360° build measures 21" high and features a quartet of accurately detailed facades, assuring that it features every element of the legitimate skyscraper — aside from size, obviously. For added authenticity, it is surrounded by mini roads fitted with yellow cabs.
LEGO The Starry Night
Of all the IDEAS models that have hit the scene, it's safe to say this is the most objectively satisfying. This brick rendition of Van Gogh's iconic painting is mesmerizing and remarkably immersive, featuring 3D elements that bring the Starry Night's misty clouds and hillsides to life. Plus, it wouldn't be complete without a befitting Minifigure of the artist, which comes fully equipped with his easel and palette. In case you don't have a chance to visit the MoMA, this is as close as it gets.
LEGO Optimus Prime
Whenever LEGO refers to something, they tend to pull it off in the most authentic manner imaginable, and so is the case with its new Optimus Prime model. This functional build is more than meets the eye, as it can transform from truck to robot and vice versa without disassembly. On top of that, it comes equipped with series-accurate weaponry like Optimus's Energon axe, ion blaster, and jetpack.
LEGO NASA Space Shuttle Discovery
LEGO has delivered on a handful of different space-themed builds, but few can hold a candle to its authenticated NASA Space Shuttle Discovery model. As part of the toy brand's ICONS line, builders can assemble each element of this historic spacecraft right down to its movable solar panels and center engine. All in all, this 2,354-piece build is ideal for astrophiles.
LEGO Atari 2600
LEGO's recent array of Nintendo builds has left collectible-loving gamers begging for more, but it successfully captivates old-school players with its brand-new replica of the classic Atari 2600. The unique addition to its ICONS line is constructed of 2,352 pieces, a percentage of which compose a mini diorama of an '80s-era bedroom decked out in vintage posters and wistful gadgets. Most impressively, you can construct 3D vignettes from the classic games that LEGO pays homage to Asteroids, Adventure, and Centipede.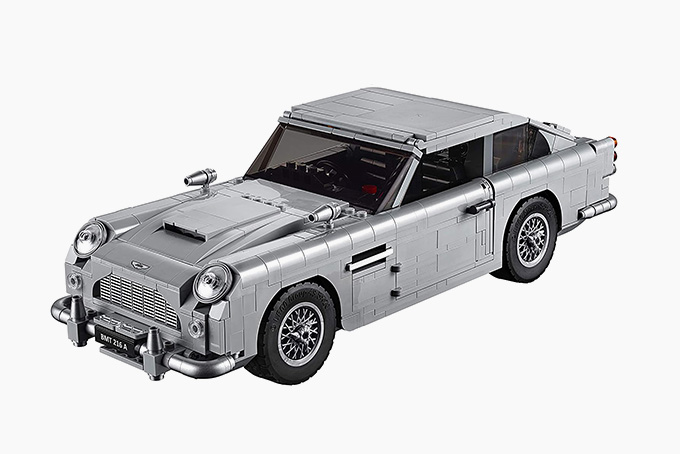 LEGO James Bond Aston Martin DB5
LEGO's strikingly detailed take on Agent 007's iconic DB5 (first shown off in Goldfinger) is fully-kitted with every element of the original car. It features the unforgettable ejector seat, wheel-mounted tire scythes, and, most importantly, revolving license plates to ensure your identity remains under wraps. All in all, this is the ideal collectible for any Bond fan.
LEGO Back to the Future DeLorean
Others may debate it, but we declare Doc Brown's DeLorean the most popular movie car of all time, which means it was bound to garner a pro-grade model made of bricks. Considering it received different makeovers throughout the series, it wouldn't be right to acknowledge one example, which is why LEGO implemented references to each film, including Part II's hoverboard and Part III's high-powered, hood-mounted circuit board. Before you ask, yes, it does come with Minifigures of Doc and Marty — it simply wouldn't be right without them.
LEGO BMW M 1000 RR
Motorcycle enthusiasts will be ecstatic to add this painstakingly detailed iteration of the BMW M 1000 RR to their living space. The gargantuan 1:5 scale model is LEGO's largest TECHNIC motorcycle build, consisting of 1,920 pieces. If that's not enough, each Bimmer-authenticated element placed throughout only makes it better. It features accurately-colored red, white, and blue branding, as well as a functional 4-piston engine, 3-speed (+ neutral) gearbox, and suspension.
LEGO Ideas Home Alone
Home Alone is one of the most well-aged holiday movies ever made, which is usually a difficult feat to pull off. As a result, its legacy has been proven further with a fully-kitted take on the McCalister's six-bedroom house and every booby trap that Kevin set up to defeat the infamous Wet Bandits. At the end of the day, you'll rarely come across a Joe Pesci Minifigure on any other occasion, so that should be convincing enough.
LEGO Daily Bugle
Marvel fans will fall in love with this massive, 33" tall model of the Daily Bugle tower. Thanks to its included onslaught of beloved villains and members of the Spider-verse (including Peter Porker) comic-book lovers will be able to recreate countless scenes from several different issues. Take on the Sinister Six among countless other villains like the Green Goblin and Venom, then head to J. Jonah Jameson's office to drop off photos from the epic battle you composed.
LEGO Mos Eisely Cantina
In case you haven't got a chance to visit Star Wars: Galaxy's Edge at any of the Disney Parks, this small-scale, 3,187-piece iteration of the beloved Mos Eisley Cantina will be a delight to any fan of the lore-filled franchise. This iconic bar is crawling with Minifigures (21 to be exact) and packed with every last detail from A New Hope. What are you waiting for — pour up some blue milk, sit back, and start building!
LEGO Technic Ferrari Daytona SP3
LEGO's TECHNIC line serves as an excellent bridge into the world of robotics, and it helps bring several of its automotive models to life, too. The brand new Ferrari Daytona SP3 is one of the motorized collection's biggest builds, composed of 3,778 pieces that keep every detail in mind, right to the red accents on the targa's chrome-plated wheels. Functionally, it boasts a V12 engine with moving pistons for accuracy through and through.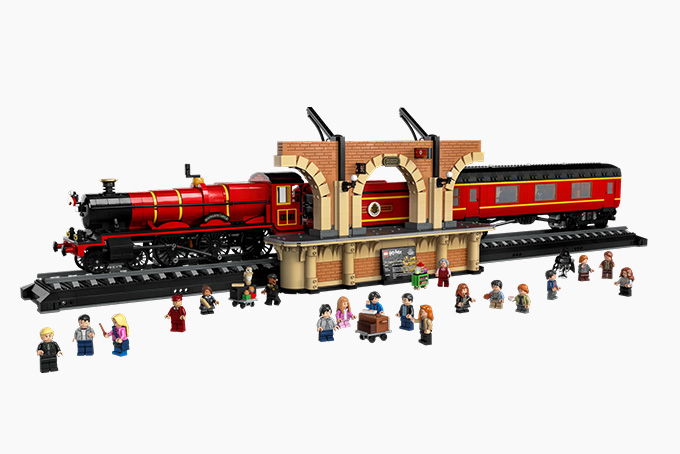 LEGO Hogwarts Express Collector's Edition
LEGO has been delivering mystical Harry Potter-branded products dating since 2001, and it's celebrating over 20 years of collaborations with a spectacular model of Platform 9 ¾ and the Hogwarts Express that measures well over 3 feet long. It features a whopping 25 characters from the world-famous series, as well as several passenger cars to recreate your favorite scenes. From the unforgettable trio of friends to recurring members like the Weasley family and Harry's son, this forthcoming build lets you reimagine sequences from the Sorcerer's Stone to the Deathly Hallows.
LEGO Icons Colosseum
While the sleek Empire State Building was part of the brand's defunct Architecture line, its giant model of the Colosseum is a far more grandiose way to acknowledge the refined craftsmanship. The tribute to Rome's iconic, man-made marvel is 9,036 pieces worth of genuine art crawling with stone-paved walkways and olive trees, practically turning wherever you choose to display it into an Italian getaway.
LEGO Titanic
The largest LEGO build ever released is far from child's play. While Jack and Rose don't appear in this humongous, 1:200 scale model of the original Titanic, its size speaks for itself and sheds the need for any Minifigures. It features every interior element of the authentic ship, including the boiler room, grand staircase, and promenade deck. For functionality's sake, you can even adjust the tension line between masts and turn the propellers.
LEGO AT-AT
Standing 25" high and 28" deep, the Ultimate Collector Series AT-AT is easily one of LEGO's most impressive Star Wars builds. It comes equipped with accurate artillery, like rotating cannons and a bomb drop hatch, as well as a General Veers Minifigure to place at the helm of control in the model's fully posable cockpit. However, it wouldn't be right without a surfeit of Snowtroppers an additional figure of Luke Skywalker attached to the center of it via cable.
LEGO Millenium Falcon
We're going with a quintessential pick to round out our guide to the best LEGO models for adults. The toymaker's Millenium Falcon is arguably as iconic as the spaceship itself, having been heralded as a grail item for collectors since it was released in 2017. The 7,541-piece build features the original crew — Han Solo, Chewbacca, Princess Leia, and C-3PO — as well as Rey, Finn, BB8, and, yet again, Han Solo. So whether you want to keep things traditional or collide both sagas, you can configure the gang of characters however you like. Like the AT-AT, it features accurate weaponry, including a concealed blaster cannon and lower quad laser cannons, so you can defeat the Imperial Empire in full-on brick fashion.
Honorable Mention
A Classic Reborn
LEGO Lion Knight's Castle
In celebration of LEGO's 90th anniversary, the brand revived a pair of its most iconic builds from yesteryear, and this is easily the most impressive of the two. The gargantuan Lion Knight's Castle is nostalgic enough for those who first built it in the '80s and fresh enough for adults who can appreciate wizards, witches, and knights. Years removed from its release, LEGO's intricate castle systems have proven to be some of its most impressive, boasting a number of hidden passages and moving walls.
The 15 Best LEGO Car Sets
If you want to work on a LEGO build that has some speed to it, check out our guide to the toy brand's best car models.