Oct 25, 2021
Category: Gear
Back when the company was started way back in 1932, Ole Kirk Christiansen — the company's visionary founder — could not have possibly known what a worldwide phenomenon LEGO would become. Yet here we are, nearly a century later, and the plastic building blocks are some of the most popular toys around the world. They're so ubiquitous, in fact, that they've also spawned a series of video games, television shows, and major motion pictures.
While much of the business is centered around kid-friendly kits, however, there's also a universality to these toys that transcends generational boundaries. And, as the company has exhibited remarkable staying power, it definitely can't be chalked up simply to novelty. Rather, there's something inherently curiosity-inducing about LEGO, as they're more than just playthings. They're puzzles, models, action figures, and more all-in-one. And perhaps the most spectacular thing about them is that they are seemingly limited solely by your own imagination. With all of that in mind and more, we've gathered together what we believe are the 15 best LEGO sets for grown-ups. Whether you follow their instructions exactly or go completely off-the-rails is up to you.
LEGO Ideas Ship In a Bottle
The ship-in-a-bottle is a type of model that dates back literal centuries and is beloved by princes and paupers alike. And while you might not think it translates well into plastic building blocks, an intrepid builder has proven that sentiment incorrect through the brand's crowdsourcing-focused Ideas program. Now this once-pet-project is a fully-fledged, purchasable kit comprised of just under 1,000 pieces. Moderate in its difficulty and perfectly sized to stash on your desk, this inexpensive kit is an excellent introductory LEGO model.
No. of Pieces: 962
Size (Largest Point): 12″
LEGO Ideas Dinosaur Fossils
For many of us grown-ups, dinosaurs are a fascination holdover from our childhood. The fact that Jurassic World grossed over $650 million at the 2015 box office serves as proof of that. If you happen to be a member of the dino-loving club, then you'll likely be interested in the LEGO Ideas Dinosaur Fossils set. Comprised of 910 pieces, this set includes three separate prehistoric fossil models — a triceratops, pterodactyl, and (of course) the T-rex — as well as a pair of minifigs and some accessories. If you have an interest in the ancient, extinct giants that used to roam our planet, this is not a kit to pass up.
No. of Pieces: 910
Size (Largest Point): 15″
LEGO Disney Steamboat Willie
In 1928, a cartoon was released that would change the entertainment world forever. Titled Steamboat Willie, it was the very first appearance of Disney's ubiquitous mascot, Mickey Mouse, as well as a number of his animated companions. Now, LEGO has paid tribute to that legendary short film with a 751-piece building block model of the aforementioned toon rodent and his titular vessel. Along with a minifig of Mickey, it also includes one of Minnie, as well as a slew of accessories to complete a number of iconic scenes from the flick. Rendered in black and white, just like the original toon, this clever and cute kit is perfect for grown-ups with a love for cinematic history and is also a great piece for parents looking to bond with their kids.
No. of Pieces: 751
Size (Largest Point): 10″
LEGO Creator Harley-Davidson Fat Boy
Harley-Davidson's Fat Boy motorcycle is undoubtedly one of their most iconic models of all time. In fact, it's the very same motorcycle ridden by Arnold Schwarzenegger in Terminator 2: Judgement Day. And whether you're a '90s cinephile or a wrench-swinging grease monkey, this LEGO Creator kit is brilliant in its all-around beauty, as well as all the smaller details — like its Milwaukee-Eight engine with pistons that actually move. The first kit on our list to break the 1,000-piece barrier, this set is a bit more complicated than some of the others — putting it in the moderate difficulty category — but it shouldn't be a problem for anyone who can follow directions well.
No. of Pieces: 1,023
Size (Largest Point): 12″
LEGO Technic App-Controlled Top Gear Rally Car
If we were to pick a LEGO collection that was best-suited to grown-ups, it would almost definitely be the brand's Technic line. Loaded with automotive models, it makes sense that Tecnic would be the landing spot for LEGO's first-ever collaboration with legendary automotive journalism brand, Top Gear. Even so, this rally car is still impressive. Not only does it look like it can handle the most grueling rally stages, but it actually functions as an RC car. In fact, with help from a mobile app, you can actually drive this car around with controls via your smartphone. If you want a miniature taste of what it's like to be the Stig, this is the LEGO kit for you.
No. of Pieces: 463
Size (Largest Point): 10″
LEGO Architecture Empire State Building
Perhaps second only to LEGO's Technic lineup, the brand's Architecture collection is one of the most adult-friendly in their entire catalog. And if you want proof of that, look no further than this building brick recreation of one of the most iconic and legendary buildings in the whole world, the Empire State Building. Rendered in a whopping 1,767 pieces, this miniature landmark is gorgeously designed from the ground up — just like its namesake. The kit even includes ultra-tiny recreations of the streets that surround the building and even an assortment of taxis. For lovers of NYC, design, history, and more, this is a superb LEGO set.
No. of Pieces: 1,767
Size (Largest Point): 21″
LEGO Creator James Bond Aston Martin DB5
James Bond has driven a lot of classic cars, but few stand up to the Aston Martin DB5 from Goldfinger. Not only is it an undoubtedly brilliant car, but the one Bond has is also loaded with enough hidden gadgets to make Batman blush. As it turns out, this official LEGO recreation boasts much of the same features, gadgets and all. At first glance, you might just think this 1,295-piece model is a loving recreation of the British marque's iconic vehicle — and you'd be right — but a closer examination will elicit a few hidden touches, like a functional ejector seat, wheel-mounted tire scythes, a revolving license plate, front-end machine guns, and so much more. If Q had the opportunity to play with this LEGO kit, we bet he'd be proud.
No. of Pieces: 1,295
Size (Largest Point): 13″
LEGO Technic Mack Anthem
Although most of us didn't grow up to be truck drivers, a healthy appreciation for automotive manufacturing and a love of the road has left many of us still interested in big semi-trucks. If you happen to fall into that category, then the LEGO Technic Mach Anthem model you see here is most definitely for you. One of the largest models on this list, this set is comprised of two parts — the aforementioned Mack Anthem truck and a trailer with a crane boom. And while you can build them both with the included 2,595 pieces, this LEGO set also has a secondary build for a bit more versatility. You see, if you take it apart, you can put it back together as a Mack LR garbage truck, as well. And that makes this model worth coming back to time and time again.
No. of Pieces: 2,595
Size (Largest Point): 54″
LEGO Netflix Stranger Things The Upside Down
Only recently dethroned in popularity by The Witcher, Stranger Things was the crown jewel of Netflix's original series. And one of the coolest parts of that show, the dark mirror world known as the Upside Down, has been cleverly recreated in this 2,287-piece LEGO set. Perhaps the coolest part of this model, besides the lovingly-recreated Chevy K5 Blazer, is that it was actually designed to stand on its own — utilizing the trees in the diorama as a reversible base. The kit also includes plenty of easter eggs from the show, a slew of character minifigs, and even a minifig of the Demogorgon monster to face-off against.
No. of Pieces: 2,287
Size (Largest Point): 17″
LEGO Ideas Voltron
If you're looking for a major nostalgia bomb in your search for a LEGO set and you happen to be an avid action cartoon enthusiast who grew up in the 1980s, then you're probably going to favor the LEGO Ideas Voltron set. For those unfamiliar, Voltron was one of the very-first giant-robots-piloted-by-multiple-people-that-breaks-apart-into-several-smaller-robots. As it turns out, this LEGO Ideas kit stays true to that idea and does, in fact, separate into five smaller articulated lion bots and even comes with Voltron's signature sword. Almost more action figure than LEGO model, this 2,321-piece kit is sure to bring out the kid in you.
No. of Pieces: 2,321
Size (Largest Point): 15″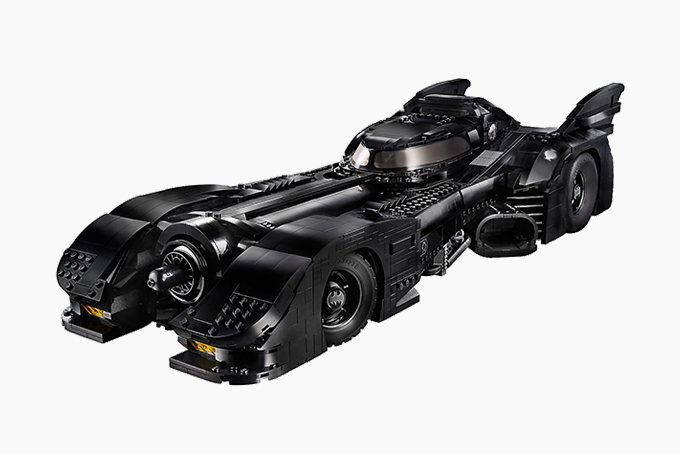 LEGO DC Super Heroes 1989 Batmobile
If Voltron was never really your speed, then this other piece of buildable nostalgia might be right up your alley. For the first time since the movie came out, Tim Burton's 1989 Batmobile has finally been rendered as a scale model out of Danish plastic building blocks. Of course, while the model itself is a gorgeous recreation, it wouldn't be complete without plenty of hidden features. They include a slide-open cockpit, hidden pop-up machine guns, and a rotating turbine exhaust. It even comes with minifigs of the Dark Knight himself, his greatest foe the Joker, and his love interest Vicky Vale. And that rounds out to one excellent superhero set. After all, who doesn't love Batman?
No. of Pieces: 3,306
Size (Largest Point): 23″
LEGO Technic Bugatti Chiron
A follow-up to the lauded Veyron, Bugatti's Chiron is no less a magnificent hypercar capable of producing 1,479 horsepower and 1,180 foot-pounds of torque. If kids were still putting car posters up on their walls, this one would definitely be amongst the most popular. And that's probably a part of the reason LEGO built a Technic Bugatti Chiron and put it up for sale. Of course, they had to make sure it was a spot-on recreation, which is why the build is comprised of 3,599 — to make sure every detail is exactly right. The 1:8 scale model even includes the cars W16 engine under the hood, a functional suspension, and more. For car enthusiasts, there are few Technic models quite as cool as this one.
No. of Pieces: 3,599
Size (Largest Point): 22″
LEGO Creator Taj Mahal
One of the most beautiful works of architecture ever envisioned, India's Taj Mahal — which was originally built back in the mid-1600s — is still a major destination for world travelers and is a fittingly-epic tribute to Mumtaz Mahal, Mughal emperor Shah Jahan's wife for whom the mausoleum was built. Of course, even if you can't make your way to go see it in person, you can still build an accurate miniature of it with this exceptional LEGO kit. Definitely on the more difficult side of the spectrum, this set is comprised of 5,923 pieces and really isn't kid-friendly at all. But for lovers of timeless architecture, this might just be the best LEGO set on our list.
No. of Pieces: 5,923
Size (Largest Point): 20″
LEGO Technic Liebherr R 9800 Excavator
Like semi-trucks, heavy machinery — like excavators — have a way of getting our blood pumping, likely because of the sheer power they represent. And that fascination makes them excellent candidates for grown-up-friendly LEGO sets, like the Technic Liebherr R 9800 Excavator you see before you. Just keep in mind that, like its full-sized counterpart, this kit is an exceedingly beefy one — clocking in at 25″ at its widest point and a whopping 4,108 individual pieces. That does, however, come with a functional electric motor system that allows you to wirelessly control the thing from your smartphone, adding a little extra play to the model. The price is high, but lovers of construction equipment won't want to pass this one up.
No. of Pieces: 4,108
Size (Largest Point): 25″
LEGO Star Wars Imperial Star Destroyer
No list of superb LEGO kits would be complete without at least one selection from the brand's officially-licensed Star Wars collection. And while there are actually a number of exceptional options — including the Millenium Falcon, Tantive IV, and even a cutaway Death Star — we're particularly drawn to this behemoth of a set, the Imperial Star Destroyer. Of course, this set isn't just any Star Destroyer, it's the very first one ever to have appeared on screen in A New Hope — adding to its desirability. Rendered in a whopping 4,784 pieces and stretching 43″ from tip to tail, this massive kit isn't for the faint of heart. But if you're a massive Star Wars fan and you're looking for an extremely detailed in-depth building block kit, you'll not find a better one in this galaxy or one that's far, far away.
No. of Pieces: 4,784
Size (Largest Point): 43″
The 15 Best Nerf Guns
If you like your grown-up toys a bit more on the active side of the spectrum, you can't go wrong with a foam dart blaster. That's why we've rounded up the best NERF guns you can buy right now.
HiConsumption is reader-supported. When you buy through links on our site, we may earn an affiliate commission. Learn more