Presented by

September 2020 is already here and — while many folks are bemoaning the end of an uneventful, isolated summer — the new month does bring with it some good news for everyday carry fanatics everywhere: new knives! Now, before you say "but I already have so many knives" or "I already have the perfect knife," we ask that you consider one very important fact. That is to say, there is no such thing as too many knives or a single perfect knife — not, at least, if you're actually making use of them as you should.
This is, simply put, because knives are tools and, like all tools big and small, different versions serve different purposes and those that have been used hard and long enough will cease to be effective and perhaps even break — necessitating a replacement. It's with this in mind (and perhaps just a bit of a knowing nudge) that we've wrangled together a handful of spectacular new releases to add into your everyday carry loadout rotation. These are the best new EDC knives of September 2020.
CRKT Burnley Sketch Knife
If the name Lucas Burnley isn't in your knifemaker's lexicon by now, it's 100% time to change that. After all, this blade maven has crafted some of the best silhouettes of our time. Another in a long line of exceptional offerings, the CRKT Sketch you see here is done up in an exclusive Desert Warrior colorway, comes with a D2 tool steel blade, has a single G-10 handle scale on one side and a stainless steel frame lock on the other, and the copper finish on the blade matches the pocket clip and even the rim of the pivot. Perfect for EDC but with just a touch of tactical styling, this one is a crowd-pleaser for sure.
Blade: D2
Handle: G-10
Blade Length: 2.75″
Total Length: 6.625″
Type: EDC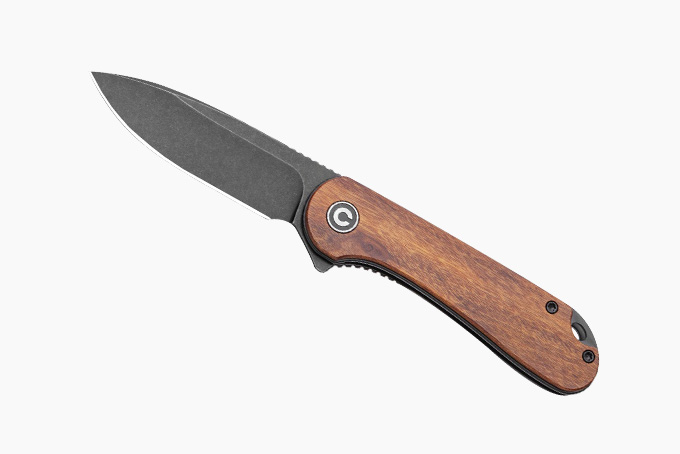 CIVIVI Elementum Knife
CIVIVI's Elementum is already one of our favorite recently-released EDC knife designs, but the brand just keeps making it better and better with numerous different colorway and material releases. In this case, they've taken a page out of the gentlemen's blade book and equipped it with gorgeous Cuibourtia wood handle scales that beautifully contrast with the knife's black-finished D2 tool steel blade. It also boasts a deep carry pocket clip, sturdy liner lock, and a lanyard attachment point for a measure of personalization.
Blade: D2
Handle: Cuibourtia Wood
Blade Length: 2.96″
Total Length: 6.99″
Type: Gentleman's Folder
Spyderco Chaparral Sun & Moon Knife
Typically, Spyderco's designs — while often uniquely shaped — tend to fall into the realm of the more tactical and/or basic. They don't often venture into the classy end of the spectrum, but — when they do — they sometimes do a pretty impressive job. This particular knife, the Chaparral Sun & Moon is one such offering — complete with a yin and yang style handle (black G-10 with a mother-of-pearl inlay on one side and a white G-10 with a red dot inlay on the other), sturdy back lock, and reversible tip-up pocket clip.
Blade: CTS-XHP
Handle: G-10
Blade Length: 2.81″
Total Length: 6.375″
Type: Gentleman's Folder
WE Knife Co. Mote Knife
One of the best things about titanium — as opposed to, say, stainless steel — is that it's insanely strong while also being remarkably lightweight. That means a knife that's incredibly compact can still also be even more durable and long-lasting than its heftier steel counterparts. And that's what you'll find in the WE Knife Co. Mote you see here. This compact design from Ostap Hel with its titanium handle, CPM-S35VN steel blade, and frame lock is perfect for EDC — especially if you appreciate toughness, compactness, and good looks.
Blade: CPM-S35VN
Handle: Titanium
Blade Length: 2.66″
Total Length: 6.18″
Type: EDC
MKM Voxnaes Timavo Knife
As we've said time and time again, everything is better in black — EDC knives included. One of our favorite knife designers, a master by the name of Jesper Voxnaes, also appears to have an appreciation for shadowy colorways, if the MKM Timavo you see here is any indication. Of course, its distressed all-black appearance is only one of the many things that make this knife so impressive. Others include a high-end Bohler M390 steel drop point blade, a nested stainless steel liner lock, a titanium pocket clip, and more.
Blade: Bohler M390
Handle: Titanium
Blade Length: 2.875″
Total Length: 7.125″
Type: EDC
The 5 Best New EDC Knives Of August
Nothing here that quite strikes your fancy? Never fear, there's a whole 'nother crop of exceptional blades just waiting to do daily duty on our list of the best new EDC knives of August.