Sep 12, 2018
Category: Tech
The office is a sanctuary. It's a very personal place, where you can focus all your energy on completing a task to perfection. Every man with a sense of purpose needs to have the proper tools to ensure that he isn't shortchanging himself. With all the new technology that is constantly adding functionality (and aesthetic appeal) to the office space, we have distilled the ultimate list of essential high-tech office products that will enhance your office experience.
There are so many new technologies that can upgrade your work life, with many more or coming out by the day. Making sure that all your bases are covered with the highest tech, cutting-edge products can make all the difference in your workday. Whether that means having all your devices charged up, your internet connection battened down, or your data preserved  (encrypted and out of reach from the prying hands of hackers), this list of the best high-tech office gadgets will help ensure you don't have any blind spots in your work life. Take a look and get ready to put in work.
SanDisk Wireless Stick
The SanDisk Wireless Stick is not your ordinary USB Flash drive. Its wireless capabilities allow you to transfer large files, stream HD videos and music, and even save and share photos and video from one device to another without having to plug in. When analog feels easier, you can go back to the classic method of sticking the SanDisk into your USB port and connect that way. The wireless stick comes in 16, 32, 64, 128, 200 or 256GB, for all of your data needs.
Anker PowerCore Lite
Anker makes some of the best power banks on the market. Their PowerCore Lite is their slimmest and most lightweight 10000 mAh portable charger. It boasts the impressive ability to lend 2.5 charges for an iPhone 8 Plus, or 2.6 charges for a Galaxy S9 or iPhone X. The Enhanced Exterior is sleek black and durable, so it can withstand most office mishaps (even the occasional coffee spill).
Nomad Universal Cable
The Universal cable from Nomad is the ultimate, all-in-one cable that can connect the tech on your desk seamlessly. It features a USB A to Micro USB cable, but also comes with an MFi-approved Lightning tip and a USB Type C tip affixed to the end, so you can charge your Apple and Android devices at once. The braided ballistic material is 10K Mil-spec flex tested, so you know it's tough.
Satechi Aluminum Headphone Stand
Having a good pair of headphones is key, but having them in a secure location for retrieval and docking is almost just as important. With a super small footprint, the Satechi Aluminum headphone stand won't take up much room on your desktop, nor will it be an eyesore with the brushed metal anodized exterior it flaunts. The stand will hold any headphones you throw its way, including but not limited to: Bose, Beats, Sony, Panasonic, AKG, JBL, Audio-Technica, Sennheiser, Shure and more.
Rain Design mStand
Rain Design is one of the top brands in laptop stands, and the mStand is one of their bestsellers. Offering your laptop a 5.9-inch lift, the Rain Design mTower is a towering stand that keeps your laptop cool. Crafted from a single piece of aluminum, the composition of the mStand is sturdy. The sand-blasted and silver anodized finish also matches nicely with your MacBook. The stand also comes with an additional mStand tablet pro stand for your iPad, if that's a part of your workstation.
Mini Wipebook Scan
If a whiteboard and your typical, college-ruled notebook had a baby, the resultant progeny would be the mini wipebook. The perfect daily organizer that can be erased and recorded over with ease, the Mini Wipebook Scan comes with 20 pages; 10 graph paper 10 college-ruled for recording thoughts and data. The smart tech-infused book takes this thing to a whole different level though; thanks to the Wipebook Scan App, you can save your work and upload it online before you erase it. What a useful tool!
Mophie Wireless Charger
Mophie is known for their wireless charging technology, namely their cases that can charge iPhones on the go. This all-in-one charger is also a perfect the compact carrying case and travel pouch to keep your gear charged wherever you may roam. With Qi compatibility, the wireless charger is equipped to charge your device, no matter if it's an Apple or Android. With a little buckle, you can collapse the travel pouch to tuck into your smart bag for ultimate portability, if you're looking to take your work with you
Titan Security Key
The same key used by Google employees at their facilities (so you know it's good), the Titan Security Key is the high tech office access key you didn't know you needed at your workplace. The Titan USB security key comes compatible the Advanced Protection Program, Google's strongest security program, and has been fully engineered by the super smart folks over at your favorite search engine.
Satechi Aluminum Type C USB Clamp
By affixing the Satechi Aluminum Type C USB Clamp to your computer, you enhance your workspace with ease. The 2017 iMac and iMac Pro models are given additional Thunderbolt 3 ports, as well as 1 USB-C port (data only), three USB 3.0 ports and Micro/SD card reader slots. Simply fasten the Clamp to the bottom of your Mac computer and bolster your workstation with new data entry ports.
TwelveSouth PlugBug Duo
The PlugBug duo from Twelve South increases your ability to charge devices in the most efficient manner possible. It's simple and effective: the little red contraption simply snaps onto your MacBook pro charger, thereby proffering two extra USB ports. It also comes with 12 different adaptive attachments that help you connect your laptop to any form of foreign outlet. This is the perfect converter for those who travel quite a bit for work.
Logitech Crayon
The digital artist needs his magic wand, and there's no modern wand more marvelous than the Logitech Crayon. The digital pencil is designed for the iPad sixth generation, and it's the perfect stylus for working creatively on that tablet. Apple Pencil supported apps like Notability, Tayasui Sketches are not in short supply, either, so you can use the Logitech Crayon for myriad different purposes. Aside from your artistic enterprises, the Logitech crayon is the perfect way to annotate documents and fill out an excel spreadsheet for the more data-driven denizen.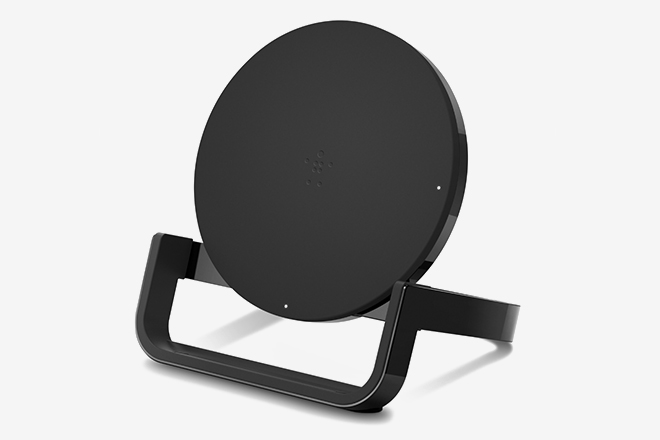 Belkin Boost Up Wireless Charging Stand
Having to pull out and plug in your various devices can be a cumbersome task, and one that consumes precious seconds from your day. With the Belkin Boost Up Wireless Charging Stand 10W for Apple, Samsung, LG, and Sony devices, you'll merely need to retrieve your device from your pocket and place it on the stand to start registering a charge. Always having your phone right there and handy — as well as not having to constantly plug and unplug your charging cable — is a game changer for your desk space.
HyperDrive USC C Hub
The future is now. And that means, sooner or later, you'll probably have to make the switch from USB 3.1 to USB-C. Here to help you do just that is the HyperDrive USB C Hub, the self-touted world's fastest (at 50Gb/s) and most compact hub designed specifically for USB-C. Using the Hyperdrive, turn two USB-C ports on MacBook Pro into 7 ports, including HDMI (40Gb/s) USB-C, USB-C (50Gb/s), SD, microSD, and two USB 3.1 ports for those who refuse to change. The precision milled aluminum enclosure also gels well with the look of your anodized aluminum Mac case.
Seagate 4TB External HD
If you're someone who is dealing with a ton of data and wants to ensure its safety, then the Seagate 4TB External HD is a must-have. Yes, it comes in 1 TB and 2 TB sizes — whatever the case, that's a massive amount of information, and Seagate swears that it will be secure inside its compact and durable external hard drive. Perfect for the gamer who wants to store his or her games outside of their console.
Logitech MX Vertical Ergonomic Mouse
Carpal Tunnel Syndrome is no joke. Spend enough time whipping your mouse cursor across your desk, or typing away on your keyboard, and you very well might start to feel the pain. Thanks to the brand new Logitech MX Vertical Ergonomic Mouse, it doesn't have to be this way. This ergonomic mouse keeps your hand in a natural handshake position, which is much less straining than the sideways contortion that most mouses require of you. With 4000 DPI high-precision sensor, you won't need to exaggerate your motion with this mouse. Save yourself years of arthritis by picking up this worthy tool of the workplace.
Logitech Bluetooth Easy Switch
Logitech is a trusted name in computer tech. Their Bluetooth Easy Switch illuminated keyboard is a trustworthy addition to your office tech collection. For your eyes, the Bluetooth keyboard features auto-adjusting illumination which changes based on the light of the room. Uniquely, the keyboard can also pair with up to three Apple devices, between which users can switch at the press of a button. A host of other high-tech features make this the most irresistible Bluetooth keyboard on the market.
Pac-Man Quarter-Size Arcade Cabinet
All work and no play makes Jack a dull boy. Spice up your desk space with a big kid toy: this Pac-Man Quarter-Size Arcade Cabinet. This accurate 1/4-scale replica of the original PAC-MAN arcade cabinet offers the perfect respite from mind-numbing work, by allowing you to embody that mindless little 2D hero, and waka-waka-waka up and down the screen in all his glory. This beautiful 'Collectors Edition' 17-inch cabinet is the perfect way to make your office slightly more hospitable.
Norton Core Router
Having a router you can trust at work is essential (especially if your workplace is MI6). The Norton Core Secure WiFi Router promises to be resistant to malware like VPNFilter, a malware that infected more than half a million routers in more than 50 countries. It's also a very cool, geodesic design that will fit with a modern office aesthetic. The Norton Core Secure WiFi Router has already blocked 70 million + threats and promises to block many more.
Courant Catch:3 Wireless Charging Valet Tray
Work can be stressful. You might not want to neatly arrange all of your items. Plugging in everything from your Apple Watch to your phone while putting everything in its proper place can be agonizing. The Courant Catch:3 Wireless Charging Valet Tray offers a better way: simply pull out your items and drop them in. They will charge instantly, and without having you to tend to them. Swathed in premium pebble leather, the Courant Catch 3 is an elegant and sophisticated solution to your charging problems.
Shinola Power Supply 5 Port
Shinola might be most well known for its watches and Horween leather wallets, but it also offers some pretty awesome tech, too. Their Power Supply 5 Port + Dual USB is just as well made as any product the Detroit company offers, constructed of a heavy die-cast metal enclosure with a rubber base, and able to stand or sit on your desktop. Never fear tangling your extension cord if your purchase the Shinola Power Supply 5 Port; the durable custom-braided cord is designed to obviate kinks and knots as it powers your equipment.
Nespresso Vertuo Coffee and Espresso Machine
You're going to need a caffeine injection if you're going to put all this office-tech to good use. Making sure you can get your hands on a well-brewed cup of coffee at work is paramount. The best way to be sure of that is with the Nespresso Vertuo Coffee and Espresso Machine. This smart coffee-maker has CentrifusionTM technology, which allows it to use barcode reading technology to generate the perfect cup of coffee virtually every time. Basically a barista, the Vertuo offers a variety of sizes and options, from espresso (1.35 oz.), to double espresso (2.7 oz.), to gran lungo (5 oz.), coffee (7.7 oz.), and finally alto (14 oz.). It only takes 15 seconds to heat up and brew your perfect cup.
Blue Yeticaster Professional Broadcast Bundle
The Blue Yeticaster Professional Broadcast Bundle comes with Yeti USB Microphone, Radius III Shockmount, and Compass Boom Arm to inject the most elegant and high-quality broadcast studio experience for your desktop. This is the perfect tool for the professional podcaster, game streamer, voice-over actor, or Youtube creator to sit down and make quality content.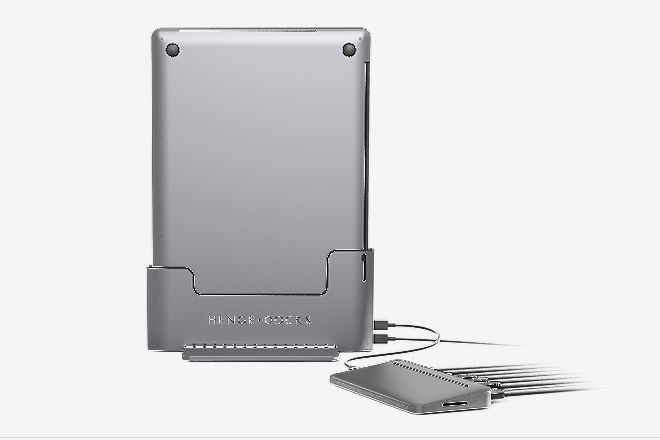 Henge Docks Stone Tethered Laptop Dock
The Henge Docks Stone Tethered Docking Station made for MacBooks goes along with the aesthetic and functionality of the Macbook, but adds the features that were omitted to make your life more difficult. The dock, which fits nicely and discretely underneath the laptop, features three USB 3.1 ports, Mini DisplayPort, audio, ethernet, power supply, and an SD Card reader.
Dyson Cool Fans
When you're working tirelessly — alongside your gear, which despite all precautions, has a tendency to heat up pretty darn quick — it's important to have something there to keep you cool. Enter the Dyson Cool Fans, the unobtrusive, quiet and calming fans you can keep desk-side with you to wick the sweat from your brow. These blade-less fans won't turn your workspace into a gnashing chaos. Instead, they'll emit streams of smooth, high-velocity air for personal cooling that won't distract you from the job at hand.
Aer Tech Pack
Aer makes some of the best tactical and technological backpacks on the market. This 1680D Cordura ballistic nylon backpack is tough and attractive, perfect for lugging your EDC essentials with you into the wilderness, or the office. With organizational pouches for your gear and a 15.6″ laptop pouch, you'll have everything you need for your commute.
Need Supply Co. Anglepoise 1227 Lamp
If you're burning the candle at both ends, working late into the night, you'll definitely need a lamp to ensure your workspace stays bright and illumined. The Anglepoise Original 1227 Mini Desk Lamp from Need Supply Co. is the perfect tool for just that. With aluminum shade/arms, chrome plated fittings, and a cast iron base, this is one of the most beautiful and practical lamps out there.
Bose QuietComfort 35 Series II
Zoning in, really getting focused and tuning out external distractions, is essential to accomplishing a good day's work. That's where these Bose QuietComfort 35 Series II headphones come in. Able to cancel out every noise, the Series II adjusts so you can hear three different levels of sound based on just how undisturbed you wish to be — these are the ultimate earmuffs and music-playing headphones. With up to 20 hours of wireless play time, work through the whole day without having to listen to car alarms, dog barks, or coworkers' gossip with the Bose QuietComfort 35 Series II headphones.
Anker Nebula Portable Projector
The Anker Nebula Portable Projector is the perfect way to enhance your presentations. With 720p definition, a 300 ANSI lm brightness, and DLP IntelliBright technology, the Anker Nebula will project your Prezi, Powerpoint or video onto the screen in perfect clarity to get your point across. Plus, this portable mini-projector is small enough to fit in your backpack. The awesome single-second autofocus feature promises to focus its picture to precision in just one second.
Beoplay M5 Speaker
If you're looking for a bigger auditory scope in your office space, look no further than the Beoplay M5 Speaker, a Bluetooth multiroom speaker which can turn your meager office accompaniment into a fully orchestral experience. Offering super high-quality, rich sound and made from durable materials, Bang & Olufsen's brilliant speaker with Bluetooth capabilities is built to offer the best sound from all angles. Truly shift the vibes of your office — whether you're working in your own home or in a rented space — with the Beoplay M5 Speaker.
iPad Pro
Doubling down with a tablet can help expand your creative capabilities at your workplace. A whole new world opens up when you bring an iPad Pro into your workspace. The beautiful, crisp retina display, the 10.5-inch screen (20 percent larger than the previous iPad), as well as the heaps of computing power built into the slim design will sharpen your work experience.
Iridium Go Hotspot
The Internet is essential for most office jobs. Odds are that you have it in the building. But stuff happens, and the Internet can go out. In these times, it's best to have a good backup. Or, if you work from the road, having a mobile Internet source is key. Enter the Iridium Go Hotspot. This satellite-based Wi-Fi access point gives users access to a worldwide communication access network for five devices at once from anywhere on Earth. Always stay connected with this powerful little pack.
Grovemade Walnut Speakers
Grovemade makes some of the richest, full designs for computer accessories crafted from beautiful wood. Their walnut speakers are no different and they're the perfect desktop speakers for your workspace. Designed by Grovemade and industrial designer Joey Roth, together they worked to harness the acoustic properties of wood to create a full and bright sound. They are also trimmed in warm leather mounted on stainless steel stands.
Herman Miller Embody Chair
Your office experience begins and ends with one item: your chair. A good ergonomic chair has a huge influence on your productivity over the course of the day. Better to splurge, and get the best throne that money can buy. The Herman Miller Embody chair is built to enhance health, improve focus, and provide ergonomic support for its host, and is especially recommended for people with back discomfort issues.
Artifox Desk 02
Your desk is your canvas; it's your companion, your trusted partner in all the work you do on a daily basis. Having a good desk is crucial to turning in your best work. With no excessive frills, a handsome and minimalist aesthetic, and a well-crafted, detail-oriented design to maximize your efficiency, the Artifox Desk 02 just might be the perfect desk for you. The design is lightweight, easy to assemble, and comes with a ton of little features to make your life easier, like a functional cable grid to organize your wires, and built-in docks for your phone and tablet.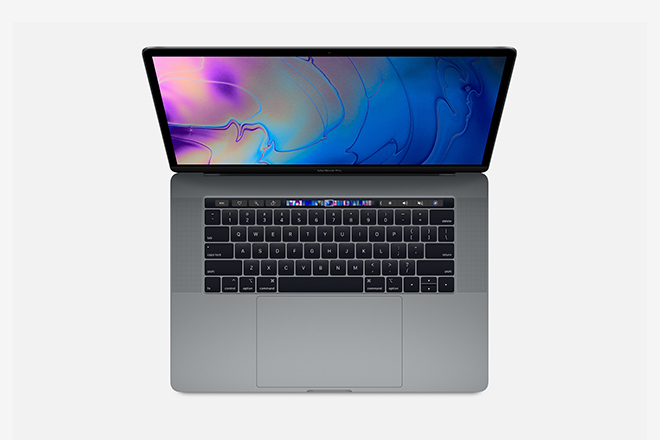 15″ Macbook Pro
There's no better centerpiece for your workspace than the MacBook Pro from Apple. The newest iteration has a bevy of new features, including 16GB 2400MHz DDR4 of memory, 2.6GHz 6‑core 8th‑generation Intel Core i7 processor, Turbo Boost up to 4.3GHz, and Touch Bar and Touch ID to keep nosy coworkers from prying into your life. A super laptop like this can take your game to a whole new level
Best Mobile Office EDC Essentials
Feeling like taking this show on the road? For the traveling work warrior, check out this list of the best mobile office EDC essentials, and take your road-work gear to a new level.
HiConsumption is reader-supported. When you buy through links on our site, we may earn an affiliate commission. Learn more