When it comes to fashion-forward dress, there's hardly an article more important than footwear — it's what makes or breaks an outfit. Whether you're looking to complement the perfect suit, bring a little bit of pizzaz to your business attire, or utilize them alongside your favorite pair of comfy blue denim jeans, the men's dress shoe is the item that often ties everything together — bringing a much-needed dash of warmth and leather to your carefully-plucked wardrobe. While there are a number of different shoe styles on the market today, perhaps one of the most popular, classic, and iconic silhouette is that of the wingtip — a tasteful mixture of premium components, slimline design, and detailed broguing that can take your outfit to an entirely different level.
While wingtips aren't inherently hard to come by, there are a number of factors that separate the boys from the men, so to speak, when it comes to proper selection. If you're looking for top-of-the-line construction with the best stitching, leathers, and components the industry has to offer, you'd better be prepared to understand the difference between premium soles, differing welts, and company heritage. We're not trying to put a damper on your day, but the age-old adage of "you get what you pay for" is often most true when searching for your next pair of handsomely tailored dress shoes — especially when the difference between a dull, unbuffed look after a couple of months of wear and a pristine, shining silhouette lie wholly within the quality of the items you procure. Below, we'll outline a few of the qualities to look for in an ideal pair of wingtip shoes, from leathers, welts, and styles, all the way to comfortable soles and interior liners. So sit down, put on your suspenders, and prepare to dive right into the deep world of brogued footwear.
What To Look For
The Details
Styles
While the term "wingtip" is rather vague, the fact is, the term for the shoe is reliant on its infamous wingtip stitching. A common misconception is that broguing, or the "hole-like" detailing that takes place on a number of wingtip offerings, is a mainstay of the style itself. What most people don't realize is that wingtips can be utilized in a number of different ways from a leather boot or a derby all the way to shoes that feature no brogue detail, which is often called an austerity brogue. The most popular styles of wingtip shoes come in the forms of the classic, longwing, boot, and spectator — all of which have their own defining characteristics.
Classic wingtips often integrate excessive broguing, which lends itself to dressed-down attire, and feature a busy silhouette that caters to casual implementation. Longwings, on the other hand, feature a stitched side detail (or wing) that extends from the front of the shoe all the way to the rear — a stark contrast to the traditional "halfway" point of classic variants. Wingtip boots are a bit less confusing, sporting a classic, high-top lace structure and boot layout with an iconic wing toecap and perforated uppers. Spectator shoes are simply classic wingtips that come in a variety of corresponding colors, such as a black and white upper, brown and navy upper, or any combination that you deem attractive.
Leather
This section will be short and sweet, mostly because Italian leathers are widely considered the best possible construction material for wingtip shoes. While other styles of leather are often implemented by a variety of manufacturers, it's not an over-exaggeration to say that the only shoes worth their salt are the ones that utilize refined Italian leathers. From Ted Baker and Oliver Sweeney, all the way to brands like J. Crew and Paul Smith, these soft, supple leathers are world renowned for their fine aging qualities, durable resistance to scuffs and damage, and the ability to repair, resole, and customize the shoe.
Welt
A welt, while seemingly unimportant due to its hidden nature, is actually one of the most important aspects of the wingtip shoe. First, let's define a welt as a strip of leather that runs along the perimeter of the outsole of the shoe. It's usually used to attach the upper of the shoe (in this case, the premium leathers) to the outsole. It acts as the middleman between both the upper and the soft rubber sole of the shoe and is often found on high-end, tailored offerings that don't skip steps when it comes to construction. Within the industry, there are a number of different styles of the welt, but you'll only need to recognize the top contender: Goodyear. A Goodyear welt is perhaps the most durable in existence, utilizing a perpendicular rib that joins the insole of the shoe. After the rib has been laid down, a last is applied to the shoe, followed by a "double-stitched" design that won't break down if one of the wingtip's supplementary stitches breaks — without this, the whole shoe would eventually unravel.
The Contenders
Industry's Best
Ted Baker Senape Leather Derby Brogue
Ted Baker has consistently prevailed as one of menswear's finest designers, and to tie a number of the company's finely-tuned outfits together, the Senape Leather Derby Brogue has been introduced to the unwavering masses. As a true trademark of the dapper gentleman, these timeless shoes come complete with finely stitched details, two-toned laces, and a black and tan bovine leather upper that's sure to age with grace. To bolster the Senape even further, cotton and Caprine leather are implemented alongside bovine and Caprini suede for the ultimate in comfortable, long-lasting wear. And better yet — a traditional, rounded toe lends these shoes to a number of varying styles when it comes to exceptional dress.
J. Crew Oar Stripe Shortwing Derby
J. Crew might not be the first name you think of when perusing the marketplace for your next pair of tasteful wingtips, but the retailer's Oar Stripe Shortwing Derby is right up there when it comes to affordable, classic footwear. A vegetable-tanned, smooth-grain Italian leather, and elaborate broguing place these derby shoes squarely in the realm of casual wear — but that doesn't mean they can't be utilized for special occasions. A durable, slip-resistant rubber, leather outsole, and resoleable Goodyear welt give these wingtips the edge when worn as city-savvy commuters, alongside an Oar Stripe back pull tab that signifies their admittance into J. Crew's premium clothing lineup.
Oliver Sweeney Aldeburgh Classic Brogue
Oliver Sweeney's Aldeburgh Classic Brogue wingtips are certainly timeless, and with a handsome Oxford design, calf leather upper, and subtle brogue, they've quickly become one of the brand's most notable choices for fashion-forward men. The durable 301 Last, resoleable Goodyear welt, and hand-stitched branding on the back counter of the shoe are a testament to Sweeney's referential design choice, which utilizes a traditional broguing pattern and calf leather lining on the interior of the shoe for unmatched comfort. A five-eyelet lacing structure, variety of colors, and pleasant design have made the footwear a best seller year after year for the brand — proving that timeless styles like the Aldeburgh are surely here to stay.
Grenson Archie Brogue
Grenson's Archie Brogue wingtips are an exercise in overstated style, utilizing a largely developed broguing pattern and chunky silhouette to set themselves apart from a number of modern-day offerings which have opted for a sleek, slimline design. Punched uppers help to define the Archie from its peers, while oversized eyelets, a warm transitional tan color, and a triple-leather sole serve to provide comforting references to the shoe's classic roots. Calfskin leather uppers, a 201 last, and Goodyear welting help to round out the stylish footwear — providing a long-lasting silhouette that's well suited for modern business casual attire.
Cheaney Broad II Oxford Wingcap Brogue
Cheaney has a long and storied past when it comes to footwear, establishing a reputation as one of the leading designers in all of England (and perhaps the world) when it comes to wingtip shoes. Their Broad II Oxford Wingcap Brogue is the product of over a century of experience, bringing together classic staples of design like a full-grain calf leather upper, leather liner, and a Goodyear welted leather sole that's suitable for everything from daily walking, all the way to refined outings. A 11028 last, quarter rubber tip, and hand-crafted pedigree keep the shoes running strong — giving buyers peace of mind that their investment will remain well-to-do for years to come.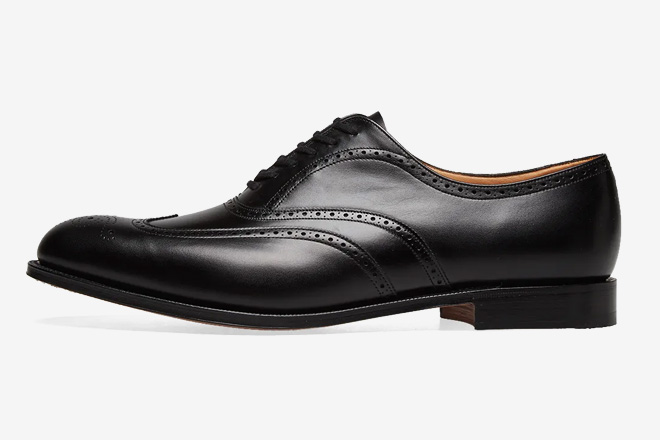 Church's Berlin Brogue
Church's is yet another classic name that's at home on any fashionable, stylish footwear list. To accentuate the legitimacy of the brand, the Berlin Brogue wingtip shoe embodies traditional detailing, cotton laces, and precise craftsmanship that are a result of years of experience within the industry. A smooth calf leather upper serves as the perfect foundation for the shoe's brogue punches, while a premium leather lining works tirelessly to provide long-lasting comfort and wear. A Goodyear welt and smart design principle round out the sleek English shoe — proving once again that minimalist style and attention to detail often win out against gaudy competitors.
Paul Smith Munro Leather Wingtip Brogue
If you're unaware of Paul Smith's influence on modern-day menswear, now's the perfect chance to educate yourself on timeless style. The company's Munro Leather Wingtip Brogue shoes are a testament to the stylish man, donning an impeccably crafted vegetable-tanned leather upper that's been tirelessly crafted in Italy for an overtly soft silhouette. Unlike most manufacturers, Paul Smith's Munro wingtips are refined even further through the use of the Blake technique, a process that allows shoes to sport a comfortable, form-fitting design, even before their first outing. Soft padding on the interior and exterior of the shoe combine with malleable soles that make them great for everyday wear, extensive standing, and that anticipated walk to the coffee shop each day.
Officine Creative Cornell Wingtip Brogues
Officine Creative aren't huge fans of the trendy wingtips styles of modern times, opting instead to retain the tried-and-true architectures of yesteryear. Their nostalgic Cornell Wingtip Brogue shoe is handcrafted by skilled cobblers in Italy, using traditional techniques taught before the advent of mechanized embroidery. A timeless, polished black leather, stamped wingtip perforations, and comfortable leather lining and sole will keep you looking as suave as humanly possible while annotating your understanding of time-tested craftsmanship. Better yet, their traditional, all-black design makes them a breeze to keep in great condition — perfect for the guy who's always on-the-go.
Crockett & Jones Pembroke Derby Brogue
Crockett & Jones pride themselves on the creation of high-quality footwear, and since 1879, the company has been providing men everywhere with the greatest country-style derby shoes in the industry. To continue their long-running commitment to style and supremacy, the brand's Pembroke Derby Brogue shoes are made with the finest scotch grain (or smooth calf) leather, a durable Storm welt from their renowned Men's Main Collection, and Dainite rubber soles for exceptional support while traversing everything from city streets to hardwood floors. A classic wingtip design and tasteful, minimalist punching detail bring the Pembroke into the realm of timeless style — and if we're being honest, the inclusion of scotch grain leather certainly make these a fine addition to any gentleman's wardrobe.
George Cleverly Reuben Leather Brogue
George Cleverly's Reuben Leather Brogue shoes don't redefine what it means to wear handsome footwear — instead, they excel at recreating the timeless style and feel of traditional wingtip shoes through the use of all-black leather and a handcrafted pedigree. While the shoes don't take any daring chances with their design, the Reuben's exceptional broguing, pinked and perforated upper, and Goodyear welted soles bring them right in line with a number of the world's most highly acclaimed dress shoes. These English-made wingtips boast a fully-lined leather interior, a neutral black calfskin leather, and a stacked list of prolific clients that have donned the shoes since the company's conception in 1958.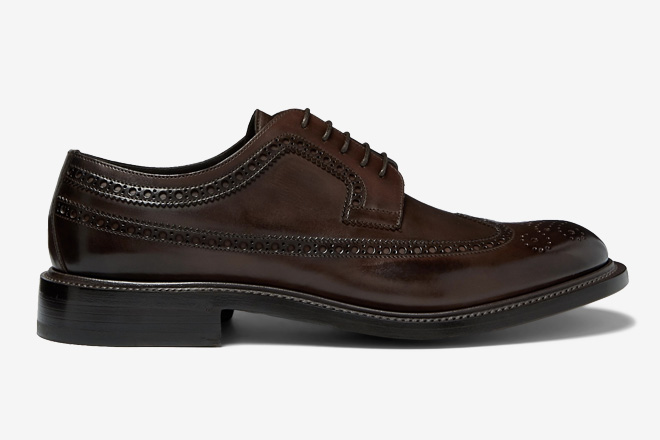 O'Keeffe Felix Leather Longwing Brogue
O'Keeffe's Felix Leather Longwing Brogue shoes are the quintessential companions for fashion-oriented men everywhere. They're refined, tasteful, and polished by hand with the brand's iconic "parashine" patina, allowing for a gradual color variation as you get closer to the toe cap. This ensures that each pair is exclusive to the owner, aging and wearing differently than the rest. Classic wingtip perforations, Goodyear welts, and rubber crepe soles round out the well-established offerings, which also sport a polished, dark-brown leather upper, and comfortable leather linings for everyday use.
Dunhill Country Leather Brogue
Dunhill specializes in a great number of men's classics, but the company's Country Leather Brogue shoe is far and away the most reputable item in their arsenal. The polished country-style footwear boasts a traditional brogue pattern, perforations, and pinking — all of which are found on the brand's traditional footwear. However, for added stability and support, the inclusion of a trusted Vibram rubber-lug sole gives the beefy shoe a look all its own. While they're significantly larger than most wingtip variants, the durable construction sets them apart from the crowd, offering all of the positives associated with a common dress shoe, with the characteristics of a thick-soled boot. The fact that they're also professionally crafted in Italy and come complete with a premium gloss black leather and grosgrain pulls only adds to their impeccable story.
The Complete Guide To Leather Care
Now that you've found the perfect pair of companions for your next stylish outfit, head on over and check out our complete guide to leather care to learn about how you can take care of your investment.