From bootcut bottoms to a big ol' hat, Western-inspired attire is all the rage right now and has been for quite some time. Whether you're a Southern native or want to pay homage to the cowboy films of yesteryear, there's no way to overlook the unrelinquished style of a Western shirt. With its snap pockets and all, this beloved garment comes in several iterations, including options crafted from denim, corduroy, and buttery suede.
While you can find this silhouette dressed up with horse-coated motifs and countless other embellishments, there are few better choices than one that keeps things clean, simple, and, most of all, traditional. The western shirt has been adorned by countless style icons, from on-and-off-screen cowboys to iconic rockstars, proving it's one of the most versatile tops. To help channel your inner rancher, we rounded up a dozen of the best western shirts on the market.
Fix Your Getup
An American Staple
While you think it'd be tough to track down the person behind the western shirt's traditional design, its origin story is well-documented. Jack Arnold Weil, the late founder of Colorado-based clothier Rockmount Ranch Wear, is the master behind the inimitable snaps, saw-tooth pocket, and even the bolo tie. Moreover, the classic snap button design and piping details are two of the most integral elements that make up a premium Western, and you should keep an eye out for both whenever you decide it's time to purchase one.
Rowel Western Short Sleeve Performance Western Shirt
This innovative take on the western shirt is made of moisture-wicking fabric with 4-way stretch capabilities for maximum comfort. The versatile top from Rowel is treated with a UPF 40 finish for enhanced sun protection, assuring that it's the perfect shirt to wear at the tail end of summertime. Lastly, it's made of wrinkle-resistant fabric to ensure easy care.
Levi's Men's Classic Western Shirt
When it comes to anything cowboy-adjacent, Levi's is an essential brand to include. The heritage clothier is adept at crafting all sorts of essentials, and its handsome western shirt is rounded out with all the traditional details, including a pair of chest pockets and snap-front closure, which Levi's touts as "the epitome of rugged Americana."
Tecovas Denim Pearl Snap
This stylish, affordable choice is available in several colors, including the pictured Coriander, light blue, and gray. It is crafted from breathable denim and made sturdy with a reinforced collar and brass-accented pearl snaps. To make the most of the Tecovas catalog, consider picking up the brand's Straight Western Jean to fulfill the getup.
Howler Brothers Crosscut Deluxe Western Shirt
Howler Brothers is based in the heart of Austin, so it knows a thing or two about conventional Western style. Accordingly, it makes an exemplary shirt to fit the mold, boasting a quick-drying composition and pearl snaps on the placket, pockets, and cuffs. Lastly, it's rounded out with contrast stitching and hibiscus flower embellishments to give the shirt a lively touch.
Buck Mason Denim Western Shirt
Like anything else from Buck Mason, this piece pulls no gimmicks, encapsulating the essence of western shirts to a tee. The slim-fitting silhouette is made using 6.75-ounce indigo yarn-dyed cotton twill with recycled content. Afterward, it's rounded out with 3-button barrel cuffs for enhanced adjustability. Lastly, the shirt garners garment washing treatment with enzymes to give it that good old, lived-in feel.
Flint and Tinder Bone Button Western Shirt
It's no surprise that Huckberry's house brand manufactures a fantastic western shirt, and the Salt and Pepper palette on its signature Bone Button top is an ideal choice thanks to its versatile appeal. Plus, it's cut from textured fabric and durably sewn to deliver a sturdy last result.
Taylor Stitch Embroidered western Shirt
Taylor Stitch lies in a similar realm to F&T and Buck Mason, serving as a trio of brands that embellish vintage Americana to the fullest. That notion works its way down to the San Francisco clothier's handsome embroidered option, composed of nothing but organic cotton denim and finished off with genuine YKK snaps for a rugged closure that's built to last.
Pendleton Snap Front Western Shirt
You may be more familiar with Pendleton's ultra cozy blankets, but its clothing catalog is equally notable. This chic, wool-crafted option is composed of materials sourced from Oregon ranchers and then woven in the heritage brand's American mills, deeming it a continental affair resulting from a keen eye for detail. Additionally, it has all the traditional elements but is far warmer than most options that appear here.
Todd Snyder Corduroy Western Shirt
Todd Snyder sticks to his guns with this traditional take on a western shirt, proving that it remains well-versed in the world of American essentials. The corduroy-crafted iteration is lightweight and cool thanks to its 16-wale makeup while retaining the integrity that any option this list has to offer, including a traditional yoke detail and patch-and-flap chest pockets.
Corridor Seacast Western
Specialty shirts are Corridor's bread and butter, with this handsome, cowboy-approved shirt serving as another fitting example. The chic, midweight top has a sturdy feel to it and looks just as good buttoned up as it does as an extra layer. While you have to be a fan of stripes to pick this one up, it's always good to have one barred piece on hand.
Studio D'Artisan 14 oz. Western Shirt
This heavy-duty top comes courtesy of a humble boutique that knows its way around denim. The rugged western shirt is crafted using 14-ounce Japanese selvedge denim developed in-house by Studio D'Artisan. Then, it's rounded out with mother of pearl snap buttons and a pair of chest pockets.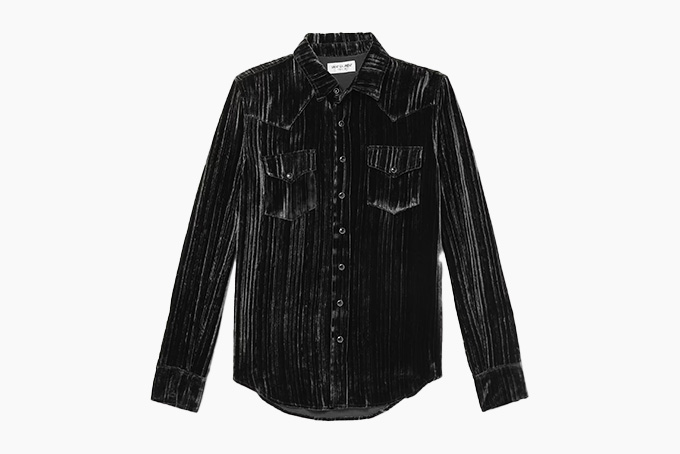 Saint Laurent Ribbed Velvet Western Shirt
We'll address the elephant in the room: this garment is an upgrade across the board, and its price is a telltale sign. Saint Laurent crafts its gorgeous Velvet Western from a silk and viscose blend that's smooth and breezy, resulting in a luxurious, draping look that throws the traditional silhouette for a formal spin. Buckle up a pair of the iconic fashion house's Wyatt harness boots and rock this for undeniable Western chic.
The 12 Best Cowboy Boots For Men
Do yourself a favor and fulfill the Western look with our guide to the fashion world's best cowboy boots.