Jul 19, 2018
Category: Tech
We've all been there – trapped on a flight, uncomfortably situated between folks who might better fit in 1.5 seats. Yours is the lone non-working monitor in the entire in-flight entertainment system. The pilot mentions something about turbulence, just as a patch of rough air causes the plane to jolt and spill your coke all over your pants. The book you brought is lodged somewhere in your carry on, stowed above you and you'll have to ask your stranger seat-companions for permission to exit, then immediately enter your seat again. You gaze longingly at the first class cabin, where in the small crack of light between the curtain and the aperture, you can see them, sprawled, comfy, dozing gently as the plane ferries them to their destination. You get to your hotel, where you've forgotten the outlet adapter necessary to plug in your tech. So you can't charge you phone, and therefore can't find a nearby shop in which to purchase one. Your dumb suitcase has become inwardly disheveled in transit, and now your clothes are all wrinkled, and in your tattered robes you wander out into a foreign land, trying to keep track of what streets you take so you might find your way back to the hostel.
You can't always get first class – but you can get yourself a first class experience. There are plenty of gadgets that can transform any high-altitude experience into one of comfort, turn hours of boredom into an entertaining and restful time. You can't prepare for everything while traveling – but you can cover your bases pretty well. Take a look at these 15 best travel gadgets, and ensure a smooth and seamless expedition.
Steamfast Mini Travel Steam
If you've ever been backpacking or traveled for extended periods of time, you know that your rotation of wearable clothes can grow shorter and shorter as time goes on. Sometimes, you're forced to wear wrinkled up shirts that don't do a good job of disguising your rambling lifestyle. That's where the steamfast Mini Travel iron comes in clutch. This 420 W iron has a 1.4-ounce water tank that needs just 15 seconds to heat up and steam your clothes into smooth, wrinkle free order.
Anker PowerPort 6
You're lucky if you can find an outlet at an airport. If you can't, of course, you've got your smart suitcase with a battery, and your portable power bank, no doubt. But if you can, then you can charge up all your devices (and maybe even a stranger or two's, if you're feeling generous) with the Anker Powerport 6. If you do offer up a few slots, those using them will likely be shocked by the speed at which their phone, tablet or smart watch will charge; PowerIQ and VoltageBoost ensure a charging rate of 2.4 amps per port. Overall, the charger supplies 60W of power.
Twelve South PlugBug World Charger
If you do head overseas, it's essential that you bring an adapter for those oddly different outlets that they have in other countries. If you're an avid traveler, having an all in one, universal adapter is incredibly useful. Twelve South PlugBug World Charger's attaches right to your Macbook charging block, and offers a USB port, to charge your iPhone, iPad and your laptop at the same time. It also works as a standalone power bank, in case you can't find an outlet.
Volcano Wireless Portable Bluetooth Speaker
While you're probably not going to be jamming out on the plane with your portable bluetooth speaker (unless you're on your way to Cabo for spring break), a speaker is a great way to enliven your travels. The Volcano Wireless Portable Bluetooth speaker is the perfect addition to any hotel or hostel room. With an IPX7 waterproof rating, you can take this wieldy speaker everywhere, from the shower to the poolside.
Quip Electric Travel Toothbrush
It's always a tough call, whether to pack your bulky electric toothbrush and charger, or simply pick up a travel analog. With the Quip Electric Toothbrush, the decision is made simply. The slim design of the Quip makes it a no-hassle addition to your daypack or suitcase. With a tough, bead blasted aluminum handle and a wall mount that doubles as a travel case, the Quip has everything you need.
JOBY GorillaPod
The JOBY GorillaPod is the perfect Tripod for the traveling photographer. With grippy, flexible legs, you can wrap the JOBY around anything and it will stick, so you can capture photos at the most interest angles. With rubberized foot grips, the JOBY has excellent stability and balance, even in the most awkward terrains.
Easily configured into a compact size, you can take the JOBY anywhere.
Victorinox Jetsetter Swiss Army Knife
If you're a true jetsetter, you'll know the importance of having a multitool around. There is no shortage of uses when you're traveling in foreign lands. You never know when you're going to have to get down and dirty, and this multifunctional tool will certainly help. Uniquely, this Swiss Army Knife from Victorinox carries a removable 3.0/3.1 USB that provides 16 GB of storage.
LaCie Rugged Mini Hard Drive
When you're traveling, whether you're a videographer, a photographer, or simply a tourist who likes to capture every moment of your adventure, you'll want a hard drive. Not just any hard drive, though; you'll need one that can endure the wear and tear of transit. The LaCie Rugged Mini HD can store up to 2TB inside, and it's bumpered-up design ensures that data won't get corrupted. Slim enough to fit in your back pocket, the LaCie is an excellent storage device for travelers.
Gotenna Wireless Network
A packable, portable way to stay connected, the Gotenna Wireless Network keeps you on the grid wherever you are. With Gotenna, you can use your iPhone or Android phone to send texts, as well as share your location, even when cell coverage is unavailable. You can also send private messages offline to those in your area who also have the GoTenna device. This is a great way to stay in contact with group members and friends as you travel.
Nomad Powerpack
The rugged Nomad PowerPack certainly looks tough with its black, cross-hatched exterior. This Power Bank meets 1.2M mil-spec parameters for drop protection, and can charge your iPhone 3.5 times in full. Bluetooth technology allows you to track your batteries whereabouts. The a polycarbonate frame & TPU rubber exterior and frilled with mortise and tenon joints makes the PowerPack pretty much indestructible.
Away The Carry-On
Everything these days is getting smarter. That even includes luggage – bags are now coming equipped with more functionality than storing your stuff. Chargers, GPS trackers, app connectivity – all of this and more is coming integrated in today's smart suitcases. The Carry On from Away is one such intelligent bag, coming with USB charging capabilities, clothing separators, and modular construction – all wrapped in an extremely rugged shell that won't get dinged up in transit.
Nintendo Switch
Twiddling your thumbs while flying overseas can be more than a little boring. And iPhone games, though fun, can be a little too simple (not to mention a drain on your battery, and you're likely going to need that when you land. Put those idle hands to use on the Nintendo Switch instead. With amazing games and graphics, the Nintendo Switch will keep you entertained, even during the longest flight.
Bose QuietComfort 35
Crying babies and chatty cabin-mates can all be shut out with a good pair of noise-canceling headphones. The Bose QuietComfort 35 Series II headphones will do the trick – and provide rich sound quality to top it. Thanks to a volume-optimized EQ, your music will sound best at whatever level of audibility you like – so if you must blast it, in the event that you're flying with veritable daycare. With 20 hours of wireless time and a rechargeable lithium-ion battery – as well as 40 hours of play in wired mode – you're sure to survive even the most grueling and noisy flights, with equanimity.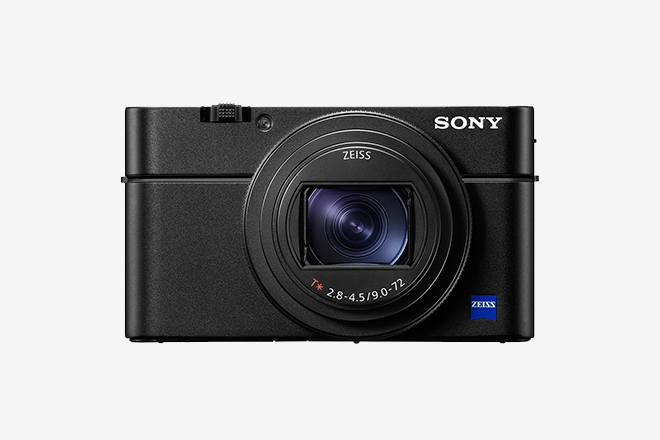 Sony RX100
If you're going to a business conference in Albuquerque (no offense), you might not be aching to snap some photos. But if you're headed overseas, or somewhere you've never been before, you'll definitely want to bring a camera – and there's none better for the casual photographer to neatly pack in his or her bag than the Sony RX100 Mirrorless Camera. With a 24-200mm zoom range, this petite but powerful camera will help you capture the best shots of wherever you are, whether it's the Machu Picchu or The Great Wall of China.
Oris Big Crown Propilot World Timer
Take to the skies in this Pilot's watch from Oris. The Oris Big Crown Propilot World Timer might have a grandiose name, but their's nothing ostentatious about this incredibly proficient watch, designed for travelers. By turning the bezel clockwise, you can adjust local time forward in one hour increments; by turning the bezel counterclockwise, the hour goes backward. The ideal watch for those constantly jumping from one time zone to another.
10 Best Smart Suitcases For Men
Modern tech helps you travel smarter – and that starts with your suitcase. Take a look at our list of 10 best smart suitcases for men, and find the most intelligent luggage for your lifestyle.
HiConsumption is reader-supported. When you buy through links on our site, we may earn an affiliate commission. Learn more