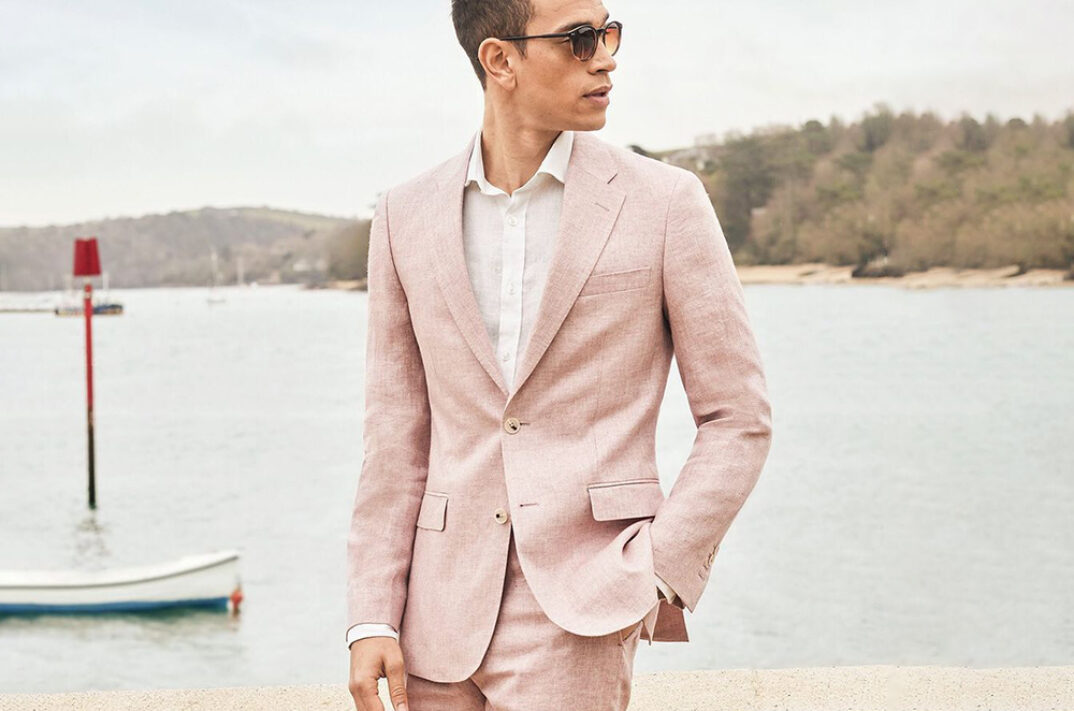 For many men, the idea of wearing a suit in the height of summer sounds like a death sentence. The heavy wool, the restricted movement, the constraining fit — yeah, wearing a traditional suit in high heat is a recipe for a sweaty, miserable disaster. But it doesn't have to be that way. There's plenty of dressy attire out there that is specifically designed to be worn when the mercury rises, and the best men's suits for summer will have you both looking and feeling cool in the warmer months.
Obviously, a suit that you wear in August is different from one that you'll wear to your office holiday party. For one, it's going to be lighter in weight; probably a lot lighter. It may also be lighter in color (though it doesn't necessarily have to be), as summer is traditionally the time to break out your whites, beiges, and pastels. And, since summer is the party season, summer suiting also opens up the possibilities for fun patterns that would be too scandalous to wear any other time of year. So have a look below to learn more about what you should look for in a summer suit, and then check out our picks for the 15 best men's summer suits.
Summer Suits Sorted
What To Look For When The Temperature Rises
Traditional suits are almost always made of wool. Sure, you'll come across lower-cost polyester options and the occasional suit made of some exotic material like camel hair, but by and large, a quality men's suit is made of wool. However, these rules are relaxed considerably in the summer. Along with lighter shades and bolder patterns, summer suits typically come in a wider range of materials that are designed to keep you cool and comfortable. Here are the main ones you should look out for.
Linen: If there is one fabric that most people associate with summer, it's linen. From breezy linen shirts to super comfy linen pants, the flax-derived fabric is tailormade for warm weather. It's both more absorbent and faster-drying than most other fabrics, so it keeps you dry. It's also exceptionally strong, so it is often woven thin and in a wide weave, allowing it to breathe. And linen is a natural conductor of heat, meaning it draws heat away from your body to keep you cool. The downside of linen is that it is extremely wrinkly, and a 100% linen suit will basically always look crumpled no matter what you do. Some people consider this part of linen's charm, but if you like your suits to look crip and pressed, you may want to opt for a linen blend to cut down on wrinkles or just skip the fabric altogether.
Cotton: Cotton is the most widely used natural fabric in the world, and you almost certainly have a closet full of the stuff. You're probably familiar with its attributes, as it's super soft and breathes wonderfully. And you probably know its main drawback is that it holds onto moisture like nobody's business. Cotton can be a catch-22 in the summer, as it will breathe and keep you cool but also won't ditch your sweat fast enough, making you somewhat wet. This is less of an issue with suiting than with something like a t-shirt (unless you're a very sweaty person), but it is something to keep in mind.
When it comes to cotton suiting, there are several different types of styles and weaves to consider. The first, and most basic, is poplin. It's made with a tight, plain weave that makes it feel very smooth to the touch. You probably have a poplin cotton dress shirt, so imagine that beefed up a little and you'll have a good idea of a poplin suit. Next is seersucker. Widely associated with the American South, seersucker is cotton that has been woven in a thin striped pattern with distinct raised puckers throughout. These puckers give seersucker a wrinkly look, but they actually serve a purpose as they allow for more airflow through the fabric. This improves the breathability, allowing seersucker to wear even cooler than other cotton weaves. Finally, there's madras. Originating in India, madras is known mainly for its brightly colored plaid patterns, but true madras has some other unique properties as well. It's woven from extremely lightweight, short-staple cotton that's been combed, resulting in a thin and slightly bumpy fabric with great breathability.
Tropical Wool: Just because it's summertime, that doesn't mean you have to ditch the wool. Wool is basically a miracle fiber, used in everything from performance sportswear to winter blankets. It breathes, absorbs moisture, dries quickly, regulates temperature, and resists wrinkles. And all of that is still true in the summer. The main drawback of wool is that most wool used in suits is simply too heavy for summer use, and since it's a good insulator, a heavy wool suit will quickly overheat you. Instead, you should opt for tropical wool. Tropical wool, sometimes called summer-weight wool, is exactly what you think it is. It's wool that has been woven more loosely, resulting in a fabric that is much lighter and more breathable than traditional wool, allowing you to enjoy all of wool's benefits while remaining cool.
Mohair: Mohair's main claim to fame is not as a summer fabric, but as an ultra-luxurious one. When James Bond dons a tuxedo, it's typically made of mohair. Mohair comes from the hair of the Angora goat, and it's known for its luxurious sheen. But it's also a sleeper summer fabric, as it resists wrinkling in heat and humidity, is outstanding at regulating temperature to keep you cool, and can absorb a ton of moisture without losing its shape. Mohair on its own is too coarse for suiting, however, so it is typically mixed with wool, with the finest blends containing between 14% and 35% mohair.
J. Crew Ludlow Slim-fit Irish Cotton-Linen Suit
J. Crew's cult-classic Ludlow suit is a perennial favorite from the American heritage brand, with its quality construction and slim (but not too slim) cut proving easy wearability in any situation. This version is absolutely perfect for summer, for a couple of reasons. For one, it's unstructured with a natural shoulder, making it appropriately casual for summer get-togethers. More importantly, it's woven from a cotton-linen blend from Baird McNutt, a 109-year-old Irish mill that's known for producing some of the world's best linen.
Brooks Brothers Regent Fit Madras Suit
This madras suit admittedly is not for everyone, as you've got to have an alarming amount of confidence to wear something so bold. But we pretty much guarantee that if you can pull this off, you'll be the life of the party. Though it originated in India, madras gained popularity in the U.S. among the preppy set in the '60s, and it still gives off those carefree summer vibes today. This suit from Brooks Brothers is the real deal, made with true madras from India and unlined to give you full access to that sweet madras breathability.
Indochino Sailsbury Blue Suit
Indochino is arguably the best-known name in the online made-to-measure business, and all of their suits are highly customizable, allowing you to choose everything from your jacket's canvassing to your lapel style to your preferred way of keeping your pants up. The Sailsbury is one of their summer options, and what an option it is. Made from 100% linen that's been dyed a vibrant blue, this breathable suit even has the option of adding one of several floral or tropical patterned jacket linings for an extra dose of seasonal fun.
Hawes & Curtis Herringbone Linen Tailored Fit Italian Suit
As a longtime fixture on London's fabled shirting nirvana Jermyn Street, Hawes & Curtis is mostly known for their impeccable dress shirts. But they know their way around a suit as well, as evidenced by this super-summery number. It's woven from 100% Italian linen from Angelico mill and is available in perfect seasonal colors like pink, white, beige, and sky blue. And if you want to make it even more cool and casual, you have the option of pairing the jacket with matching linen suit shorts instead of trousers.
Suitsupply Light Grey Havana Suit
You can't go wrong with Suitsupply when you're in the market for an affordable suit that looks great, as the brand's selection is second to none. They have a ton of summer options to choose from, including many linen and linen blend options, but our preference is this light grey tropical wool suit in the appropriately-named Havana cut. The Havana is a slim-fitting, natural-shouldered cut that's great for casual settings, and this example dials the relaxed vibes up to 11 with elastic-waisted, drawstring trousers.
Bonobos Italian Stretch Seersucker Suit
While seersucker is an all-time classic fabric and an indisputably great option for summer, it should be approached subtly, or else you'll end up looking like Colonel Sanders on vacation. This modern seersucker interpretation from Bonobos is just what we're looking for, with the brand's contemporary cut and a darker blue stripe making it so you don't look too much like a southern dandy. The 1% elastane composition also ensures that you'll have excellent freedom of movement, which is another bonus in the sweltering heat.
Todd Snyder Sutton Italian Stretch Tropical Wool Suit
In the 1980s, Miami Vice stars Don Johnson and Philip Michael Thomas ushered in a whole new look with their white and pastel suits worn over brightly-colored tees. Now, that style is back en vogue, and New York's fashion maestro Todd Snyder is helping you pull it off with this tropical wool suit in gorgeous powder blue. With a modern cut, high-end detailing, a touch of stretch, and superfine Italian wool from luxe Italian mill Loro Piana, this is how you do Miami Vice style in the 21st century.
Ralph Lauren Polo Soft Seersucker Suit
If the look you're going after is classic summer Americana, then you simply can't beat this option: a light-colored single-vent seersucker suit from the most American of clothing brands, Ralph Lauren. While certainly a more traditional offering, this suit is still plenty casual enough to work at any BBQ or summer party to which you happen to draw an invite. It also adds just a touch of flair to keep it from being too old-school, with a slim-fit cut and a Black Watch tartan undercollar.
Black Lapel Teal Mohair Blend Suit
Black Lapel is another online MTM retailer like Indochino, but they aim for more of a high-end market by using luxury fabrics from well-regarded mills. Case in point: this mohair blend suit that uses yarn from Italian mill Vitale Barberis Canonico, the world's foremost experts on mohair. It's an ideal blend of 84% Wool and 16 % Mohair, which makes for a great sheen, soft feel, and ideal sweat-fighting properties. Available in a rich teal with subtle hints of blue in the fabric, this one is a stunner for sure.
Orlebar Brown Bond Linen Suit
Orlebar Brown is known mainly for their ultra-luxe tailored swim trunks, but the brand offers loads of other quality menswear items too. And the brand's most interesting items can be found in their 007 Heritage Collection, an official collaboration with the James Bond brand. A standout from the line is this modern reimagining of a suit worn by George Lazenby in 1969's On Her Majesty's Secret Service. Cut from a beige linen-cotton blend, this is the definition of old-school summer cool.
Reiss Transit Double-Breasted Linen Suit
As we've seen so far in this guide, linen suits tend to have a type. They are often light-colored, single-breasted, and notch-lapeled, signaling to the world that it's summer and you're wearing linen. But they don't have to be. If you prefer to keep your linen-wearing a little more incognito, then have a look at this fashion-forward take from Reiss. With its double-breasted style, peak lapels, and melange indigo color, no one will know you're keeping cool in a 100% linen suit.
Sid Mashburn Cotton-Poplin Suit
For looking put together while keeping things casual, you can't go wrong with this cream-colored suit from Atlanta-based designer Sid Mashburn. Cut from 100% poplin-cotton and tailored in Italy, this summer suit offers all of the quality you'd expect from Sid Mashburn, while its three-roll-two jacket with slub-effect notch lapels gives it that extra special attention to detail that only comes with designer clothing.
Z ZEGNA TECHMERINO Wash&Go Wool Suit
Zegna's mills are known for making some of the finest suiting fabrics in the world, and their exclusive TECHMERINO is essentially a performance fabric. Made from merino wool, it keeps you cool, breathes like nobody's business, and is designed for active wear. Part of Zegna's "Wash & Go" line, this suit is also machine washable, making maintenance considerably easier than other suits — especially if you're going to be wearing this and sweating in it all summer.
Canali Linen and Wool-Blend Suit
If you're all about traditional, high-end tailoring, then you are no doubt familiar with Canali, as the Italian suit maker is one of the most renowned in the industry. Here we have what appears to be a typical light gray suit from the brand — i.e. the perfect suit for any non-summer occasion — but it's hiding a secret. Look closely and you'll see natural slubs in the fiber, revealing that this traditional suit isn't so traditional at all, it's a 52% linen / 48% wool blend that will keep you as cool as the other side of the pillow.
Tom Ford Shelton Wool Fresco Suit
Arguably the maker of the most stylish suits in the world, Tom Ford is where you go when you want a suit that will make a big statement. And although this navy blue suit looks like it'd be perfect for winter wear, it's actually crafted from exceptionally breathable summer-weight wool fresco. Throw in the roped shoulders, dramatic peak lapels, and ticket pocket and you've got an haute couture head-turner that looks a lot hotter than it feels.
The 18 Best Summer Pants For Men
You're probably not going to be wearing a suit every day this summer, which means you're going to need lots of other clothing that performs well in the heat. And while we'd all love to wear shorts every day of the summer, certain occasions just call for pants. For those times, you're going to need a lightweight pair of trousers that keep you cool. And wouldn't you know it, we've rounded up 18 of them in our guide to the best summer pants for men.