Dec 17, 2018
Category: Gear
After plenty of rigorous shopping expeditions, you've checked off every family member and friend on your Christmas list. But, you want to go the extra mile this year and carry out the tradition of filling the stockings by the fireplace with goodies that will earn genuine smiles from your family and friends. We know you're on your last shopping legs at this point, so we're here to give you a helping hand.
We've gone on a quest to search for quality stocking stuffers that won't leave you broke by the end of December. Our list of 25 mini gifts has a range of items to offer, from everyday carry gear to convenient tech to help you on your daily grind. We're all about helping you stuff those stocking with worthwhile gifts and our team is confident you'll find what you need on our list. Take a scroll down stocking stuffer lane.
Best Made Co. Playing Cards
No matter how high-tech our world gets a deck of cards still has the ability to entertain. Best made Co. Playing Cards are made exclusively by the United States Playing Card Company, which is the same company that makes the Bicycle and Bee brand decks. These poker-size cards have a smooth finish and crisp symbols for Texas Holdem or a bit of street magic.
Opinel No. 04 Keychain Pocket Knife
If you're going to have a keychain pocket knife, Opinel's blade is the perfect blend of compact size and quality. This keychain knife has a 12C26 Sandvik blade and a beautiful beech wood handle. Its easy manual deployment makes this utilitarian blade a trusty sidekick for everyday errands.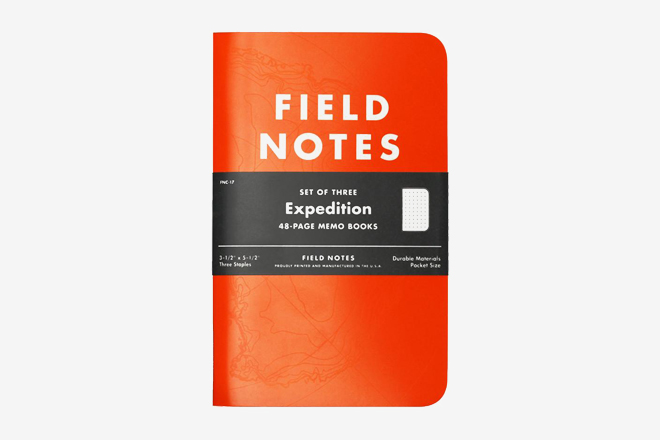 Field Notes Expedition Pocket Notebook
You can't beat a good old fashioned notebook and Field Notes has perfected them. The Expedition Pocket Notebook contains 48 lined waterproof pages. Built for the outdoorsman, the pages are also tear and extreme temperature-resistant so you can jot down the information you need wherever your adventure takes you. These USA made notebooks come three to a pack.
Big Idea Design Titanium Pocket Bit
This covert multi-tool equips you with a number two Phillips and a 6mm flathead screwdriver wherever you go. It's made from grade 5 6AL4V titanium alloy and comes with a 28mm grade 2 titanium keyring. If that isn't enough for you, it also has a mini pry bar and a bottle opener.
Hacking Whiskey Book
Whiskey lovers will treasure this book filled with recipes, tips, and insider secrets about the smoky concoction of liquid courage. Written by whiskey aficionado Aaron Goldfarb, this 264-page book is filled with a variety of knowledge, including how to create delicious homemade blends and how to infuse whiskey with cannabis smoke.
Casio Classic Illuminator Watch
Inspired by the classic G-Shock DW-5600 timepiece, this Casio watch is a handsome everyday accessory. Built with a stainless steel case, this water-resistant watch is durable enough for your daily grind. It also has a seven-year battery, making it a reliable timepiece ready for adventure in the city. Affordable never looked this good.
Chrome Industries Small Utility Pouch
Hauling your everyday gear is easy when you have Chrome Industries' 1050D military-grade nylon utility pouch. Keep your items secure with this weatherproof organizational pouch constructed with a truck tarpaulin liner and a military-grade hook and loop closure. This small utility bag is big enough for all your small essentials.
Tom Bihn Pocket Travel Pillow
The ingenious Pocket Travel Pillow allows you to use the clothes you're packing for a trip to create a comfy rest for your head. It's a simple case constructed from ultralight sleeping bag 20D Nylon ripstop fabric. All you have to do is stuff it with your sweater or jacket and you'll have an instant pillow. When not in pillow mode, you can tuck it away into its pocket and secure it to a key strap so you won't lose it.
Rockay Accelerate Running Socks
The New Year will call for some serious cardio to cut away all the extra pounds you'll pack after all the holiday parties. Rockay's Accelerate Running Socks will make sure your feet don't suffer as you're running away the calories. These anti-blister running socks are moisture-wicking wonders and guaranteed for life.
Anker PowerPort Strip 3
Those with wanderlust know the importance of having a trusty portable power strip with you at all times. Anker's PowerPort Strip 3 comes with three AC outlets and three USB ports. It has an 18W max output from its USB ports and a 1250W max from its AC outlets, ensuring you can juice up everything from one compact hub when you travel.
Elastic Precision PPK Rubber Band Gun
Modeled after the 1960s Walther PPK, this could possibly be what James Bond was playing with as a kid. The Precision PPK Rubber Band Gun is built from quality hardwood and has a 20-foot range. The semi-automatic wooden pistol has a five-shot capacity and comes with 50 rubber bands.
Fisher Space Pen Bullet Pen
Fisher Space Pen's Bullet Pen is a work of art with a beautiful matte black finish. The American-made writing tool is an ideal EDC pen with a pressurized PR4 ink cartridge, allowing it to work in zero gravity, at any angle possible, and underwater. Also, it comes with an unconditional lifetime guarantee.
Gearward Keychain Duct Tape
Duct Tape is a life-saver, but you don't always have it around when you need it. Well, with Gearward's Keychain Duct Tape you can have it on your keychain so it's there for you whenever you need to do a quick patch job. Choose from a single-piece brass or stainless steel construction that comes with 18 inches of Gorilla Tape.
MecArmy CMP Brass Keychain Compass
Every explorer needs a reliable compass to keep them on track, especially in the great outdoors. MecArmy's CMP Brass Keychain Compass provides high-sensitivity readings via special encapsulation technology to provide you with precise direction wherever life takes you. The compass can also glow in the dark up to six hours and it's IPX5 water-resistant, making it ready for any spontaneous adventure.
Olloclip Connect X Intro Lenses
Upgrade your smartphone's camera with Olloclip's Connect X and produce breathtaking, professional-grade photos. The Connect X comes with a wide-angle intro lens to capture a more comprehensive picture and a macro intro lens for detailed close-up photography. Both lenses have multi-element glass optics for high-quality images.
Soto Outdoors Pocket Torch
Insert a rectangular disposable lighter into the Soto Pocket Torch and you'll have a wind-resistant fire starter powerful enough to reach up to 2,300° Fahrenheit. The Soto Pocket Torch also increases the life of your lighter by up to 60% and gives you up to 20 minutes of burn time so you can ditch rubbing sticks together to start a fire.
Yeti Rambler 10 Oz Lowball
Whether you're warming up with some whiskey or hot chocolate, Yeti's Rambler 10 oz Lowball is the perfect cup for your drink preference. The stainless steel cup has a 'No Sweat' design and comes with a shatter-resistant lid to protect your beverage from bugs and keep your drink at the ideal temperature. Its double-wall vacuum insulation will keep your cold drinks cold and hot drinks hot until the very last drop.
Hario Mizudashi Cold Brew Coffee Pot
Coffee is the only way to start the day and Hario's Mizudashi Cold Brew Coffee Pot can make four to five cups of coffee to spark up you and your crew. It has a permanent filter design, cutting out the need for costly disposable filters, and heat-proof glass. Make delicious cold brewed coffee overnight to start your mornings a little easier.
Armatus Vita EDC Kydex Wallet
Utilizing rugged mil-spec materials, the Vita EDC Kydex wallet is a reliable choice to safeguard your credit cards and cash. The American-made waterproof wallet has a minimalist front-pocket design, and a snap button closure that also works as a cash strap. You can hold up to eight cards and some cash with this Armatus wallet.
Sony XB01 Bluetooth Portable Speaker
Share your favorite tunes with the world using Sony's XB01 Bluetooth Portable Speaker. Enjoy six hours of your personal playlist and take calls via a built-in microphone. The splash-proof portable speaker also comes with a color-coordinated strap so you can attach it to just about anything, including your backpack and your bike's handlebars.
Izola To My Health Flask
A sip of firewater is just what you need sometimes, which is why Izola's To My Health Flask makes for a perfect stocking stuffer. The flask has a stainless steel construction and a leak-proof screw-top closure to secure your favorite liquor. And, it's small enough to fit in your pocket.
MecArmy Illuminex-4S
Keeping a reliable flashlight on your keyring is a must and MecArmy's Illuminex-4S is one of the best compact torches for the job. With anodized aluminum construction, this flashlight is impact resistant to 1.5 meters. It has a maximum output of 130 lumens and up to six hours of runtime with a 10180 lithium battery.
The North Face TKA 100 Gloves
Keep your hands fully-functional when you hit the trails this winter with The North Face TKA 100 Gloves. They have a flexible five dimensional fit and full flat-locked palms for extra comfort. They're also built with 'Radiametric Articulation' to keep your hands in a relaxed position when they're idle so you can get the most out of them when work needs to get done.
W&P Carry On Cocktail Kit The Moscow Mule
Bring everything you need to make a refreshing Moscow Mule on your next plane ride with the W&P Carry On Cocktail Kit. It comes with a travel-size bar spoon, linen coaster, small-batch ginger syrup, 1/2 oz jigger, and recipe card. All you have to do is add the liquor and you'll be on cloud nine in no time.
Tile Mate
Tile improved upon their previous tracker by building their latest iteration with a replaceable battery. You'll be able to keep track of your keys, backpack, or anything else you attach the Tile Mate to with the accompanying app. All you have to do is use the app to ring it if it's close by or check the map for its last known location.
The 50 Best Men's Gifts Under $50
Need a last minute gift? Check out our guide to the 50 best men's gifts under $50 for a comprehensive list of amazing gear that won't break the bank.