Presented by
For most of us, 2020 has been one of the worst years on record simply by virtue of the fact that we're living through a worldwide pandemic. And while it might seem easier to wallow, we're of the mind that never before have both physical and mental health been more important. So rather than giving up, we'd prefer to take steps to keep ourselves on the up and up — and we have to assume most folks would prefer to do the same.
As such, this holiday season marks a unique opportunity — one where you could help positively shape the experiences of those you care for by gifting them thoughtful pieces of gear that allow them to maintain some semblance of serenity in these trying times. And that's what this particular gift guide is all about: self-care. All of these gifts, in some form or another, were designed to make a part of life easier, more relaxing, and just… better. So whether you need to help lift someone's spirits a touch or you're just trying to maintain your own, these are the 20 best self-care gifts for men of this holiday season.
Beautyrest Black Mattress
One of the best methods of self-care is pretty obvious: getting a good night's sleep. But that's a far simpler prospect to manage with a superb mattress, like Beautyrest's premium Black Mattress — which is available in five sizes (Twin XL up to California King), boasts loads of proprietary tech to ensure your sleep is as long as it is comfortable, and it even has built-in breathability and cooling to ensure you never overheat. This is the Rolls-Royce of mattresses if there ever was one.
Field Notes Pocket Notebooks
Journaling, keeping track of your good ideas, staying on top of your schedule, and just taking notes on observation have all been shown to help improve and/or maintain mental health — which is a cinch so long as you carry around one of Field Notes' USA-made pocket notebooks and/or organizers.
Can't Hurt Me: Master Your Mind and Defy
As far as we know, David Goggins is the only man in history to complete Navy SEAL, Army Ranger, and Air Force Tactical Air Controller training. He's also a top endurance athlete. So he knows a thing or two about exactly how much work and effort it takes to succeed — and he's passed on those life lessons in this impressive tome.
Square Trade Goods Candles
Picking out the right soothing scent can put you on the path to relaxation and stress-relief in no time. And the American-made candles from Square Trade look as good as they smell — all without being too fruity or flowery — and they burn for up to 60 hours.
Quip Electric Toothbrush
There is a direct connection between your oral health and the condition of your heart. If you want to help fight off heart disease and keep your breath fresh, it can be as simple as brushing your teeth effectively and efficiently — which are easy goals to reach if you use the Quip Electric Toothbrush with its sonic vibrations and built-in timer.
MUD\WTR Tea Tin
A coffee alternative that will keep you feeling fresh and focused without the jitters, MUD\WTR's Tea Tin is actually made with organic mushrooms and has been proven to support the immune system and won't keep you from getting a good night's sleep at the end of a long day.
Aesop Jet Set Travel Kit
Sometimes, feeling good and looking good are more closely related than you might think. Take care of your appearance — not just your clothes, but also your skin and your hair — and you might see positive results in other parts of your life. This Aesop kit boasts everything you need to stay fresh and clean from mane to tail and it's also all-natural.
Sagamore Spirit Distiller's Select Manhattan Finish Rye Whiskey
In moderation, a tipple here and there can do wonders for your mental health. It helps if your drink of choice is something special, too — like the Sagamore Spirits Manhattan Finish Rye here, which was finished in vermouth, bitters, and cherry brandy barrels to give it notes reminiscent of its cocktail namesake without all the extra work and/or ingredients.
lululemon Arise Yoga Mat
A healthy body can lead to a healthy mind and, thankfully, yoga is one of the simpler healthy exercise activities one can do without access to a gym. All you really need is the space to do it, and a sturdy, soft, antimicrobial yoga mat definitely doesn't hurt, either. Not to mention, this one is sustainably made, so you can feel good about using it daily.
Tuft & Needle Calm Meditation Cushion
Taking a few minutes to clear your head, especially on stressful days, has the potential to make all the difference. The next time you're feeling overwhelmed, have a seat on the Tuft & Needle Calm Meditation Cushion, take some deep breaths, and get your mind right before diving back into it.
oHHo New York Full-Spectrum CBD Oil
CBD oils are non-narcotics that are legal in all 50 states and have been proven to help reduce stress, improve your overall mind and body health, and they can even be used to manage chronic pain issues. oHHo also happens to make some of the best in the world.
Lumin The Complete Collection Skincare Kit
Keeping your skin healthy is not quite as easy as rinsing off with some soap here and there. Rather, if you really want it to feel soft, smooth, and youthful, you should try a full regimen like this one offered by Lumin. Sure, it might seem time-consuming, but a few minutes a day can make all the difference.
Vitruvi Stone Diffuser
Like a candle, a diffuser can help fill your home and/or workspace with pleasing, calming scents. The difference is, a diffuser likely won't burn your house down if you forget to turn it off. This one is also beautifully designed, has its own onboard timer, and it doesn't use any heat source at all — making it a lot safer than a candle and even much of its competition.
Braun Series 7 Electric Razor Kit
Look good outside, feel good inside — so the saying goes. If you're going to go to the trouble of cleaning your hair and maintaining your skin, you should probably also keep your beard in check. Cue the Braun Series 7 Electric Razor Kit, which is a superb and easy-to-use tool for all your hair grooming needs.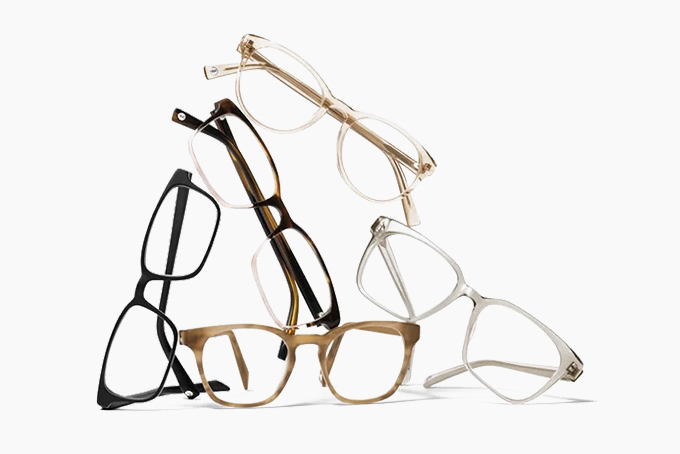 Warby Parker Blue Light Glasses
There is reason to believe that the blue light given off by technology can strain your eyes and even mess with your sleep cycle. But, for just $50 over the entry price of their frames, you can block it out with these Warby Parker Blue Light Glasses.
Philips SmartSleep Alarm Clock
Even in a pandemic, we all have schedules to keep. However, old-school alarm clocks are jarring and stressful in their own special way. Rather than wake up in a panic, the Philips SmartSleep one here wakes up users gradually and without all the sirens, using a combination of gentle crescendos of sound and light.
Glerups The Boot
Dress shoes, as good as they might look, don't exactly scream "comfort." If you're going to be relaxing and working on your mental health and self-care, we suggest opting instead for Glerups' outdoor-friendly Boot with its all-natural wool upper and ultralight, slip-resistant rubber outsole.
Filson Alaskan Guide Robe
A staple of any wardrobe, a simple robe can be all you need to go from work stress to couch relaxation — and you could do far worse than the soft flannel of the Filson Alsakan Guide Robe you see before you today.
Bose Sleepbuds II
The follow-up to the orignal Sleepbuds, Bose's Sleepbuds II are actually quite clever in that they were designed to be worn comfortably while you rest and actually mask external noises that might keep you awake at night. That way you can get a good night's sleep, even in a busy city center marred by car horns and loud people.
Theragun PRO Percussive Massager
Massage is obviously proven to be relaxing and helps manage stress. But they can be expensive and, in light of the pandemic, are probably best left alone. But you can still get the recovery benefits to a degree with the Theragun PRO Percussive Massager — perfect for working out kinks and sore muscles in the comfort of home.
Tonal Home Gym
In light of the pandemic, most gyms are closed. But maintaining a fitness routine is still of tremendous import to staying healthy and happy — which you can do with the all-in-one Tonal home gym. This cable-based system offers comprehensive guided workouts all from the comfort of your own home — and you can even use it without a membership, should you prefer using it as a free weight system.
The 20 Best Work From Home Gifts
Staying happy and healthy at home is more challenging now that many of us are also working where we live, eat, and sleep. Of course, the stress can melt away when you're properly equipped with any or all of the offerings on our guide to the best work from home gifts.