Oct 11, 2021
Category: Gear
According to the CDC and some of the nation's top immunologists, gyms are one of the places where people are most likely to be exposed to COVID-19. As such, many are closed, others are severely limiting their capacity, and some have even adopted new business models (like moving all the equipment outdoors) to help limit the spread of the virus. Still, for some people, the risk is still too great to try and get back into a fitness routine in a public space.
There are other options, however, if you're looking for ways to get a healthy amount of exercise and continue on your personal fitness journey. One of the simplest and most obvious is, perhaps, getting out into the world and hitting up your favorite hiking trails, parks, and other outdoor spaces. But if you live in a big city or you're still wary of the risks of running into people while hiking, running, or whatever else, that might not be the best option. But, if you have a bit of spending cash and some room in your abode, you can turn a room in your place of residence into a fully-featured fitness center. All you have to do is pick up some of the gear on our following list of the best home gym equipment for every type of exercise.
Since not everyone is comfortable going out and running on the street — nor is it possible for some due to the limitations of geography, air quality, etc. — cardio can sometimes be a more difficult kind of workout to get in while you're in the comfort of your own home. However, it isn't impossible, so long as you're willing to make a bit of an investment in some stationary equipment. If you're interested in increasing your stamina, heart health, and more, this section is right up your alley.
Everlast Adjustable Speed Rope
If you're really limited in regards to space and, more importantly, budget, you can still get an excellent cardio workout with nothing but a jump rope. Better still, using a jump rope to exercise can also improve your hand-eye coordination and agility. This particular one is made by boxing brand Everlast, boasts an adjustable format, and even comes with removable handle weights for even more of a challenge.
Nautilus T618 Treadmill
For die-hard runners, getting out on the road is definitely the go-to way to get a jog in. However, when that's not possible — or when integrating cardio into other kinds of exercise — a treadmill serves as a superb replacement. This particular one from Nautilus boasts all the features we've come to expect, including things like adjustable speed and incline, but it also boasts some up-to-date smart features like Bluetooth connectivity and compatibility with the brand's trainer app. You can even use it to compete against other real-life runners virtually.
NordicTrack FreeStride FS7i
Unfortunately, running can be pretty bad for your knees and other joints, as it is very high-impact. However, if you want to get a cardio workout that's much more gentle on your cartilage, then you'll be interested in the NordicTrack elliptical you see before you. Not only does it come with all the features you might desire, but it also boasts compatibility with the brand's interactive personal training program. It even has a 7″ full-color touchscreen for seamless, simple control over your workouts.
Hydrow Rower
While rowing is primarily a cardio exercise, it's also a great way to incorporate some muscle training into your workouts and few devices are quite as spectacular at mimicking such workouts in your home as the Hydrow. Like all the cardio gear featured on our list so far, this piece of home workout equipment has a slew of features to maximize your workouts. They also offer memberships for live classes, a grouping of other optional accessories (like a heart rate monitor), and more. Unlike other rowers, however, this one is exceptionally high-tech and also fairly compact, making it great even for small apartments.
Peloton Bike+
A few years ago, Peloton took the world by storm with its home-based interactive cycling workouts. Now, they've taken the next step in their superb suite of offering's evolution with the aptly-named Bike+ — which offers everything the original had but expands upon it with a rotating screen and a load of new workout types and the classes that go with them. This is no longer simply an in-home cycling class and has now morphed into a full-body workout machine. Granted, it's a hefty investment — you have to pay for the hardware, as well as the classes — but the company's fan base is obsessive and very vocal about their overall satisfaction.
HIIT — short for High-Intensity Interval Training — comes in many forms, some branded by big-name companies and some not-so-much. Regardless of the form, style, or name of the workout, however, this type of routine can be hugely beneficial to your full-body health, overall strength, stamina, longevity, etc. Just keep in mind: "intensity" is in the name of this particular kind of workout, so be prepared to push yourself to your limit and then right on past it.
Rogue Kettlebells
As far as weights are concerned, few things (if any) are quite as versatile as a set of kettlebells. Yes, they can be used for more standard types of workouts — like weightlifting — but they can also be incorporated heavily into other types of circuit-based workouts — like HIIT. Yes, if you want to purchase a full set, you're going to need a decent amount of storage space, but the versatility of these weights far outweighs (no pun intended) that particular drawback.
RBX Slam Ball
If you do not have a garage or outdoor area, you may stray away from using a slam ball, as they can potentially damage your floors. However, if that's not a concern of yours, these tough weighted balls are great for HIIT workouts. This particular offering, which is available in your choice of eight or ten pounds, has a rubber treaded exterior for durability and stability in use and a good amount of grip. Just do us a favor: if you live above someone else, please look for quieter workout gear that won't make them think you're hosting backyard wrestling in your living room.
miR Air Flow Weighted Vest
One of the simplest ways to ramp up your workouts is by increasing resistance. Well, if you're not doing something weight-based, that can pose some issues. But that's where the miR Air Flow Weighted Vest comes in handy. Slip this vest over your shoulders and you'll increase your weight by up to 20 pounds, which will — in turn — make whatever you're doing that much more difficult. What's even better is that, with all the weights removed, this vest is entirely machine-washable, so you don't have to worry about bacteria or foul odors.
TRX HOME2 SYSTEM
If you're big on HIIT workouts, there's a pretty good chance you've already heard of TRX, as they're a massive band-based workout brand that's trusted and used around the world by some of the top athletes and trainers. As it turns out, while they offer a suite of professional-level packages, they're also now offering a home-based workout gear set called the TRX HOME2 SYSTEM, so you can get in your TRX workouts without actually needing to leave your house. Best of all, the whole thing comes with a year's worth of the brand's guided app-based workouts.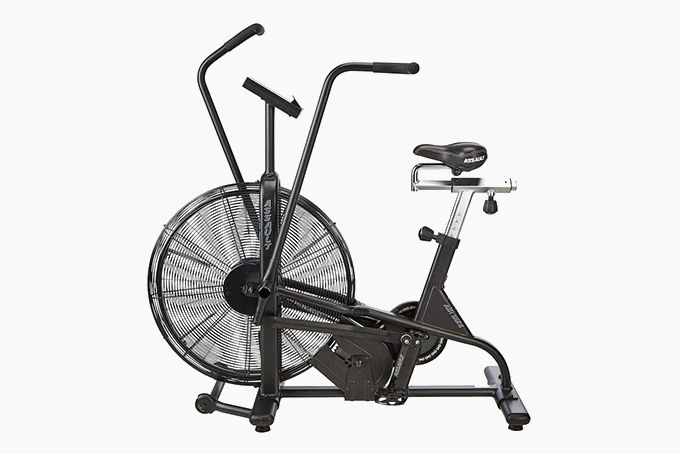 Assault Air Bike
One of the hallmarks of HIIT workouts is circuit training, which often means you're never really taking breaks. Rather, in-between sets, you hop on another machine or do an opposing workout to fill the gap. And one of the more common types of gear used in this kind of circuit training is an air bike — like the Assault Air Bike you see here, which also happens to be trusted by professional gyms around the world. It's not as high-tech as, say, a Peloton, but it will definitely give you the workout of your life if used correctly. Of course, if you need a bit of guidance, it also has built-in motivational programs.
Recovery
Stretching, Yoga, & More
Workouts are not and should not be strictly limited to lifting weights, running fast, and/or some combination therein. Rather, stretching and recovery are integral parts and can even make or break your overall fitness routine. As such, we'd recommend integrating some form of recovery work into every single workout you do — and perhaps even taking a day out of your routine dedicated entirely to this kind of work — and the following gear will help in that endeavor.
Gaiam Yoga Block
Nobody starts off as a contortionist, even if they're naturally flexible. That's why there's no shame in using aids in your stretching and/or yoga workouts. In fact, some of those "aids," like yoga blocks, can also be used to push yourself further once you're a bit more flexible and well-versed. This particular yoga block is ultralight, tough enough to support your full body weight, and insanely low-budget. If you want to start taking stretching and yoga more seriously, buying yoga blocks is the first step.
Brazyn Morph Bravo Foam Roller
Foam rollers are great for working the soreness out of your muscles. They can even be used to help ease knots out. However, most of them take up a lot of space and store awkwardly. The Brazyn Morph Bravo, however, functions just as well as a standard foam roller, but it can collapse down flat for better, more out of the way storage. It even gets flat enough to stash in some larger gym bags. You can even choose between the standard edition and one with lugs for deeper tissue relief.
lululemon The Reversible (Big) Mat
Aside from your body, a mat is probably the most compulsory piece of gear for yoga workouts. That being said, not all yoga mats are made equally. Yes, $88 probably seems like a lot for a yoga mat, but this one from lululemon was built by experts for experts — boasting a dual-sided format (one for more grip, the other for less), a larger footprint for an increased workout area, a remarkably durable polyurethane top layer, antimicrobial properties, and more. This isn't a yoga mat, so much as a yoga masterpiece.
Theragun PRO
In case you're not already aware, the Theragun took the world by storm just a couple of years back for offering percussive deep tissue muscle therapy in the safety and comfort of your own home. Rather than paying for an expensive massage every time you need to loosen up your tight muscles, this device will do the trick all the same. It also comes with a number of attachments to better scratch that proverbial itch, and it boasts the ability to adjust the speed between 1750-2400 PPMs via an included app. You can even program it based on your preferences and behaviors.
NormaTec Pulse Pro 2.0 Full Body Recovery System
If money is no object and you want to invest in the most top-of-the-line recovery gear, you'll want to pick up the NormaTec Pulse Pro 2.0 Full Body Recovery System you see here. The seven-piece kit — which also happens to be used by actual professional athletes and pro-level teams — boast fully-customizable programming, a trio of built-in modes, an easy-to-use touchscreen display, Bluetooth connectivity, and so much more. Just keep in mind: unless you're rich or completely fitness-obsessed, this might not be an investment you're willing to make.
Sports
Skill-Based Workouts
Your typical gym-based exercises are not the only way to improve your overall health. Furthermore, there are other talents you can develop while also getting in a good workout. Skill-based exercise — like the kinds athletes do — can get your blood pumping while simultaneously improving your cognitive abilities through further developing your hand-eye coordination. The following section is a collection of gear with that exact aim in mind.
SKLZ Agility Ladder
There are a lot of ways to practice your fancy footwork. But if you want to build up the kinds of agility shared by top-level NFL athletes, you're going to want to practice like they do. One of the cheapest ways to get started is by using SKLZ agility ladder — which is remarkably simple and insanely effective at building up coordination, stamina, and — of course — agility. Better yet, it's adjustable so, once you've mastered one layout, you can adjust it to make your workouts harder, easier, or just more interesting.
dribbleup Smart Soccer Ball
Another widely available piece of gear to help build up your hand-eye coordination and agility skills is a soccer ball. However, if you want to track your performance and craft an actionable plan to increase your overall fitness and abilities, you may want to invest in a dribbleup Smart Soccer Ball. This clever kickable piece of tech has built-in sensors to detect all your stats from your speed to your accuracy and everything in-between. It even pairs with classes so you can have guided workouts. And, if soccer isn't your thing, the brand also makes smart basketballs and medicine balls that have a similar suite of features.
Indo Board Balance Trainer
Especially if you live somewhere landlocked or you're not brave enough to take a dip into winter waters, surfing isn't always an approachable activity. However, if you want the benefits of the workout, you can improve your core strength, balance, and overall coordination simply by utilizing this clever balance trainer. The Indo board you see here is the original balance trainer and has been trusted by actual surfers and extreme athletes for years. As they say: if it ain't broke, don't fix it.
Liteboxer
If you were a child of the '90s or early-2000s, you probably remember Dance Dance Revolution, the high-energy musical arcade game. Well, Liteboxer is a lot like that — only, instead of dancing, it calls for punching. Love or hate DDR, there's no denying the coordination it took to be good at it and Liteboxer is no different. Utilizing a combination of rhythms and lights, this challenging device kind of gamifies your boxing workouts, helping to improve your overall coordination, health, hand-eye coordination, and so much more. Of course, that's only one facet of its usefulness, as it also boasts onboard training, has wireless connectivity, and more.
Full Swing Golf Simulator
There are some who might say that golf is not really an exercise. However, if you swing a club at enough balls, you're going to burn some calories. But, since COVID is still very much a risk, getting out on the links might not be an option. If you're golf-obsessed, we've got good news: there's still hope to be found in a Full Swing Golf Simulator — if you have the money and the space. These state-of-the-art simulators will give you an experience comparable only to actually traveling the world to the best golf courses around the world, but you can manage it entirely in the comfort of your own home. Of course, it helps that it's a great party game for you and your friends, as well.
Weightlifting
Heavy Hefting
For many, weightlifting is the king of all exercises. While we wouldn't necessarily call it the best of all the options, there is still a great benefit to strength training in regards to your overall fitness. Afterall (and as they say), muscle burns fat. The more muscle you have, the higher your metabolism, as muscles require more energy to maintain. We still highly suggest integrating other forms of exercise into your workouts, but if weightlifting is your primary concern, we suggest having a look at the section below when equipping your home gym.
Gorilla Bow
As it turns out, you don't need a full collection of dumbells and plates to get in a good weightlifting workout in the comfort of your own home. Rather, the Gorilla Bow takes up a fraction of the space but offers much of the same benefits — or more, if you consider the exponential increase of resistance in band-based lifting. This versatile device is deceptively useful in a fitness setting and, when you're done using it, it's slim enough to stash in a closet, under a bed, or anywhere else you could fit, say, a broom.
BowFlex SelectTech 552 Adjustable Dumbells
As we just mentioned, standard, full-sized weights take up a lot of unnecessary room. So, instead of eating up valuable floor space in your abode, we suggest investing in something designed with space-saving in mind, like the BowFlex adjustable dumbells you see here. With just a couple of simple steps and a few seconds, you can change the weight of these dumbells between 5-52.5 pounds each. And, when you're done, you just set them back in their base for the next time you need them — no sweat, no hassle.
PRX Performance Profile Rack V2
There are a few exercises that are difficult to manage without a rack — namely squatting. But you don't need a full power rack in your home in order to mitigate that difficulty. Rather, you just need PRX Performance's Profile Rack V2, which bolts to your wall and takes up a fraction of the space of a standard rack while still offering most of its features. Along with serving as an excellent squat rack, this piece of exercise equipment also has a built-in pull-up bar for even more versatility.
Rogue Fitness Warrior Bar & Bumper Plate Set
For traditionalists, nothing will beat an old-fashioned bar and bumper plate set, like the one here from Rogue Fitness. Including a 190,000 PSI steel bar with dual knurling for better grip, ten different bumper plates of varying weight ranging from 10-45lbs, eight steel plates from 2.5-45lbs, and a pair of collars, this is a power lifter's dream set. Not to mention, you can also add on a squat stand and bench for an additional fee.
Tonal Home Gym
If you're the type that's limited on space but you still want the latest and greatest in fitness innovation, you'll want to turn to Tonal. This impressive fitness machine has kind of taken the world by storm, and with good reason. For starters, it offers a full suite of cable-based weightlifting that's comparable only to a full-gym setup. On top of that, it utilizes built-in high tech to track your workouts and push you to your next level, it comes with a subscription to the brand's built-in suite of classes (you only need an internet connection to use them), and it can still function as free weights for those that want to work out on their own terms. Truly, there's nothing else really quite as impressive and comprehensive as the Tonal out there right now.
The 15 Best Pieces Of Workout Equipment For Small Apartments
Not everyone is fortunate enough to have a large room in which to store and use a comprehensive set of fitness equipment. But if you're limited on space, there are still options. And you'll find all you need and more on our list of the best workout equipment for small apartments.
HiConsumption is reader-supported. When you buy through links on our site, we may earn an affiliate commission. Learn more