Ask any experienced runner and chances are good that they'll have more than one frightening story to share about the effects of training with some ill-fitting apparel. And it's a shame. Because for all of the innovation that the running industry has seen over the years, many manufacturers are still unable to get their clothing (and especially their shorts) to move well. Now, we're not talking about anything revolutionary here — neither aerodynamic designs nor performance-enhancing fibers — just some comfortable shorts that'll feel as good on your legs as they do on the run. You wouldn't think it'd be that difficult to find a pair that are up to the job, but the market is something of a minefield these days, and there are more options than not that'll have you wanting your money back.
Lucky for you, we've been through the frustrations of the buying process before, trying on no shortage of promising shorts only to have them disappoint after setting out on our first run. Trust us when we say that it gets to be pretty tedious having to exchange one pair of black polyester shorts for another, and then those for still another. Nevertheless, if you're willing to look hard enough, it's more than possible to find an offering that'll meet your requirements. In fact, hidden amongst a host of otherwise unremarkable options are some truly great shorts for running. They'll not only have you feeling fresh over the course of your effort but also have you wanting to go back out for another spin. So stop wasting your time with sub-par activewear and have a look to see what we've picked for the best running shorts for men.
More Than A Simple Pair Of Shorts
What To Watch For
If you're looking to buy the best running shorts for your needs, there are a couple of important considerations you have to take into account in order to keep your legs feeling fresh and chafe-free. In particular, we recommend that you pay attention to the following:
Fit: For such an otherwise simple garment, running shorts offer a tremendous amount of variety when it comes to their fit and feel. Your first priority should be deciding what length you're looking for. On the one hand, 3″ and 5″ options are undeniably cooler to wear and freer to run in. However, we recognize that they may not be modest enough for anything outside of your workout, in which case a 7″ or an 8″ inseam might be a better choice. Furthermore, running shorts also come in both lined and unlined varieties. If you're after a true turn-key experience, go for a pair with some built-in undergarments — they'll simplify those early-morning wake-up calls and lighten your laundry load over the course of the week. That being said, if you've already got a drawerful of compression shorts, you might want a pair without the added material.
Materials: These days, most running shorts on the market are made with some form of polyester or nylon blend. And it's not without good reason — such fabrics are far superior to cotton as far as their moisture-wicking and breathability are concerned. Plus, you'll often find that the best shorts for running come with some integrated elastane or spandex so that they move with you and through your stride rather than tugging on your legs and stopping you in your tracks. If you're coming from a lesser material, take our word for it when we vouch for the innovation — it makes for a night and day difference. All that is to say: you'd be hard-pressed to go wrong with any of the industry's proprietary performance textiles, but check the label for cotton (and if that's your thing, just make sure that there's more to it or you'll be in for a soggy surprise).
Added Features: Last but not least, you should take stock of what exactly it is that you want from your shorts. Because let's face it. Between your house keys, your car fob, and your smartphone, you'll probably need a pocket or two to bring your essentials with you while on the move. And that's not all; come time for long training runs or extended race efforts, you'll also want some space to stash gels and other nutritional needs. As such, we'd generally advise buying the shorts with the most pockets your budget will allow; otherwise, you'll have to make up for the lack of carrying capacity in the form of a belt or a bulky handheld bottle.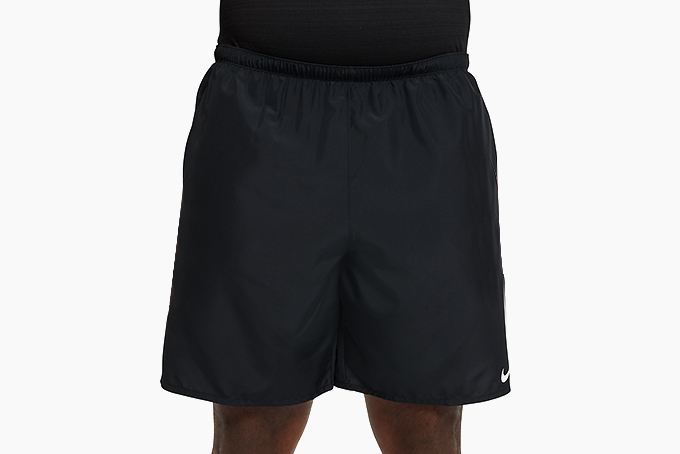 Nike Challenger
While some of the options on this list will run you upwards of 100 bucks, that's not to say that their cheaper alternatives are any less deserving of your bottom dollar. Rather, as you'll find with these Nike Challengers, it's more than possible to buy a solid pair of shorts for under $50. For instance, they're made with a 75% recycled polyester construction, and they also come with Dri-FIT technology and some mesh at the side to keep you cool, comfortable, and cruising along at pace.
Path Projects Wildcat AT Short
Okay, so we'll be the first to admit that rocking some 3″ shorts is not for the faint of heart (or pale of thigh). However, when you're after the most motion-maximizing experience possible, we'd recommend you try this pair from Path Projects on for size. Designed to be a lightweight PR-ready race-day short, the Wildcat AT features Toray Airtastic fabric for breathability, Tripure elastic for comfort, and a pair of pockets for storage. If you struggle with chafing, you'll probably want to rock them with one of Path Projects' base layers — they've separated the liner to avoid shifting.
New Balance Impact Run Short
If you find the above picks to be a bit lacking in their pocket provisions, New Balance's Impact Run Short should do just the ticket. For in addition to a rear zippered compartment for keeping your valuables secure, it also comes with a set of drop-in pouches at the hips for easy access on the run. Rounded out by a 100% recycled polyester fabric, a moisture-wicking brief liner, and an ergonomically-designed fit, the result is a pair of shorts that's ready to take on whatever your training plan has in store.
Patagonia Strider Field Shorts
Patagonia has long served as a leading authority within the world of trail running, and it's easy to see why when you consider shorts like the strider. Cut at a 9″ inseam and crafted without a liner for a more accommodating fit, they're made from recycled microdobby fabric because of their ultralight performance and treated with a DWR coating for some added weather resistance. As you'd expect from the eco-advocating adventure brand, these puppies are 100% Fair Trade Certified sewn.
Tracksmith Van Cortlandt Shorts
Upon its founding in 2014, Tracksmith changed the running industry for the better, releasing a range of premium athletic apparel that managed to balance its performance-proven construction with a stylish, heritage-inspired aesthetic. As one of the core products within the brand's lineup, the Van Cortlandt shorts are a name that needs no introduction. After all, with their classic silhouette, anti-microbial mesh body, and engineered three-panel liner, there's nothing else quite like them.
Rabbit FKT
Rabbit is a brand founded for runners by runners, born out of the need to make a pair of shorts that were specifically designed to meet the demands of the sport. In the case of their trail-oriented FKT model, this means that everything about them has been engineered for comfort, including their split leg and 3-inch inseam, their flat waistband, as well as their scratch-free RabbitKNIT liner. But the part is that thanks to a pair of side pockets for storing gels, you also can pack out your trash so that the trail surfaces stay clean.
Brooks Sherpa 2-In-1 Shorts
Up until recently, running short liners were largely limited to briefs in silhouette, making them unobtrusive to wear but prone to shifting (and thus chafing) when on the move. However, because Brooks' Sherpa 2-in-1 Shorts feature a stretchy boxer brief with some smooth Cloud Seaming, you can rest assured that they'll stay in place and out from in between your thighs. Oh, and they've also been updated to include a higher-fitting flat waistband and some larger expandable side pockets.
lululemon Surge Short
When we had lululemon's Surge collection in for testing, we were nothing but impressed with the quality of the shorts. Out of the gate, the liner was one of the best we'd tried because of its sweat-wicking Out of Mind fabric and its 3D-shaped support pouch. What's more, the Surge Shorts offer a host of helpful performance features like a built-in back pocket for your phone as well as a waistband loop for stashing your shirt.
Ten Thousand Distance Short
All of Ten Thousand's apparel goes through an extensive trial phase in which it's screened for improvements amongst both consumers and professional athletes alike. In practice, this means that the Distance Short has been crafted from an ultra-light polyester blend with a deep slit at the sides to improve your range of motion. Add to that a permanent anti-odor treatment, a minimalist waistband, as well as a bounce-free carry pocket and you have a pair of shorts whose prowess speaks for itself.
Rhone Swift Short
Whether you're heading out for a quick sprint session at the track or some lengthy weekend miles on the road, Rhone's Swift Short has you covered. For starters, it comes with a versatile 7″ inseam, a boxer performance liner, and a perforated venting system — everything you need to stay cool and comfortable no matter the distance. And thanks to its two side zipper pockets and integrated towel strap, it's also practical enough for casual wear.
District Vision Spino Training Shorts
After Tom Daly and Max Vallot launched District Vision back in 2015, the Los Angeles-based brand was quick to make a name for itself because of its purposefully-designed apparel and its holistic approach to running. The Spino Training Shorts are no exception because they're made with eco-responsible recycled polyester, movement-promoting four-way stretch fabric, and a convenient sunglasses pocket for stashing your shades.
Iffley Road Hampton Slim-Fit Shorts
Founded in the heat of the 2012 London Olympics and named after the track where Sir Roger Bannister ran the first sub-four-minute mile, Iffley Road is a brand well-steeped with a performance pedigree. A true cut above other shorts on the market because of their highly-engineered Italian fabric, the Hampton shorts aren't just impressively breathable and quick-drying but also incredibly comfortable — to the point that you'll want to wear these long after your training is done for the day.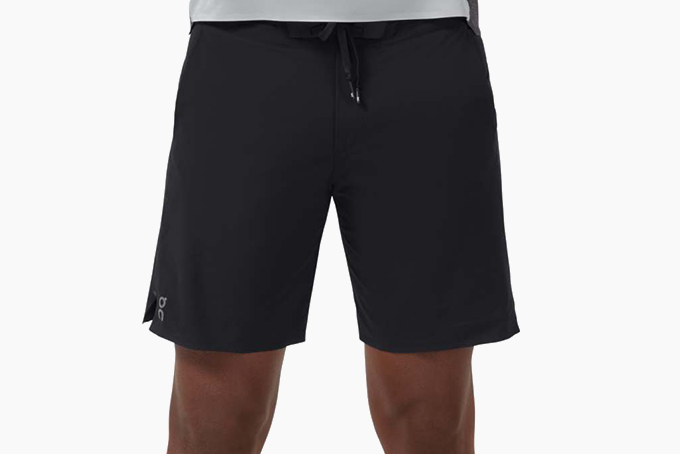 On Running Hybrid Shorts
Where other 2-in-1 running shorts are little more than a liner and shell, On's Hybrid Shorts actually give you two pairs for the price of one. That's because they're comprised of an ultralight exterior and a compressive under tight, with a modular design that allows them to be worn independently or used in conjunction with some of the brand's other apparel. And when you consider that they also include pockets on both the inner and outer layers, the Hybrid Shorts make for a value proposition that's good to pass up.
Reigning Champ Schoeller Night Run Short
Visibility is the name of the game when it comes to running in the dark, and there are no better shorts to be wearing than this pair from Reigning Champ's Schoeller collection. Since they're made with 3M reflective bead technology, they redirect incoming light back to its source and allow you to stay safely seen by drivers out on the road. But that's not all; the Night Run Shorts also come with details like some wind-proof twill fabric, an interior card slot, and a Polartec Power Dry mesh lining. Suffice to say — they mean business.
Satisfy Running Long Distance Shorts
At nearly $200, Satisfy's Long Distance Shorts definitely carry a bit of an upcharge because of their stylish design. However, thanks to such innovations as an expandable sweat-proof phone pocket, a built-in key carabiner, and a drawcord-hiding double waistband, these are much more than an overpriced fashion piece. And besides, the brand's proprietary Justice tech-silk material in itself is more than worth the premium you're paying — it's that good.
The 20 Best Running Gadgets To Fine-Tune Your Technique
While running is a sport that prides itself on its low barrier to entry, you can't deny the effect that the right gear can have on your workouts. If you want to take a tech-focused approach to your training, be sure to check out our guide to the best running gadgets to fine-tune your technique.