With the never-ending stream of innovation that's taking place in the activewear space, there has never been a better time to invest in a killer pair of gym shorts. Though simple in nature, gym shorts are an integral part of maintaining comfort and performance during a workout. Unfortunately, finding the right pair of shorts can be overwhelming and draining due to the countless number of options on the market.
Thankfully, that's where we come in. We've checked the internet from top to bottom to find the best, most technical, most stylish, and of course, most comfortable gym shorts you can find. These stellar shorts will help you thrive in the gym and have enough versatility to tackle weightlifting, circuits, or HIIT workouts with ease. So let's kick off our training session with this guide to the best gym shorts for men.
The Long & Short Of Gym Shorts
What To Look For In A Pair Of Training Shorts
There's a lot more that goes into a pair of gym shorts than you might think, especially in today's crowded and competitive market. These are the features that you'll want to consider in order to determine which gym shorts are right for you.
Fit: Given that these shorts are primarily for workouts and not long-distance running, you're generally going to go for a more comfortable, looser fit. That's not to say that you want to be wearing the short equivalent of JNCOs, but gym shorts generally provide more coverage than their running counterparts. Our sweet spot is an inseam that's 5″ to 8″, but those who are more into plyometrics, HIIT circuits, or just showing off their thighs may opt for a shorter inseam.
Fabrics: Even though gym shorts are more tailored for comfort, you're still going to want something that's breathable, lightweight, and stretchy. The last thing you want out of a pair of shorts is something that restricts your movement, makes you uncomfortable, or takes forever to dry. Synthetic materials like nylon, polyester, and elastane are all solid construction materials to look for.
Features: It's no secret that clothing companies have put an enormous amount of resources into the R&D of new technical fabrics that absorb odor, wick away moisture, and in some cases, expand or retract given the circumstances. Shorts have become a lot more sophisticated as a result, so don't be afraid to look for shorts that offer more than just a pair of pockets (which is also essential). Depending on personal preference, you may want a short with a mesh lining, compression liner, or no liner at all.
Under Armour UA Training Stretch Shorts
Starting our list is an athletic staple brand that has been making high-quality apparel for the past quarter-century, Under Armour. The Baltimore brand makes a variety of different shorts, but perhaps its best pair is also one of its most affordable: the Training Stretch Shorts. These shorts are made with an ultra-soft HeatGear fabric that's lightweight, smooth, and has a 4-way stretch for enhanced mobility. Its construction is designed to wick sweat and stay dry, which is an integral part of staying comfortable while you train. Add to this already well-made short its mesh paneling to keep your legs breezy and you have one of the better-valued training shorts on the market.
Champion Reverse Weave Cut-Off Shorts
Before Champion become a streetwear staple, it made comfortable clothes that were perfect for working out or simply lounging in. While its Reverse Weave Cut-Off Shorts may not be suited for those who prefer dynamic workouts and high intensity interval training, they're a fantastic alternative for people who enjoy more static workouts like weightlifting or yoga. The shorts feature a heavyweight Reverse Weave fleece construction along with Champion's signature stretch gusset and elastic waistband. For added comfort and insulation, these also have a soft-brushed interior, which makes them perfect for warming up and staying warm between sets.
Outdoor Voices Sunday Short
Outdoor Voices is one of today's prominent athleisure brands and specializes in technical garments that are as functional and comfortable as they are sustainable. The brand makes stellar clothing, which is epitomized through the craftsmanship and style featured in its Sunday Short. Featuring a construction that's 86% polyester and 14% spandex, the Sunday Short is lightweight and breathable without sacrificing mobility and durability. The short's lack of lining lends to a more comfortable fit while its bluesign Approved Fabric gives you the satisfaction that it was made in an eco-friendly way. These are shorts that you can wear while training like a demon in the gym or having a casual lunch about town.
Ten Thousand Interval Short
If there's one thing you need to know about Ten Thousand, it's that it puts enough research and development into testing its products to make NASA look lazy. This brand specializes in making high-octane clothing for high-octane athletes, so you'd better believe its shorts are next-level. Ten Thousand's Interval Short is a creation of sartorial sorcery, featuring an 86% polyester and 14% spandex construction and a near-perfect design including a no-pinch waistband, a cling-free and sweat-wicking shell, four-way stretch for added mobility, a perfect pocket system, and an optional medium compression that's treated with silver ions for a complete anti-odor finish. As always, the shorts come with a lifetime guarantee because that's how confident Ten Thousand is in the quality of its products.
Patagonia Nine Trails Shorts
There's no way we could make this list without including our favorite Ventura-based gear brand. Patagonia has an aggressive unwillingness to make products that are anything South of stellar, and its Nine Trails Shorts are a perfect example of the brand's commitment to excellence. These shorts are made with a recycled polyester-spandex shell that features a durable water repellent (DWR) finish to wick sweat and moisture as you train. To keep things free of stink, they include a Capilene boxer-brief liner that has a polygiene antimicrobial treatment to fight odors, and for added versatility, there are two large zippered front pockets and a back zippered pocket for your phone.
Mack Weldon Ace Sweatshort
For the uninitiated, Mack Weldon is a men's lifestyle brand that reinterprets classic staples through a contemporary lens and then designs them with modern, technical materials. The brand's immensely popular sweatshirts are indicative of Mack Weldon's eye for design and technical prowess. They feature a mind-bogglingly soft micro-brushed French terry construction for an unrivaled level of comfort, while their tailored fit is just the right amount of loose so you don't sacrifice mobility. The Ace Sweatshort also includes four pockets: two on the sides, a discrete zip thigh pocket, and a zip rear pocket for added security. The only problem with these shorts is they're so comfy that you won't want to take them off after you're done at the gym.
Vuori Kore Shorts
Vuori is another California brand that makes premium performance wear that also translates outside of the gym due to the garments' stellar designs. Dubbed the "one short for every sport," Vuori's Kore shorts really are a jack-of-all-trades when it comes to gym shorts. The shorts are made with a blend of 46% recycled polyester, 44% polyester, and 10% elastane which yields a durable, moisture-wicking construction that dries quickly and prevents odors. Moreover, these shorts include a boxer-brief liner to give you the option of going commando comfortably, assuming that's your thing. More than anything, these are technical, expertly-made shorts that will give you the comfort and mobility to sprint, jump, or lift for any workout.
Lululemon T.H.E. Linerless Short
An athleisure pioneer out of Vancouver, lululemon changed the game with its stylish, technical line of performance wear. Given its storied excellence, picking just one standout from the Canadian brand was difficult, but as far as gym shorts are concerned, it's near impossible to trump T.H.E. Linerless Short. Boasting a recycled polyester and elastane construction, T.H.E. linerless short is perfect for high-intensity cardio or static weightlifting. The materials of the shorts are quick-drying, stretchy, supremely comfortable, and breathable. They also feature two side pockets and a discrete rear zip pocket for extra storage.
Tracksmith Session Shorts
Tracksmith is an independent running brand that specializes in making superior running garments. While its shorts are primarily geared toward distance-running, they are indubitably great shorts that lend well to gym workouts, especially the 7″ Session Shorts. Built to handle grueling training regimens, the Session Shorts are made of innovative Veloce fabric, which is lightweight, stretchy, and durable. What's more, Veloce excels in wicking sweat, which keeps your shorts from clinging to your legs as you train. To give these fantastic shorts even more versatility, Tracksmith gave them a polygiene liner, which is anti-odor and antimicrobial and will keep everything in place, no matter how intense the workout.
Nike Sportswear Tech Fleece Shorts
We'd be remiss if we didn't include the king of all athletic wear companies, Nike. The Portland juggernaut has ruled the roost for decades thanks to its killer design and high-performing garments, so it's no wonder at all that its Tech Fleece shorts made our list. Nike constructed these shorts with a double-sided spacer fleece to keep you warm and insulated without adding weight. For their construction, these shorts leverage a blend of 66% cotton and 34% polyester, making them one of the more comfortable and lightweight offerings on the list. They also benefit from the inclusion of two internal stash pockets to keep your valuables safe and secure.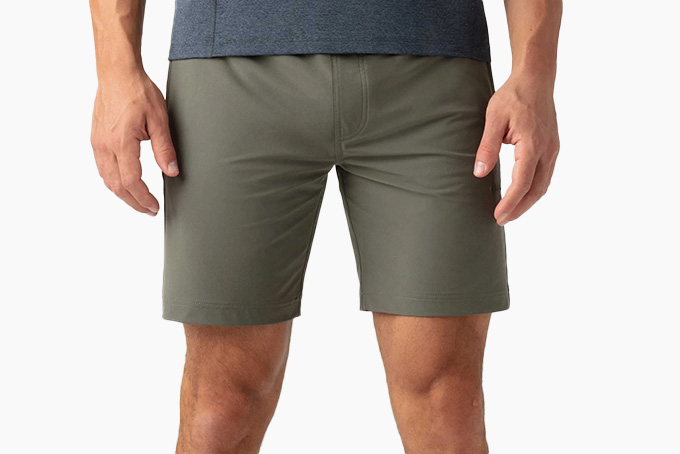 Olivers All Over Short
Olivers Apparel makes athleisure that looks so good, you'd have a hard time believing they're as technical as they are. It's a contemporary brand that really understands the balance of form and function that modern garments are expected to strike. The brand's All Over Short is a prime example of this balance, combining an 88% nylon/12% spandex construction with a streamlined casual wear design to deliver an elite gym short that also elevates your wardrobe. Its All Over Stretch Weave fiber is the perfect all-season, water repellent, four-way stretch material to promote mobility and comfort as you go tackle your explosive workouts — and then head to the bar right after.
Rhone Mako Short
Rhone is an elite athleisure brand that uses a technical approach to make its high-performance garments, which has garnered it a ravenous following and worldwide acclaim. The brand dubs its Mako Short "the only active short you'll ever need," and backs up its bold claim with a truly magnificent short. They're made with Rhone's High Intensity Training Fabric, which is quick-drying, retains its shape, and is treated with a DWR finish to remain extra dry. What's more, the shorts feature a jersey fabric interior for added comfort, two zip pockets for extra security, and a boxer brief liner with GOLDFUSION™ anti-odor technology to keep the stink at bay.
Alo Yoga Unity 2-in-1 Short
Alo Yoga makes activewear clothes that look so good, you could wear them on the runway. While the yoga-focused company primarily marketed to women when it was in its nascent stages, its line of men's garments is as good as any premium brand out there. Its 2-in-1 shorts prove Alo's design acumen, featuring a lightweight woven shell construction and a poly-spandex jersey compression underlayer to keep things nice and tight. Front and rear zip pockets add security and versatility while the lined panel between the legs promotes mobility and stretch.
Reigning Champ Mesh Shorts
Reigning Champ may have gotten its start in the streetwear space, but the Vancouver standout has transitioned into a stylish athleisure brand with sophisticated yet simple designs. The brand's mesh shorts prove Reigning Champ's fundamentals-first approach to design, featuring a lightweight and breathable blend of polyester and elastane that's augmented by a Polartec Power Dry lining to wick away sweat. For an added layer of odor protection, the mesh shorts undergo an antimicrobial finish which keeps these shorts fresher for longer. To round out these minimalistic shorts, Reigning Champ integrated two spacious pockets for extra storage.
Outlier Ultra Ultra Easy Shorts
Another contemporary standout that's shaking up the activewear space, OUTLIER is a New York City-based brand that makes hyper-technical gear you'll never want to stop wearing. While it's hard to choose just one of the brand's out-of-this-world garments, its brand-new Ultra Ultra Easy Shorts are a masterpiece. Featuring a double-woven, ultra-refined fabric from Schoeller, these lightweight and flexible shorts are perfect for any workout. OUTLIER took things a step further by integrating an F0 Ecorepel Bio DWR finish to seal these bad boys from moisture so your thighs stay dry and chafe-free while you hit it hard. Their powermesh pockets add a layer of breeziness to the party, and the discrete zip pockets will keep your belongings safe, secure, and in place.
Satisfy Running Space-O Distance Shorts
Satisfy Running is a Parisian label that reimagines classic running staples through a stylish, highly technical lens. These particular shorts are geared for long-distance running, however, their versatility and innovative construction make them perfect for just about any athletic outing. These ultra-lightweight shorts have a six-pocket system, with two separate inner key pouches to keep your belongings from moving around. If that's not enough, the system also has a sweat-proof phone pocket incorporated into its waistband to prevent chafing. But the real genius of these shorts is their construction. They're made with perforated Mesh fabric that's breathable and stretchy, durable and odor-preventing Justice Multi-Stretch Tech-Silk, and bonded seams to prevent rubbing. There may not be such a thing as a perfect pair of gym shorts, but these are about as close as you can get.
The 16 Best Smart Home Gyms
Now that you've got your shorts sorted, check out our guide of the 16 best smart home gyms you can buy to finalize your modern fitness journey.