Everyone should have the experience of heading out on the open road (destination: optional) for days, if not weeks, at a time. However, hotels can be expensive, and not every car is built for the long haul. That's where RVs and campers come in. These mobile sleepers are a great way to self-sustain on a long road trip without having to worry or wonder about where your next night's sleep is going to be. However, purchasing a motorhome can be expensive and many newcomers may not quite know the ins and outs of outfitting or operating a campervan.
Renting is a great alternative, especially for those who want to test the waters, or even travel veterans who still aren't quite sure how often they'll be able to take elongated vacations. Yet, with so many rental companies out there, it can be insanely overwhelming. That's why we've put together this guide to the 10 best RV rental services in order to filter out all the excess so you can better decide which ones to use. When it comes to RV rentals, we can look at a few criteria: accessibility, amenities, customer service, options, and, yes, style. Some of these services specialize in kitschy aesthetics, while others, sheer reliability. Either way, this is the ideal place to start when planning your upcoming RV or camper trip.
The Different Types Of RVs
From Big To Small
Short for "recreational vehicle," RV has come to be a colloquial umbrella term for vehicles you can sleep in, although enthusiasts will inform you that the generic term isn't all that generic at all. If you want to get technical (and who doesn't?), a "true" RV is essentially a motorhome. And with that, there are several types of RVs, both when referring to the official definition and the broadened one. Taking into account travel length, group size, and amenities, you should know how to distinguish between different types when vetting the perfect vehicle for your next trip.
Motorhomes: When referring to motorhomes, there are three classifications: Class A, Class B, and Class C. 30ft to 40ft long, Class A RVs are top-of-the-line, often luxurious vehicles. These are desired by frequent travelers and even common among those looking to retire to a life on the road. Similar to a conversion van, which has to be converted for living in, Class B RVs are also known as camper vans. Built with many of the amenities of a full-size Class A, a Class B simply has much less space, sleeping no more than 2 or 3 people comfortably, yet is much more fuel-efficient. And finally, Class C RVs are similar to Class As, but are smaller and more affordable, getting as short as 21ft.
Trailers and Fifth Wheels: A fifth wheel is a trailer that must be towed, and may be a more desirable option for travelers due to the added space where the driver's cabin would usually go. Another benefit is being able to detach the hauling vehicle for more city travel or reaching places that are harder to access with a longer house. Travel trailers are the most popular type of RV out there simply due to their versatility. They can range as small as a teardrop trailer or as long as a 35-foot apartment on wheels. Another variation on the travel trailer is the pop-up camper or the truck camper. However, when renting one of these trailers, make sure you find one that includes a vehicle capable of towing it unless you have one yourself.
Conversion Vans: Deceptively spacious, conversion vans have increased in popularity in recent years. Models like the Mercedes-Benz Sprinter and the Ford Transit are ultra-conducive to converting into a livable space. Certain rental and restomod companies have made a living sprucing up these vehicles in ways that are fun and even vintage-inspired.
Overlanding: Sort of a generic word for long-term, self-reliant traveling, overlanding requires a vehicle and gear that can accommodate such an experience. This typically consists of four-wheel-drive trucks with capabilities of super-off-roading and living on the go. Because of the rise of overlanding these past few years, many rental services have cropped up in order to cater to the super adventurous types.
Cabana
Not every conversion van should be stripped of the luxuries of a larger RV. At least that's what the folks over at Cabana thought. That's why they set off to redefine the idea of a compact sleeper. With locations in both Seattle and Los Angeles, this up-and-coming company has a fleet of vehicles that manages to make you forget you're in a van at all, with amazingly economic real estate inside that includes a complete kitchen, full bathroom, and mini bedroom. Even better, Cabana outfits each of its vehicles with fun little extras like camping chairs, beverages — even games and a French press with certain models — and everything you need to make your trip through the Pacific Northwest as comfortable as possible.
Cruise America
With four options ranging from a 3-person Class C to a 7-person Class A, Cruise America's fleet comes with an array of amenities and is pet-friendly as well. With over 130 locations across the United States, this is one of the biggest, most popular rental services out there and can accommodate one-way rentals too. The vehicles themselves won't be anything vintage or kitsch, but are reliable and will help you experience the RV lifestyle firsthand. The size of the company allows it to offer certain deals and offers throughout the year or depending on your location in the country.
El Monte RV
The benefit of not doing peer-to-peer rentals is the option of doing one-way trips that you can fly back from instead. With 13 locations spread out across the United States, El Monte has been going at it for a while now. Each of the Class C or Class A vehicles is pet-friendly and the company provides guides on their website for people traveling with their animals, in addition to the curated travel itineraries for those who want a little help with their planning, whether they're venturing down Route 66 or along the Atlantic seaboard.
Escape Campervans
Wouldn't it be rad to fly down the interstate in a van with bright green hibiscus flowers emblazoned on the side? Or perhaps exploding cartoon volcanoes? Every one of Escape Campervans' custom vehicles is hand-painted on the exterior in one of several eye-popping designs. But it's not just all for show. From the 5-person Del Mar Pop-Top, which features a queen-size bed, to the 2-person Jeep Camper with a rooftop sleeper, Escape has one of the largest fleets of vans in the U.S., operating out of 13 major cities. Each van also comes with at least a refrigerator, sink, and stove, plus 24-hour roadside assistance is provided for peace of mind.
Outdoorsy
Praised for its ubiquity, Outdoorsy is not only one of the largest peer-to-peer RV rental services in the country but also one of the safest and most reliable. The company gives you $1 million in liability insurance (that's not a typo) and 24-hour roadside service to allow you to just focus on the vacation you've worked long and hard to earn. With a full range of options — and plenty of them — renters can also rest assured that they're getting what they want through the user-friendly site that lets you choose from a cornucopia of filters. Outdoorsy also has users in 14 countries if you're thinking about taking a road trip abroad.
Pacific Overlander
Road trips are one thing, but overlanding is a whole other beast unto itself. The task of outfitting your vehicle, not only to maintain livability for days or weeks at a time but to ensure that it can withstand the roughest and toughest road conditions (i.e., literally driving on boulders) can be daunting, to say the least. Thankfully, there are companies like Pacific Overlander who have taken that on for you. Based in Las Vegas, but capable of allowing one-way travel to several places across the American West, these overland experts are simply the best, with six four-wheel-drive options that can sleep anywhere from 2 to 5 people and 24-hour support. Guided tours are also available in locations such as Death Valley and the Grand Canyon.
Learn More: Pacific Overlander
RVezy
Launching back in 2017, RVezy has become the go-to service in Canada, where it started, but has also seen an incredible amount of growth in the United States since its recent expansion in 2020. Relatively new to the game, but incredibly popular due to its thorough screening process and amazing customer service, this peer-to-peer site has lightning-quick roadside service and a similar insurance plan as Outdoorsy. Whether you're a renter or an owner, RVezy scores high points for its customer-first mentality.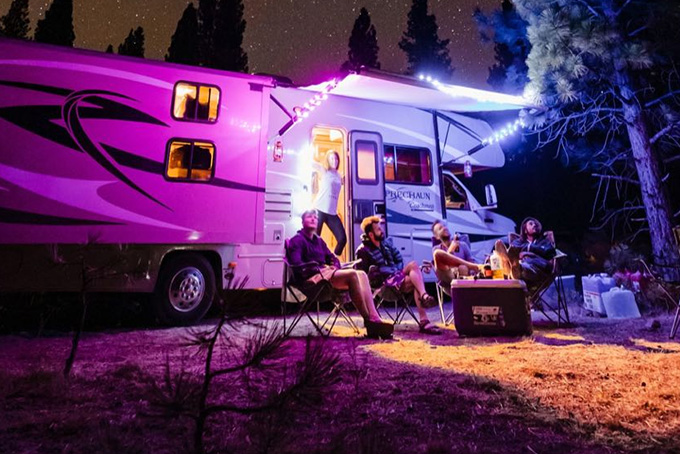 RVshare
The most direct competitor to Outdoorsy is RVshare, a peer-to-peer rental service with great customer service and the largest network in the United States. The website is extremely user-friendly with tons of options and the ability to search for vehicles by year. Additionally, the company works directly with RV dealers for a plethora of newer offerings as well. But what makes RVshare one of the best services in the country is the 5% Cash Back Loyalty Program, an added bonus for those who rent more often, as well as the unprecedented One-Way Rental service.
Vintage Surfari Wagons
Van culture in the 1970s was a very real thing. Heck, they even had a film sub-genre called Vansploitation. Well, Southern California rental company Vintage Surfari Wagons is tapping into that desire to relive (or live for the first time) the Me Decade. As one of the best kitschy rental services in the country, the company's fleet includes fully-equipped retro restorations of old Volkswagen buses from the '70s (but also Vanagons and Eurobuses from later eras) for those who want to travel through time as well as on the road. Each van comes with a mini kitchen and a bed, and the company provides bedding, camping chairs, and cooking equipment for your convenience.
Learn More: Vintage Surfari Wagons
Voyager Campervans
Vans are great for those who don't mind a simpler traveling experience and want to leave a smaller footprint. As one of the best van rental services in the country, Voyager Campervans has only six locations nationwide, but those locations are well spread out from one another for better one-way travel options. Each vehicle comes with a full-size bed, bedding, a solar-powered cooler, water, a stove with fuel, and off-grid power. What's more, the vehicles can get over 28 miles-per-gallon on the highway, and Voyager has some of the best pricing options out there with zero hidden fees for a more transparent budgeting experience.
Learn More: Voyager Campervans
The Best Gear Essentials For Your Next Camping Trip
An RV is only part of the equation. If you're planning on getting back to nature on a wilderness adventure, you're going to need the right equipment to stay safe and comfortable, and we've got you covered in our roundup of the best camping gear essentials.