If you know how to pack right, you can fit a lot of adventure-ready gear into even the smallest of sedans. Of course, depending on the activity and the number of people you want to bring along with you, it still might not be enough room. If you don't have enough cargo room inside your vehicle, however, all is not lost.
All you have to do to practically double your cargo-hauling capacity is attach a roof rack system atop your vehicle of choice – be it a pickup truck, inauspicious saloon, sport wagon, 4×4 off-roader, or whatever else. But, you can't just pick one and roll with it, as (along with the vast number of options, both good and bad) different styles suit different vehicle and different amounts of gear. However, whether you just need a simple cross bar system or a comprehensive roof-length cargo basket, you can find one that suits your needs and vehicle on this list of the 10 best roof racks for adventure.
A Rack For Every Ride
Things To Consider
Before you even think about buying a roof rack, there are a few things you need to keep in mind. For starters, you should determine exactly the amount of gear you plan to haul. If it's relatively little, both in size and quantity, you can probably get away with a simple cross bar system and a small roof cargo box or bag. If your haul is a bit more extensive, it's probably worth looking into something a bit beefier – like a full-length cargo basket.
Secondly, roof racks are not universal. Some require your vehicle to have rails that run down the length of your roof. Others aren't suited to shorter cabbed vehicles, like mid-size pickups. And then there are options that don't require any permanent attachments at all – though this is at the expense of security. Just make sure, before you ever buy, that the rack system you choose is compatible with your vehicle.
Finally, learn the limitations of your chosen roof rack. Even if a cargo tray, for instance, is perfectly suited to your overlanding SUV and attached properly, you can still overload it and cause damage to the rack, your vehicle, or put other people in danger when it all comes undone and goes spilling all over the road. Roof racks are an excellent means by which to carry your gear, but they are not without risk. Exercise caution at all times. Keep these simple things in mind and you should be ready to pick your roof rack.
CargoLoc Aluminum Cross Bar Set
Perfect for its simplicity and straightforwardness, this aluminum crossbar rack is ideal for anyone who needs a quick and easy solution without a lot of fuss. All that it requires is that your vehicle have raised roof rails (a common feature on many SUVs) onto which to attach them. Then you simply clip them on and lock them securely with the included lock and key system. It's as easy as that. Best part is, when you're done using them, they come off just as simply.
Vehicle Type: Any
Necessary Equipment: Raised Side Roof Rails
Yakima Whispbar Roof Rack System
Yakima is one of the top names in roof racks for a reason: their gear is secure, well-built, and reliable. Their Whispbar system is no exception. Perfect for those looking to add roof cargo carrying to a vehicle that doesn't have existing roof rails, this system requires that the included Yakima towers be mounted onto your car and then the rails can be attached between them using a simple locking system. Another benefit of this particular system is that the bars feature an aerodynamic shape, so they don't add unnecessary drag to your vehicle.
Vehicle Type: Any Without Roof Rails
Necessary Equipment: None
Curt 18115 Roof Rack Cargo Carrier
If you happen to own an off-road SUV or overlander that came with roof rails and cross bars already attached, you might want to look into getting a cargo basket like this one from Curt. Featuring a simple 2-piece design and a durable powder coat finish, this basket fits onto most roof rail systems and adds 11 horizontal square feet of carrying space to your vehicle. And while that's plenty of cargo room, this one is also compatible with an extension piece to increase the capacity even more.
Vehicle Type: Any
Necessary Equipment: Roof Rails And/Or Cross Bars
SportRack Roof Rack System
What's really excellent about SportRack's roof rack crossbar system is that it's the only one on our list that doesn't require you to have either an existing roof rack system – be it side rails or one with crossbars – nor does it necessitate any power tool installation. You see, this simple system latches to your car, pickup truck, adventure van, or SUV via your doors – securing the rails while still allowing you to open and shut your ports of entry. That means you get a fairly secure system that can handle mountain bikes, kayaks, or cargo boxes without having to drill into your vehicles panels. It also means that, once you're done, you can just take them back off again.
Vehicle Type: Any
Necessary Equipment: Roof Rails With Cross Bars
Rola 59504 V-Tex Rooftop Cargo Basket
Another rooftop cargo basket, this one is a bit beefier in its construction than the Curt – though it does not have the option for expansion. It does, however, come with a simple 2-piece construction, has a durable powder coated finish, comes with universal mounting hardware, and includes an easy-fit custom air deflector to help reduce drag when in use. A simple solution for all your hauling woes, this is a safe bet for anyone that wants big value and little fuss.
Vehicle Type: Any Without Roof Rails
Necessary Equipment: None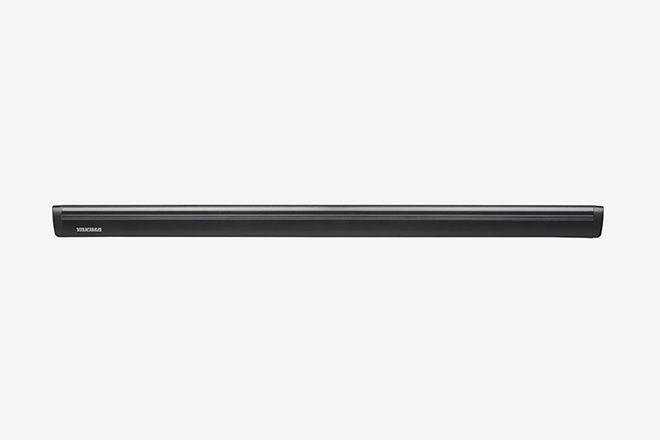 Yakima JetStream Crossbar
Compatible with Yakima's BaseLine, RidgeLine, TimberLine and Skyline towers – these crossbars are a lightweight and sturdy aluminum roof rack option. They come in several different sizes and colors, feature the brand's Jetflow aerodynamic shape – which was tested in a wind tunnel to ensure the least amount of drag – and are also compatible with the brand's popular Whispbar mounts for boats, bikes, and skis. For lightness, versatility, strength, and more – there are few options quite as good as these.
Vehicle Type: Any
Necessary Equipment: Yakima BaseLine, RidgeLine, TimberLine, or Skyline Towers.
Thule Canyon XT Cargo Basket
Known for their roof racks and cargo boxes, Thule also makes this extremely tough and well-built rooftop basket for all your gear-hauling needs. The sleigh-style design makes for a solid base for all your equipment, and its wedge shape and wind deflecting panel ensure that air flows over and around whatever it is you're carrying without costing you precious MPGs. There's also an option for an extension, if you need a little extra carry room.
Vehicle Type: Any
Necessary Equipment: Roof Rails With Cross Bars
Rhino Rack Pioneer Platform Rooftop Rack
Unique in that this is not a traditional basket system, Rhino Rack's Pioneer Platform is one of the most trusted roof racks available because of just how sturdy and reliable it is. Available in a number of different sizes suitable for just about any vehicle type, the Pioneer Platform features a durable powder coated finish, is non-corrosive so it wont rust or fade, and is compatible with a full suite of Rhino Rack's roof rack accessories, so you can customize it to whatever you need to haul.
Vehicle Type: Any
Necessary Equipment: Roof Rails With Cross Bars
Front Runner Double Cab Roof Rack
Front Runner actually makes a large number of racks to suit all measure of vehicles from International Scouts, to Land Rovers, to Mercedes-Benz, and more. But one of our favorite things they offer is roof racks for pickup trucks – like the one we've highlighted here. This particular one is for the Toyota Tacoma, but they do offer more. And while you might think that pickup trucks don't need roof racks because of their beds, we've found that sometimes the bed can't quite accommodate the haul of a full trip, so we're glad Front Runner has built this system. They also come with everything you need to mount them, so you don't need to buy a bunch of extra hardware to get the job done.
Vehicle Type: Short Cab Trucks & SUVs
Necessary Equipment: None
Warrior 3860 Roof Rack
Like Front Runner, Warrior makes a wealth of options for a number of different vehicle types – namely, Jeeps, Toyota FJ cruisers, and Toyota Tacoma pickups (which happen to be three of the most popular adventure vehicles). This particular one is a favorite because, not only does it offer a large amount of cargo hauling space, but the mounting system is one of the most secure we've ever come across. If you need the toughest roof racking system out there, turning to Warrior to get one is certainly not a mistake.
Vehicle Type: SUVs & Trucks
Necessary Equipment: Jeep, Toyota FJ Cruiser, or Toyota Tacoma
15 Best Adventure Vehicles
Roof racks pair best with a ride that can take you and your gear wherever you want to go. Find the perfect one here on our list of the 15 best adventure vehicles.