In spite of our ever-progressing technology, some of the most important lessons you can learn are still found in books. Whether you choose to read them online, on an e-reader, or in actual hard-copy paper and ink format is entirely up to you, but the fact remains: books are still and will likely always remain valuable. And one of the realms in which that is abundantly true is that of the great outdoors.
Whether looking for an all-encompassing survival guide, an entertaining tale to keep you company while rocking back and forth in your hammock, or just a bit of useful information about your favorite National Parks – there's a book out there that has got you covered. But we've actually already done the hard work and wrangled up the following collection. These are the 20 best books for the outdoorsman.
A River Runs Through It
By Norman Maclean
While it's a lot more likely that you've seen or will see the Brad Pitt-starring film adaptation of this novella, you'd be doing yourself and author Norman Maclean a disservice if you didn't also read it. Beautiful, both in content and writing style, this tale of two brothers from rural Montana who grow up and travel very different paths will tug at the heartstrings – especially if you've ever been keen on sharing fishing trips with loved ones.
Published: 1976
Pages: 239
Beyond Fair Chase
By Jim Posewitz
Whether you like it or not, hunting comes hand-in-hand with some moral quandaries. And while many folks are perfectly fine with ignoring that responsibility, we implore you to at least consider reading Jim Posewitz's treatise on the subject. Whether you agree with this examination or not, it's guaranteed to make you at least more deeply muse on the ethics of the sport. For the record, this is not an anti-hunting book, but it does force the reader to reassess their beliefs on the subject.
Published: 1994
Pages: 128
Death in the Long Grass
By Peter Hathaway Capstick
While, in the light of conservationism and a broader worldview, the idea of going on an African safari has become a bit tarnished by the darker side of things (like poaching), there's still a lot to be learned from the folks who participated in the activity. And almost nowhere is that more evident than in the pages of Peter Hathaway Capstick's book, Death in the Long Grass. What's perhaps most notable about this particular tome is not its focus on the hunters of the savannah, but rather the animals most responsible for human death: hippos, crocodiles, and Cape buffalo.
Published: 1989
Pages: 320
There's a fairly strong likelihood that, if you grew up in the United States following its publishing date, you were tasked with reading this particular book in school. Whether you have or not, we urge you to read it now that you're an adult. Excellent as an entertaining story of survival, this easy read also boasts a good deal of useful information, tips, tricks, and things to avoid when lost in the forest.
Published: 1987
Pages: 192
A Sand County Almanac
By Aldo Leopold
Even if it isn't already abundantly apparent to you, enjoying the great outdoors is a privilege that requires one to accept carefully-considered responsibility. Simply setting foot into the wilderness is an intrusion and, without caution, can lead to our natural world becoming compromised as we know it. This book, while not accusatory by any stretch (it's actually incredibly beautiful and even poetic), is an excellent tool for anyone wanting to learn the importance of preservation and conservationism. Our relationship with nature is a precarious one, and this book will better equip you to understand and respect it.
Published: 1986
Pages: 295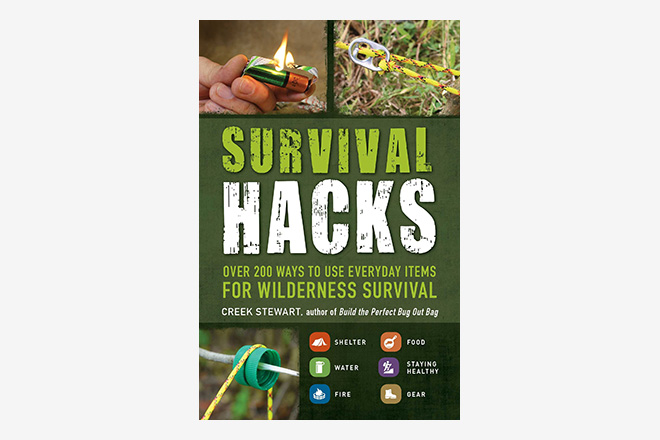 Survival Hacks
By Creek Stewart
Staying alive in an emergency, especially in the great outdoors, is a game of creativity. You're likely not going to have a complement of tools to help you make it through, but if you have the knowledge found in this book, that's hardly a drawback at all. In fact, this tome can help you turn a number of everyday items into the things you need to stay alive and to find help. From lighting a campfire to setting up shelter, this book has it all across a whopping 256 pages. And you don't even have to be MacGyver to make these hacks work.
Published: 2016
Pages: 256
Into The Wild
By John Krakauer
Equal parts a beautiful (and true) story and a cautionary tale, Into The Wild does a brilliant job both of exemplifying everything wonderful about the wilderness, as well as illustrating its inherent dangers. And while you could watch the movie based on the book, there is a lot of useful nuanced information in John Krakauer's book that is glazed over or not present at all in the on-screen version. Beautifully written and incredibly enthralling, this is a tale every outdoorsman should read at least once.
Published: 1997
Pages: 240
If You Didn't Bring Jerky, What Did I Just Eat?
By Bill Heavey
Not everything informative has to also be serious and straightforward, as proven within the pages of Bill Heavey's If You Didn't Bring Jerky, What Did I Just Eat? Originally appearing as a series on the back page of Field & Stream, this book is filled from cover to cover with the writer's many unsuccessful jaunts into the great outdoors. And while they are funny and entertaining in and of themselves, they are also excellent lessons that will help any reader avoid the same pitfalls.
Published: 2007
Pages: 304
50 Things to Do with a Penknife
By Matt Collins
A blade (read: not just a penknife) is one of the absolute most valuable tools any outdoorsman can carry – folding or otherwise. And while it can be difficult to come up with all of the reasons why, this book represents a valiant effort at creating a database of all the things a knife can help you do. While not completely comprehensive (as that would be impossible), the combination of cleverness and ingenuity alongside the beautiful illustrations by Maria Nilsson, make this a valuable tome for any outdoorsman.
Published: 2017
Pages: 144
100 Deadly Skills: Survival Edition
By Clint Emerson
Author Clint Emerson isn't just a man with a typewriter and some half-baked ideas – he's a retired Navy SEAL, meaning he is more than qualified to write a dozen books on the subject of survival skills. Boiled down to just 100 entries, this collection of useful competencies is helpful both to the outdoorsman and really anyone hoping to bolster their skillset in the case of an emergency. Practical and informative, especially for today's world, there are few other survival guides that compare.
Published: 2016
Pages: 272
Bushcraft 101: A Field Guide
By Dave Canterbury
Probably the single most referenced tome on the subject, Dave Canterbury's Bushcraft 101 is the premier work on backcountry adventuring. In fact, it is a New York Times Bestseller and Amazon's #1 bestseller in sports encyclopedias. Covering everything from emergency survival skills to campground cooking, this is a must-have library entry for anyone who cares about the great outdoors and wants to learn to make the most of them without sullying the experience with modern conveniences.
Published: 2014
Pages: 256
Edible Wild Plants
By Thomas Elias
While we'd never belittle the value of knowing how to hunt, the simple fact is this: wilderness survival is much more practical when foraging is a primary element. Hunting takes a lot of time and energy and, when faced with a disaster or survival situation, isn't all that practical. Collecting edible foliage is a far better route to take. The problem, however, is that not everything that looks edible is going to be nutritious and safe. This book is your best bet at learning what plants are okay to devour and which will poison you – and that knowledge could save your life.
Published: 2009
Pages: 288
Hunting and Fishing from A to Zern
By Ed Zern
Another author to have graced the final page of Field & Stream (over the course of decades, no less), Ed Zern is a brilliant author who manages to perfectly balance the useful, humorous, and entertaining when it comes to information on the printed page. And this book is a comprehensive collection of his best works. They're not all expressly related to the great outdoors, but a great portion of them are – enough to earn this book a safe and solid spot on this list.
Published: 1993
Pages: 315
SAS Survival Handbook
By John 'Lofty' Wiseman
Called "the definitive resource for all campers, hikers, and outdoor adventurers," the SAS Survival Handbook is second only to perhaps Bushcraft 101 when it comes to books on backcountry skills. And really that's only in regards to numbers, as the information inside is practically on-par with one another, just presented in different ways. In fact, this one was written by a former survival instructor for Britain's elite Special Air Service – a group that some folks consider to be even tougher than Navy SEALs. Give this one a read and decide for yourself.
Published: 2014
Pages: 672
The Old Man and the Boy
By Robert Ruark
Originally published in 1957 and never out of print, this book follows the story of the endearing relationship between a man and his grandson as they take to the wilderness of North Carolina fishing and hunting. An enthralling tale of family, an appreciation for the great outdoors, and the wisdom of generations, this old standard still rings true today. Dotted with humor and some valuable information, this is a classic that will go down as one of the best books for the outdoorsmen ever written.
Published: 1957
Pages: 320
The Campout Cookbook
By Marnie Hanel
Eating around the campfire doesn't have to be relegated to pre-packaged snacks, MREs, or even hot dogs if you don't want it to be. You can actually quite easily make venue-appropriate gourmet meals, if you just learn how to put them together. And that's exactly what this book has to offer – more than 75 recipes perfect to make out on the trails, over a campfire, and more. Ditch the granola and eat like a king, even if your throne is a tree stump.
Published: 2018
Pages: 224
The Total Outdoorsman Manual
Field & Stream
For over a century, the folks at Field & Stream have been some of the most knowledgable and deeply invested in the great outdoors and all activities therein. So its safe to say that anything they put their name upon holds inherent value. Such is the case with this particular handbook, which boasts a comprehensive collection of 374 different skills useful to outdoorsmen of every walk of life. Even the most hardcore adventurers will have something to learn within these pages.
Published: 2011
Pages: 320
Guide To The National Parks
National Geographic
If there is any collection of individuals better equipped to give you an in-depth look at the United States National Parks than those at National Geographic, we've yet to come across them. And that's all the more evident when flipping through the pages of this whopping nearly-500 page tome. Outside of government documents, we doubt you can find a more comprehensive grouping of information on the subject. And it's not just a large amount – the info you'll find is also abundantly useful to outdoorsmen and adventurers alike.
Published: 2001
Pages: 496
African Game Trails
By Theodore Roosevelt
Perhaps no one else in the history of American politics was as in-tune with the natural world as president Teddy Roosevelt. The badass American hero was a staunch supporter of conservationism, and a big part of that passion came from his appreciation of hunting – a subject of which he has gone to great lengths to describe in this particular tome. What's even more special about this book about Roosevelt's forays into African safaris is that it was edited by none other than Peter Capstick, a legendary author himself and the writer behind Death in the Long Grass.
Published: 1909
Pages: 624
Meditations on Hunting
By Jose Ortega Gasset
A lot less controversial than Beyond Fair Chase, Jose Ortega Gasset's Meditations on Hunting is a philosophical look at the world of animal-based sport. It also happens to be one of the most popular and quoted works on the subject of all time. Unfortunately, its popularity amongst the hunting and fishing communities also means it is rare and expensive. Still, if you're interested in the subject, this is definitely required reading.
Published: 1995
Pages: 140
50 Best Adventure Books Of All Time
Looking for a little more reading to get you motivated to head out into the wilderness for some exploration? Then you'll want to check out our list of the 50 best adventure books of all time.