Although trips on two wheels are much more taxing on your body and your mind than those taken in a car, the payoff makes the hardship more than worth it. Because if there's one thing you'll come to appreciate after your first journey, it's that only through exposing your vulnerabilities can you truly experience the transcendental effects of a motorcycle. Robert Pirsig said it best in his cult classic Zen and the Art of Motorcycle Maintenance —
"On a cycle, the frame is gone. You're completely in contact with it all. You're in the scene, not just watching it anymore, and the sense of presence is overwhelming."
But with more time on the bike comes more potential for things to go wrong. As such, it's worth going into your packing with a plan of attack. Otherwise, you're liable to forget small but necessary items such as that spark plug wrench or those extra socks. At best, you'll be in for a minor inconvenience; at worst, you'll have to call off the entire trip. Rather than going it alone and hoping you've thought of every possibility, have a look at our list of the best motorcycle road trip essentials and arm yourself with knowledge.
Roadside Ready
Essential Skills To Keep You Riding
Maintenance: If you're setting off on a trip of any considerable distance, it's advisable to know some basic motorcycle maintenance. These days, services like oil changes and brake pad swaps are often left up to shops, but there's no telling if someone will know how to work on your bike while on the road. Better to familiarize yourself with the ins and outs of your bike so that you have some kind of understanding should something go wrong.
Navigation: While GPS systems have quickly outpaced the road map, you should still be comfortable going it analog. For no matter how reliable your electronics claim to be, at some point, they will fail. Keep your optimism in check and practice navigating your route via a map before you find yourself lost on the side of the road.
Emergency Skills: It almost goes without saying, but if you're bringing emergency essentials like a first aid kit and a portable flat pump, you should know how to use them before you depart. Otherwise, they'll do nothing but take up valuable space in your bags and weigh down your bike. Even having an elementary understanding of in-the-field survival skills will serve you well when it comes time to make critical decisions.
Bits And Pieces
Bike-Specific Contingency Carry
Cables: When embarking on any trip that takes you away from the familiar, it's a good idea to pack some spare brake and clutch cables. That way, should you experience a failure, you can make the swap and be back on the road in no time. You might never need to use your spares, but without them, it'll be a long walk to the nearest mechanic.
Tools: Although we provide a recommendation for a tool kit below, it's not an end-all, be-all solution to roadside repairs. When building out an emergency kit, we suggest going over your owner's manual with a fine-tooth comb to make sure there are no special tools needed for your particular ride. Additionally, seasoned tourers offer a wealth of experiential knowledge earned the hard way — they'll be able to share any trip-saving secrets learned on the road.
Miscellanea: Ultimately, only you can determine what you need to keep you on the road. From everyday do-it-all items like duct tape to ride-specific sparkplugs and spare parts, be sure to fill out your tool kit expecting the worst. When packing these items, consider space-efficient solutions to minimize bulk. For instance, rather than bringing an entire roll of duct tape, wrap some around a battery for a more compact carry item.
Butler Motorcycle Maps
While GPS units and smartphones have made the road map all but obsolete, there's still good cause to own one. For instance, should your electronic navigation system of choice fail on you — whether through a dead battery or a technological glitch — an analog alternative will keep you en route. Created by motorcyclists for motorcyclists, Butler Maps makes a variety of maps suitable for any type of rider. They're region-specific, so you can get an intimate understanding of where you'll be traveling. And with the road- and backcountry-oriented options, you can pick your flavor of adventure accordingly. The California-South Backcountry Discovery Route map featured here covers 820 miles of single and doubletrack dirt roads, leading riders through ghost towns, past ancient petroglyphs, and amid Joshua trees. Waterproof and tear-resistant, it'll last the length of your trip and many to come.
MSR Liquid Fuel Bottle
A motorcycle road trip of any length will put your familiarity with your bike's range to the test. With luck, you'll time fuel stops perfectly, breezing through towns on the way to your destination. But the reality is not everything goes as planned, and not every town has a gas station. What's more, a fully-loaded bike coupled with uncertain terrain can do a number on your consumption. Should you overestimate your bike's efficiency and come short of a stop for fuel, an emergency supply could mean the difference between a sleepless night on the side of the road and a comfy bed in a warm hotel room. Made from a single piece of aluminum, this bottle from MSR is leak-free, fuel-preserving, and pressure-resistant. It can hold white gas, kerosene, automobile gas, mineral spirits, and even jet fuel, so it'll work for our purposes just fine. Available in 11oz, 20oz, and 30oz sizes, you can fit it according to your needs.
Buff Lightweight Merino Wool Neck gaiter
Assuming you're properly dressed for riding, your neck is one of the most exposed parts of your body. Seasoned riders will tell you — a bug to the throat at 60mph-plus is no joke. Moreover, neck gaiters are incredibly versatile garments. You can wear them in any number of configurations — including a bandana, a headband, and a balaclava — making them capable carry items when you have limited on-bike space. This Buff Lightweight Merino Wool model is made from 100% merino wool, meaning it's naturally quick-drying, odor-resistant, and temperature-regulating. Whether your travels will be taking you to chillier climes or you just need some extra sun protection, this gaiter is a must-have.
EarPeace Motorcycle Earplugs
Hours of riding can do a number on your hearing, and a ringing ear off the bike is not exactly a welcome experience. Purpose-built for motorcycle riding, these plugs from EarPeace feature filter technology that lets in just the right amount of unobstructed sound. In other words, you can block out the distracting engine and wind noise without compromising your situational awareness. As an added bonus, these pair perfectly with a comm set, so you can actually hear what's going on under your helmet.
Smartwool PhD Pro Outdoor Light Crew Socks
Downright uncomfortable and — in some cases — dangerous, it only takes one ride with cold feet to keep you from making the same mistake a second time. Because if there's one thing we've learned on some of our own road trips, it's that otherwise miserable riding conditions can be made tolerable with toasty toes. Moreover, it's important to have complete feeling in your extremities while on the bike; otherwise, you risk clumsy operation and even a life-threatening mistake. One of the pioneers of modern merino wool, Smartwool is an expert when it comes to making warm, comfortable socks. Their PhD Pro crew socks feature body-mapped vents for breathability and a 4-Degree elite fit system for security, making them an excellent choice for long days in the saddle.
Cruztools Speedkit Tool Kit
Although we suggest outfitting your emergency kit with tools tailored to your bike, it helps to have a solid starting point. At the very least, this little tool kit will provide you with an ultraright contingency plan in the event things go awry. Stocked with a spark plug socket and tire gauge, as well as wrenches, hex keys, and pliers, the Cruztools Speedkit Tool is a must-have for any time you're on a ride. It comes in four different varieties, with standard, metric, euro, and off-road sets suitable for every kind of bike. Housed in a durable zip-up pouch, it'll last you for many a road trip.
Dainese Rain Overgloves
Your hands are one of the first things to get cold on a ride. Numb fingers are not only extremely painful; they're also incredibly frustrating when operating a clutch. Couple that with water-logged leather gloves, and you have a recipe for a bad time. Though not everyone will need insulated gloves all the time, a pair of waterproof over-gloves should be the bare minimum. For as reliable as weather predictions are (not), it doesn't hurt to be prepared for an unexpected shower. The pair from Dainese shown here feature rubberized panels for improved grip as well as a zippered back fastener for water-tight cuffing.
Dowco Guardian Ultralight Cover
Even if you have the luxury of covered parking, a quality cover will prevent condensation from soaking your bike overnight. And should you experience an added cold snap, it'll keep frost clear of your electronics. But most important is that covering your bike dissuades prying eyes. Because while it may only be a softcover, it sends a clear message. The Dowco Guardian Ultralight cover packs down tightly in a stuff sack, making it an ideal choice when packing space comes at a premium. And with a 75D rip-stop polyester construction as well as a UV and water repellent coating, it's protective against dirt, pollution, sunlight, and rain. A premium-material cover that packs down this small should be a part of any packing list.
Adventure Medical Kits First Aid Kit
As with any adventurous excursion, it's to your advantage to carry a first aid kit. Sure, it might go unused, but that's better than finding out you should have packed one in the first place. AMK's Tactical Field Trauma Kit is both extremely robust and also highly compact, so there's no excuse for not packing it. And when it comes to in-the-field injury treatment, the kit comes with a number of emergency essentials, including a QuickClot Sport Sponge, a pair of precision forceps, and a variety of gauzes, wraps, and bandages.
Anker PowerCore Power bank
Between your phone, your GPS, and your Bluetooth setup, it helps to have a battery bank for charging. Because although you can just plug and charge in a car, that's not always the case on a bike. The PowerCore II 20000 from Anker features Poweriq 2.0 technology, allowing it to identify your device in order to provide a more efficient charge. And courtesy of its exceptional capacity, it can power an iPhone 8 some six and a half times over. Topping up in as little as five hours, this power bank is as helpful as it is convenient.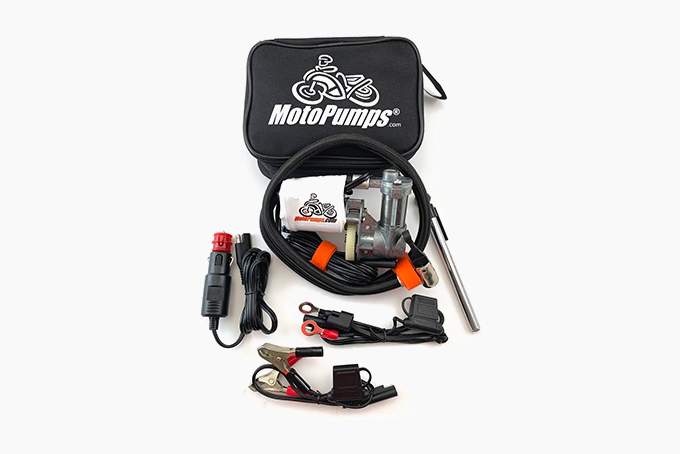 Motopumps Classic Kit
Along with that tire plug, you're going to need an air compressor to pump up your tire in the event of a puncture. Hand pumps are bulky and time-consuming, so they're far from ideal. Instead, grab a portable air compressor like this one from Motopumps. Simple to use but comprehensive in its contents, the Classic Kit is a must-have when it comes to prepping yourself for fixing roadside flats. It hooks up to your battery with the supplied clips and terminals, drawing about 10 amps under load. Inflating a 150/70-17 tire to 30 lbs in 3 minutes and 40 lbs in 4 minutes, it saves you wasted time and effort. Weighing just 26oz, it packs into a 6″ by 4″ by 2.5″ zippered case.
CamelBak Classic Hydration Pack
After hours on the bike, dehydration will sneak up on you. If you're not looking to stop every time you have to grab a drink, it's in your best interest to wear a hydration pack for easy on-road sipping. As the inventor of the hands-free hydration category, CamelBak knows how to make a quality water bladder. The Classic Hydration Pack comes with a breathable air mesh back panel for a comfortable fit, as well as a secure zippered pocket to hold your carry. The included Crux reservoir features an ergonomic handle and a two-position lever, making refills a cinch and leaks a thing of the past.
Fenix HM50r Headlamp
Whether you're camping out or you're riding overnight, roadside repairs in the dark are made all the easier with a headlamp. Because although your phone may have a flashlight, you'll have half as many hands free to work on the fix. This super-bright model from Fenix puts out 500 lumens on turbo, 130 lumens on high, and 30 lumens on medium. It also includes a 700mAh rechargeable battery that works with a disposable CR123A battery, so you'll never be without light. And with IPX8 water resistance, it's protected against dirt, dust, and water. But the best part is that it includes a lifetime guarantee against defects as well as a 5-year repair guarantee.
IXS Rain Overalls Orca Evo 1-Piece
If there's a fast track to cold riding it would be riding wet. Should you get caught in the rain, a packable over-suit will be your best friend. And with a one-piece design, you not only have less to juggle when you're packing but also better sealing when you're wearing it. The IXS Rain Overalls Orca Evo 1-Piece features a water-resistant PU coated 190T polyamide coating, so it's sure to keep you dry in the gnarliest of downpours. But that's not all — it also includes a mesh lining in the upper part for superior breathability, as well as elastic in the waist, sleeves, and leg cuffs for an optimal fit. Top it off with some reflective cording on the chest and back and you have a quality rain suit punching well above its weight class.
Dynaplug Pro XTreme Tubeless Repair
Though some hardcore ADV riders will carry an entire spare and all of its accouterment, not everyone wants to haul along that much gear (or needs to for that matter). It won't work for those freak flats, but assuming you can repair the puncture with a plug, you can at least get yourself to a town for a swap. Dynaplug's Pro XTreme is a versatile tubeless repair system that saves you removing the tire and, consequently, valuable wait time. It comes with five machined compartments to house the included insertion tubes, air stopper, and clearing tool. And to assist with penetrating those especially thick off-road treads, it features a broad, flat base that serves as a great purchase point for a hammer. No need for glue or solvents; just plug the tire and go. The plug is perfect for punctures up to the size of a penny nail, and it's rated for speeds up to 90mph. It comes in both 6061 aluminum and 303 stainless steel varieties.
NOCO Boost Sport GB20 Portable Jumpstarter
It's a terrible feeling (not to mention an inconvenience) expecting to set off on the next leg of your trip only to find that your bike won't start. When you're doing any kind of significant mileage, you should carry a portable jump starter with you. These NOCO Boost models are great for motorcycles because of their small form factor and relatively little weight. As denoted in its name, the GB20 is good for 20 jumpstarts on a single charge. And in addition to being a car jump starter, it's also a portable power bank and a 7-mode LED flashlight. Housed in a rugged and IP65 water-resistant enclosure, it's a choice to well-suited to life on the road.
Spot Gen 4 Satellite GPS Messenger
A satellite communicator may seem like overkill, but if you're taking off on your own, it's better to be safe than sorry. For if you go down and you can't access your phone, a communicator can be a truly life-saving device. Or, should you take a wrong turn and find yourself without cell reception, having one of these devices on hand will give you a far better chance of getting back on track. Now in its fourth iteration, Spot's Sattelite GPS Messenger is one of the best in the biz. It comes with built-in S.O.S. functionality, relaying your exact coordinates to the GEOS International Emergency Response Coordination Center at the push of a button. What's more is that with customized tracking, you can set up your SPOT to send updates when you're moving and to stop whenever you do. Thanks to its pre-programmed text message and email updates, you can send your location information to up to 10 contacts.
Kriega Overlander-S OS-32 Drypack
It goes without saying that you'll need a set of saddlebags to haul all of your gear on a motorcycle road trip. Because unlike a car, wherein you'll have a trunk and ample extra seating, your carry on a bike is limited by the bags you bring. While you may not need waterproofing on every adventure, it's a worthwhile feature to consider, especially if you can only have a single set of saddlebags. Specializing in motorcycle luggage, Kriega makes everything from commuter backpacks to ADV dry packs. Their Overlander-S series is made from durable Hypalon and 1000D Cordura nylon, ensuring long-lasting, abrasion-resistant performance. And with a roll-top closure and semi-rigid walls, these particular bags retain their shape for easy loading and convenient gear access.
Sena 10C Pro Bluetooth Headset
A Bluetooth headset ensures consistent communication with everyone in your riding party, allowing you to anticipate stops and relay directions in real-time. Because if there's one thing you'll soon find out, it's that navigation becomes increasingly frustrating when you're relying exclusively on hand gestures and turn signals. Moreover, a long day in the saddle can be a decidedly lonely experience; having an in-helmet communicator allows you to pass the time talking with your company, keeping you alert and in high spirits. The Sena 10C Pro pairs a high-quality camera with a Bluetooth 4.1-enabled headset for unrivaled on the bike convenience. So whether you're snapping screensaver-worthy stills along the ride or filming a fast descent, rest assured you won't miss a moment. Furthermore, it comes with four-way intercom connectivity and a range of up to 1600 meters, so you keep tabs on everyone around you. And with Advanced Noise control, music sharing, and a built-in FM radio tuner, this Bluetooth headset will keep you occupied for hours, safe from the dangers of highway hypnosis.
Garmin Zumo 595 GPS
Although smartphones have all but overtaken GPS units in their use within four-wheeled vehicles, they're not advisable for navigating on a motorcycle. Even the most fleeting of glances at your phone is like asking for an accident. Optimized for use on the bike with features like waterproofing and glare-reducing screens, a moto-specific GPS is a worthwhile addition to any road trip. As the leaders in consumer GPS technology, Garmin is a need that needs no introduction. The Zumo 595 shown here is a rugged, adventure-ready option, with IPX7 water resistance and glove-friendly operation. It also comes with a host of helpful tech, including embedded rider alerts, Bluetooth connectivity, and Garmin Adventurous Routing. No matter if you're playing it safe on the highway or taking the road less traveled, this GPS is sure to get you where you need to go.
Ride Out: 15 Best Motorcycle Roads In America
Got your packing list sorted and stoked to set off on a trip? Check out our guide to the best motorcycle roads in America for some righteous rides that are sure to fuel your wanderlust.