Winter might be wrapping up, but that doesn't mean that your coverage-worthy wardrobe is out of the woods quite yet. In fact, the conclusion of the year's coldest season is the perfect time to think about your next big garment pickup, thanks to discounted staples and versatile, last-minute offerings that you'll be able to don in the coming year.
You might have escaped this wintery season unscathed, but you never know what the next one might hold. Whether you've been in the market for a new pair of snow-read pants, a piece of stylish outerwear, or a plaid flannel to help you layer throughout the year, there are a number of established proprietors out there who have what you need. Below, we'll outline our quintessential picks for those chilly days, including a quick rundown regarding their construction, intricacies, and how they play into the grander picture.
Scarves
Wrap-Around Warmth
Paul Smith Fringed Striped Herringbone
Paul Smith's Fringed Striped Herringbone scarf is an attractive addition to any guy's arsenal, and with a comfortable silhouette crafted from herringbone virgin wool and silk, it'll keep you as warm as possible on those late-night jaunts. Like most of the designer's tailored gear, it boasts a retro style that harkens back to the eclectic pleasantries of the 1970s, incorporating nostalgic colors, textures, and fringe to create something truly special.
Acne Studios Canada Fringed Mélange Wool Scarf
Sometimes, a simplistic scarf might be all you're looking for to round out your winterized wardrobe. Luckily, Acne Studios' Canada Fringed Melange Wool variant answers the call, bringing generous sizing, modern attributes, and minimal detailing to the forefront. Aside from its timeless stature, the Canada doesn't skimp when it comes to artisanal design — it's spun in Italy from soft-but-durable melange wool, and even features fringed ends to keep it in-line with some of history's most iconic wrap-arounds.
Jackets
Creative Coverage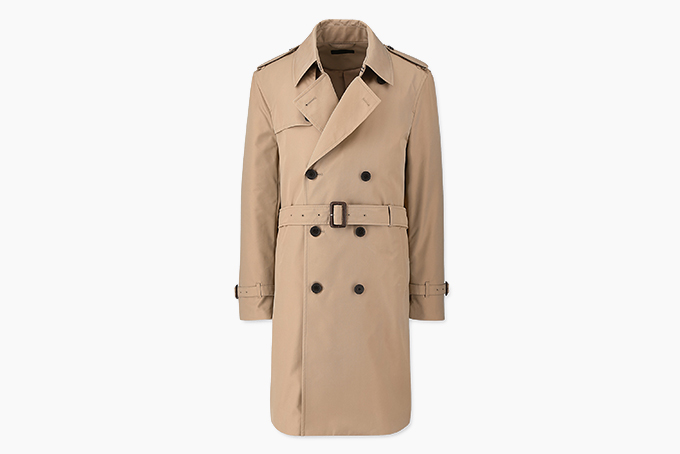 Uniqlo Men's Trench Coat
Uniqlo's Men's Trench Coat is an ultra-stylish jacket that's heavy on looks, but provides adequate protection, regardless of the outdoor weather. This classic variant still sports many of the same attributes that made the original trench coat a staple in menswear, including a knee-length silhouette, weather-resistant properties, and additional padding to keep it prim and proper. But that doesn't mean it skimps when it comes to modernity. A water-repellent coating, tailored edges, and slimline silhouette adapt Uniqlo's aesthetically-pleasing coat into something a bit more viable alongside contemporary style staples like chinos and crew neck t-shirts.
Moncler Quilted Shell Down Jacket
Moncler's Quilted Shell Down Jacket is a testament to winter-ready outerwear, and with its illustrious 90% down fill, you'll never have to worry about body heat escaping during the coldest months of the year. On the exterior, a lightweight shell structure and protective funnel neck provide adequate protection from environmental inhibitors, while a minimalist design principle, appliqued emblem, and snap-fastened, elasticated cuffs help to round out the high-end garment.
Sweaters
Comfortable & Concise
Buck Mason Hunter Vintage Cotton Traveler
Buck Mason is a go-to source for nearly all of menswear's essential items, and the company's Hunter Vintage Cotton Traveler sweater is no different. Calling upon a vintage silhouette and similarly-approachable styling, this lightweight layer is perfect for chilly afternoons on the town but equally as viable for a night inside. A durable cotton construction and loose-fitting knit ensure that you can rock the sweater without anything on underneath, or spruce it up with a few more layers to really kick things off.
Outerknown Fisherman Sweater
Outerknown's focus on the recreation of some of menswear's most prominent styles is a constant, and for each iconic piece that they turn into a sustainable production piece, they become more and more renowned within the clothing community. The brand's Fisherman Sweater is one such example, boasting a legendary knit structure, breathable side seams, and an ultra-relaxed fit to ensure adequate heat retention during the winter's coldest days. Crafted from the brand's extra-fine Merino wool and organic cotton, this classic layering piece is perfect for the modern man who's looking to make a tasteful impression.
Mission Workshop Sansom Plaid
Flannels are always an interesting way to spice things up for the winter season, and over the past couple of decades, they've become something of an essential item in every guy's fashionable forte. Mission Workshop's Sansom Plaid, for example, is a perfect middle ground between dressed-up, and dressed-down style, offering wearers unrestricted mobility, a comfortable, but tailored fit, and articulated sleeves that stretch to keep ensure adequate breathability throughout the day. Unlike most modern flannels, the Sansom places an emphasis on adaptable style, calling upon heavy-duty stitching, a classic, but streamlined style, and a functional fit to make it a great prospect for everyday wear, regardless of the occasion.
A.P.C. John Overshirt
A.P.C. is known within the industry as one of the most illustrious basics proprietors around, and as a foundational piece for every guy's winter wardrobe, the John Overshirt fits that bill perfectly. Boasting a proprietary plaid wool blend, a topstitched breast pocket, and six mother-of-pearl buttons down its front, the John accents its iconic look with modernized design cues, including pleated and reinforced slits at the wrist, a fashionable back yoke, and an Italian-produced persona that emphasizes warmth and comfort above all else.
Gloves
Undervalued Accessories
The North Face E-Tip
The North Face's E-Tip gloves are yet another winterized addition to the company's well-rounded catalog, providing guys everywhere with a way to look fashionable, keep warm, and utilize all of their smart devices, without the need to remove their hand covers. These touch-screen-approved gloves call upon a great-looking green camouflage exterior and proprietary "relaxed" position to keep your hands in their natural state, thanks to Radiametric Articulation. A comfortable four-way stretch fleece fabric and UIR Power Conductive Technology join forces to produce one of the most fashionable, and functional gloves in the menswear world.
Oliver Spencer Varley
Oliver Spencer's Varley gloves might not be as tech-friendly as The North Face's E-Tips, but they're certainly more (subjectively) fashionable. These attractive hand warmers are knitted using an insulating wool-blend that's robust, but lightweight, and call upon the addition of multicolored mélange ribbed cuffs to accent their overall aesthetic. The result? A pair of purposeful accessories that focus on fashionable use, but don't skimp when it comes to winter-ready quality.
Chinos
All-Season Legwear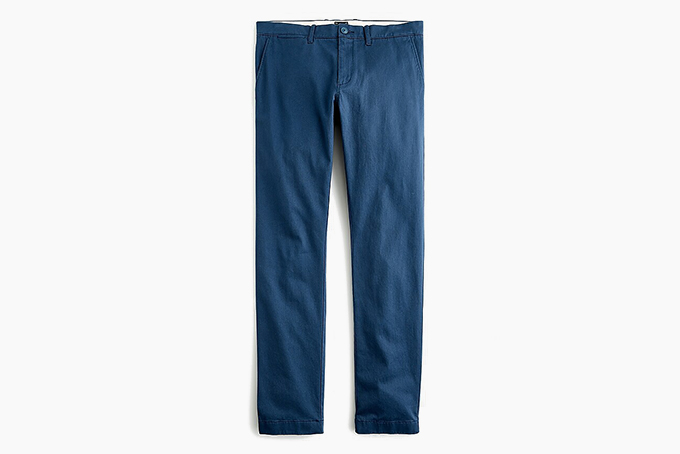 J. Crew 484 Men's Slim Fit Chino
J. Crew specializes in the creation of menswear's most affordable style staples, and as such, the introduction, and popularity, of the 484 Men's Slim-Fit Chino comes as no surprise. These world-famous leg accessories boast a precision fit twill fabric to keep them ripe and ready for year-round wear, while a structured twill-lined waist, chambray binding, double-welt pockets, and "stretch on-demand" properties result in a quintessential take on one of style's most lauded silhouettes.
Carhartt WIP Sid Pant
Carhartt WIP loves to create technical clothing that works equally as well on the job site as it does on the street, and after one look at the brand's Sid Pant Chino, you'll see why. This durable leg garment features a ruggedized Cotton/T400/Polyester 'Lamar' Stretch Twill, a slim, tapered fit, and bartack stitching to reinforce its vital stress points, ensuring years of stylish use and wear. On top of its functional attributes, the Sid Pant has been designed to promote unparalleled ease of movement, making it a go-to item for guys who want to look great but get stuff done at the same time.
Taylor Stitch Black Selvage Slim Jean
When it comes to denim, Taylor Stitch knows how to build a great pair of pants. The company's Black Selvage Slim Jean, for example, retains a handful of qualities from the brand's alternative pieces of apparel, boasting a heritage-imbued mid-rise silhouette, rough-wearing, 14-ounce organic cotton selvage, and a traditional 3×1 weave pattern to bring the pants as close to the traditional garment as possible. As with nearly every Taylor Stitch piece, the Black Selvage place an emphasis on timeless design, thanks to a common, but well-built button fly, heavyweight black leather patch, and YKK matte black shanks and rivets.
Levi's 512 Slim Taper Jean
No denim list is complete without the addition of Levi's, and the company's 512 Slim Taper Jean is the perfect example to fill out any guy's mid- to heavy-weight legwear portfolio. These tailor-inspired jeans boast premium cotton and TENCEL Lyocell fabric construction, giving them a comfortable, dependable, and stretchy attribution. Sustainable TENCEL fibers can be found throughout, offering a modern take on one of the brand's most fashionable styles, while traditional characteristics like a zip fly, five-pocket layout, and iconic dye serve to round things out.
Frye Paul Chelsea
Frye has steadily become a household name when it comes to high-end footwear, and thanks to the company's expansive catalog, Chelsea boots have become one of the brand's most recognizable mainstays. The Paul is, perhaps, Frye's finest Chelsea-styled offering, calling upon a sleek leather and rubber outsole, Goodyear welt, leather lining, and a brush-off full-grain exterior to keep things sophisticated.
Grenson Rutherford
Grenson's reputable boots are known for their hardiness, and while the Rutherford model is an aesthetically-attractive take on the traditional hiker, you'd be hard-pressed to find a more versatile offering for everyday wear. This newly-introduced boot utilizes a padded collar, traditional cross-over lacing, and premium black calf leather to do its bidding, while a lightweight, but durable Richfield Commando sole gives the boot a firm standing when it comes to grip and climbing capability.
Nike Blazer Mid 77
Nike's Blazer Mid 77 Vintage is a timeless take on the brand's most illustrious sneakers. As such, its nostalgic silhouette has made it an iconic standard within the footwear industry, allowing it to be paired with clothes from every season. This basketball-inspired example features a durable leather and synthetic upper, helping it to battle the elements in any urban environment, while fused Autoclave construction and a non-marking, solid-rubber outsole provide streamlined style, deluxe capability, and comfortable containment throughout the winter.
Adidas Terrex Agravic Flow
Adidas Terrex's most recent introduction, the Agravic Flow, is a breathable, stylish running shoe that's been formulated to take on the concrete jungle's harshest inhibitors. Whether you're looking to traverse the trail or the blacktop, these great-looking sneakers boast a formidable Continental Rubber outsole for unparalleled grip, an airflow-approved mesh upper with abrasion-resistant weldings, and a sock-like construction to provide wearers with quintessential support throughout the day. When paired with Adidas' lauded Boost midsole, these attributions result in a capable, versatile package that's perfect for all-season wear.
The 12 Best Base Layers For Winter
Now that you've bolstered your wardrobe with some essential style pieces, head over to our guide on the best base layers for winter to provide the perfect foundation for your newly-acquired items.