Nov 2, 2020
Category: Gear
Shopping in the holidays can be pretty rough. Not only is it one of the busiest times of the year — making just about every store a living nightmare — but trying to find the perfect balance between a quality gift and a reasonable price is the shopping equivalent of a tightrope walk across the Grand Canyon.
But that's where we come in: we've done the legwork for you ahead of time to put together this comprehensive guide that strikes the perfect harmony between quality and cost, with no shortage of options. In fact, all 50 of the items on this can be purchased for $100 or less – so roll up your sleeves and dive in because chances are, if you need to find a solid present on a budget for someone this holiday season, it can be found below.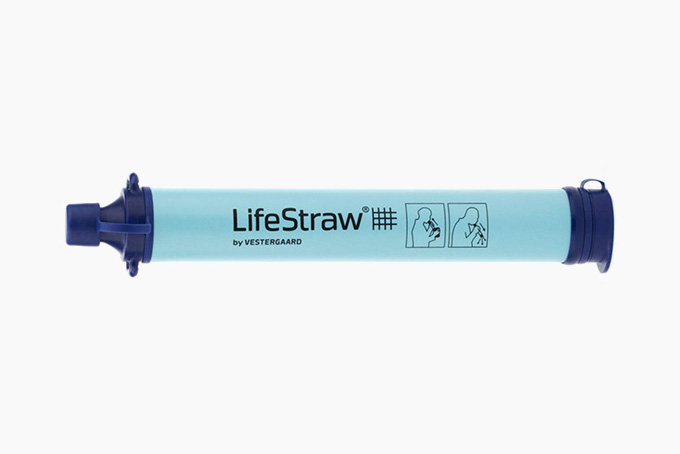 LifeStraw Personal Water Filter
One of the most useful survival tools ever invented, this pocket-sized device gives you the ability to rid any water source of over 99.9% of all contaminants. Better still, it's good for purifying up to 1,000 liters before it needs a replacement.
Nomad Lightning Key
Small enough to stash on even the busiest of keychains, this durable, flexible device keeps you from ever being without a lightning charge cable for your iPhone. Officially certified, all you have to do is plug one side into a USB port and the other into your phone and it'll get you charged up and good to go.
Matador Pocket Blanket 2.0
With a design that cleverly folds down small enough to fit into your pocket, this hybrid blanket-tarp is big enough when unfolded to accommodate up to four adults. It's also made from a proprietary weatherproof, water-repellent, and puncture-resistant technical fabric. And it weighs less than 3.5 ounces in total.
Leatherman Squirt PS4 Keychain Multi-Tool
Boasting 9 built-in tools — including a knife, scissors, drivers, a file, and more — you might not think this stainless steel multi-tool is small enough to attach to your keychain, but it is. In fact, it measures up at just 2.25″ when closed and weighs only 2.0 ounces in total. If you think you can't fit a multi-tool in your everyday carry, think again.
Elastic Precision 9MM Rubber Band Gun
A classic toy if there ever was one, rubber band guns are still plenty of fun for grown-ups — making this USA-made version an excellent inexpensive gift this holiday season. That's bolstered by its solid maple wood construction, 7-band capacity, and 9MM styling. Just be careful not to shoot your eye out.
Hella Slingshot No. 4
If rubber band guns are a bit too aggressive, but the person you're shopping for appreciates ballistics, then Hella's No. 4 USA-made slingshot might be more up your alley. This beautiful device is crafted from genuine forked tree branches, has a shellacked hemp grip, is equipped with a leather pouch, and comes complete with a sturdy natural latex band — perfect for the Bart Simpson in your life.
Bradley Mountain Large Valet Tray
A beautiful home for all your everyday carry gear when it isn't in your pockets, the USA-made Bradley Mountain Large Valet Tray is made from gorgeous oiled and waxed vegetable-tanned leather that's both easy on your gear and your countertops. It's also held together with beautiful copper rivets giving it a bit of an heirloom look and quality.
Deejo Coralwood Black 37G Knife
One of the sleekest and most pared-down folding knives ever made, Deejo's 37G is ultralight yet still ultra-handsome. In this case, that's because it's equipped with a blacked-out, titanium-coated 420 steel blade and handle with a coralwood scale. And it still has a liner lock and pocket clip built right in.
Nordic Pocket Saw
Combining the cutting power of a traditional saw with a format that's small enough to slip into your pants pocket, backpack, or otherwise, the Nordic Pocket Saw is perhaps the ultimate woodcutter for backpackers and hardcore outdoorsmen. It boasts tough nylon handles, ultra-durable high carbon teeth, and it has won too many awards to count.
Nomad Ultra Rugged Lightning Battery Cable
Certified by Apple for use with their products, Nomad's Ultra Rugged Lightning Battery Cable has its own built-in 2,350 mAh battery, so you can use it to charge your gear even when you're away from a power source. Of course, you can also use it like a traditional power cable and it will bypass the battery to feed power to whatever is plugged in. Best of all, it boasts a construction of ballistic nylon, Kevlar, PVC, and more to make it capable of withstanding up to 10,000 flexions.
The James Brand Halifax Keychain Multi-Tool
One of the most beautiful TSA-friendly one-piece multi-tools we've ever seen, The James Brand's Halifax packs a whole lot into an astoundingly-compact format. It's made from billet titanium for lightness and durability; it has an integrated bottle opener, pry bar, scraper, and driver; and it was designed to attach to your keychain.
Cargo Works iPad Pro EDC Kit
Not everyone wants to haul around a bulky backpack everywhere they go — not even those who need some high-tech gear to get through their day. If you happen to know someone that fits into that group, they might be interested in the Cargo Works iPad Pro EDC Kit. This compact bag is made from ultra-tough 1050D nylon, has a padded inner compartment that can fit a wide variety of tablets, boasts MOLLE webbing for modular attachments, and has a detachable shoulder strap.
Filson Yellowstone Driver Gloves
Don't let the name of these gloves fool you — they're intended not for motoring, but rather to be used as workman's gloves (like cattle drivers). They're made in the USA, crafted from durable full-grain elk skin, and insulated with a lightweight polyurethane foam that makes them comfortable for wear in temperatures as low as 20°F. If you know anyone that works outside with their hands, you'll have a hard time finding better gloves than these ones.
Nagao Higonokami Friction Folding Knife
An absolutely breathtaking non-locking friction folding knife that's got a design that's remained largely unchanged for a century, this samurai-inspired blade is a must-have addition to any everyday carry enthusiast's collection. This particular one has a blue paper steel blade, an iron handle, and is stamped with Japanese kanji characters.
Roav Viva Alexa Charger
If your car has Bluetooth but you want to make the most out of it by incorporating Amazon's Alexa assistant, simply plug this device into your cigarette lighter and you're good to go. Then, all you have to do is use the sound of your voice to gain access to weather reports, music, news, hands-free calling, navigation, and so much more. And, as an added bonus, it also features multiple USB ports to keep your travel tech charged.
Mazama x Clay Factor Porcelain Mug
Stunningly-beautiful and with a design that resembles the Painted Hills of Oregon, each of these ceramic mugs are hand-thrown — making every single one unique from its brothers and sisters. This particular collaborative edition is also extremely limited, with just 200 mugs ever made. And that makes it an exceptional gift for any coffee lover or tea fanatic.
Colonel E.H. Taylor Jr. Small Batch Bourbon Whiskey
One of the most sought-after American spirits currently in production, the Colonel E.H. Taylor Jr. Small Batch Bourbon Whiskey is the perfect addition to any bourbon fanatic's collection — even if they've had it before. After all, this is the very same bourbon that earned a score of 95 points at the 2013 Ultimate Spirits Challenge.
Best Made Pocket Box Repair Kit
Your gear and apparel might be trustworthy and durable, but it's definitely not invincible. And that means, sometimes, you might need to make spot repairs when you're out of your home, the office, or your workshop. For those moments, there's the Best Made Pocket Box Repair Kit. This handy and tiny set comes in its own travel tin perfect for stashing in your back or under a seat in your car, it's packed with an assortment of on-the-go tools and supplies, and it's made in the USA.
Standard Issue 1942 WWII Class A Comb
Based on the actual standard-issue versions from WWII, this folding comb is the perfect way to keep looking your best on-the-go. And it's also beautiful and masterfully-made out of brass and high-end leather. And since it folds, it's perfect to stash in your pocket — making it an excellent everyday carry gift for the posh dude in your life.
Teva Ember Moc Slipper
If you think that Teva's Ember Moc Slippers look like puffer jackets for your feet, you're dead on the money with that assessment. That means you should also expect that soft, downy comfort for your toes, as well. They're also lightweight, have a touch of weather resistance thanks to their nylon exterior, and they boast a grippy sole perfect for lounging around the campfire.
Mophie Powerstation XL External Battery
With dual USB ports and a gargantuan 10,000mAh capacity, the Mophie Powerstation XL is one of the most formidable portable power packs on the market. It also boasts fast-charging capabilities and — for reference — can fill up your brand-spanking-new iPhone 11 fully more than three times. For tech junkies, this is a near-unbeatable gift.
Peak LED Solutions Eiger Flashlight
One of the best everyday carry flashlights ever made, Peak LED Solutions' Eiger has the unique ability to change its output in a similar fashion as dimmer switches in your home — meaning it can emit as little as a dim glow up to a bright, blinding light and literally everything in-between. In fact, this is the most powerful single AAA battery-powered flashlight on the market. And it was made in the USA.
Rudy's Shower Essentials Bundle
With Rudy's, looking your best every single day is as simple as remembering to shampoo and condition your hair and keep your body clean with their body wash. On top of smelling great and helping keep your skin and hair in excellent condition, it also lacks all artificial additives — like unnatural and abrasive chemicals — ensuring you're both clean and comfortable, not dried out and itchy.
Olight S1R Baton Flashlight
When it comes to pocketable illumination, Olight is legendary. And their S1R baton is a pretty good example as to why — boasting an output of 0.5-900 lumens, a construction of aerospace-grade aluminum, a magnetic USB charger (included), and IPX8 water-resistance. This is, bar none, one of the best EDC flashlight ever made.
The Sneerwell Eye Of Providence Perdition Flask
Every man should own at least one flask for the occasions in which one is appropriate — like camping, weddings, backyard get-togethers, etc. But the flask you choose can also say a lot about you. This one exudes style, class, and preparedness, as it's absolutely gorgeous but also capacious — with a 6 oz capacity — and durable — boasting a stainless steel construction.
Machine Era Field Pen
Made in the USA, this gorgeous and unique bolt-action writing utensil is a handy and useful EDC tool that will help you keep your ideas, phone numbers, and more recorded. It's also compatible with popular Schmitt refills, has a scratch-resistant DLC-coated stainless steel body, and has an integrated pocket clip for easy and convenient carry.
Pioneer Carry Molecule Card Wallet
Made from a proprietary fabric that took ten years to develop and boasts a tensile strength that's rated at 10x better than steel, the Pioneer Carry Molecule might be the toughest, most long-lasting cardholder wallet ever made. It's also water- and stain-repellant, holds up to 6 cards and/or cash, and was designed to mold to its usage over time.
CRKT Freyr Tactical Axe
Modeled after the axes once carried by the Vikings in the European north, this gorgeous wood-cutting tool is a superb addition to any outdoorsman's adventure kit. Of course, it's not all just looks, either, as it boasts a construction of hand-forged 1055 carbon steel and Tennessee hickory wood. And if that's not enough, it also includes a limited lifetime warranty against defects.
Craighill Desk Knife
Whether you're an architect, designer, artist, or jack of all trades, having a cutting tool at your desk can be of the utmost importance. However, most utility blades are a bit unsightly to the point at which you'd probably want to stash them away when you're not using them. By contrast, the Craighill Desk Knife is a gorgeous utility-focused tool you'll want to put on full display. It's also crafted from solid stainless steel, has 0.5″ reference markers, and was made in the USA.
Palladium Pampa Hi Boots
Though they're clearly not as well known as, say, Dr. Martens, Palladium makes some of the most stylish and handsome boots available on the market. And the Pampa you see here is their flagship offering. This particular version boasts a breathable canvas upper, a durable and grippy rubber sole with a toe cap for extra protection, and they're available in your choice of OD green or crimson.
Opinel No. 8 Ebony Wood Knife
Made by the same French family of craftsmen for more than a century, Opinel's folding knives are some of the most iconic and trustworthy in history. This particular take on their No. 8 comes with a drop-dead-gorgeous ebony wood handle, a Sandvik steel blade, and the brand's signature Virobloc safety ring. This is an heirloom-level knife you'll want to keep with you always.
The James Brand Elko Keychain Knife
One of the best keychain folding knives we've ever seen, The James Brand's Elko didn't need any help in its original form in order to shine. However, improve upon it they did by adding on canvas Micarta handle scales for just a little style boost. It also still has a sturdy Sandvik steel blade, a stainless steel bottle opener/lanyard attachment point, and a slipjoint mechanism.
Marquis By Waterford Brady Decanter Set
Just as every man should own a flask for when he's out adventuring in the world, so too should every man own at least one decanter in which to keep his favorite spirit. This particular one is made from fine lead-free crystal, comes with a pair of rocks glasses, and has a stopper to keep it plugged up between drinks.
Shun Sora Chef's Knife
The single most important tool in any kitchen, the chef knife is a fairly personal blade — even traveling chefs make sure they pack theirs when they're on the road. If you know anyone who fancies themselves a home cook and they don't own a good one, however, you should look into this one as a gift this holiday season. Perfectly balanced with an 8″ blade — complete with a VG-10 core and 420J upper — and a synthetic handle, this versatile cutter is great for both volume and detail work.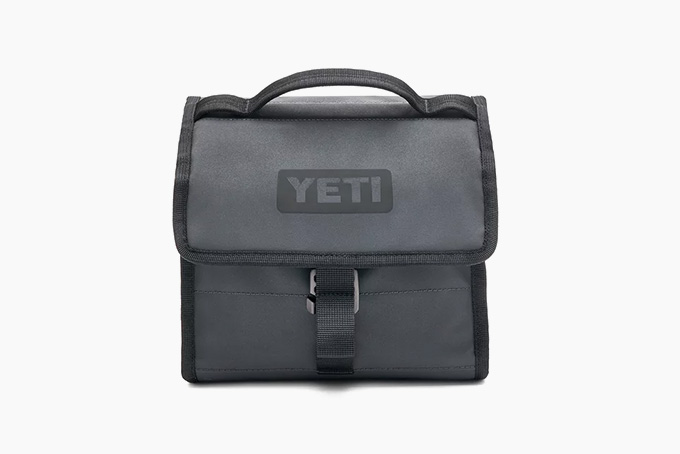 YETI Daytrip Lunch Bag
Especially for those who do meal planning, a lunch bag is an extremely important everyday carrier to have on-hand. And they don't get much better than YETI's Daytrip. Available in three handsome colors, this soft-sided bag is perfectly sized, has enough insulation to keep everything inside fresh for hours, and it's ultra-easy to clean and store between uses.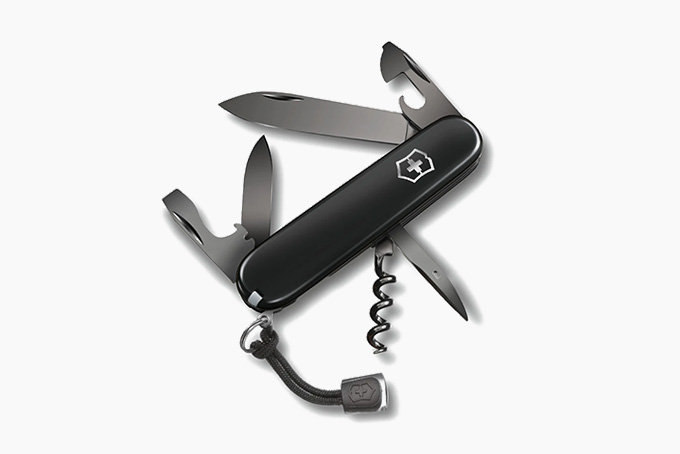 Victorinox Spartan PS Swiss Army Knife
While there are many tools we say everyone should own at least one of, few of them are as essential as a Swiss Army Knife. And while Victorinox makes a wide variety of them, we're somewhat partial to the Spartan PS you see here for its 12 built-in tools, 3.6″ closed length, 2-ounce weight, and unique light-refracting Polispectral tool coating.
Aer Tech Sling
Brilliantly combining sleekness, security, and speediness, Aer's Tech Sling is perfect for the on-the-go technophile in your life. It's built from ultra-tough ballistic nylon with a waterproof coating, has 7L of internal storage — including a 13″ quick-access laptop pouch — and it has both briefcase carry straps and a removable shoulder strap.
Timex Archive Acadia NATO Watch
A modernized take on a Timex watch originally released in the 1990s, this is a magnificent and reliable field watch you can be proud to give as a gift — regardless of its relatively low entry price. It's powered by a quartz movement, has a durable resin case, comes with a nylon strap, and boasts style for days.
Pillbox 1900s Mushroom Baseball Bat
For anyone who appreciates America's Pastime, baseball, the offerings from the Pillbox Bat Company are superb. But this 'Mushroom' bat is even more so for anyone that has a taste for unique history, as it was modeled after the bats used in the early-1900s. It's also made in the USA from gorgeous ash wood and will make a brilliant mantlepiece for that sports fan in your life.
Buck Knives 110 Slim Pro Pocket Knife
Buck's 110 folding knife is one of the most iconic American blades ever manufactured. And this take on that knife is all the more carry-friendly, thanks to a slimmed-down footprint. It also boasts an S30V clip point blade, textured Micarta scales, a sturdy lock back, and a pocket clip for easier hauling.
Matador Beast28 Packable Technical Backpack
Possibly the best bang-for-your-buck packable technical backpack on the market, Matador's Beast28 collapses down to smaller than a football for storage when it isn't in use. But when it's expanded, you can take full advantage of its PU-coated ripstop nylon weatherproof exterior, hydration bladder compatibility, and 28L capacity.
Warby Parker Barkley Sunglasses
A must-have addition for any wardrobe, sunglasses are essential in the warmer, brighter months of the year. But not just any pair will do, especially not when put up against Warby Parker's Barkley shades — a custom cellulose acetate take on the classic wayfarers. Better still, these can actually be made into prescription glasses with polycarbonate (bulletproof) lenses.
Fjallraven Barents Pro Trousers
An interesting take on adventure pants, Fjallraven's Barents Pro Trousers are both plenty durable and extremely comfortable — thanks to boasting a 65% polyester and 35% cotton construction. They also have double-layered fabric where it counts, a water-resistant finish, six functional pockets, and space for knee pads if you require them.
Benchmade 556 Mini Griptilian Knife
A smaller, more pocketable version of one of the greatest folding knives of all time, Benchmade's 556 Mini Griptilian is a tough EDC blade to beat. This is thanks in part to its iconic silhouette, but also the brand's signature AXIS locking mechanism, an S30V drop-point blade, and a glass-filled nylon handle. It's also aided by a USA-made construction and lifetime guarantee.
Dango T01 Tactical Spec Ops Wallet
Dango makes some of the best tactical-inspired wallets around, but they really broke the mold with their T01 Tactical Spec Ops variety you see here. It's equipped with a ceramic Cerakote-finished aerospace aluminum frame, boasts a DTEX water-resistant fabric exterior, has built-in RFID-blocking tech, holds up to 12 cards and cash (complete with a silicone band), and it has a removable 14-function multi-tool insert. Honestly, there's not much, if anything this wallet can't handle.
Leatherman Wave+ Multi-Tool
One of the best multi-tools of all time, Leatherman's Wave comes with a whopping 18+ built-in tools, a stainless steel construction, its own MOLLE-compatible sheath, and a 25-year guarantee. But the Plus edition also has the addition of removable, replaceable durable wire cutters — meaning once they go dull, you can swap them for a replacement, rather than having to pick up an entirely new multi-tool.
Bellroy Passport Sleeve Travel Wallet
For any frequent traveler, a wallet that's large enough to fit a passport is a near-necessity. And while there are a lot of options out there, few of them are as good as the Bellroy Passport Sleeve. Crafted from environmentally-certified leather, this carrier can fit a passport alongside 2-4 cards and has its own micro travel pen, as well. Plus it comes in your choice of hi-vis orange or black colorways.
Nintendo NES Classic Retro Console
A year removed from its release date, the Nintendo NES Classic is still one of the best retro consoles around. Not only does it boast throwback styling in a much more compact package, but it also comes with 30 pre-installed games that include entries from the Mario, Legend of Zelda, Mega Man, Final Fantasy, and Pac Man franchises. It also boasts HDMI output and comes with a classic controller.
Silver Piston Buffalo Nickel Zippo Lighter
The Zippo lighter has been the industry's best pocket lighter for a very long time. And while standard ones are plenty reliable, this one is far more special as it comes with a genuine carved buffalo nickel soldered to its aged and brushed exterior. And if that's not enough, it's also made in the USA.
Fisher AG7 Astronaut Space Pen
Fisher's AG7 Astronaut Space Pen might be the writing utensil with the ultimate "wow" factor, as it's the exact one that's been sent up by NASA into orbit and to the moon. And that makes it even more special than all their other pens that write underwater, upside-down, and in zero gravity. This particular one is also built in the USA with black titanium nitride-coated brass and comes with a lifetime guarantee.
HiConsumption is reader-supported. When you buy through links on our site, we may earn an affiliate commission. Learn more