The fall is finally here. With it comes an entirely new application of our favorite style pieces, and exciting new prospects that we've yet to own. While many of our summer-savvy staples are being put away for the remainder of the year, our winterized wardrobe is reemerging from its long-winded slumber, ready to be donned once more. But what about those pieces that haven't aged as well as others? Luckily, each fall season ushers in a torrent of new styles, items, and accessories to bolster your current arsenal.
Since the fall is one of the more fashion-focused times of the year, it's common to see a large portion of the industry's prominent releases around this time. That's a godsend for guys excited by the prospect of an update to their favorite outerwear pieces, especially when companies go above and beyond to create (and recreate) a handful of the genre's most timeless offerings. Since there's no shortage of interesting alternatives this holiday season, we've decided to make things a little bit easier for you guys by finding some of the most notable picks from within the industry. Below, we've broken down our guide into various subsections — including jackets, sweaters, shirts, legwear, shoes, and accessories — to ensure that you head into the colder months with peace of mind.
Filson C.C.F. Bomber
Filson's C.C.F. Bomber is a standardized offering for the military-minded gentleman, offering utilitarian poise, abrasion-resistant cotton duck canvas, and wind-proof qualities, without taking on an overly-technical appearance. Round that out with triple-stitched stress points and riveted reinforcement, and you've got a perfectly-primed outerwear piece to complement your fall wardrobe.
prAna Trembly
prAna's Tembly jacket is soft, warm, and hard-wearing, thanks to its heavy organic cotton canvas construction. Since it's been built to take on the winter elements, it incorporates a unique quilted taffeta lining and 40-gram high-loft insulation, giving it all the gumption it needs to get you through that dreaded cold-spell. Plus, with an internal zip pocket and snap closures abound, you can be sure that all of your essential items will be exceptionally safe.
Orvis Weatherbreaker
Orvis' Weatherbreaker coat draws its inspiration from the genre's most legendary outerwear items, adapting them into a timeless, everyday model that's both tasteful and functionally-sound. It starts with a durable nylon/cotton-blend fabric, garnering a lightweight construction that makes it perfect for last-minute layering. To round things out, the brand has introduced a water-repellent finish to its exterior, as well as a squared-off collar, rib-knit waist/cuffs, and a mini-tartan lining for increased reliability.
Outerknown Lost Coast Moleskin
Outerknown's Lost Coast Moleskin jacket is yet another sustainably-minded offering from the brand, incorporating a conscious ethos with some of the industry's most innovative textiles. This unique example features a reversible orientation that provides wearers with a water-resistant puffer on one side, and premium, organic cotton moleskin on the other, helping you to keep the elements at bay during your everyday outings. Pair that with the item's cozy handwarmer pockets and snap-closure chest, and you've got a great companion for any low-temperature outdoor endeavor.
Taylor Stitch Welterweight Winslow
Taylor Stitch has a penchant for the creation of heritage outerwear pieces, and the brand's Welterweight Winslow is no exception. This timeless parka features an Olive Dry waxed canvas exterior, protecting its wearer from the elements alongside customized YKK hardware, leather accents, and a 100% organic cotton body lining. Of course, that wouldn't matter much without the basics. Adjustable cuffs, antique brass zippers, and an acetate sleeve lining keep the jacket comfortable, secure, and cozy, making it a prime alternative to the other outerwear offerings on our list.
Todd Snyder Heavyweight Turtleneck
Todd Snyder's attention to detail is second to none, and the brand's Heavyweight Turtleneck is a testament to that fact. Not only does this unique item reinvent the signature outerwear piece by extending the length of its neck, but it also adheres to many of its classic traits, including ribbed neck, hem, and cuff finishes, as well as a hearty cotton/poly blend to keep things cozy and comfortable. As a result, we receive an elegant design that's tailored toward more formal wardrobes.
Wellen Seawool Fisherman
Wellen's Seawool Fisherman sweater is the quintessential seafaring piece, and now, it's available to the common buyer. To keep it as sustainably-focused as possible, the brand has created each and every garment with a functional blend of recycled plastic bottles and oyster shells, bringing it in-line with many of the genre's upcycled offerings. That's not to say that the staple doesn't have its own merits, however. It's still extremely cozy, thanks to its quick-drying and antimicrobial sea wool fabric.
Wings+Horns Cabin Fleece Crewneck
Wings+Horns revels in simplicity, and in many cases, the brand produces some of the finest minimalist offerings in the menswear realm. Obviously, its Cabin Fleece Crewneck is factored into this statement, thanks to the outfit's signature triple-layer fabric construction, quilted interior, and articulating sleeves, allowing for more mobility-focused applications. To round things out, flatlock stitching has been added to keep the garment honest in high-stress areas.
Folk Junction Ribbed Cotton
Folk's Junction Ribbed Cotton sweater is a distinct item that pays homage to some of the genre's most iconic pieces. While simple, it boasts a unique exterior texture that effortlessly blends vertical and horizontal patterns, complementing its breathable cotton composition. Since it's crafted with a heavy-gauge fabric, wearers are sure to revel in its insulating qualities.
A.P.C. Knitted
A.P.C.'s Knitted sweater is a tried-and-true basic that was crafted to provide an upscale take on the traditional crew-neck. Since it's so subdued, it's difficult to discern it from more common offerings, but you'd be mistaken to deem it as such. A notable viscose and polyester blend takes on a militarized sheen, while a heritage-inspired crew-neck, ribbed trim, and hem provide insulating qualities that are second-to-none.
Shirts
The Functional Foundation
Woolrich Men's Flannel
Woolrich specializes in heritage-inspired menswear, so you can bet that its flannels are top of the line. Each fall staple features a 100% cotton, 200-weight flannel fabric, as well as a traditional button-flap chest patch pocket, single-button cuffs, and sleeve venting plackets, providing wearers with a cozy, but breathable alternative to heavier winter garb.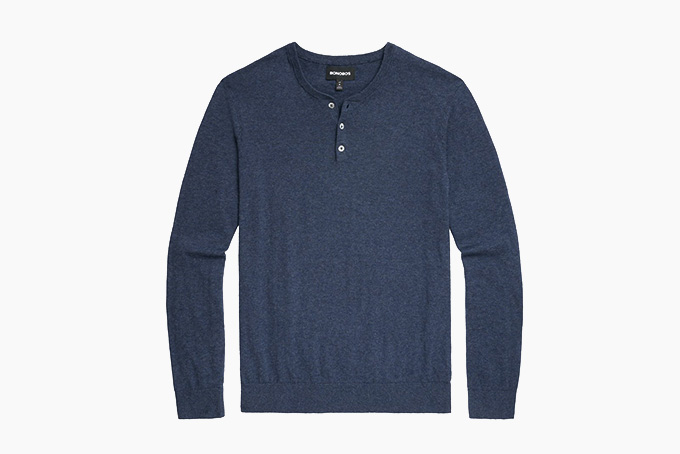 Bonobos Lightweight Cotton Henley
Bonobos' Lightweight Cotton Henley is as simple as it gets, but that's what makes it so legendary. This breathable cotton yarn example is a modern take on the lightweight wonder, bringing a unique feeder stripe layout and comfortable, 100% cotton composition to the forefront. Like its brethren, the Henley features a recognizable three-button front closure, allowing you to decompress whenever you feel the need, or button up, should the weather take a nasty turn.
Howler Brothers Sheridan
Howler Brothers' Sheridan is a unique shirt that's inspired by the old west. Not only does this exceptional garment come from the heart of Texas, where western culture is alive and well, but it also boasts its own bespoke qualities, like a jacquard cotton pinpoint, detailing on its yoke, cuffs, and pockets, and a longer shirttail hem that can be worn untucked for semi-formal pursuits. Each example is fitted with metal buttons and features a branded Howler Tie Down woven label for added clout.
Pendleton Board Shirt
Pendleton's Board Shirt is yet another button-up wonder from a brand that excels in heritage menswear. This flannel offering is one of the outfit's best-selling models, and after wearing one, it's immediately obvious why that might be. In production since the 1960s, this one-of-a-kind piece features a pure virgin wool construction that's been sourced from Oregon's finest ranches, spun, dyed, and woven in Pendleton's American mills, and released to the public with the purest intentions. Luckily, it's retained all of the character of its 1960s model, including its dual front chest pockets and great-looking lay-flat collar.
Stone Island Logo-Appliquéd Cotton-Jersey
Like A.P.C.'s ultra-simplistic Knitted sweater, Stone Island's Logo-Appliqued Cotton-Jersey is a minimal, militarized wonder that goes back to basics for its timeless design. Boasting the brand's special appliqued logo, a vintage cut, and a durable, 100% cotton construction, the Jersey is sure to round out collections that are focused on making a statement with the least amount of effort.
Pants
The Lauded Leg Warmer
Carhartt Rugged Flex Rigby Cargo
Nothing says "fall" better than a pair of heavy-duty cargo pants. Regardless of whether or not you agree, Carhartt's Rugged Flex Rigby Cargo is a utility-focused legwear offering that will accompany you in your outdoor (or urban) endeavors, thanks to its midweight canvas construction, Rugged Flex stretch technology, and straight-leg opening. To keep mobility at the forefront, the Rigby's spandex blend is complemented by a set of sewn-on-seam waist loops, hook/loop pocketing, and a laid-back silhouette that doesn't keep you locked down like many traditional leg-hugging offerings.
Saturdays NYC John Chino
Saturday's NYC knows what it takes to create a great pair of pants, and the John Chino is a result of its blood, sweat, and tears. This slim-fitting, straight-leg offering features a seasonal cut that will pair well with a variety of your favorite fall staples, complementing them with its traditional straight-leg look.
Proof Rover
Proof's Rover pant is a slim-fit pant that was built to take on the great outdoors in the most unassuming way possible. These great-looking examples boast a classic tailored fit, gusseted crotch, and Sorbtek-infused canvas for a more breathable demeanor. Since they've been crafted to accompany you in the brush, each model utilizes an engineered, sweat-wicking fabric that helps to keep moisture away from the surface of your skin, while providing additional range-of-motion due to its unique Dart seams.
Entireworld Cotton Pleated Trouser
Entireworld's Cotton Pleated Trouser is a more conventional offering that draws influence from the world of formal attire. Since it boasts a 100% cotton construction and a more loose-fitting design, it's a go-to garment for wearers who are looking to supplement their preppy side, while still being able to pair with more alternative styles for a tasteful, clean-cut look. That means that each Japanese cotton canvas offering is a great all-arounder for those of you who want to invest in a versatile legwear piece that can adapt to a variety of different wardrobe choices.
Alex Mill Vintage Denim
Alex Mill's Vintage Denim is just that — a vintage denim piece that pays homage to the lineage of the genre's most iconic pieces. Combining aspects from each, this hybridized offering is the result of years of vintage and thrift experience, boasting a unique patina, rips, tears, detailing, and natural fabrics that make them as true to the original as any garment on the market today. Since they also feature a straight-leg cut, there's also room to move, helping you to remain comfortable and cozy as you traverse the urban environment.
Shoes
Gaining Ample Traction
Lems Waterproof Boulder Boot
Lems' Waterproof Boulder Boot is a heritage-inspired offering that draws its influence from a number of different outdoor models. That being said, it's still refreshingly modern, thanks to its sneaker-boot styling. A 12.9-ounce weight is achieved due to its completely-foldable, 100% full-grain leather upper, moisture-wicking internal membrane, and air-injected rubber outsole. Whenever you're ready to pack them away into your bag or bring them with you on your early-morning commute, you'll be able to roll them into a ball for a more optimal packing experience. Can you do that with your traditional leather hikers? We think not.
Red Wing Heritage Weekender Chukka
Red Wing's Heritage Weekender Chukka is a timeless footwear offering that's been around for longer than we care to remember. Throughout the years, it's remained at the forefront of outdoor gear, thanks to its casual, but hard-wearing design. Each example is made with flexible and lightweight leather from S.B. Foot Tanning Company and completed with a reinforced stitch down construction for added reliability. Plus, each pair is stain, water, and perspiration resistant, making it an attractive option for those who brave the outdoor elements on a daily basis.
Taft Hiro Chelsea
Taft's Hiro Chelsea boot is a unique take on the traditional style, opting for a dual-surface finish instead of one, ultra-sleek upper. Each example is crafted from great-looking Italian box calf leather, with additional croc detailing at the rear. Once you've peeled your eyes away from its amazing exterior, you'll find that the interior of the shoe is equally as appealing, thanks to its natural calfskin lining, stacked sole unit, and rubber ensure.
FRYE Bowery Moc
FRYE's Bowery Moc makes its way onto many of our guides, and for good reason. This timeless classic is the pinnacle of lightweight bootmaking, thanks to its unlined, soft leather upper, full-sponge EVA outsole, and PORON footbed, providing a truly transcendental walking experience for its wearers. Aside from its inherent softness, the boot also boasts a leather storm-welt and midsole, providing ample protection against moisture and precipitation.
Yuketen Maine Guide
Yuketen's Maine Guide boot is a fall-fashioned staple crafted by designer Yuki Matsuda, who took almost two decades to perfect their composition. As a result, these artisanal offerings feature a smooth full-grain leather upper, extra-thick Vibram rubber soles, and steel-shank reinforcements, helping the boot to distribute weight on uneven surfaces and provide ample support for its wearer.
Accessories
Accenting Your Attire
Anonymous Ism Mix Line Socks
Anonymous Ism's Mix Line socks are a must-have for the fall season, thanks to their heritage-inspired design. Each pair features a durable cotton construction, as wells contrasting stripe decorations that add a vintage touch to their exterior. To keep them secure, and to seal in warmth, they've been built with a leg-hugging ribbed cuff, resulting in a form-fitting arrangement that won't let you down when the weather gets cold.
Melin Destination Lambswool Beanie
Melin's Destination Lambswool Beanie is a durable, eight-gauge offering that's been crafted to keep your head warm without sacrificing style. Each skullcap boasts an interesting alpaca and lambswool blend, as well as a 2×2 ribbed cuff for even more dramatic distinctiveness. At its front, a debossed leather clamp logo adds a hint of contrast.
Mr P. Ribbed Alpaca Scarf
Mr P.'s Ribbed Alpaca Scarf is the perfect way to round out your fall arsenal, thanks to its simple, but refined design. Its plush, fluffy, and inherently comfortable thanks to its premium Italian alpaca-blend fabric, complementing its ribbed fisherman stitch to create something undeniably iconic. If you've been in the market for a vintage-inspired piece that can bring an aura of class to your winterized wardrobe, this is it.
Hestra Utsjö Glove
Hestra's Utsjo Glove is a leather lifesaver that can keep your hands comfortable and warm in the most trying conditions. Since they've been in the industry for almost 100 years, it's safe to say that they know a thing or two about the creation of timeless outerwear accessories, including the glove dress variant that you see here. Each example features a personally-sourced Nordic elk leather construction, heat-trapping fleece lining, and Primaloft polyester insulation for unprecedented warming qualities. Plus, they're water-resistant, making them perfect for use in more precipitous environments.
Shinola Slim Messenger
Shinola's Slim Messenger is a sleek pack that was developed for the stylish professional. That doesn't mean that it can't be utilized as a common, everyday-carry item, however. Each model features a hefty portion of the brand's Navigator leather, as well as an unassuming magnetic closure that allows for easy access to your items without putting up too much of a fuss. Round that out with an adjustable shoulder strap to find the perfect comfort point, and you've got a tasteful bag that can accompany you for a night on the town or an interview at your next big job.
The 15 Best Fall Jackets For Men
The foundation of any autumnal wardrobe, your outer layer is of the utmost importance both when it comes to style and keeping you warm as the mercury dips. Find the perfect one for your apparel kit on our list of the best fall jackets for men.