In the world of furniture, the leather sofa leads a double life. Long associated with luxury and the good life, leather sofas make a worthwhile centerpiece to any living room. But they also have a stubborn reputation as an uninspired piece of "guy furniture," seen too often as the style-devoid hub of sparsely decorated bachelor pads on sitcoms and frat comedy films. Well, we say it's time to change that perception and put the leather sofa back up on a pedestal where it belongs. To do that, we've come up with a guide to the 15 best leather sofas to buy right now, and any one of them will add a serious dose of style and sophistication to your home.
For our list of the best leather sofas, we looked at the offerings from the best online furniture stores, legacy brands, and niche designers to bring you a well-rounded and eclectic collection of cowhide couches. These sofas vary greatly in style, size, and price, but they all have three things in common: they're all well-made, they all look awesome, and, most importantly, they are all available in leather. So kick up your feet (preferably while seated on a leather couch) and take a look below at our list of the 15 best leather sofas you can buy.
Why Leather Is Worth It
Reasons To Ride With The Hide
Some people are wary of buying a leather sofa for a number of reasons. They're expensive, there are concerns about maintenance, and the idea of repairing a tear can be nightmare-inducing. But leather actually offers several benefits over fabric upholstery, which we've laid out below.
It's Durable: As a natural material, leather is extremely rugged and long-lasting. Have you ever seen a decades-old leather chair compared to a fabric one of the same vintage? It's a night-and-day difference. Leather, provided that it's taken care of (keep it out of the sun, properly clean and treat it, and don't abuse it) will last practically forever and will often get better with age, developing a beautiful patina that other materials — including faux leathers — just can't match. Most minor scratches can easily be repaired with some leather polish, and even larger tears can often be fixed. When you spend the money on a leather sofa, you're buying it for life — provided that it has a solid hardwood frame and sufficient quality construction to keep up with leather's inherent longevity.
It's Easy To Clean: Leather has a reputation for being dainty and finicky, but that's not really true. In fact, in most cases, it's a lot easier to clean than a fabric sofa. If you spill something on leather, you can just wipe it off with a damp cloth. On fabric? It's going to soak in, and probably stain. Got pets? Good news: their hair won't stick to the leather like it does on a fabric couch, and you can just brush it right off. What about bad smells? While fabric will absorb them, leather won't. Instead, it will even add a hint of its own delectable aroma to your living room. As long as you wipe off debris as it accumulates and treat your leather couch with some kind of leather conditioner, you're good to go.
It's Luxurious: This is a bit of an x-factor, and your mileage may vary, but most people view leather as a high-end material. It both looks and feels luxurious, and it adds elevated style and comfort to any living space. Think about it, what kind of material is used to upholster the seats and trim in basically every luxury car ever? Hint: it isn't fabric. Leather is pleasantly smooth and supple, it has a naturally attractive luster, and it even smells terrific. It is the luxury seating material, and it likely always will be.
Poly & Bark Napa
For our low-priced option (relatively speaking, as leather couches tend to almost exclusively cost over $1,000), we've turned to one of the internet's favorite destinations for stylish affordable furniture, Poly & Bark. The brand's Napa sofa is a looker thanks to its Italian tanned full-grain leather upholstery that's been minimally processed to show off its texture and encourage graceful aging, along with its matching bolster pillows. It's also plenty sturdy, courtesy of its kiln-dried solid rubberwood frame.
Article Timber
Article is one of the most popular online furniture retailers, and Timber is the most popular sofa they sell. Naturally, there's a reason for that. This mid-century modern-inspired piece has loads of panache by way of its angled peg legs and stained honey oak trim. It's also mighty comfortable, combining high-density foam with polyester and duck down filling for its cushions and boasting a full-aniline Italian-tanned leather exterior.
Burrow Nomad
Burrow is a trendy online retailer that offers loads of customization. For their hyper-popular Nomad, you have the option of three leather options, six leg finishes, three armrest heights, and add-ons like a chaise, ottoman, or bolster pillows. Regardless of what configuration you choose, you'll end up getting a convenient built-in USB charger and 72" power cord, along with Burrow's trademark easy-to-move modular design.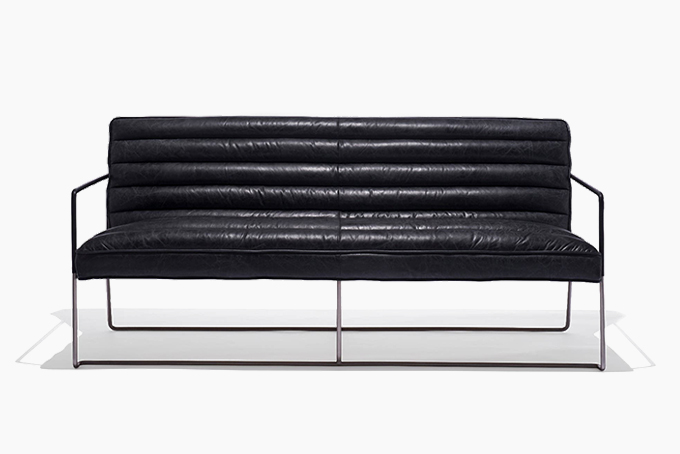 Industry West McQueen
If cool is what you're looking for, then you can't go wrong with a couch that bears the name of the King of Cool, Steve McQueen. And this refined sofa certainly seems like something McQueen would appreciate, as its horizontally channel-tufted seat looks like it was torn out of the back of a '60s muscle car. As wonderful as the unique seating surface is, what really sets the McQueen apart is its attention to detail, as seen on the exquisite honeycomb pattern on the back of the sofa and the leather wrapping on the ultra-thin industrial armrests.
Rove Concepts PK31
Who needs a recliner when you can just permanently stay in a semi-reclined state? This sofa from Rove Concepts takes some clear inspiration from the classic Eames Sofa with its relaxing inclined posture and curved steel frame, but it adds enough of its own tweaks to stand on its own. Namely, it's beefed up the cushioning from its mid-century forebearer by way of goose down feathers over high-density foam, making this as satisfying to sit in as it is to look at.
Blu Dot Clyde
Arms are overrated. The Clyde from Blu Dot keeps things extremely simple with this armless bench seat sofa. But simple doesn't mean lesser, as this is still a quality piece of furniture that would look great in any living room. Its high-resiliency foam cushions offer a mix of support and comfort, with even more support coming from the sinuous steel springs beneath them. The Clyde can also be paired with Blu Dot's Bonnie sofa, naturally, to create an uber-chic sectional.
West Elm Harmony
Now boasting a 20-year history, West Elm has firmly established itself as one of the top brand names in furniture and is frequently associated with being many people's introduction to better quality pieces. They know what they're doing, basically. So when West Elm says that the Harmony is the most comfortable sofa they've ever produced, believe them. It features the brand's softest deep-seat cushions, puffy lumbar and throw pillows, and even the option of top grain or vegan leather — if you prefer to go animal-free.
CB2 Valmar Tobacco
Designed by Mermelada Estudio exclusively for CB2, the Valmar looks like it belongs in a museum (said in Indiana Jones' voice). Looking almost like a singular giant pillow, this sofa is built for lounging, with extra-deep cushions and super-soft and buttery leather. Although it looks rather simplistic, there has actually been a ton of detail paid to its construction. The leather has been hand-dyed to bring out its natural finish, and intricate piping details on the edges have been added for a clean and modern look.
Joybird Liam
If you prefer classic styling to modern, then you can't go wrong with a Chesterfield sofa. The iconic British design has been around since the 18th century and features tufted buttons and curled arms that are the same height as its low back. They're most at-home in traditional London gentlemen's clubs and posh English country estates, but this version from Joybird would look equally great in your home. It combines its classic styling with modern construction, like a responsibly sourced hardwood frame and water-based, low-VOC glue and stains.
Crate & Barrel Cosima
This luxurious sofa is all about elevating the humble couch to the centerpiece of any room. It features vertical channel stitching across the length of its body, which adds visual interest and accentuates the clean lines of the overall design. The looks are complemented by comfortable deep-seated cushions, padded sidewalls, and loads of room to stretch out. Rounding things out is the durable frame built from a combination of kiln-dried sustainable solid hardwood and engineered hardwood.
Rejuvenation Svenson
The influence of mid-century modern design is still heavily present in the furniture of today, and one of the major subsets of the genre that has especially endured is Danish mid-century modern. This piece from Rejuvenation takes inspiration from the style to create something beautiful for modern living. Its exposed tapering frame in sustainably sourced solid walnut looks like it could have been designed by Hans Wegner himself, while the stylish flared armrests and high back would've made Arne Jacobsen proud. This is one great Dane.
RH 8' Chelsea
RH is a brand that's known for their industrial designs, and this one-piece sofa certainly has a distinct utilitarian look to it. Its design is based on a British sofa from the 1970s, but thanks to its low height, armless design, and its gently-curved L-shape seat, it looks like it's from the future. Its channel padding and low deep seats are engineered for top-level comfort, and the supple Italian leather options are of the highest quality too. This is undoubtedly a statement piece, but it's also part of a larger modular collection, meaning it can potentially become but a single part of a statement room.
HAY Arbour
This looker was designed for HAY by Norweigian Red Dot Award-winners Andreas Engesvik and Daniel Rybakken, so you know you're getting a genuine work of art. But far more than a pretty face, this is a sofa that's built with both quality and customization in mind. Its solid wood frame is available in oak, walnut, or beech, and you can also choose a number of finishes, fabrics, and seating arrangements. Plus, its plush, full-surround cushions are filled with OEKO-TEX certified foam, meaning you can be sure that no harmful substances are lurking within.
Cassina Le Corbusier lc2
Le Corbusier was one of the founding fathers of the modernist movement, particularly in the furniture space. Looking at this piece, you may assume that it's a 2020s design thanks to its very modern looks, but it's nearly a century old. Part of Le Corbu's iconic LC2 collection, this "cushion basket" debuted in 1928. The collection was meant to be an updated take on the classic English club chair, flipping the script by putting its tubular chrome frame on the outside and filling it with square leather-ensconced cushions. The sofa certainly succeeded in its mission to become a landmark design, and today pieces from the LC2 collection are housed at MOMA.
Knoll Sofa
Furniture designer and Knoll co-founder Florence Knoll didn't think much of her titular blocky sofa when she designed it in 1954. She considered it a "meat and potatoes" piece that would simply exist alongside more flamboyant pieces of furniture from more famous designers. Little did she know that her clean and geometric design would go on to be regarded as arguably the most iconic mid-century modern sofa design ever, as well as a perfect embodiment of the movement's style overall. This sofa will always look great, and thanks to its combined hardwood inner frame and exposed chrome outer frame, it ought to last forever, too.
The 15 Best Mid-Century Modern Chairs You Can Buy
Now that you've got your sofa sorted, you'll need to complement it with a chair or two in order to complete your stylish new living room. And when it comes to chairs, there's simply no beating mid-century modern design. From the late '20s to the late '60s, designers had a field day with chairs, introducing new and radical forms that are both timeless and contemporary. There are a number of iconic designs to consider, so have a look at our guide to the best mid-century modern chairs to decide which of them suits your style best.