Feb 7, 2022
Category: Style
Athleisure — often referred to but rarely (if ever) defined, it's essentially the convergence of active apparel and loungewear into one convoluted category wherein one is simultaneously primed for athletic performance yet also comfortable enough for general relaxation. If such a concept sounds counterintuitive, we'll be the first to agree, but there's no denying the influence that the movement has had on mainstream fashion. In fact, the term "athleisure" has been in use since the late 1980s, so it's not going anywhere anytime soon. Especially when you consider the effect that our pandemic-induced "new normal" has had on our daily wardrobe choices.
In any case, there are few pieces of clothing that embody the spirit of athleisure as well as do joggers. For though they were once little more than a slimmed-down version of sweats, they've since become a style of pants unto their own. Because let's face it — these days, the market is rife with offerings consisting of technically-proficient materials, motion-maximizing constructions, and innovative storage solutions, all the while claiming to be stylish enough for everyday wear. When left to your own devices, it'd prove quite the tall order to pick the right pair for your needs. But thanks to our handy guide, you'll be well on your way to finding the best joggers for men.
Adidas Adicolor Classics 3-Stripes Pants
If you're looking for some legwear that's quintessentially adidas in design, be sure to check out this fleece pair from the brand's Originals line. Made from a combination of 70% cotton and 30% recycled polyester fleece, they come with a set of contrasting stripes and a trefoil insignia for a look that oozes classic cool. What's more is that despite their heavier weight, they feature a slim cut that offers a more tailored fit. And thanks to their zipped side pockets, you can rest assured knowing your carry is safe and secure.
Everlane The Sport Jogger
As is the case with each of Everlane's offerings, the Sport Jogger is one that perfectly strikes a balance between aesthetics and affordability. So, even though it comes in at less than $70, it features a high-quality ReTech recycled nylon construction that offers a comfortable 4-way stretch fit, superior moisture-wicking performance, and a stylish design that's equally at home on and off the court. Oh, and because they're a part of Everlane's Uniform collection, they come with a 365-day guarantee in which they'll be replaced in the off chance anything goes wrong.
Mack Weldon Ace Sweatpant
Those ratty old sweats you picked up back in college may remind you of the glory days, but let's be honest here — they're doing nothing for your sense of style. Instead, give yourself a much-needed upgrade with the Ace Sweatpant. First of all, Mack Weldon micro-sanded the French Terry cloth fabric in this pair of joggers to make it even softer. And since they're cut with a slightly tapered fit, you better believe that they look as good as they feel on your legs.
Flint and Tinder French Terry Sweatpants
In a world of fast fashion, throwaway culture, and imported imitations, Flint and Tinder offers a callback to a time when things were built better with less fuss. And, in the case of their French Terry Sweatpants, you'll find that this proves especially true. That's because they were spun, dyed, and sewn from a soft midweight French terry fabric all within the Los Angeles area. They've also been finished with some flatlock stitching for a super clean, classic fit.
Outdoor Voices All Day Sweatpant
Outdoor Voices is a brand built upon the principle of getting people out and getting them active, so it goes without saying that the All Day Sweatpant would be made to move. Crafted using their proprietary CloudKnit fabric for an incredibly soft, relaxed-yet-tapered fit, they offer an ideal option for pretty much any occasion. Whether you're kicking back on the couch, taking off on a jog, or even just heading out to the store, you can't go wrong with these slick sweats.
Vuori Sunday Performance Jogger
At the intersection of style and comfort, you'll find the Vuori Sunday Performance Jogger, a premium piece of activewear that rethinks what athleisure can be. Much more than some repurposed performance apparel, they offer a medium weight in a top-notch technical knit fabric, making them ideal for those who are after some pants that are as functional as they are well-fitting. Plus, the combination of a shorter inseam coupled with a set of tapered legs and ankle cuffs means that the look is on point.
Ten Thousand Recover Pant
When it comes to crafting no-nonsense performance-driven active apparel, you'd hard-pressed to find a brand more accomplished than Ten Thousand. Every item in their inventory goes through a rigorous field testing process, with both elite athletes and everyday consumers vetting them to make sure that they're ready for production. As the ultimate post-workout piece, their Recover Pant comes well-equipped for relaxation, including such features as a comfortable double knit fabric construction, a permanent anti-odor treatment, and even an anti-pill finish for long-term durability without fading.
Nike Sportswear Tech Fleece Joggers
Over the years, Nike's catalog has grown so expansive that it can be difficult to know where to begin. However, if you're after some joggers that offer superior comfort, performance, and mobility, you can't go wrong with this pair made from Tech Fleece. Because of the fabric's double-sided smoothness, it offers a stylish aesthetic whilst still being plenty warm for colder weather. And because they feature a baggy fit through the thigh before tapering at the knee, they give you plenty of room to move without compromising their elevated aesthetics.
Outerknown Sur Sweatpants
Immerse yourself in eco-conscious coziness with Outerknown's Sur Sweatpants. Made from a combination of 76% organic cotton and 24% hemp, these offer a characteristically sustainable spin on the classic jogger formula. And the thing is — it also makes these pants perfectly balanced in terms of their weight and feel, with the hemp giving them a slight heft and the cotton contributing a silky softness. Add to that a tapered leg, an elastic waistband, and a zippered back pocket, and the result is some legwear that looks the part and pays it forward.
Todd Snyder x Champion Midweight Slim Jogger Sweatpant
Todd Snyder's top-notch clothing design meets the performance prowess of Champion's athletic apparel in this pair of stylish collaborative sweatpants. Offering a slightly more tailored fit and a 100% cotton construction, they make for a versatile jogger that can be worn with everything from crewneck sweatshirts to casual suits. When you consider all that you're getting — including garment-dyed colors, front slash pockets, elasticated cuffs, a herringbone drawstring, and some classic crimson chain stitching — the result is a value proposition that seems too good to be true.
lululemon ABC Jogger Warpstreme
Ever the purveyor of premium athleisure offerings, it should come as no surprise that lululemon has a horse in this race. When it comes to the ABC Jogger, you'll find that they're truly a cut above the rest, because they're made from the brand's state-of-the-art Warpstreme fabric. In practice, such an addition translates to unrivaled wrinkle resistance, shape retention, and moisture-wicking properties. And because they also make use of lululemon's trademark ABC technology, they offer an accommodating four-way stretch fit with plenty of room through the legs to get moving.
Olivers Bradbury Jogger
When you've had your fill of flashy designs and over-the-top colorways, Olivers is one brand well worth your while. That's because the California-based outfit has built its entire operation around providing essential athletic silhouettes with a simple, understated style. Just take the Bradbury Jogger, for instance. Water-repellent and moisture-wicking, they're as soft on the skin as they are light on your legs. Sure, these might be marketed for active application, but that's not to say they're any less capable as a comfortable option for everyday wear.
Rhone Spar Jogger
By naming these joggers the 'Spar,' Rhone definitely set itself up to be competitive as far their performance is concerned. In practice, you'll find that they haven't just landed a hit, they've delivered a full-on knockout. Made from a blend of polyester, nylon, and spandex fabrics, they offer an unbeatable combination of softness, stretch, and durability. As it turns out, they're also incredibly practical, because they feature a pair of built-in hand pockets at the front as well as a secure zippered stash compartment at the back.
Carhartt WIP Cargo Jogger
Carhartt originally launched its WIP project back in 1989 as an ongoing effort to transform its hard-hitting workwear into a line of street-wise staples. With the Cargo Jogger, this means that you get a design inspired by the brand's classic Cargo Pants, a construction made from rugged 6.5oz ripstop fabric, and a fit that's as comfortable as they come. Arguably more impressive, however, is the incredible utility these joggers provide. For in addition to their three zippered pockets front and rear, they also come with a set of expandable velcro-closure pouches.
Reigning Champ Coach's Jogger
Honestly, you can't go wrong with any of Reigning Champ's offerings — they're all worthy of adding to your activewear wardrobe. That being said, we liked the Coach's Jogger in particular for its Primeflex 4-way stretch fabric, a remarkable material that repels water, holds its shape, and makes for an iron-clad defense against odor-causing bacteria. But that's not all — they also come with tons of thoughtful details throughout, including a mesh phone sleeve, diamond gussetting, and a woven drawcord.
Satisfy Running Studio Pants
If you haven't heard of Satisfy before, let us do you the favor of introducing them. Equal parts Parisian fashion label and performance running outfit, they've quickly made a name for themselves because of their stylish athletic offerings. As part of their training collection, these Studio Pants come well-equipped for indoor workouts, with a knitted Italian four-way stretch Micro Jersey construction and a detachable exterior care label. But thanks to their hidden pocket system, mini carabiner clip, and integrated reflective print, they're also quite adept out on the street.
Saturdays NYC Chad Jogger Pant
Although Saturdays NYC started out as a small establishment on the streets of SoHo, it's since become an international lifestyle brand whose reputation for classic style and quality craftsmanship knows no bounds. These Chad Joggers are a case in point, combining a stretchy nylon-spandex blend with a robust ripstop fabric for a pair of pants that manage to perfectly balance their athletic inspiration with their urban intent. Secured with a drawstring and a set of adjustable elastic cuffs, they feature two cargo pockets to keep your carry in check.
A.P.C. Item Jogger
The product of renowned French creative Jean Touitou, A.P.C. offers a welcome alternative to the extravagant design choices that dominate most of the mainstream fashion scene today. For instance, the Item Jogger offers a decidedly simple silhouette, with a fitted cut, tapered construction, and a selection of understated tonal colorways that include navy blue, back, and gray. At first glance, they might not look any different than your garden-variety department store sweats, but slip them on and their ultra-luxe 100% cotton fleece fabric will tell you all you need to know.
Stone Island Garment Dyed Pocket Jogger
There aren't many clothing manufacturers that can toe the line between functional utility and fashionable appeal, but Stone Island is one brand that proves an exception to the rule. Taking inspiration from classic military outerwear, these joggers are made out of a garment-dyed loopback jersey material for a distressed aesthetic with a well-worn feel. Finished off with a front cargo pocket and a compass patch, they're ready for anything your day might have in store.
Tom Ford Tapered Sweatpants
When nothing but the crème de la crème of the jogger world will do, these sweats from Tom Ford are the right pants for you. At $1,450 for a pair, they're hardly what you'd call practical, but then again they don't need to be. Rather, because of their premium blend of cotton, silk, and cashmere, you'll always be lounging in luxury. Oh, and if you were wondering, the fit is first-rate thanks to a pair of tapered cuffs and an elasticated waistband.
The 20 Best Hoodies For Men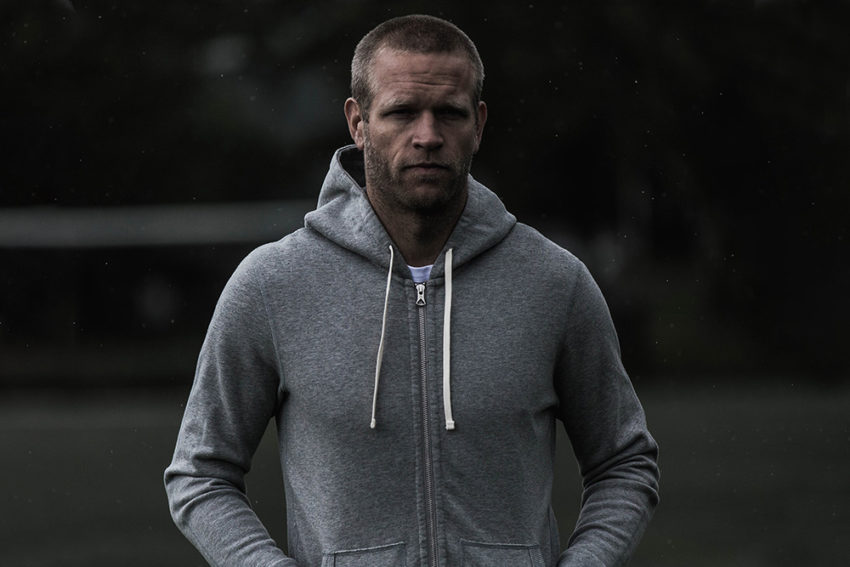 Joggers are one piece of essential athleisure, but we'd be remiss to suggest that they're all you need. If you're looking to complement these performance-inspired pants with a top to suit, head on over to our guide to the best hoodies for men.
HiConsumption is reader-supported. When you buy through links on our site, we may earn an affiliate commission. Learn more