Presented by
Picking up home gifts for someone can be a daunting task. After all, our home is the place where we feel most safe and secure, and as such, it's filled with things that cater to our own personal needs and tastes. But there are some items out there that are so stylish, so useful, and so joy-inducing that we firmly believe everyone would be happy to receive them. And the best part? You don't have to cough up an arm and a leg to obtain such items. We've rounded up 15 of our favorite home gifts under $50, so take a look below and make someone on your list very happy.
Dusty Times Magazine
For the gearhead in your life who appreciates high design, there's Dusty Times Magazine. This annual publication features over 100 pages of ad-free, enthusiast-driven content on premium paper, and it's as wondrous to look at as it is informative to read. Filled with beautiful photography, enlightening stories, and an elevated layout, this is the furthest thing from your average auto rag.
Taschen Cabins
Who doesn't love to look at beautiful cabins? This coffee table book from the masters at TASCHEN not only features photos of loads of gorgeous cabins, but also features some stunning and stylish original artwork.
Wyze Bulb Color
With access to over 16 million colors, connection through WiFi or Bluetooth with no hub required for either, and the ability to control via app or virtual assistants like Alexa, these smart bulbs offer a ton of bang for your buck.
Grovemade Leather Coaster Set
Grovemade is known for cranking out simple yet beautiful items that liven up your home and workspace, but most of it will take you north of our $50 limit. But not this set of four attractive coasters made from premium vegetable-tanned leather.
Yamazaki Tower Deskbar
Japanese brand Yamazaki has been offering design-forward solutions to declutter for over a century, and it's safe to say that they know what they're doing. Case in point is this desk organizer tower featuring multiple levels for different types of supplies.
Whiskey Peaks Glasses – Set of 2
A modern classic is Huckberry's Whiskey Peaks rocks glasses. Featuring handblown topographic impressions of some of the world's most famous mountains, like the Matterhorn, Everest, Fuji, and more, you can pick up a pair for well below a Grant.
CB2 Arlo Hanging Planters
Hanging planters are one of our favorite ways to add some greenery to our home, and the Arlo planters from CB2 are a decidedly stylish take on the form. Crafted from stoneware with a matte white glaze and hung from black leather straps, they're available in small and large sizes for under $50.
Ichendorf Torre Night Carafe Set
It's always a good idea to keep a glass of water by the bed, and it's an even better idea to do so with a little panache. This Borosilicate glass carafe and drinking glass from Milan-based Ichendorf is lightweight, durable, and looks sleek in any space.
Good + Well Supply Co. National Park Candle
Candles are always a welcome gift, but it can be difficult to choose one that stands out from the overpopulated crowd. Thankfully, Good + Well Supply Co. has you covered with their National Park series. Each candle smells like its titular park, is made in the USA, and comes in a great-looking rustic metal container.
Aesop Resurrection Aromatique Hand Wash
Hand-washing is more important now than ever, and displaying a quality soap in your bathroom or kitchen will really elevate your space. We can think of no better option for this role than Aesop's classic Resurrection Aromatique with its moisturizing addition of Orange, Rosemary, and Lavender oils.
ARTIFOX Vessel
ARTIFOX designs premium modern goods that turn any office space into a work of art, and even something as simple as their Vessel will make your desk look like a museum installation. Whether you use this as a pen holder, a succulent vase, or something else, it's going to look great.
Barebones 10″ Cast Iron Skillet
Everyone needs a solid cast iron skillet, but not everyone needs to spend a ton of money to get one. For just 40 bucks, Barebones' 10" skillet gives you the full cast iron experience, so pick one up and start seasoning the thing already.
HAY Sowden Salt and Pepper Grinder
It's easy to overlook the design of boring everyday items when filling out your home, but it's so much more rewarding to put thought into every detail. Designed by George Sowden for HAY, this gorgeous grinder works with salt or pepper and turns one of the most mundane kitchen tools into a whimsical conversation piece.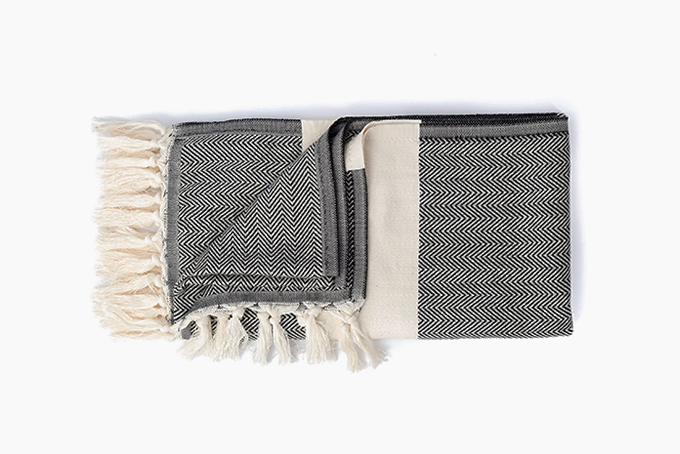 Turkish Towels Herringbone Turkish Towel
Having at least one quality towel for your bathroom is one of those little luxuries that you'll wonder how you ever got by without before. This oversized, quick-drying bath towel is handmade in Turkey from soft and absorbent long-staple cotton.
Chemex Pour-Over Glass Coffeemaker
Not many coffeemakers can claim to be permanent residents at MoMA, but the Chemex coffeemaker can. The iconic mid-century modern design not only looks great on your countertop, it's also engineered to brew the perfect cup of pour-over coffee.
Amazon Echo Dot
Adding a smart home virtual assistant to your home is a game-changer, as they'll help with everything from controlling your appliances to playing music to answering whatever questions pop into your head. Amazon's Alexa is arguably the best virtual assistant around, and the Echo Dot is the most economical way to get her into your home.
The Wishlist: 20 Best Gifts for the Designer
Looking for more home decor gifts? Then check out our guide to the 20 best gifts for the designer for even more great items that perfectly blend form and function.