Even if you don't plan on showering during your weekend adventure in the woods, you shouldn't leave your towel at home. Aside from wiping up the occasional spill and mopping up sweat after a long hike, a good microcloth towel can also be there for you if you decide to take the spontaneous dip in the lake. We're not suggesting that you lug your everyday bath towels from home or even — eek! — your beach towels on your next camping or backpacking trip. Why would you? There are plenty of fantastic packable towels that won't just aid you on your excursion but just might supplant what you're using for showers at home as well.
Microcloth towels are made for packing light, drying quickly, and have the ability to hold upwards of 3 times their own weight in water (if made well). However, people are resistant to change, even when the solution is right there in front of them. This guide will make a good case for microfiber. And once you discover the wonders of packable towels, you'll want them even when you're taking a shower at home. That said, not all microfiber is made the same.
Microcloth Vs. Cotton
Fabric Wars
The Turkish people are most likely responsible for the advent of the cotton towel back in the 17th century. In that time, we haven't just seen them as the best option but the only option. However, recently, microcloth has stepped into the light as a viable alternative. For one, they're better for travel since they pack down much smaller than bulky cotton towels. Likewise, they're more absorbent, quicker to dry, and their synthetic makeup ensures that they don't retain odors like cotton, which is made from organic material.
On the other hand, cotton does actually have a couple of benefits. Aside from being softer and more comfortable, it also washes easier. Microfiber can be trickier in the washing machine and even leave behind little fibers in the water, which aren't great for the environment. However, the pros of microfiber cloth outweigh the cons when it comes to packing a backpack, duffel bag, or suitcase for your next camping trip.
Sea to Summit DryLite
If you're planning a trip to the outdoors, it's quite possible you'll be trying to save some money in the process. If so, check out Sea to Summit's DryLite, which also happens to be one of the most packable towels out there, with five size options that range from small (32") to XXL (70"). Made from nylon microfiber, the DryLite also wrings out better than most of its contemporaries, making it one of the best choices for those who are okay with foregoing higher-end towels in favor of function and compactness.
PackTowl Luxe
PackTowl is not just one of the best microfiber towel brands because of its unbelievably fair prices, but for how much quality it gives you for those prices. Built with Polygeine odor defense, the Luxe acts like a top-of-the-line option for a fraction of the cost, with looped terry knit microfiber fabric for cotton-like comfort, while drying 30% faster than cotton and holding up to five times its own weight with water. Ranging from face towels to beach towels, the Luxe comes in four size options and six attractive colorways.
Rainleaf Microfiber Towel
Holding five times its weight with water, Rainleaf's Microfiber Towel can wring out just as efficiently. Made from soft microfiber, this towel has a solid odor defense and can pack down better than most other options in this guide. However, where the Rainleaf really shines is its versatility, available in six size options and eleven colors (colored with 100% natural plant dye), with the 72" XXL version coming equipped with a zip pocket. It also has a buttoned loop for hanging and comes with a reusable bag for travel.
Biospired Lightweight Footprint Pack Towel
Unlike some of its contemporaries, Biospired's Lightweight Footprint Pack Towel is made for the itinerant traveler. Stored in a fully-netted Air-Flow pouch (with backpack clip) to help it dry on the go if you're in a pinch, this towel is made from a microsuede material for hyper-evaporation and -absorption. It also comes equipped with a snap loop for hang-drying outside of the net as well. Available in five size options and either blue or caramel colorways, the cloth can also be easily machine washed thanks to the antimicrobial construction.
REI Co-op Multi Towel Lite
Whether mopping up sweat during a long hike or drying off after a dip in the lake, you can go wrong with the REI Co-op Multi Towel Lite on your next camping trip. Constructed from a bluesign-approved combination of 85% polyester and 15% nylon microfiber, it not only packs down so that you barely notice it inside your backpack but can hold up to eight times its weight with water. Available in three sizes and in either gray or dark blue, the towel can also wring out to be almost completely dry in a matter of seconds.
Dock & Bay Quick Dry Cabana Towel
Who says a utilitarian travel towel can't be stylish as well? Dock & Bay's Quick Dry Cabana Towel will have neighboring campers oozing with envy thanks to its striped retro patterns and colorways, and that's regardless of if you decide to get it embroidered with your name or monogram. Although it's made for the beach (meaning it's sand-free), it will serve you very well in the great outdoors, built with quick-drying microfiber. It comes in large and extra large sizes for those who need something to get dressed under and is made from 100% recycled material (83% polyester, 17% polyamide).
Matador NanoDry Packable Shower Towel
When it comes to packability, Matador's highly-acclaimed NanoDry Packable Shower Towel gets the job done better than most. Made from super-lightweight hydrophilic nanofiber fabric that can absorb up to 2.3 times its own weight with water, this towel dries faster than nearly any of its contemporaries and has incredible odor defense for those times when you have to pack it away when it's still a little damp. At 52" by 24" in total size, this large towel packs down into a silicone carrying case that's just 5.2" in height, with an anodized aluminum carabiner for easy travel.
Nomadix National Parks Collection Towel
Whether or not you're able to venture to one of our country's amazing National Parks, you can evoke their wondrous beauty with Nomadix's National Parks Collection, representing eleven locations across the United States. What's more, the 72.5-inch towel is also one of the highest quality choices on the market, able to absorb up to four times its weight with water and dry four times faster than standard cotton. Made from sand-, odor-, and pet hair-resistant micro-terry polyester, 90% of which is recycled, the towel is meant to pack down easily into your backpack, but will also look great hanging up in your home.
Rumpl Everywhere Towel Joshua Tree
Rumpl is already well-known for making some of the best indoor and outdoor blankets on the planet. Now, its know-how is applied seamlessly to packable towels. An update on the forerunner, the Shammy, the Everywhere Towel is even more absorbent, quick-drying, and packable than before. Made from a polyester microsuede fabric and finished with an antimicrobial coat for longer use, the towel is easier to wash compared to most of its competitors. And just like its beautiful range of blankets, the Everywhere Towel gets some fantastic graphic designs as well.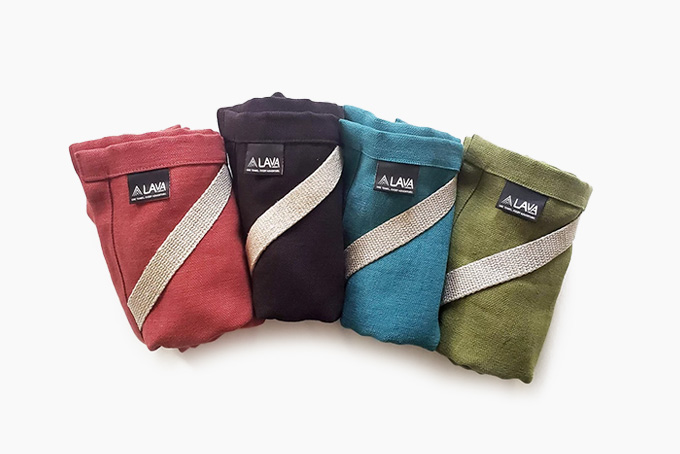 Lava Linens Classic Travel Towel
Microfiber towels can be used even for the most luxurious glamping trips as well. Case in point: Lava Linens' Classic Travel Towel. While it might be heavier and not immediately as soft as other picks, this towel dries super quickly and gets softer with age. Debris-resistant, stain-resistant, antistatic, hypoallergenic, and naturally antimicrobial, it's uniquely made with French flax linen and rolls up to be as small as a 32oz water bottle. The Classic Travel Towel is a bit pricier than other options out there, but you're definitely getting what you pay for.
The 12 Best Solar-Powered Camping Gear Essentials
If you're looking to maximize your resources on your next outdoor excursion, then take a look at our guide to the best solar-powered camping gear essentials.