Aug 7, 2018
Category: Gear
For those that want to take a break from the artificial lights of a sweat-box gym with those mundane metal contraptions used to kill calories in boring fashion, there are beautiful landscapes out there that you can hike. Unlike other fitness activities, hiking allows you to get a rugged workout that challenges your body while the views soothe your mind with the alluring wonders of nature.
Tackling any hiking trail, no matter if it's a quick couple of miles or a more challenging 10-mile trek with the promise of a great view at the top, you're going to need more than a tough pair of hiking boots to get through it. You might not think it counts for much, but hiking socks can make or break your journey.
Picking The Perfect Pair
Analyzing What's Best For Your Feet
Before we start, you have to look into what your feet need, which will guide you in finding that perfect pair. Choosing the thickness, you want to consider how your feet react during a workout, as well as the weather. If you typically hike during winter, you want a thicker weight to keep your feet warm, especially your toes, as they'll be the first to get chilly. Mid-weight hiking socks are ideal for hiking in any weather, as it is the most versatile thickness. If your feet tend to sweat more than normal, you might want to consider lightweight socks or ones that wick away moisture more rapidly than others.
Then there's the length of the socks: ankle, quarter and crew. The quarter-length is the most versatile, although crew-length works a little better with hiking boots, and also has efficient insulation and more calf protection. Ankle socks are perfect for those that want to be a little more light on their feet. It's all about comfort, so take some time to really think about what your feet need.
The list that lies ahead of you was created with performance in mind, as well as the fact that every pair of feet is unique. We've compiled a group of diverse hiking socks that cover a variety of preferences, so you can dive right in and check out which pair will help you crush your next hike.
People Socks Merino Wool Ankle Socks
If you want a few pairs of American-made hiking socks that won't hurt your wallet too much, these People Socks are just what you're looking for. Knitted using the finest Australian merino wool and reinforced with cushioning from heel to toe, these socks will definitely keep your feet happy on any trail. It naturally wicks away moisture, thanks to the merino wool fabric, and is perfect for hiking during any season.
Wigwam Hiker Midnight Crew Socks
Wigwam has over 110 years of experience in crafting the most innovative socks on the planet, and these ones don't miss a beat. Fully cushioned throughout the foot and leg, these socks will keep your soles warm when the stars come out and they won't bunch in your boots thanks to a precise use of stretch nylon and elastic. Giving you further comfort, these American-made socks have an elasticized arch, properly placed ventilation channels and a seamless toe closure.
Icebreaker Hike+ Lite Cushion Crew Socks
Embarking on your next trail, you'll benefit greatly from these socks, as they prevent blisters and keep your feet ready and able to reach those high alpine views. Made of the perfect blend of merino wool, nylon and Lycra, these socks will work hard to keep your feet breezy and moisture free under the hot midday sun. The light cushioning also softens your steps, making them great for long-distance hikes, and the merino will keep foot odor to a minimum, which you and your crew will be thankful for on multi-day treks.
Feetures Merino+ Ultra Light Quarter Socks
If the countryside you're covering is a bit muddy or wet, these Merino+ socks will help to insulate your feet, while also providing you with super light cushioning with its one-of-a-kind blend of synthetic fibers. They also use a patented 'Sock-Lock Technology' that uses targeted compression for superb comfort and support where your feet need it the most. To help you deal with rocks, dirt and mud on your hiking adventure, its 3" quarter length offers substantial protection. It will also fit your feet perfectly with its anatomical design, reducing your chance of getting blisters.
REI Co-op Lightweight Merino Wool Hiking Socks
Constructed from fibers that naturally wick moisture away from your skin, these fast drying, odor-fighting socks come in handy on any gritty trail you decide to tackle. Thanks to a reinforced padding on the heel and toe, these hardwearing socks provide your feet with the much-needed support that's crucial for those lengthier, steeper hikes. Made in America, a pair of these seamless toe socks will go great with quality hiking boots.
Smartwool PhD Outdoor Ultra Light Mini Socks
Built with proprietary 'Indestructawool' technology for extra toughness and a '4 Degree Elite Fit' system to keep the socks from slipping around, a pair of these will do you good on any hike. Additionally, merino and reinforcement fibers are carefully placed where they are needed the most for a relaxed fit. There are also two elastics added for a stretchable recovery, allowing you to move naturally on rockier mountains. Ensuring maximum breathability, thermoregulation and moisture management, these socks are equipped with a ventilating mesh.
Wrightsock Escape Crew Socks
Sandwiched between two sock layers, you'll find (and feel) strategically placed light terry cushioning that provide shock absorption without being bulky. There are also mesh panels that run across the top of the feet for cool airflow to keep things dry for a better grip on the terrain. To minimize excessive shearing forces in your boots, there are stabilizer zones in the arches to secure these socks to your feet. Furthermore, there's a Y-heel gore that helps for excellent heel placement to decrease slippage in your hiking shoes or boots.
Injinji 2.0 Outdoor Midnight Crew Nuwool Socks
These socks are a part of Injinji's Outdoor Series that's made with 'NuWool Merino,' giving your feet a soft cushion to press up against on those bumpy hikes. Blending in 33% nylon and 3% lycra with the merino wool make these toe-socks more flexible and comforting on those sunny day hikes. These midweight foot supporters are made in the USA as well, so you know that you're getting quality gear that's reliable.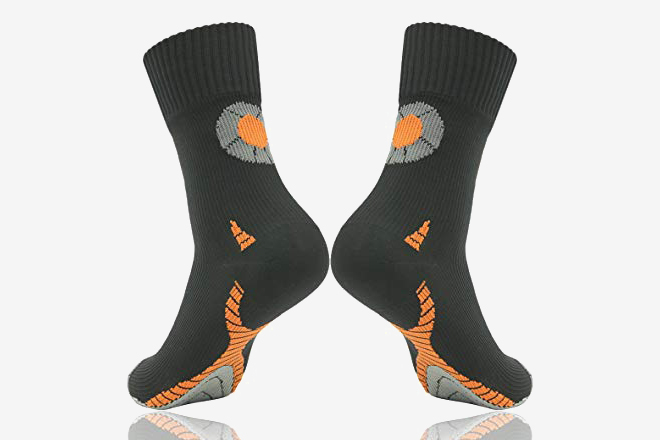 Randy Sun Waterproof Camping Socks
If being windproof and waterproof isn't enough for your adventurous hikes, these socks are also highly moisture and perspiration permeable. They have a unique, adhesive three-layer structure that prevents external water molecules from entering the socks while it spreads your feet's sweat rapidly to the exterior, keeping your feet dry. A go-to pair for outdoor lovers and military personnel, these 100% seamless ultra-light cushion socks also provide you with 'CoolMax' lining, making them an essential pair that you can count on.
Smartwool Expedition Trekking Socks
For hiking during the winter time, these natural wool socks will help keep your feet warm with extra dense cushioning while also keeping your feet from sweating up a storm. It also has a high-density knit sole, along with an instep guard to prevent abrasion, shock, lace pressure and blisters. Using a blend of super-soft merino wool, providing you with non-itch comfort, along with nylon for durability and spandex for natural stretchability, you won't regret getting a pair.
Darn Tough Hiker Micro Crew Cushion Socks
Blending comfort, performance and swagger, these are a pair of trail-ready socks for veteran hikers. Made with fine gauge merino wool, making them antimicrobial and antibacterial, there's no slipping, bunching or blisters when you have these covering up your soles. With a high-density knit, meaning more stitches per inch, these socks will slip on fine and stay there thanks to a ribbed support. If you're a thru-hiker logging hundreds of miles on never-ending trails, these cushioned socks with true seamless toes will be heaven in your boots. Produced in Vermont, these socks are guaranteed for life, giving you some extra confidence that they'll perform the way they're described.
Danish Endurance Merino Wool Hiking Socks
With their exclusive merino wool blend, these socks can adapt to any weather, meaning you can hike all year round. They have the ability to draw off sweat so that it evaporates quickly, keeping your feet fresh throughout your hiking trail. The targeted ventilation mesh zones give you constant air flow, working alongside its full padding to absorb those jarring parts of the trail, helping to protect your feet from whatever mother nature puts in your path. Not to mention, these socks are recommended by former Navy Seal Erik B. Jorgensen.
Up And Out: 12 Best Hiking Backpacks
So, you've gotten a few pairs of quality hiking socks that will help you reach those beautiful alpine views. Now, it's time for a sturdy hiking backpack. Check out our picks for the best hiking backpacks out on the market.
HiConsumption is reader-supported. When you buy through links on our site, we may earn an affiliate commission. Learn more