Headphones have come an incredibly long way over the last decade. Advancements in wireless technology, active noise-canceling, battery life, have made these once-elite features markedly more common. The strides made in the overall tune and quality of drivers and other components have also given way to increasingly crisp, rich, and clear sound being made available at an increasingly accessible price. The combined result is you can now get your hands on an objectively high-quality, feature-heavy pair of headphones without spending over a bill.
One hundred dollars provides an enormous number of worthwhile headphone options, and while there are obviously some models that are out of reach at this price point, you can snag practically any style of headphones for this amount, whether you're looking for an ultra-clear pair of over-ear studio monitors, true wireless set, Bluetooth sports headphones, or a classic wired pair of earbuds. Many of today's most coveted features such as active noise-canceling, the latest Bluetooth connectivity, extended battery life, and app pairing can all be found for under a single Benjamin. So, to help guide you on your purchase, we've generated this list of the best headphones under $100.
AKG 240 Studio
Despite their incredibly accessible price and the fact that numerous decades have passed since their initial release, AKG's K240 Studio headphones have become something of the gold standard in the recording studio realm. Just like Technics' SL1200 turntable with most professional DJ setups, the K240 Studio can be found in most recording studios, as the semi-open-back item delivers remarkably crisp and clear sound, making them perfect for monitoring recording or playback. On top of a sound-isolating ear-cushion design, the K240's tremendous sound quality is largely owed to its primary components: advanced 30 mm XXL transducers that benefit from patented Varimotion diaphragms. And, in addition to coming with a removable 3-meter-long 1/8" jack, the K240 packs mini XLR connector (and a 1/4" adapter). The only real downside to this product is the lack of wireless connectivity, though it more than makes up for it with its sound.
Marshall Major III
Since the company's inception in the early 1960s, Marshall Amplification has been producing high-end audio gear bestowed with an unmistakably distinctive appearance, and while today the London-based company continues producing its bread and butter amps, it also makes more contemporary audio equipment such as portable Bluetooth speakers and headphones that are adorned in the brand's iconic signature aesthetics. And such is the case with Marshall's Major III headphones, boasting cord-integrated microphones that allow for hands-free controlling of playback or calls, and custom-tuned 40mm dynamic drivers that enable the unassuming piece of audio gear to belt out wonderfully rich sound. The classic Marshall design is complemented by a straight-fit headband, low-profile 3D hinges, and redesigned ear cushions. Outfitted with a vintage-style spiral cable, there Major III also gets an extra 1/8" jack in the right head-shell that lets a second user plugin and enjoy your tunes, plus the entire set folds up and collapses into a compact form, making it perfect for travel duties.
Beats By Dre BeatsX
Though they take the form of earbuds rather than head-shells, the BeatsX wireless earphones offer the booming bass that the Monster-owned outfit is famous for. But the BeatsX is about more than just a heavy low-end, as they're brimming with some pretty noteworthy tech considering their MSRP. Their Bluetooth connectivity is owed to Apple's H1 chip — the same unit found in cutting-edge offerings like the Airpods Pro — and their highly-compact battery not only allows for a total of eight hours of music playback but also can afford two full hours of listening after only a five-minute charge. The BeatsX also has an integrated microphone so you can take calls, control playback with your voice, or use Siri. And, while they are already sold with an included manufacturer's warranty, there's also the option of a supplementary AppleCare+ bundle for further protection.
Master & Dynamic ME05
Though Master & Dynamic has only existed since 2013, the New York company has become one of the eminent forces in the high-end audio realm thanks to consistently producing uncompromising high-quality gear made all the more impressive by striking industrial designs. And while Master & Dynamic normally trades in equipment that sits on the more exorbitant end of the spectrum — with their lower-priced offerings costing several hundred dollars and going up from there — the East Coast outfit took things in a new direction in 2015 with the release of the ME05. While these wired earbuds are markedly more affordable than other Master & Dynamic headphones, they're equipped with the same top-notch quality and construction. The ME05 is comprised of custom high-performance 8mm titanium drivers inside of precision CNC-machined brass housings decorated with mirror-accents and laser-etched branding. They are also fitted with durable, tangle-resistant, rubber cables with oxygen-free copper, and four sizes of silicone ear tips that ensure a precise fit no matter the wearer.
Samsung Galaxy Buds
Just because you aren't looking to spend an arm and a leg on a set of headphones doesn't mean you can't have a solid true wireless pair, and while's there's no shortage of budget-friendly models out there, most fall incredibly short compared to Samsung's Galaxy Buds. While not quite as advanced as the Galaxy Buds+, the normal spec is still nothing to scoff at, boasting an IPX2-rating for splash resistance and batteries that allow for a total of 13 hours of life and can be replenished incredibly fast, with only 15 minutes of charging yielding more than 1.7 hours of music playback. Best of all, these Airpod alternatives are equipped with active noise-canceling with Ambient Aware tech that blocks out background ambient noise like construction, fans, or wind, while still allowing the sound of traffic and other vital sounds to come through. Their drivers were also expertly-tuned by the folks over at AKG.
JBL Tune 600BTNC
Another absolutely fantastic example of a sub-$100 pair of headphones that doesn't forgo any of the latest and greatest features, JBL's Tune 600BTNC offers its user both complete wireless Bluetooth connectivity and cutting-edge active noise canceling with an impressive and highly effective impedance and frequency response range. There are physical controls on the outside of the head-shells for easy playback or volume control, though integrated microphones also afford the user the ability to perform those tasks in a hands-free capacity as well as take calls or control a smart assistant. The earphones themselves also pivot and fold, allowing the pair to collapse into a travel-friendly form. The Tune 600BTNC (or "600 BlueTooth Noise-Canceling") is also available in several other bright colors, as well as black or white. A five-minute charge affords a full hour of music playback, and the battery can last for as long as 16 hours (or 12 hours when using Bluetooth and noise-canceling).
Sony XB950B1
Sony's XB950B1 Extra Bass is a modern pair of Bluetooth headphones for more-than-all-day battery life and an intense focus on heavy bass. Though they were originally released in 2017 at the height of the bass-heavy Beats craze, there really aren't a whole lot of other options on the market that are comparable to the XB950B1.What sets them apart, is that, while they obviously tout themselves as being bass-heavy (which is, by all means, accurate), their overall audio quality is pretty superb, borrowing previously developed components from more elite existing Sony offerings. Requiring four hours to charge, the XB950B1 Extra Bass packs a full 18 hours of music playback, even with the boosted bass activated. Of course, they can still be operated even on a dead battery thanks to an included 1/8" cable, just without the Bluetooth or supplemented bass.
Audio-Technica ATH-M40x
Audio-Technica's ATH-M40x could be doubled in price and would ultimately still be a pretty great deal. Like the rest of the offerings in the Japanese brand's lineup, the ATH-M40x is a thoroughly calculated piece of equipment born out of extensive R&D and an acute attention to detail. 40mm drivers and copper-clad aluminum wire voice coils allow for near-audiophile-grade sound, while the outward aesthetic design maintains Audio-Technica's signature look. The industrial design also features DJ-style 90-degree swiveling ear cups (for one-ear monitoring/mixing). Said ear cups also sport a special ergonomic design that contours around the ears to better isolate sound, and are constructed from premium and hardwearing materials that help to ensure serious longevity and years of use.
Shure SE215-K
If you aren't concerned with contemporary features like wireless connectivity or active noise-canceling and are simply hunting for a no-frills pair of headphones that offer stellar sound, then look no further than Shure's SE215-K. Like AKG's K240 Studio, the SE215-K is all about remarkable, unadulterated, studio monitor-quality sound, albeit in earbud-form rather than traditional over-ear head-shells. The earbuds themselves house single Dynamic drivers and gold-plated MMCX connectors with 360-degree rotating lock-snap mechanisms, similar to the items found on ultra-high-end wired earbuds that typically cost several thousand dollars. And, while there's no active noise-canceling, the design of the earbud and tips are able to block out up to 37dB of external sound. The Shure SE215-K also comes with a variety of tip sizes, a carrying case, a regular 1/8" cable, USB-C, and a dongle-eliminating Apple Lightning cable.
Bose Soundsport Earbuds
The Bose Soundsport headphones are able to punch well above their weight thanks to essentially being a more affordable wireless version of the company's Soundsport true wireless headphones. With the true wireless model already designed and developed, Bose has been able to deliver this less-expensive variant at a staggeringly reasonable price. Equipped with a total of six hours of battery life, the Sondsport uses a special wing and tip design that's incredibly efficient at keeping in place, even during vigorous workouts, making these an ideal pair of headphones for running and/or using at the gym. This item is able to automatically balance out sound at any time thanks to any Bose Active EQ, plus it has built-in microphones for voice control and hands-free calling. Their IPX4-rating means you don't have to worry about sweat or heavy rain compromising the interior electronics or components, either.
Fender PureSonic Wired
Though Fender is best-known for producing the instruments that create music – namely guitars — rather than devices for listening to it, the iconic American company undeniably knows a thing or two about quality audio no matter what the product space, as demonstrated by the brand's PureSonic headphones. Fender's PureSonic headphones offer incredibly clear sound with 9.25mm dynamic drivers that afford a full-range frequency response from 20Hz all the way up to 20kHz. If you're unfamiliar with frequency and acoustics, that's damn impressive, especially on a sub-$100 pair of headphones. These are also available in a wireless version that's also priced at beneath the $100 mark (that's also backed by a warranty and equipped with 6 hours of playback time), as well as a Premium-spec for a little over a bill — though they're all IPX4-rated.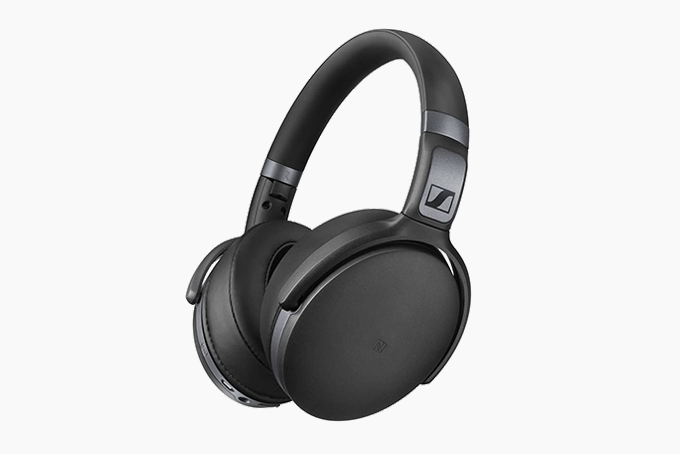 Sennheiser HD 4.40
No matter what the price point or genre, if you look at any headphones buyer's guides on this website, you'll start noticing a pattern of a few brands that very seldom fail to be represented on these lists, and one of those outfits in undoubtedly Sennheiser. The German brand has existed for more than 70 years and has developed a slew of proprietary equipment in its time. And with these proprietary elements already having appeared on prior elite models, with the R&D money already spent, Sennheiser routinely offers models that repurpose these high-quality proprietary components in more accessibly-priced offerings such as the HD 4.40BT. Using Bluetooth 4.0 and aptX tech, the HD 4.40BT packs a compact and potent Lithium-ion polymer battery that gives users as much as 25 hours of music playback time on a single charge, though this wireless model is also sold with an included 1/8" cable for battery-free listening.
The 12 Best Headphones Under $50
If you're in the market for a quality pair but $100 is more than you're willing to shell out for a new set of headphones, then be sure to check out our guide to the best headphones for under $50 for some surprisingly competent models offered at wildly competitive prices.