Presented by
For a select group of individuals, cars and motorcycles represent far more than just a mode of transportation, standing as a passion and way of life. As helpful and convenient as it is to have this type of person in your life — especially when it comes time to perform an oil change or swap a flat tire — they can undeniably be a difficult demographic to shop for when the holiday season rolls around. Well aware of this reality, we've scoured a variety of product spaces to generate this curated guide to the best gifts for the gearhead.
Iron & Resin Scout Jacket
A timeless and rugged garment that looks great on or off the bike, Iron & Resin's Scout Jacket is crafted from 12oz. British Millerain Co. waxed cotton canvas that's supplemented via a 9oz. Klamath Flannel interior blanket lining, a breathable and waterproof REISSA membrane, a heavy-duty Talon® #10 main zipper, and corduroy adorning the collar, front placket, and cuff interiors.
Gerber Strap Cutter
Sold with an included sheath, the Gerber Strap Cutter is an automotive emergency tool that features a plain-edge blade for dicing through seatbelts as well as a pointed glass breaker for shattering windows.
On Any Sunday 50th Anniversary Poster
Part of a new official collaboration between Biltwell and Bruce Brown Films — the production company that, along with Steve McQueen's Solar Productions, was the force behind the groundbreaking film On Any Sunday —this limited edition poster celebrates the watershed movie's 50th anniversary.
The Current Coffee Table Book
Written by legendary moto historian Paul DeOrleans, this 8.27″ x 10.24″ 208-page coffee table book explores the rise of modern electric vehicles and includes dozens of beautiful photographs printed on heavy stock.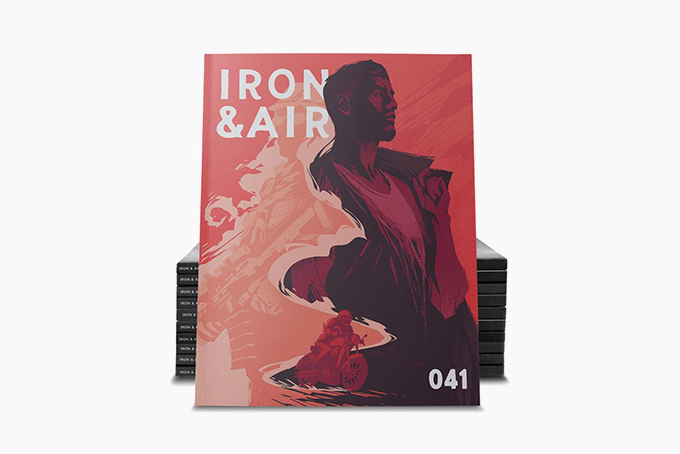 Iron & Air Magazine One Year Subscription
Iron & Air is undoubtedly one of the best gearhead-focused magazines still in print, and this offering allows you to gift a full year's subscription of the publication — as well as a free included back issue.
Drive Coffee National Parks Collection
From auto-themed roaster Drive Coffee comes this trio of special edition 12 oz. coffee packs, each of which contains a different variety of whole beans.
D.S. & Durga Roadtrip Hits Auto Fragrance Set
A decidedly premium take on traditional car air fresheners, D.S. & Durga's Roadtrip Hits Auto Fragrance Set is made up of five different scented air fresheners, all of which take inspiration from iconic highways and road trip routes.
Iron & Resin Great Plains Tool Roll
An ultra hardwearing tool roll that's built to last a lifetime, Iron & Resin's Great Plains Tool Roll is made from 1.3mm buffalo hide leather and features a 10oz. waxed cotton canvas interior, multiple pockets to secure tools, knives, and any other items, heavy copper rivets, and reinforced stitching in key high-stress areas.
LEGO Technic Ford F-150 Raptor
Comprised of 1,379 pieces in total, this LEGO Technic model of Ford's F-150 Raptor is brimming with lifelike details including working suspension, an opening hood, doors, and tailgate, and a replica V6 engine that sports moving pistons.
Iron & Resin Shop Apron
Anyone that's spent a decent amount of time wrenching away in the garage knows how crucial a quality shop apron can be, and Iron & Resin's take on the item is made from 11oz. Cotton Martexin™ Waxed Canvas, provides a number of pockets for storing tools, and has been outfitted with leather straps and copper rivets. Made in the USA.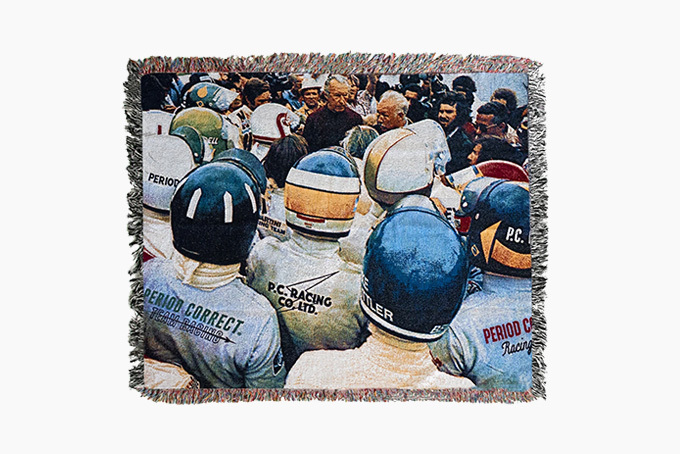 Period Correct Pre-Race Oversized Blanket
Hey, gearheads get chilly too. And when the cold of winter strikes, you can keep it at bay with this unique blanket featuring some cool retro racing imagery from Period Correct. The soft and extra heavyweight blanket measures 60″ x 50″ and is made in the USA.
Uncharted Supply Co. Zeus Power Bank + Jump Starter
Packing enough power to jumpstart a car's battery — or replenish any mobile devices or gadgets several times over — this portable battery pack contains a 20,000mAh cell while weighing less than 1.5lbs.
Porsche Design Shake Pen Bundle
This elegant desk set features one of Porsche Design's high-gloss stainless steel Shake pens that rests in a 911 silhouette holder — the latter of which is crafted from aluminum and resin.
BMW Performance Center Ultimate Track Experience
This four-hour track experience allows adrenaline junkies to get behind the wheel of a variety of models — including the Mini Cooper S and the BMW M2 — on the race track with help from professional instructors, making for a truly memorable gift and experience.
Master & Dynamic MW65 Automobili Lamborghini
Born out of a collaboration between the American audio brand and the legendary Italian supercar maker, this special-edition pair of Master & Dynamic's MW65 noise-canceling headphones are offered in four color schemes and come adorned in Lamborghini branding and Alcantara fabric — a clear nod to Lamborghini interiors.
Salt Optics Francisco Glasses
Produced in four lens color options, Salt Optics' Francisco glasses are a high-end take on regular driving glasses, featuring  CR-39 lenses set in frames constructed from aerospace-grade Japanese titanium.
Hedon Heroine x Bike Shed Club Racer
Hedon already produces some of the world's finest retro-style moto helmets, and this special BSMC edition variant of the brand's Heroine lid boasts a fully exposed carbon fiber weave decorated in gold striping, and custom Bike Shed Motorcycle Club branding on the interior.
Amalgam Collection 1:18-Scale Ferrari 330 P4
Meticulously built by hand, this 1:18 scale replica of the Prancing Horse's 1967 Le Mans-winning 330 P4 boasts incredible authenticity and detail, and even sports faux weathering exactly as it looked on the actual race car in 1967.
Snap-on Hand Tool Ultimate Access Kit
Any mechanic will tell you that when it comes to tools, it really doesn't get better than the items made by Snap-on, and this hand tool set features ultra-high-end takes on some of the most commonly utilized tools in the garage, including a 13-piece ratchet set and a 17-piece bit set.
Reservoir Kanister
Brilliantly recreating the look of a tachometer as it runs through a car's gears, this limited edition version of Reservoir's jumping hour watch sports a dial that was directly inspired by the instrumentation on antique Porsches.
The 20 Essential Tools Every DIY Mechanic Should Own
Still haven't found that perfect gift for the gearhead in your life? Then be sure to cruise on over to our guide to the essential tools that every mechanic should own for 20 must-have offerings for any wrenching enthusiast.