Dec 31, 2021
Category: Style
Once October rolls around and the temperature starts to dip, it's time to put the shorts away for good and break out your fall wardrobe. That means corduroy, brown leather boots, trucker jackets, and above all, flannel. A good flannel shirt is about as essential as a men's fall wardrobe staple can get, as they'll keep you warm in the cooler temps while also looking seasonally appropriate thanks to their timeless style. So to kick off your fall fashion shopping for 2021, we've rounded up the best flannel shirts for men you can buy.
The best flannel shirts in 2021 are made by a number of our favorite brands, and they all embody everything that a good flannel shirt should. They're all soft, cozy, and warm, which is a must for those chilly days and downright cold nights. They all offer a great, laidback style that's ideal for both backyard football games and indoor football-watching. And they're all durable enough to handle some real work in case you've got wood to chop and campsites to build. So get ready to fill your autumn wardrobe with some brushed plaid (or, if you prefer, brushed solids) with our picks for the best men's flannel shirts to buy.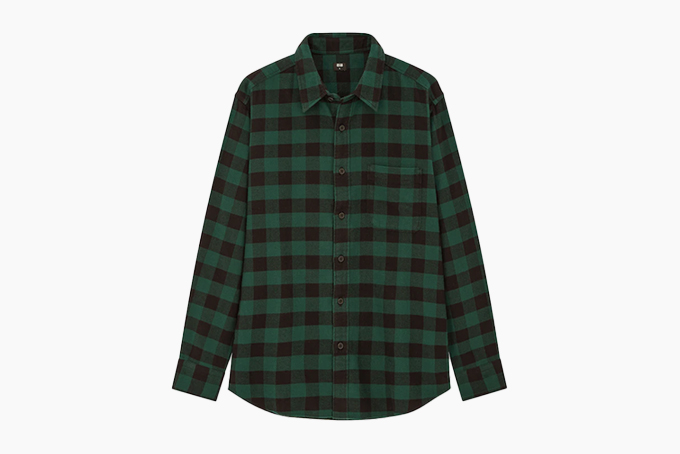 Uniqlo Flannel Checked Long-Sleeve Shirt
Uniqlo is the go-to brand for affordable wardrobe staples, and as a flannel shirt is very much a wardrobe staple, the Japanese retailer is unsurprisingly a great place to nab flannel for less. Their 2021 offering comes in every color under the sun and is made from 100% cotton that's been brushed on both sides so it's super soft all over. There's also double-stitching on the arms for improved durability.
L.L.Bean Scotch Plaid Flannel Shirt
If you're from New England, you are legally obligated to own at least one flannel from L.L.Bean. OK, that's not true, but it sure seems like it sometimes. The heritage brand has been producing their trademark Scotch Plaid flannel shirt for over 80 years, and you'd best believe they know what they're doing. Made from an exclusive-to-the-Bean Portuguese long-staple cotton that's been brushed eight times and woven in authentic Tartan patterns, this is as classic as flannel gets.
Everlane The Brushed Flannel Shirt
Not everyone wants to go for the Al Borland look when it comes to their flannel. So if you're looking to ditch the plaid and go with a more versatile flannel, then have a look at this offering from affordable favorite Everlane. This cult-favorite shirt is executed in solid colors for a more casual look, but it's still flannel through and through. The thick 5.8 oz. cotton is brushed on both sides for softness, but it's also beefy enough to provide abrasion resistance — not to mention plenty of warmth.
Outerknown Transitional Flannel
Founded by pro surfing legend Kelly Slater, Outerknown is all about making sustainable apparel of the highest quality. And that's exactly what their Transitional Flannel is. It's made from 100% organic cotton that's both better for the planet and safer for the workers who handle it, and the shirt's brushing process has left it so soft that you can even wear it without an undershirt.
Flint and Tinder Jackson Flannel
When the need arises for a cozy and durable flannel that works in any situation, you should reach for Flint and Tinder's Jackson. The trademark flannel from Huckberry's popular house brand is made from a mid-weight cotton that works in multiple seasons and in various situations, meaning you'll be wearing this shirt more often than not. And thanks to its rugged construction, it won't look any worse for wear when you do.
Portuguese Flannel Marvao Flannel Shirt
The best flannels are made from Portuguese cotton, and no one knows this better than the aptly-named Portuguese Flannel. The family-run business has four generations of heritage when it comes to meticulously crafting their garments in the shirting capital of the world, and they've got the form down pat. Their Marvao shirt is made from incredibly soft organic cotton with organic buttons, and its black, white, and red check pattern is as timeless as it gets.
Buck Mason Printed Pinwale Cord Camp Shirt
If you love the look of a traditional plaid flannel shirt but aren't crazy about flannel as a material, then check out this stellar flannel alternative from Buck Mason. At first glance, you'd think this was your average flannel, but upon closer inspection, you'll notice that this is actually a check-patterned corduroy shirt. The mid-weight cotton cord offers plenty of softness and warmth, along with some heightened durability and an unexpected extra dose of classic fall style.
Taylor Stitch The Yosemite Shirt
There are two things you can say about every Taylor Stitch garment: they're made responsibly, and they're made to last. The Yosemite Shirt is the brand's signature flannel shirt, and it's a perfect embodiment of the Taylor Stitch identity. Made from an exclusive 9 oz. organic cotton chamois with real horn buttons — including on the two flap chest pockets — this shirt is buttery soft, incredibly durable, and handsome as all get-out.
Filson Alaskan Guide Shirt
Filson knows the outdoors. The Seattle-based brand has been a favorite of outdoor enthusiasts since 1897, and their iconic Alaskan Guide Shirt has been worn by sportsmen and tradesmen for decades. That's because they know the shirt's 8 oz. cotton fabric and tight 2-ply x 2-ply weave will keep them warm and protected from the wind while remaining mobile enough to allow them to get their work done without slowing them down.
Wool & Prince Flannel Utility Shirt
Wool & Prince has only been around since 2013, but the merino wool-focused brand has quickly lived up to their motto of "making better, longer-lasting apparel." W&P incorporates merino wool into every garment they make, utilizing the material for its natural anti-odor and temperature-regulating properties. Their Flannel Utility Shirt is a dressed-up take on a classic work shirt design that's made from 100% 170 gsm merino wool twill for a luxe feel and superior performance.
Woolrich Traditional Cotton Flannel Shirt
A handful of brands in this guide are strongly identified with flannel shirts, but it's hard to think of any company that's more associated with the form than Woolrich. Established in Pennsylvania in 1830, Woolrich calls itself "The Original Outdoor Clothing Company," and it's tough to argue with them. They've been making their iconic red and black Buffalo Check flannels since 1850, and the style looks as timeless as ever in their brushed cotton Traditional Flannel Shirt.
Todd Snyder Brushed Flannel Button Down Shirt
If you're looking for a flannel shirt that's a little more luxurious, something that's as at home in Central Park as it is in Yellowstone National Park, then take a peek at this shirt from Todd Snyder. Made from a mix of cotton and super-soft, anti-odor Tencel, this shirt boasts a modern tailored fit and a brushed finish that's so soft it feels like cashmere. And if you think a cashmere flannel sounds awesome, you're not alone.
Pendleton Board Shirt
Another absolute legend in the flannel game is Pendleton, and their best-selling Board Shirt is the reason why. A favorite among California surfers since the 1960s — including, famously, the Beach Boys — this classic is still made the same way it always has been: with 100% American virgin wool that's woven in the Oregan brand's American mills. The rugged fabric is water, odor, and stain-resistant, while the styling, with its large camp collar and dual flap pockets, is retro in the best way.
Sid Mashburn Spread-Collar Checked Cotton-Flannel Shirt
In most cases, you wouldn't think of wearing flannel with a suit, but this shirt from Atlanta designer Sid Mashburn will have you second-guessing your sartorial instincts. With a long hem for tucking in, a classy spread collar, a trim fit, and authentic mother-of-pearl buttons, this is what would happen if a genie granted a flannel's wish to become a dress shirt. But since it is still a flannel, you're also getting warm mid-weight cotton fabric and a classic plaid pattern.
Faherty Legend Sweater Shirt
There's an awful lot of heritage involved when it comes to flannel shirts, with traditional fabrics and patterns appearing throughout this list. But what if you want a more modern take on flannel? That's where Faherty's popular Legend Sweater Shirt comes in. The flannel substitute is made from a blend of technical fabrics — 62% polyester, 33% viscose, and 5% spandex — that make it absurdly soft and stretchy so it moves with you and keeps you comfortable in all situations.
The 16 Best Men's Selvedge Denim Jeans
Flannel shirts and selvedge denim jeans go together like pumpkin and spice, and the shirt and pants combo is pretty much our fall uniform. Like you've just seen with flannel shirts, there are many great pairs of selvedge denim jeans out there to buy, and it can be tough to know where to start looking. So if you're in need of some assistance, take a look at our guide to the best selvedge denim jeans.
HiConsumption is reader-supported. When you buy through links on our site, we may earn an affiliate commission. Learn more