Jan 22, 2019
Category: Tech
Doing old school workouts and channeling your inner-Rocky by lifting logs and chopping wood in the middle of nowhere makes for an entertaining montage, but fitness technology has come so far and can't be ignored. If you want to maintain exceptional health and realize your potential as an athlete, there are a plethora of smart fitness gadgets you can use to transform yourself into a fit beast.
The advanced fitness technology we have now will allow you to analyze every aspect of your workout performance and your body, allowing you to stabilize your strengths and improve upon your weaknesses. It can be a pain trying to keep up with your fitness goals, especially when you factor in optimizing aspects like hydration, heart rate, calorie intake, and other data to help you complete your objectives. Smart fitness gadgets will help you crush your goals, maintain your health, and achieve your desired level of athleticism. If you are a serious athlete or health nut, our list of carefully selected smart fitness gadgets will get you to the next level and beyond.
Ozmo Active Smart Cup Hydration Tracker
Staying hydrated is one of the most overlooked aspects of working out, but with Ozmo's Active Smart Cup, you'll fill up when you need to. This BPA-free leak-proof smart water bottle tracks hydration levels, comes with an interactive app, and has a vibration alert system. You can even sync it with Fitbit and Apple Health for more personalization.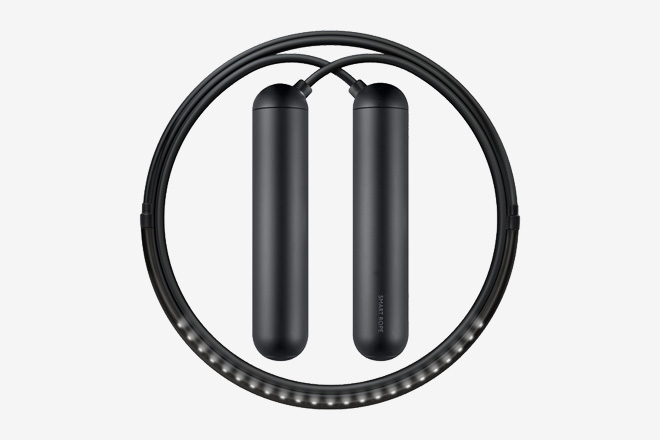 Tangram Smart Rope
Jumping rope is one of the best killer cardio workouts you can do and the Tangram Smart Rope will help you step it up a notch. As you're skipping rope, this piece of workout equipment will display stats in mid-air via LED lights. The Tangram Smart Rope is able to store 100 sets of fitness data to help you get lean.
UpRight Go Posture Trainer
Condition yourself to have a strong, healthy posture with the UpRight Go Posture Trainer. This trainer provides real-time posture feedback via a mobile app, allowing you to toughen up your core muscles. According to UpRight, this trainer is recommended by physiotherapists and chiropractors. Also, it comes with a 30-day 100% money back guarantee.
Skulpt Performance Training System
Measure your overall body fat percentage at any time with the Skulpt Performance Training System. Grab accurate data and analyze which of your muscle groups needs more attention so you can achieve peak performance. The system is capable of identifying the relative strength of 24 muscle groups in various areas of your body so you can personalize your workouts further.
iFit Sleep HR
Sleep definitely isn't for the week, as getting the right amount will help you in dominating your workout the next day. The iFit Sleep HR will track the quality of your rest by monitoring your heart rate, respiratory rate, and nightly sleeping patterns. It also has a 'FreshWake' smart alarm system that will wake you up at the ideal part of your sleep cycle.
NutriBullet Balance Smart Blender
To help boost your energy and manage your weight, the NutriBullet Balance Smart Blender provides you with the exact nutritional value of any smoothie you create. This includes calories, fat, protein, and sugar of the smoothie. You can choose from hundreds of healthy recipes from top nutritionists and dietitians via the accompanying app.
iHealth Core Smart Scale
This medical-grade body composition scale is capable of tracking nine different facets of your body, providing you with a comprehensive understanding of your weight. The iHealth Core Smart Scale determines your BMI, lean mass, daily calorie intake, and bone mass. Guide your health in the right direction and make adjustments to your lifestyle habits with this smart scale.
FitBit Charge 3
If you want to get a tried-and-true fitness tracker, you can't go wrong with the Fitbit Charge 3. The fitness tracker comes equipped with a 24/7 heart-rate monitor, sleep tracking capabilities, and goal-based exercises. Stay connected while you exercise with smartphone notifications and personalize your workouts with goal-based exercises.
Bose SoundSport Free Wireless Headphones
When it comes to audio for fitness, you can't beat the Bose SoundSport Free Wireless Headphones. The weather and sweat-resistant earbuds come with three different pairs of sports tips for the perfect fit and an app to personalize all the sound settings. They also have a five-hour battery life and a 'Find My Buds' feature in case you happen to lose them during an intense gym session.
HyperIce Vyper 2 Foam Roller
Proper recovery is key to evolving as an athlete and the HyperIce Vyper 2 Foam Roller will help your muscles feel brand new. The foam roller features three speeds of high-intensity vibration to relax and unwind your tired muscles so you can kill your workout the next day. It also has a dual-zone smooth exterior construction and lasts for over two hours on a single charge.
Sensoria Smart Sock V2.0
Sensoria's smart socks are made from advanced fabric with proprietary textile sensors made specifically for running. The socks work with a mobile app that guides you with the help of real-time audio cues as you run. These socks collect real-time data, including steps, calories burned, altitude, speed, and distance.
Beast Sensor
This real-time sensor will tell you just how much you are pushing for each rep right on your smartphone screen. The sensor will keep track of all your lifts, in addition to measuring the speed, force, and power of all your movements thanks to cutting-edge accelerometer technology. This high-tech sensor will also calculate the optimal conditions for each workout you do based on your daily goal. Get instant metrics from each lifting session, allowing you to push yourself into true beast mode with the Beast Sensor.
Nexus Crossfit Tracker
If you like to mix up your workouts to shock your muscles with CrossFit, the Nexus tracker will help you give maximum effort. The tracker is built with an accelerometer and a gyroscope to analyze movements, giving you precise metrics for your CrossFit data. The app tracks velocity, reps, displacement, time, and power.
PowerDot 2.0 Muscle Stimulator
The PowerDot 2.0 Muscle Stimulator will help you recover after a grueling workout session. The device comes with an intuitive app that boasts over ten muscle stimulation programs. The FDA-cleared stimulator will help in reducing your recovery time so you can get off the bench in no time. Not only will it help you recover, but it will also improve muscular performance.
Stealth Professional Plank System
Planking is a tremendous workout for your core, which is an important area to develop for any type of sport you enjoy. The problem is that planking can be intimidating, but with the Stealth Professional Plank System, you can turn it into a game. This planking platform with a 'Biofoam' support pad comes with two gaming apps: Stealth Core Challenge and Stealth Speed Gliding.
GoPro Hero 7 Camera
Proper technique is a critical part of working out, and strapping on a GoPro can help you analyze your performance visually. On the other hand, you can simply capture the intense nature of your workout for the digital world. The GoPro Hero 7 is the action camera to beat with 4K video capabilities, 60 fps, and gimbal-like stabilization so you don't miss any important details. It also has 16 voice commands so you can prompt it throughout your sweat session.
Bowflex Selecttech 560 Dumbbells
For those looking to get a solid pump at home, the Bowflex Selecttech 560 Dumbbells are unrivaled. The Selecttech weights wipe out the need for an entire rack thanks to each bicep-builder being able to adjust from 5 to 60 lbs. In addition, you'll be able to record weight, sets, and reps for your workouts via integrated Bluetooth technology and the supporting app compatible with iOS and Android. If you need more motivation, the app has a Three Dimensional Trainer for step-by-step coaching to help you max out and gain mass.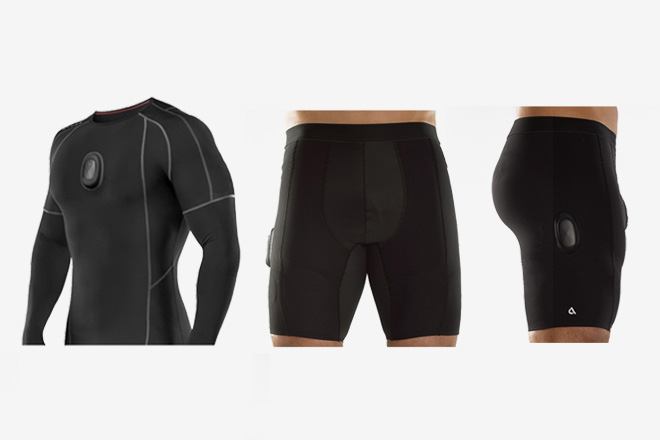 Athos Men's Full Body Kit
With the Athos compression shirt and shorts, you'll receive real-time biometric tracking for your muscle activity. The sensors in the garments will read bio-signals, delivering data straight to your mobile app, informing you which muscles are working and how much they're being utilized. Receive data for major muscle groups, including your biceps, pecs, glutes, and hamstrings.
Mirror Interactive Home Gym
When you can't find time to get to the gym or it simply becomes a hot box of sweaty New Year's resolution rookies, the Mirror Interactive Home Gym is the next best thing. This home gym looks and functions like a regular mirror until you turn it on and the LCD screen lights up and connects you with professional trainers. The Mirror features an interactive display complete with a camera and speakers to create an authentic training experience right from your home. Choose from over 50 live workouts, including boxing, cardio, yoga, and strength training.
Technogym Mycycling
Technogym Mycling is a trainer with realistic road inertia to give you a genuine cycling feel indoors. The device continuously varies pedaling and cadence power to challenge your muscles and give you an authentic cycling experience. You'll also be able to communicate with certified coaches via the Mycycling app to help you reach peak performance.
15 Best Workout Apps
Now that you've scoped out the best high-tech fitness devices out there, it's time to dive into more digital fitness essentials. Check out our picks for the best workout apps you can download right now.
HiConsumption is reader-supported. When you buy through links on our site, we may earn an affiliate commission. Learn more