Although denim jeans were originally developed as a hard-wearing work pant for miners during the height of the California Gold Rush, these days, you'd be hard-pressed to find someone without at least one pair in their rotation. And it's not without good reason. After all, jeans are one of the few garments that are so timeless in design that they'll never go out of style — a welcome departure from the fleeting trends of mainstream fashion. And because of their durable construction and unique wear properties, they'll not only last you for years on end but also take on their own rich patina in the process.
But let's face it. With so many different kinds of jeans being produced today, it can prove quite the tall order to find the best pair for your needs come time to buy some for yourself. Sure, you could limit your choices to a certain cut or a particular style, but then you still have to take things into account like wash, weight, and stretch. Add to that selvedge vs. non-selvedge and it's enough to make even the most dedicated shopper's head spin. The good news is that you don't have to go it alone. On the contrary — having trawled through the many thousands of jeans the market has to offer, we've done our damndest to curate 25 picks that we feel are worthy of your consideration, each one bringing something slightly different to the table. So have a read and see what we've picked for the best jeans for men.
Uniqlo Regular Fit Straight Jeans
If you're after some solid straight-legged jeans but you can't afford to drop hundreds of dollars on your denim, this pair from Uniqlo should do just the ticket. At only 50 bucks a pop, they're an incredible bargain; however, these aren't just some budget buy. Rather, with their mid-rise and vintage look, they'll quickly become a mainstay in your rotation. And, as an added bonus, they're crafted using a waterless wash method, making them pretty eco-friendly to boot.
Everlane The Relaxed 4-Way Stretch Organic Jean
Everlane launched its Uniform Collection back in 2019 in an effort to provide high-quality men's basics at an affordable price point. As part of the line, the relaxed 4-Way Stretch Organic Jean comes backed by a 365-day guarantee, meaning that if you're not happy with their durability one year on from purchase, you can have them replaced no questions Available in three different colors — including Dark Indigo, Indigo Fade, and Black — this is one option well worth a look.
Flint And Tinder Vintage Overdye Straight
Although plenty of blue jeans boast an American-made construction, those that can say they're made with homegrown fabric are few and far between. This Vintage Overdye pair from Flint and Tinder started as some North Carolina-sourced 11.5oz Cone Mills denim before being shipped out to Los Angeles where they're were then cut, sewn, and washed. Add to that some herringbone pocketing, antique metal buttons, and some sharp detail stitching and you have yourself a winner.
Unbranded UB322 Straight Fit 11oz Indigo Stretch Selvedge Denim
Let's be honest — raw denim isn't exactly known for being the most forgiving material out of the box, in many cases being both incredibly stiff and difficult to work with. However, Unbranded's UB322 is an exception to the rule, because they come with a 1% stretch profile — just enough to make them much easier to wear from day one. And, as they age you'll get to develop a fade entirely your own.
Outerknown Ambassador Slim Fit Faded Indigo
As is the case with any of Outerknown's offerings, the Ambassador Slim Fit jeans are made to be as sustainable as possible. In practice, this means that they're not only made at the Saitex denim factory in Vietnam — one of the most environmentally responsible in the world — but also certified to Fair Trade standards. And when you consider that the Ambassadors come with a S.E.A. JEANS lifetime guarantee (meaning Outerknown will replace them if they wear out), you'd be remiss not to give them a look.
Buck Mason Ford Standard Jean
Above all else, it's important that a good pair of jeans fit like a glove, which is why Buck Mason's Ford Standard silhouette is a cut above the rest. That's because they're made with a mid-rise and a full cut through the hip, ensuring there's plenty of room to keep you comfortable. But they also taper from the knee before ending with a slightly wider opening — slim enough to keep you looking stylish but not so much so that you can't fit a pair of boots underneath.
American Giant Dakota Straight
American Giant is a brand founded upon the principle of bringing manufacturing back to the states by supporting smaller supply chains and local communities. When it comes to their Dakota straight, this means that the fabric is first woven in Trion, Georgia before being flown out to Los Angeles, California. Hand-sanded for a slightly distressed finish, they also feature such details as a custom leather patch and some red interior accent stitching.
Allsaints Dean Slim Jeans
Sure, most skinny jeans are best suited to the narrow-waisted and the stick-legged, but this pair from Allsaints is decidedly more accommodating. For starters, they're cut with a classic slim leg, making them the perfect middle ground between straight and skinny. And because they feature a bit of built-in stretch, you can rest assured knowing you can sit down without ripping a hole in your rear end. Good thing too — you won't want to ruin that unique Allsaints coffin pocket.
Todd Snyder Slim Fit Stretch Medium Indigo Wash
Todd Snyder recently overhauled their entire denim collection in order to better cater their offerings to a variety of buyers. As part of the 'Stretch' line, this pair of medium indigo wash jeans is crafted from a lightweight 12.5oz fabric with 1.5% elastane to keep them comfortable from day one. Add to that vintage-inspired details such as some antique copper rivets and a suede-embossed rear patch, and you have a pair of jeans that are as handsome as they are hard-wearing.
Naked & Famous Easy Guy Cerulean Kasuri
For those who want a subtle way to stand out from a crowd of otherwise American-made denim, it doesn't get much better than this pair of jeans by Naked & Famous. Dyed using the traditional Japanese Kasuri method, they feature an irregular indigo pattern that varies from near-black to bright blue. And because they're accented by some eye-catching selvedge stitching, you better believe that they'll impress even the most hardcore of denim devotees.
Taylor Stitch The Democratic Jeans
Given that the Cone Mills plant closed back in 2017, American selvedge denim jeans are becoming increasingly difficult to find — especially at this price point. Lucky for you, the good folks at Taylor Stitch got their hands on a limited supply of deadstock fabric and felt that the only way to properly commemorate Cone Mills was to make some jeans of their own. With their medium rise and custom San Francisco map pocketing, The Democratic Jeans make for an offering too good to pass up.
Railcar Spikes X001 13.5oz American
While most of the jeans on the market today are a far cry from their utilitarian forebears, Railcar is a brand that was founded on the principle of providing high-quality workwear. As such, their Spikes X001 jeans are as tough as they come, for they combine a hefty 13.5oz construction with a double waistbanded design. In other words — they're less a pair of pants than they are a long-term investment. But the best part is that Railcar will even hem them to your liking free of charge.
A.P.C. Petit New Standard
With their French design and Japanese construction, A.P.C.'s Petit New Standard jeans give you the best of both worlds without the unwanted compromise. At 14.5oz, they're not what you'd consider lightweight, but thanks to their straight mid-rise and tapered fit through the legs, they're more than manageable when being worn. If you're not sold yet, just check out the detail work. For instance, the top button comes engraved with "A.P.C. rue Madame près du Luxembourg" and the selvage stitching runs the entire length of the inner fabric.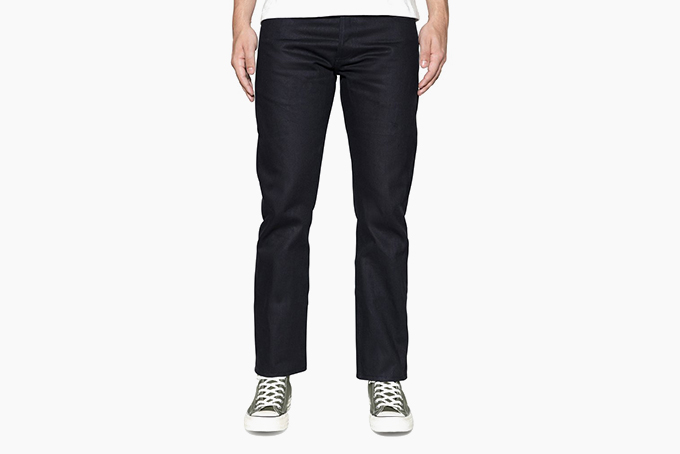 3sixsteen SL⁠-⁠120x
3sixteen's SL-120x is made using an exclusive 14.5oz raw Shadow Selvedge denim woven by the Kuroki Mills plant in Japan. This means that despite their initial near-black wash, over time they'll fade to a nice even blue. But that's not all — they also come with some unique selvedge detailing, custom gunmetal shanks and rivets, as well as a classy Tanner Goods leather patch. And thanks to their modern slim straight fit, they're the perfect pair of jeans to bring out your inner 70s rockstar.
Tellason John Graham Mellor Slim Straight Selvedge Jeans
There's nothing worse than diligently breaking in your denim until it's reached well-worn perfection, only to have it shrink upon its first stint in the wash. Thankfully, Tellason's John Graham Mellor Slim Straight jeans come sanforized, meaning that they're stretched and pre-shrunk right from the mill. Oh and if you're perpetually repairing holes in your pockets, these are the jeans for you — they come double-lined and extra-heavy for maximum durability.
Raleigh Denim Jones Jean
In contrast to many jeans that are an interstate or even an international affair, Raleigh Denim's Jones Jeans are made entirely in North Carolina. So, after the fabric is spun at the Cone Mills plant in Greensboro, it's then cut, washed, and sewn right in downtown Raleigh. With their hand-signing on the pockets, signature red chain stitch hem, and super-soft 11.5oz fabric, these are a case in point as to the value of homegrown manufacturing.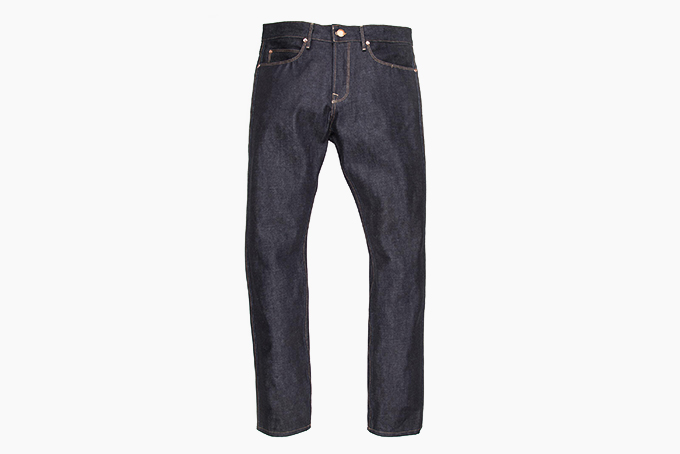 Freenote Cloth Rios 14.50 Ounce Kaihara Denim
Freenote Cloth was founded in 2013 by brothers Andrew and Matt Brodrick in order to provide premium American-made menswear. Based in San Juan Capistrano, everything about the brand oozes classic Americana, and these jeans are a case in point. The product of over two years' worth of development, they feature a 14.5-ounce Kaihara Mills denim with a custom leather patch made from Red Wing Heritage leather. And if that wasn't enough, Freenote Cloth has even matched the buttons to its signature gold selvedge ticking.
Rag And Bone Fit 2 Schaefer
Light wash jeans are back and hotter than ever — just take a look at this pair from Rag And Bone if you find yourself in need of further proof. Made from Italian Schaefer fabric, they come with a Fit 2 profile, meaning they're cut slim with just a touch of stretch for extra comfort and shape retention. And while these jeans already boast a slightly distressed look, they'll only get better the more you wear them.
Nudie Jeans Gritty Jackson Dry Maze
In many ways, a good pair of blue jeans is like a fine — it'll only get better as it ages, and it'll take on its own unique character in the process. With this pair of Gritty Jacksons by Nudie Jeans you'll find this proves especially true because, in addition to developing a wash unique unto themselves, they'll also come to show their depth in more detail. So, while they may start out as a fairly low contrast affair, over time they'll come to show their embroidery more as they fade, and the tobacco stitching will become less pronounced.
Levi's 1955 501 Jeans
Let's be honest. No list of jeans would be complete without Levi's, and there's no better way to represent the brand than with a pair of 501s ripped straight from their archive collection. This 1955 redux is an homage to the counterculture of the 50s, meaning that it has both a looser cut through the seat as well as a wider profile through the leg — what Levi's calls an "anti-fit." Crafted from denim specifically developed to mimic selvedge fabric of the period, these are about as close to the original as you can get.
Deus Isola Straight Denim Vintage Indigo
Part bespoke motorcycle builder, part stylish men's clothing outfitter, Deus Ex Machina is an international powerhouse that's made a name for itself at the intersection of quality construction and cutting-edge design. These Isola jeans are no exception because, although they're sewn in Los Angeles, they're made from a 13oz Japanese selvage denim and feature some Italian Cobra hardware. In other words — they're a global phenomenon.
Orslow 105 Standard Jean
While most of the Japanese denim jeans we've included on this list were made right here in the USA, this pair from Orslow was crafted across the Pacific in Japan. Inspired by a vintage silhouette pulled from the archives of Ichiro Nakatsu's design portfolio, they're sewn using a white selvedge fabric, come finished with a unique neppy look, and — for the cherry on top — they sport a sweet retro patch on the waistband.
Glenn's Denim GD111 Slim Straight
At the end of the day, there's no true one-size-fits-all approach to jeans — as they're unique in their wear pattern so too should they be unique in their fit. Lucky for you, each pair of Glenn's Denim jeans is made to order, meaning that although you'll have to make do with a two-week lead time, you'll walk out of it with some denim that's for you and you alone. They even come unwashed so that you can fade them to your heart's delight.
Acne Studios Classic Fit Jeans
Stockholm-based Acne Studios is a name that needs no introduction and it's precisely because of pieces in their collection like this pair of classic fit jeans. Cut from rigid denim, they come unwashed and untreated straight from the factory — perfect for those purists who get all hot and bothered over a little stretch fit fabric. With their high rise and straight leg, you can't go wrong with any of the available colors, whether that's black, light blue, or even moss green.
Iron Heart 21oz Selvedge Denim Straight Cut Jeans
At nearly $400, this pair of jeans from Iron Heart is markedly more expensive than everything else on our list; then again, they are made with rugged 21oz fabric that's near twice the weight. And because they've been overdyed right after construction, Iron Heart has managed to make them not only super-soft but also virtually shrink-free. So wear them hard and wash them as often as you like — the black will gradually fade to become more of a beautiful indigo color.
How To Break In Raw Denim
While most other garments are pretty simple in terms of their longterm care requirements, jeans are a different matter. If you want to be sure you're going about it the right way, be sure to check out our guide on how to break in raw denim.