In this day and age, there are nearly as many ways to listen to music, the radio, or podcasts as you can imagine. If you're headed to the gym and need a good playlist to pump you up, you can strap on a pair of wireless workout headphones. If you're a hardcore movie buff with a hankering for cinema-quality audio, you can hook up a fully-featured home theater in your living room. There are even portable waterproof speakers for outdoor adventure.
Of course, sometimes all you're looking for is easy, immersive audio for a specific room in your home, be that your office, workshop, garage, bedroom, or even a common area. In that case, you can't really go wrong with a pair of bookshelf speakers. These versatile devices can offer immersive stereo sound without the bulk of, say, standing speakers and they're small enough to stash out of the way on a desktop, shelf, or otherwise. Of course, as is the case with anything (especially tech), some are better than others. That's why we've rounded up below our picks for the eight best bookshelf speakers you can presently buy.
Active vs. Passive
Standalone or System
Picking up a pair of bookshelf speakers, as much as we'd like it to be, isn't as simple as finding ones you like and taking them home. Rather, there are a couple of important things you need to know beforehand. The most important factor to consider is whether your speakers of choice are active or passive. It's a fairly simple distinction, but the difference is a massive one.
Active: From a convenience, ease of use, and money-saving standpoint, active bookshelf speakers are hard to beat. That's because this type of speaker has its own built-in amplifier — meaning it functions as a standalone device and can play audio without the necessity of being plugged into a separate receiver or hub. This does mean that active speakers require their own power source — either an A/C wall plug or some kind of onboard battery — but it also means you can save money not having to buy extra equipment to make it work. The big downside to active speakers is that they're limited in regards to sound quality, as you're stuck using the onboard amp. As such, if you have any issue with the sound itself (e.g. it doesn't sound quite as full as you were expecting or there's too much distortion), you either have to deal with it or buy new speakers altogether.
Passive: If you're a hardcore audiophile, passive bookshelf speakers might be compulsory. While they lack the convenience of active speakers, they're far more tweakable, as you can pair them with your amplifier of choice to shape the sound to your exact desires. If you're happy with your speakers but you want a power boost or better control, you simply swap the amp for an alternate option and — voila! — you're upgraded. Another benefit of passive speakers is that they don't necessitate onboard power, functioning instead through speaker cables that connect directly to the amplifier. Finally, because they don't have bulky power systems, passive speakers are often lighter and easier to move around — making deciding your optimum setup much less frustrating and easing the burden of a wall-mounted shelving unit.
Wired vs. Wireless
Fidelity or Convenience
Typically, your choice between wired and wireless speakers is already made by whether or not your bookshelf speakers of choice are active or passive. You see, by virtue of how they are built and their lack of onboard tech, passive speakers do not offer wireless connectivity. That's not to say that amplifiers can't or don't feature wireless tech in the form of WiFi or Bluetooth, but the speakers themselves — which don't have their own power source — simply can not have these features built-in by definition.
For those keeping score: yes, if your chief concern is your ability to stream music directly through your speakers and you don't want to deal with the hassle of picking up a separate amplifier on top of a pair of bookshelf speakers, you will want to purchase ones that are active. However, while the vast majority of active speakers of today feature integrated Bluetooth or WiFi, you should still check to make absolutely sure. Only active speakers can have onboard wireless, but it's not a necessity — so you're better safe than sorry. Otherwise, you might have to plug your phone or hi-fi music player directly into your speakers, limiting their versatility.
Ikea Symfonisk WiFi Bookshelf Speaker
As far as our list is concerned, Ikea's Symfonisk WiFi Bookshelf Speaker — which was made in collaboration with audio brand Sonos — is the only one that doesn't come in a pair — meaning it will cost you an even $200 for a set. That being said, there are a lot of reasons this particular option might top your list. For starters, the compact design was crafted specifically to work both vertically and horizontally — meaning you can stash it on your shelf or mount it to the wall and turn it into a shelf itself. It also integrates with other Sonos products, which is handy if you've loaded your home with smart devices. And it's compatible with Airplay 2, as well as all the major streaming services. And that's just the beginning of what makes this bookshelf speaker so good.
Amplification: Active
Connectivity: Wireless
Bose 301 Direct/Reflecting Speakers
One of the big issues with a lot of non-surround-sound speaker systems is that they often create a single "sweet spot" in a given room where everything sounds great, leaving the rest of the room with less-than-ideal audio. Bose, however, have tried to fix that issue with their 301 Direct/Reflecting Speakers — a pair of discreet bookshelf speakers equipped with proprietary room-filling technology created to mimic what you might hear in a live performance. You will still need a receiver if you want to use these speakers, but their trio of tweeters and 8″ woofer — paired with things like automatic protection circuitry, a Spacial Dispersion speaker lens (made to spread out the sound more evenly), and more — more than make up for their shortcomings for those who don't mind the necessity of an amplifier.
Amplification: Passive
Connectivity: Wired
Bowers & Wilkins 606 Bookshelf Speakers
Although these are not Bowers & Wilkins' top-shelf option, the 606 Bookshelf Speakers do benefit from trickle-down technology developed for the brand's award-winning 800 Series Diamond over the course of a whopping eight-year period. For reference, this cone technology — called Continuum — is meant to craft a "pure and precise soundscape" that's intended to recreate whatever you're listening to with exacting fidelity. In laymen's terms, that means what you hear from these speakers (and your receiver of choice) is as accurately recreated from the source recording as possible. These bookshelf speakers are an excellent option for a fairly reasonable price — just don't let the photos fool you, as these speakers don't actually come with the pictured stand.
Amplification: Passive
Connectivity: Wired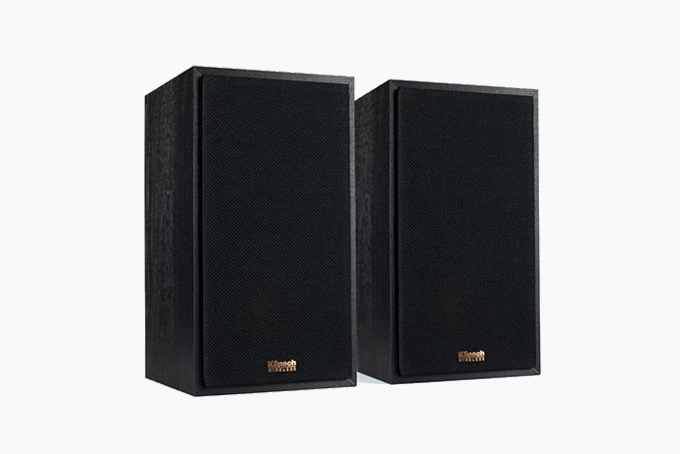 Klipsch Reference RW-51M Bookshelf Speakers
A part of Klipsch's award-winning reference series, their RW-51M Bookshelf Speakers weres specifically designed to offer better sound and fidelity than the top soundbars available on the market today. More than that, however, they're also extremely easy to use and install in just minutes, they're completely wireless (so you don't need an amp/receiver to use them), and they're loaded with Klipsch's exceptional proprietary audio tech. Their versatility and the possibility for surround-sound integration are perhaps their best features, as these speakers were designed to function both as a standalone pair or they can be integrated into the brand's other Reference systems — everything from a simple 2.0 stereo up to their room-filling 7.1 home theater system.
Amplification: Active
Connectivity: Wireless
KEF LSX Wireless Music System
KEF is one of the top names in home audio and they've got the accolades to prove it. In fact, their LSX Wireless Music System has won several awards itself — including two product of the year awards and one for best all-in-one systems. And while their hi-fi sound is definitely one of the main contributing factors, they're also special for their lossless wireless tech, compact format, streaming versatility (they work with Apple's AirPlay 2, as well as a number of other services), HomeKit integration (so you could potentially control them with just your voice), and a quartet of handsome colorways. If you want superb sound in a simple, handsome package, this KEF offering might just be your best bet.
Amplification: Active
Connectivity: Wireless
Shinola Bluetooth Bookshelf Speakers
Shinola specializes in watchmaking — after all, that's how they got their start — but they've also grown into far more than just a wearable accessory brand. In fact, they make everything from bags to bicycles and even these Bluetooth Bookshelf Speakers. Done up in the Detroit brand's signature minimalist styling, these speakers were made in conjunction with Portland, Oregon outfit Barefoot Sound — a firm that specializes in professional-quality audio equipment. They're drop-dead gorgeous, made to work in tandem with the brand's Runwell turntable, they feature both Bluetooth and USB compatibility, and (most importantly) they sound incredible no matter what you pump through them.
Amplification: Active
Connectivity: Wireless
Dynaudio Xeo 20 Bookshelf Speakers
Though at a glance, Dynaudio's Xeo 20 Bookshelf Speakers look fairly basic (albeit extremely clean), they are anything but. In fact, their minimalist shell hides quite a few surprising high-end features. But that's what you get when a company like Dynaudio uses their 40 years of expertise to build some of the best compact, digital, wireless, hi-fi bookshelf speakers around. That includes Esotec tweeters and drivers, aluminum voice-coils, 65W digital amplifiers, and precision tuning. For reference, these home speakers were actually based on the brand's celebrated LYD 5 professional studio monitors — which means they are about as close as you can get to pro-level audio in a home-friendly format.
Amplification: Active
Connectivity: Wireless
Q Acoustics Concept 300 Bookshelf Speakers
Though they're not active — meaning you'll need an amplifier/receiver to use them — the Q Acoustics Concept 300 Bookshelf Speakers are the cream of the crop, unmatched in their category. Of course, that does come with an extremely high price, but the design and engineering behind these speakers (based on the brand's lauded Concept 500 floorstanding speakers) are worth their weight in gold. Aside from a beautiful design and a trio of available colorways, these speakers boast exceptional hi-fi internals, an innovative Isolation Base Suspension System to prevent vibrations from exiting the bottom of the speakers, P2P cabinet bracing to avoid unnecessary energy expulsion and increased levels of audio distortion, and they even come with specialized steel tripod stands (though they work just as well on a shelf). Yes, they come at a top-shelf price, but they're also some of the most exceptional bookshelf speakers ever created.
Amplification: Passive
Connectivity: Wired
The 12 Best Floor Standing Tower Speakers
If you've got plenty of room and you want a bit more oomph out of your stereo, you'll be happy to know that we've thrown together a collection of the best floor standing tower speakers that money can buy.