If you're an Apple Watch owner who wants to stand apart from the crowd, finding a personalized watch strap that caters to your own unique style should be the first step you take. Not only does it show the world that you're suave, fashion-savvy, and unique, but it's also a great way to ensure that your investment stays secure and safe, without having to rely on Apple's generic clasp system. Setting out to find your next watch strap might sound like an easy feat, but with millions of different options and offerings flooding the marketplace on a daily basis, how are you supposed to discern what's well-built, and what isn't? That's where we come in.
Since we're avid participants within the online space, we're inundated with different band types, styles, and models on a day-to-day basis. We've seen pretty much all there is to see when it comes to stylish wristwear accessories, whether they be leather-clad classics, durable, nylon-built bands, or more utilitarian offerings that have been inspired by military or field operations. Below, we've decided to round up a handful of our favorites, focusing primarily on construction, build quality, and dependability; but that doesn't mean that we don't have your back when it comes to stylish implementation. Each of our choices has been carefully selected to maintain an eye-catching appearance, as well as inspire a feeling of confidence every time you tighten the buckle.
Monowear Nylon
Utilitarian watch bands are plentiful, but when it comes to variants that you can pair with your Apple Watch, you'll have a difficult time finding one that checks all the boxes. Luckily, Monowear's Nylon strap is the perfect example for those who want to keep things simple but boast a militaristic strap that isn't overly flashy. Each item is crafted with double-layered, woven nylon, and calls upon a set of stainless steel adaptors to ensure a perfect fit with any new Apple Watch Series 5, as well as past models like the Series 4, Series 3, Series 2, and Series 1. It's even possible to use this unique strap with some of the smart device's special editions, including the Apple Watch Nike+, and Apple Watch 'Edition.'
Ninth Co. Leather Single Tour
When Ninth Co. set out to create its Single Tour watch band, it wanted to provide men everywhere with a classy, leather-clad example, without breaking the bank. Instead of spending hundreds on a premium strap, this easy-to-install variant brings the look and feel of a high-end clasp to the Apple Watch Series 1, 2, 3, 4, Nike +, and Apple watch 'Edition,' while still allowing you to go about your daily business without having to worry about the constant threat of damage or abrasion. As a result, the Ninth Co. Leather Single Tour is truly the thinking man's watch strap, allowing him to partake in luxurious accessorization, without the need for deep pockets.
Apple Vitamin C Sport Loop
Amidst all of the third-party suppliers and companies who spend their days crafting the "perfect" watch strap or your Apple device, we're inclined to say that nobody can do it as well as the creator. Apple has certainly hit the genre's nylon strap variant right on the head with its Sport Loop — a lightweight and breathable option that puts simplicity and comfort at its forefront. Each example boasts an easily-adjustable hook-and-loop fastener, a double-layer nylon weave, and an additional cushioning to keep the wearer's wrist free of discomfort. To round things out, Apple has included a set of anchored attachment loops, providing the wearer with exceptional durability throughout the life of the strap.
Native Union Active Strap
Native Union has been an avid proponent of affordable leather accessories for a while now, and when the Apple Watch was announced in 2015, the brand's designers went to work on their very own strap variant. Like many of Native's items, the Active Strap is catered toward a more athletic lifestyle and takes on a water-resistant, genuine leather construction, sweat-, and stain-resistant treatment, and a hypoallergenic fluoroelastomer backing, helping to protect it from wear, fade, and abrasion during daily wear. Since the band was tailor-made for the world's most active Apple Watch users, it also features an Activity Tread — a customized trait that allows for increased airflow around the wrist.
Urban Armor Gear Active Strap
Urban Armor Gear's Active Strap is a formidable example that's been built to take on the world's toughest environments. Not only does it feature a high-strength material design, but it's also been complemented by durable, stainless steel custom hardware, and features an enhanced hook-and-loop fastener for increased security. Thanks to its dependable nylon weave, you'll be able to utilize the Active Strap in a variety of different areas of life. Whether you're on the job site, heading out to the beach to catch some waves, or packing up for a rock climbing adventure in the mountains, UAG's high-quality strap certainly won't disappoint.
Nomad Modern Strap
Nomad has quickly become one of the genre's most notable tech accessory providers, and with a catalog that spans virtually all of today's modern smart devices, it's no surprise that the Apple Watch was at the top of its list. The brand's Modern Strap features the same quality and craftsmanship that we've seen in droves since the company's inception. Calling upon premium Horween leather, a custom-designed, metal-injection-molded buckle, and marine-grade 316 stainless steel, the Modern straddles the line between a performance-focused band and one that's been built for show. Because of its unique leather, the strap will garner a personalized patina over time, giving each example a look that's different from its peers. If you're looking to stand out from the crowd, but want a watch strap that can stand up to the rigors of life, the Nomad Modern is for you.
Jack Foster Chromexcel Standard
Jack Foster's Chromexcel Standard strap is yet another aesthetically-oriented offering from one of the world's foremost style brands. Like the aforementioned Nomad, this unique variant takes on a natural Horween Chromexcel construction, raw edges, and a hand-stitched persona, giving each example its very own character. But, what makes Jack Foster's Chromexcel Standard so special is its exclusivity. Each strap is finished in your choice of thread and buckle; and since the brand won't build it until you buy it, you can rest assured knowing that your Apple Watch accessory hasn't been sitting around on a shelf somewhere, waiting for its next owner.
ullu Apple Watch Band
Ullu's Apple Watch Band might sound generic, but that wouldn't be farther from the truth. The brand's handcrafted, premium leather offering is crafted from the finest materials, including genuine leather that's been sourced from Italy, a stainless steel buckle, and genuine Apple lugs, ensuring a perfect fit when compared to other off-brand accessories. Since the brand has opted to utilize natural leather for this example, buyers can expect the model to garner a unique patina over time. Depending on how (and where) it's used, each ullu band will reflect the personality and character of its owner, giving it an edge over variants that are more focused on mass appeal.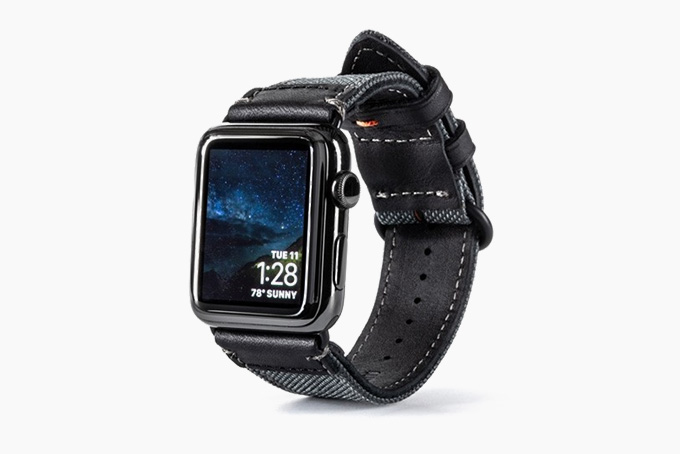 Pad & Quill Field Strap
Pad & Quill's Field Strap is a heritage-inspired model made for the outdoors. Influenced by the field watch straps of yesteryear, this unique offering boasts one of the most enticing constructions on our list. Instead of the premium leathers we've seen in alternative offerings, the Field Strap utilizes a durable, water-resistant Cordura fabric upper, American full-grain leather accents, and a nickel finish, giving it an air of tastefulness that few models can match. To round things out, each example is held together by a UV-resistant stitch thread (the same kind found in parachutes) for unparalleled durability. If you're a fan of retro design and want to bring a functional, utilitarian look to your Apple Watch, the Field Strap shouldn't disappoint.
Form Function Form Button Stud
Form Function Form's Button Stud band is one of the more unique offerings on our list. Instead of the traditional clasp and closure that can be found on many of today's modern strap examples, the Button Stud utilizes a single, customized closure that's been sized, shaped, and sewn specifically for your own wrist. Each model features a premium Horween leather construction, courtesy of the brand's centurial Chicago, IL tannery, and comes complete with a laser-cut, hand-burnished exterior that's equal parts suave and supplemental. Of course, you also have a choice between stainless steel or DLC Black hardware, allowing you to tailor the strap's smaller specifications at will.
Bexar Goods Apple Watch Strap
Bexar Goods' Apple Watch Strap is a personal favorite, and while it might not be as functionally-focused as some of the other offerings that we've covered thus far, it's at the top of the list for aesthetic prowess. Each great-looking band features a precisely-cut American Bridle Leather strap, Apple Watch hardware, and lugs, and a variety of alternative hardware finishes. For this guide, we decided to focus on the Sport Space Grey and Medium Leather option, which gives off an air of heritage appeal, without straying too far from the smart device's modern demeanor. To round things out, a hand-sewn saddle stitch and poly-blend cording have been included for enhanced durability and strength.
Hermès Fauve Barénia Single Tour
Hermès Fauve Barénia Single Tour strap rounds out our list as one of the most prestigious models you can own. For those who want the best of the best, and have the money to prove it, this sleek, luxurious model features a premium Fauve Barenia/Ébène Barenia leather construction, a hidden deployment buckle, and an intuitive clasp system that utilizes two distinct side buttons for easy style swapping. While the Single Tour isn't boastful of its performance-focused qualities, it's second to none when it comes to style, structure, and poise, giving any fashion-focused guy the ability to show off his Apple Watch in a tasteful manner.
The 10 Best Apple Watch Cases
Now that you've found the most efficient way to secure your smart device, head over to our guide on the best Apple Watch cases, where we show you some interesting options that'll prolong the life of your new companion.