Presented by
Regardless of your particular relationship with the occasion, there's no denying the effect that Valentine's Day has on our wallets. It's a holiday laden with love-sick anticipation, be it material, romantic, or — in some more unfortunate cases — worry. And while it may not always live up to our expectations, the good news is that it doesn't have to be as complicated as it's made out to be. Especially if gear is all that's required for you to get your fix.
Lucky for you, we're well-steeped in the space and finding good gifts is one of our specialties — a trick of the trade if you will. Whether you're riding it out solo or in search of something for your significant other, rest assured we have an item that's perfectly suited to your requirements. Below we've broken down a grip of gear — including everything from cigars to slippers to sunglasses — to make sure that this holiday is one to remember. So save yourself the stress of shopping and read on to see what we've picked for the best Valentine's Day gifts for men.
PlayMakar MVP Percussion Massager
While we wouldn't recommend an in-person massage given our present living situation, PlayMakar's MVP Percussion Massager is the next best thing. With six different intensity levels — ranging from 1200 to 2700PPM — and an ultra-quiet 45dB operation, it's a gift primed to deliver some much-needed rest and relaxation.
Good Cigar Adventure Pack
If you're looking to share a top-notch smoking experience, look no further than Good Cigar Co.'s Adventure Pack. Each pack ships with all the necessary instructions, including how to cut, how to light, and how to properly smoke cigars.
Mack Weldon AIRKNITx Trunk
Although most underwear would make for an underwhelming gift to open, Mack Weldon's AIRKNITx Trunk are an exception to the rule. Made from moisture-wicking microfiber, they feature a four-way stretch fit for superior comfort.
P.F. Candle Co. Moonrise Reed Diffuser
Whether you're kicking it at home or staying in a hotel room, no one wants the stink of stale air. Thankfully, P.F. Candle Co.'s Moonrise Reed Diffuser does just the ticket, with notes of yuzu, Indian jasmine, and smoked cedarwood to set the mood.
Dapper Design Klip Titanium Knife & EDC Suspension Hook
When you're after a gift that they'll use each and every day, look no further than this handy suspension hook. In addition to working with just about any split-style keyring, it also comes with an integrated cutting tool.
At Glacier's End
Chris Burkard is one of the world's preeminent landscape photographers, combining stunning visuals with staunch environmental activism. This book comes with over 145 pages of his gorgeous glacial stills.
Karas Kustoms EDK Pen
Sure, by now, most of us have made a complete digitized transition; however, a high-quality writing implement is never a bad piece of kit to carry. Karas Kustoms' EDK pen is a case in point, with a 6061 aluminum body and a tumbled finish.
Defy Dopp Kit
A dopp kit is a staple element of any man's travel accouterments, and this one from Defy is no exception. Crafted from durable M35 military truck tarp and hand-cut Horween leather, a combination that ensures it'll be with you for years to come.
Vargo Titanium Funnel Flask
When you need a nice stiff drink to take the edge off, it helps to have a flask at the ready. Vargo's Titanium Funnel Flask makes for an easy choice, with up to 8 ounces of storage capacity and an integrated silicon funnel to save you from spillover.
Greats The Driggs Slipper
Given that WFH will be dictating our wardrobe choices for the foreseeable future, you're doing yourself a disservice if you don't have a solid pair of slippers. This pair from Greats includes a premium faux fur lining and a cushy EVA insole.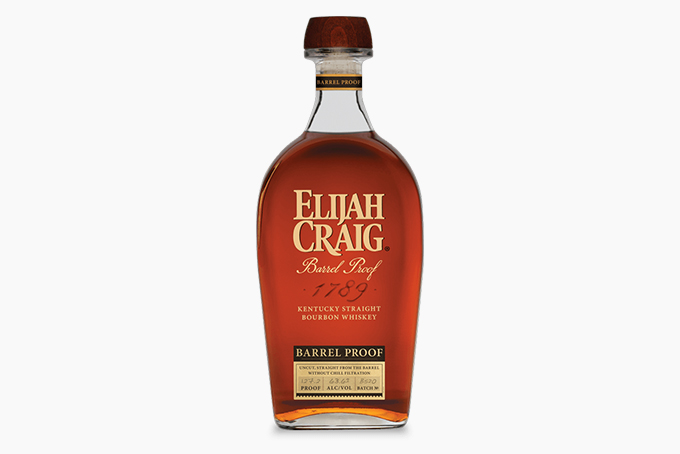 Elijah Craig Barrel Proof Bourbon
With multiple Whiskey Of The Year Awards to its name, Elijah Craig's Barrel Proof Bourbon is a great gift for the rye lover in your life. However, at 128.0 to 140.2 proof, it's not for the faint of heart.
American Benchcraft Hammer Riveted Bill Fold Wallet
Rather than letting them continue to use that crusty old wallet, grab this one from American Benchcraft instead. Because it's cut from a single piece of vegetable-tanned leather and fitted with brass rivets, it can stand up to even the heftiest of card carry.
Flint & Tinder French Terry Sweatpants
You can never go wrong by gifting a comfortable pair of sweatpants — especially if they're even remotely as cozy as are these ones from Flint & Tinder. Not only are they made out of a super-soft midweight French terry fabric; they're also preshrunk for a perfect fit.
Whiskey Peaks Mountain Decanter Set
There's no better way to class up the holiday than with a set of high-quality crystal glassware. This decanter set from Whiskey Peaks features beautiful hand-blown mountain designs, giving "on the rocks" a whole new meaning.
Nest Audio
Upgrade your home sound system with the Nest Audio. This pillow-shaped smart speaker comes with a 19mm tweeter to take care of sound at high frequencies and a 75mm mid-woofer to boost its bass, making it 75% louder than its Google Home predecessor.
Lululemon Shift Stitch Hoodie
And where there are some sweats, a hoodie is soon to follow. lululemon's Shift Stitch Hoodie is made from a soft waffle-knit fabric, meaning it's both sweat-wicking and also quick-drying. A great option for workouts or everyday wear.
Naked Armour Straight Razor Kit
Kickstart their straight razor shave routine with this convenient kit from Naked Armour. Housed in a handsome wooden box, it comes with everything you need to get going, including a blade and travel case, a leather strop, a badger-friendly brush, as well as some natural shaving soap and sharpening paste.
Huckberry x Timex "Cola" Sport Watch
As one of the best horological value propositions in the business, Timex is a name that needs no introduction. This exclusive Huckberry collab was inspired by iconic designs from the 70s and 80s and makes for a great daily driver because of its reliable quartz movement.
SharpEdge Japanese Bunka Chef Knife
Good for any man who likes to get involved in the kitchen, this gorgeous Japanese chef's knife would make a great gift. As an added bonus, it even comes with its own custom-fit knife sheath made from walnut wood.
Persol 714SM Steve McQueen
Made popular by the King Of Cool himself, these folding-frame Persols are an awesome gift no matter the occasion. They're available in four different colorways, making them an easy option to match to the rest of your wardrobe.
Apple Airpods Max
If you're looking to add some hi-fi audio to your WFH setup, Apple's Airpods Max are some of the best headphones you can buy. With a set of premium dynamic drivers and impressive ANC capabilities, these are an option that can't be beaten.