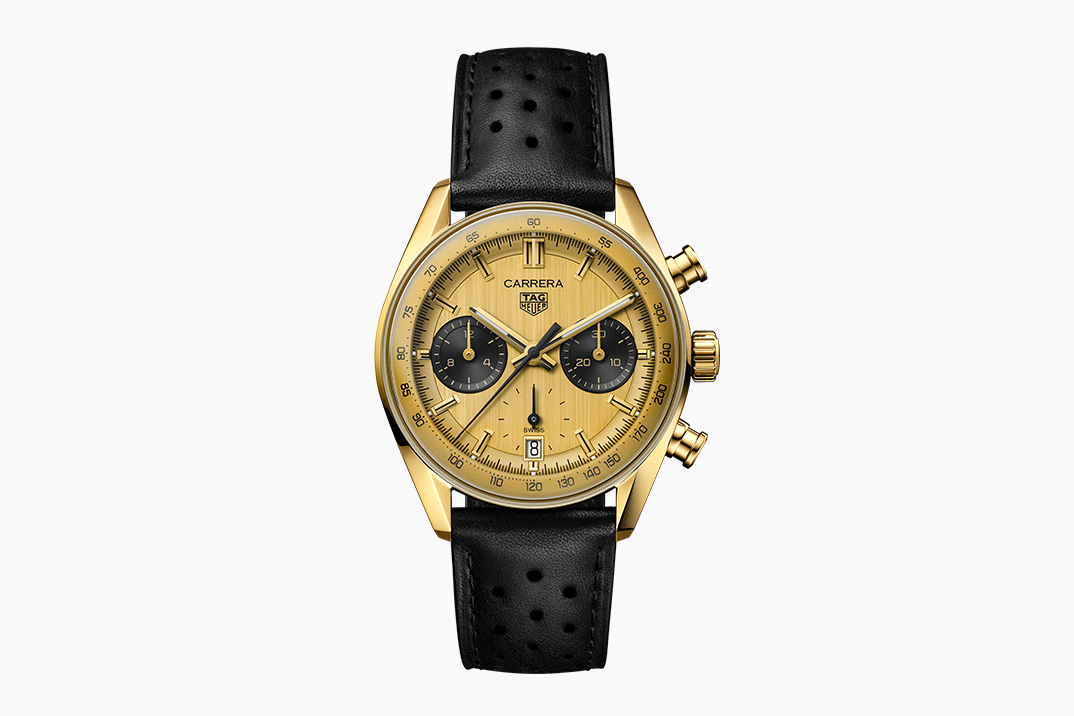 While gold watches aren't as popular as they were 40 to 50 years ago, modern watchmaking has still had a definite place in its heart for the metal. No longer reserved just for dress watches, gold — both as a material and color — is typically seen in luxury models and vintage homages/reissues. One such reissue that fans have been clamoring for is TAG Heuer's 1158 CHN, a legendary timepiece from the '60s and '70s that helped fuse the worlds of racing chronographs and high-end luxury. Well, today, the Swiss brand has surprised us with exactly that.
Beginning in the 1960s, Jack Heuer started gifting 18K gold versions of his company's watches to winners of auto races. This list includes icons such as Niki Lauda and Ronnie Peterson. And now, after coming so close in the past, TAG Heuer has finally recreated the original 1158 CHN watch as the conclusion of the Carrera's 60th-anniversary celebration year. Tapping the newly-released "glassbox" Carrera case, which extends the crystal and, thus, the dial all the way to the outer edge of the timepiece, the beautiful gold reissue sports the same gold dial color as the original in the form of 18K 3N yellow gold plating. On top, there's a bicompax chronograph display with two azure black subdials for contrast. However, there is an arguably superfluous running seconds subdial hidden around the date window at the 6 o'clock spot. All this is surrounded by an 18K yellow gold dial with a 39mm diameter.
Although this issue is not an exact replica of the 1158 CHN Carrera, it comes pretty darn close — at least in terms of feel — and is a sufficient edition for the modern era. Besides, anyone with pockets deep enough for this watch can likely spring for an authentic vintage piece from the '60s or '70s anyway.
The Gold Carrera Chronograph comes out next month from TAG Heuer and will be priced at $21,500.