In 1957, Omega unquestionably had one of the most significant years in its history, with the Swiss brand debuting the Seamaster 300, the Speedmaster, and the Railmaster. And while the diver and chronograph now stand as two of the most iconic timepieces of all time, the same can't be said for the Railmaster. Interested to discover if the watch is worthy of the legendary status shared by the Seamaster and Speedmaster, we've gotten a hold of the latest iteration of the timepiece for this hands-on review of the Omega Seamaster Railmaster Co-Axial Master Chronometer 40mm.
At A Glance
Omega Seamaster Railmaster Co-Axial Master Chronometer 40mm Specs
Case Size: 40mm
Lug to Lug: 47mm
Case Thickness: 12.7mm
Lug Width: 20mm
Case Material: 316L Stainless Steel
Water Resistance: 150m
Movement Type: Automatic
Power Reserve: 55 Hours
Movement: Calibre 8806
Lume: Super-LumiNova
Crystal: Dual AR-Coated Domed Sapphire
Strap: Staggered Three-Link Bracelet
Engineer-Focused Horology
A Super Brief History Of The Omega Railmaster Watch
Designed specifically to meet the needs of railroad engineers and workers — and to stand up to the magnetic and electric fields in which they worked — the original Railmaster first debuted in 1957. Around this time, railroad engineers and workers comprised a large percentage of watch buyers and users, with some horological outfits like Hamilton seeing more than half of its entire stock being purchased by railroad companies and their employees. In the years and decades that followed the Railmaster's 1957 release, the watch received various tweaks and updates as horological technology progressed. Most recently, the watch was reintroduced in its modern form in 2017 — following a brief hiatus after Omega pulled the plug on production half a decade earlier in 2012. This brings us to today's Co-Axial escapement-equipped Railmaster that we've recently had the privilege of testing.
Horological Déjà Vu
Our First Impressions Of The Omega Seamaster Railmaster Co-Axial Master Chronometer 40mm
In typical Omega fashion, the latest Railmaster Co-Axial Master Chronometer feels unmistakably premium, with a decent (5.3oz) heft to it and, more importantly, an immaculate level of fit and finish that blatantly screams "Swiss luxury watch!" Despite having never tried one on prior to our recent weeks of testing, the Railmaster felt strangely familiar as soon as we got it on-wrist. It was at this moment that we realized that our familiarity with the watch was almost certainly owed to the time that we'd previously spent wearing and testing Omega's Seamaster Aqua Terra watch. From the shape of the case to the inverted triangular indices on the dial that it houses, there are numerous key aesthetic details shared by both timepieces. Both watches also look and feel very similar in terms of proportions, despite the Railmaster being slightly larger at 40mm (versus the Aqua Terra's 38mm case).
Even with the undeniable similarities, there are some major differences between these two heritage Oceanmaster references. The Railmaster Co-Axial Master Chronometer sports a vintage-inspired vertically brushed "blue jeans" dial with a brushed stainless steel hand-set — a motif that perfectly matches the all-vertically-brushed finish of the Railmaster's 40mm 316L stainless steel case. What's more, while the Railmaster has always beens something of a cross between a sports watch and a field watch, this latest incarnation is definitely closer to the field watch-end of the spectrum, with a minimalistic and utilitarian dial paired with a spartan case design.
An All-Brushed Beauty
The Omega Seamaster Railmaster Co-Axial Master Chronometer 40mm's Case
The Omega Seamaster Railmaster Co-Axial Master Chronometer 40mm is constructed around a minimalistic case crafted from marine-grade 316L stainless steel. Sporting similar proportions to a field watch — albeit slightly thicker at 12.7mm — the Railmaster Co-Axial Master Chronometer boasts a 20mm lug size, a 47mm lug-to-lug, and, as its name suggests; a 40mm case. Perfectly, matching the denim-inspired dial, the case features an ultra-uniform uni-directionally-brushed finish running in the same vertical orientation as the blue jeans dial. This same brushed motif has also been applied to the case's fixed bezel and knurled screw-down crown — the latter of which sports a raised Omega logo.
Water resistant down to 150 meters, the case has also been capped off with a caseback equipped with a NAIAD LOCK setup and an abstract seahorse design engraved into the metal. Additionally, not only can the watch withstand equivalent forces of up to 5,000 G on its head, but it's also able to survive shocks corresponding to a 1-meter drop onto a hard wooden floor — with this latter trait being shared across the board by all modern Omega watches.
Denim Overalls-Inspired
The Omega Seamaster Railmaster Co-Axial Master Chronometer 40mm's Dial
The Omega Seamaster Railmaster Co-Axial Master Chronometer 40mm sports a beautifully-designed and finish brushed steel case, however, what really makes this watch shine is unequivocally its blue jeans-themed dial. Conjuring up images of the denim overalls traditionally worn by railroad workers, this brushed blue dial boasts subtle but noticeable variation and gradation in value and color — just like real denim. The dial is overlaid with four recessed cardinal hour markers and inverted triangular indices at every other hour. There's also a brushed stainless steel baton-style hand-set that, like the dial's indices, have been generously coated in Super-Luminova paint.
Sitting beneath a domed scratch‑resistant sapphire crystal that's been bestowed with an anti‑reflective treatment on both sides, the dial also features a few other nods to railroad cars and tracks. The perimeter of the dial is lined with a railroad-style motif. More importantly, the "Railmaster" script and seconds hand both sport a rust-colored hue that's been inspired by the golden color seen on oxidized rust-covered tracks and boxcars. The numerals on the dial are also limited just 12, 3, 6, and 9. Just below 12 o'clock is also a classic Omega logo, while just below 6 o'clock are the words "Swiss made." This dial is completed by a crosshair pattern at its center.
An Anti-Magnetic Masterpiece
The Omega Seamaster Railmaster Co-Axial Master Chronometer 40mm's Movement
Like the very first Railmaster watch from 1957, the modern Omega Seamaster Railmaster Co-Axial Master Chronometer boasts stellar antimagnetic properties, with the ability to withstand magnetic fields of up to 15,000 gauss. Like its 55-hour power reserve, this capability is owed to the watch's use of Omega's Co-Axial Master Chronometer Calibre 8806 movement. Boasting METAS Master Chronometer certification, the 8806 is a self-winding motor that sports 35 jewels and beats at 3.5hz. What's more, the movement also features a silicon balance spring that allows for full automatic winding in both directions thanks to a centrally-mounted rotor complete with rhodium-plated finishing and Arabesque Geneva waves.
Sadly, these latter details, while objectively premium and impressive, aren't on display due to the watch lacking an exhibition case back. And, even your local watch shop will seldom get to appreciate the movement's rhodium-plated finishing or Geneva waves very often, as its Co-Axial escapement has been designed to mitigate internal friction and wear and tear, resulting in less lubrication being required. This ultimately means markedly greater intervals between servicing compared to non-Co-Axial watches.
Brushed Steel Simplicity
The Omega Seamaster Railmaster Co-Axial Master Chronometer 40mm's Bracelet
Omega sells the Seamaster Railmaster Co-Axial Master Chronometer 40mm with numerous band, strap, and bracelet options. This includes a whopping 46 different leather and textile NATO straps, as well as more than a dozen two-piece straps such as numerous regular and alligator leather options. With that said, we're extremely partial to the vertically-brushed staggered three-link bracelet that perfectly matches the finish of the 316L stainless steel case. This bracelet boasts a slightly modified take on a push-button butterfly clasp that features a two-stage opening setup with a lasered Omega logo. Also of note is the fact that the entire watch tips the scales at only 5.3oz, and that's when it's equipped with the steel three-link bracelet.
A Modernized Classic, Done Right
Our Final Thoughts On The Omega Seamaster Railmaster Co-Axial Master Chronometer 40mm's Bracelet
As a more elegant and upscale alternative to a traditional field watch, the Omega Seamaster Railmaster Co-Axial Master Chronometer 40mm offers a great deal of versatility, lending itself to a wide variety of settings, wardrobes, and uses. Additionally, with a steel bracelet, a 40mm case size, 150 meters of water resistance, and solid lume, the Seamaster Railmaster also objectively makes for a fantastic everyday watch — albeit one of the objectively premium variety.
The watch also does a superb job of paying homage to the pocket watches and timepieces carried by railroad workers of yesteryear, without coming off as overly gimmicky or outside the box. While it's definitely aimed at buyers with a more formal aseptic taste, the Omega Seamaster Railmaster Co-Axial Master Chronometer 40mm is nonetheless well worth a look for anyone shopping for a thoroughly versatile and high-end GADA watch.
The Best Everyday Watches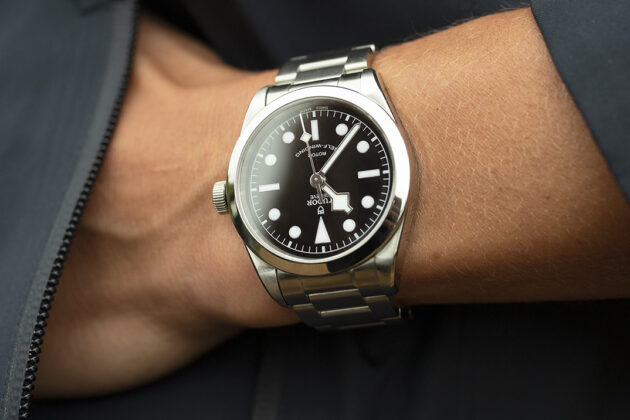 Want to check out a few other fantastic GADA contenders? Then be sure to head over to our guide to the best everyday watches for a curated list of ultra-versatile EDC-ready horological options.