A couple of weeks ago, Bell & Ross unveiled what would be the first redesign of its flagship BR-03 watch range in some 17 years, since it first debuted. The diameter and lug width were decreased, the rounded corners were widened, a new movement was implemented, and a variety of small changes were made to the dial, such as the movement of the date window and the increased focus on legibility. Since debuting its first timepiece in 2005, the French watchmaker has had the world of aviation on its mind, with cockpit instrument design cues across all of its lines — none more so than the BR-03. Now, as we've embraced the latest updates, we're presented with the first new edition to the model range.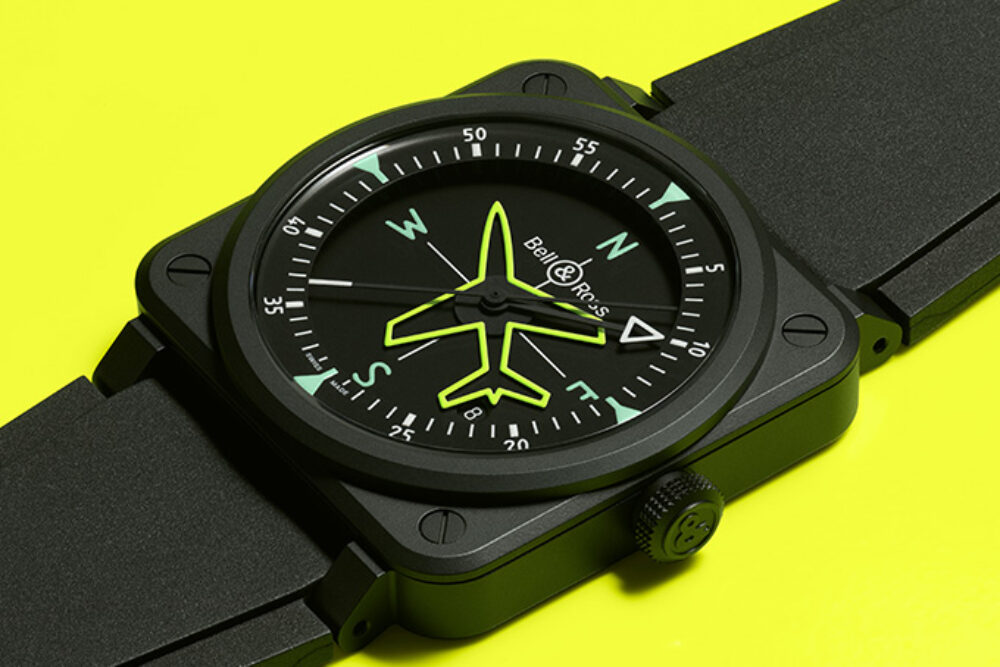 First introduced in 2013 as part of its Flight Instruments series, the Gyrocompass is a traditional time-telling wristwatch that looks like a navigation compass. For this revival of the watch, a few changes have been made. For one, the dial features central hands rather than rotating discs. Likewise, the seconds ring is moved to the outside of the dial rather than the inside like it was the last time around. Powered by a Sellita-based BR-CAL.302, the new Gyrocompass sports a 41mm black micro-blasted ceramic case and a black rubber strap.
Like the previous iteration, the face displays a cross-hair design in the center with four directional points at each end (for North, South, East, and West). Rather than a traditional hour hand, there's a giant yellow SLN silhouette of an airplane that points to the current hour. It may seem like a bit of a gimmick (and it delightfully is) but the configuration may actually bolster the watch's legibility as well. The minute and second hands are rather subtle, with their skinny design, matte black color that blends against the black dial, and slightly lumed tips.
Limited to 999 pieces, the new BR-03 Gyrocompass is priced at $4,500 and is available now from Bell & Ross' website.