Presented by
Everyone knows that if you want the best all-around action cameras on the market, you turn to the folks at GoPro for their exceptional lineup of offerings. And their latest release in that long, successful lineup — GoPro HERO8 Black — is yet another industry-topping offering with an incredible amount of versatility and built-in features.
However, we've found that people tend to pigeonhole HERO8 Black solely as an action camera, and we think that's a shame. Yes, it's ultra-tough, can capture any number of impressive athletic feats in stunning HD — both stills and video — and is small enough to mount on just about any type of helmet. But we're firm believers that it can do quite a bit more than that. That's why we've outlined the following eight unexpected ways to use a GoPro HERO8 Black camera.
Amateur Filmmaking
Whether you're just looking to add a bit of flourish to your family's home movies or you're hoping to pursue a long-term career in the movie-making industry, a GoPro HERO8 Black can be a huge boon to your filmmaking experience. And the reason for this is fairly simple: this camera is absolutely comprehensive in its usefulness. Not only can it capture stunning 4K60 footage, but it also has a bevy of versatile built-in modes — including 8x Slo-Mo, TimeWarp 2.0 for time lapses, and even HyperSmooth 2.0 + Boost for beautiful stabilized time-lapse video even in the hands of a nervous camera operator. Best of all, however, the GoPro app, which you can access via your smartphone, allows you to easily edit your footage on-the-fly — meaning your editing suite can go with you while you shoot. You don't need a full crew and tons of expensive equipment so long as you've got HERO8 Black and a smartphone.
Dashcam
As automotive fanatics, we understand the tremendous amount of love and care some folks have for their cars. For many people, a motor vehicle — especially a classic one — is more than just a means of transportation; it's an adventure vessel you want to share with the world and keep protected like a precious treasure all at the same time. As it turns out, HERO8 Black can actually assist you in that endeavor if you use it as a dashcam along with a simple mount. HERO8 Black's ability to shoot footage in up to 4K will make all the details of your drives as crisp and clear as reality. Plus, you can set up a custom preset mode in your camera's settings to capture looped footage — meaning it will record continuously as you drive, writing over old, unnecessary footage with new film until you manually stop the camera. And that can be pretty handy evidence for your insurance company in the case that you get into a fender bender. Of course, if you just want to share video of a beautiful, speedy drive, you can do that too.
Environmental Photography
GoPro's HERO8 Black boasts a quartet of built-in digital lenses: Narrow and Linear (both of which capture without the fisheye effect), plus Wide and SuperView, which clocks in at 16mm, making it GoPro's widest view ever on a HERO camera. Combine that with SuperPhoto with improved HDR and you'll find that HERO8 Black is an exceptional camera for capturing stunning environmental images. Take that a step further and add in the camera's housing-free waterproofing (good for depths of up to 33 feet) and you can take your landscape photography under the surface of the ocean. Plus, while you're down at the beach, you can wait until the sun starts to set and capture the entire, gorgeous spectacle using the built-in TimeWarp 2.0 time-lapse function or even use its LiveBurst function — which captures 90 sequential 12MP stills at a time — to get the perfect shot of the fabled green flash.
Event Live-Streaming
In case it's not abundantly clear by now, HERO8 Black has one of the most versatile built-in suites of features of any camera anywhere, bar none. But there is one especially significant feature for those who want to share events as they are happening — be they concert performances, parties, unboxings, Q&A sessions, unveilings, or otherwise. We're talking, of course, about its ability to do 1080p live streaming. You don't even need any extra equipment if you want to complement your live stream with crisp and clear audio, as HERO8 Black has a trio of integrated mics that help limit ambient sounds, like wind, for ultra-clear high-fidelity audio. Of course, if you do want to step up your live-streaming game, you can invest in GoPro's wide variety of additional accessories — like the Media Mod (available for preorder) that gives users access to premium shotgun-mic performance, 3.5mm mic and HDMI-out ports, and two cold-shoe mounts or a mountable LED Light Mod for superb lighting.
Pet Photography
For some folks, pets aren't just furry companions; they're full-blown members of the family. And there are few things people like sharing more on social media than pictures of their pets. In fact, if you search for the "dog" hashtag on Instagram, you'll find over 243 million posts. That's a lot of pooch photos. Of course, if you own a furry friend, you're going to want them to look their best in all the photos you take of them, whether in the comfort of your own home or out and about in the city or wilderness. That's where GoPro HERO8 Black comes into play. It's small enough to stash in your pocket, can take 12MP still shots and 4K video at up to 60 frames-per-second, and will make your dog look their best — even if their best is goofy — with every shot or scene. And that's to say nothing of the built-in Slo-Mo mode, which is always good for a laugh.
Point-and-Shoot
As mentioned, people often think of GoPro's HERO8 Black as a hardcore action camera. But if you take a look at all those impressive built-in features that make it exceedingly durable and capable, you might recognize that it's the perfect all-purpose point-and-shoot for just about any occasion. In fact, even in the hands of, say, a three-year-old, every shot still has the potential to look professional — even if they're aiming the camera at themselves. HERO8 Black is also incredibly compact, making it just as ideal for taking on long family vacations as it is for casual weekend jaunts, and that's only aided by its ability to function in just about all weather conditions. The point is, it's easy and intuitive to use and takes up a very small amount of space. The next time you're headed out for any reason and you think there might be a photo op, just stash your HERO8 Black in your pocket and you'll be covered.
Special Event Documentation
Obviously, if you're headed to a wedding, a professional photographer will likely be there to shoot the whole thing. The problem, however, is that the photographer is limited to one time and place and definitely isn't going to catch everything. Furthermore, there are other occasions in a person's life that don't feature a compulsory pro photographer — like graduations, birthdays, bar mitzvahs, quinceañeras, and any other celebratory event. Pair those opportunities with HERO8 Black and you're guaranteed to capture some cherished memories in stunning clarity — whether you choose to shoot stills or video footage.
Social Media
More than ever before, social media dominates the way we share our lives with others. A huge part of that experience includes visual storytelling, both still photography and video. And while our smartphones are increasingly more high-tech and capable, they're still not at the same level as dedicated cameras, like HERO8 Black. Marry all the features previously mentioned in this guide — like 4K video, 1080p live streaming, 12MP stills, and a bevy of built-in lenses  — with the GoPro's handy smartphone editing and sharing app and it's pretty easy to see what a hugely beneficial piece of tech this camera can be for sharing on social media. In fact, the app can even share straight to your social media channels once you're done with your edits. Better still, GoPro is even releasing a flip-up Display Mod screen so you can see exactly how your shots are framed, even when you're taking selfies.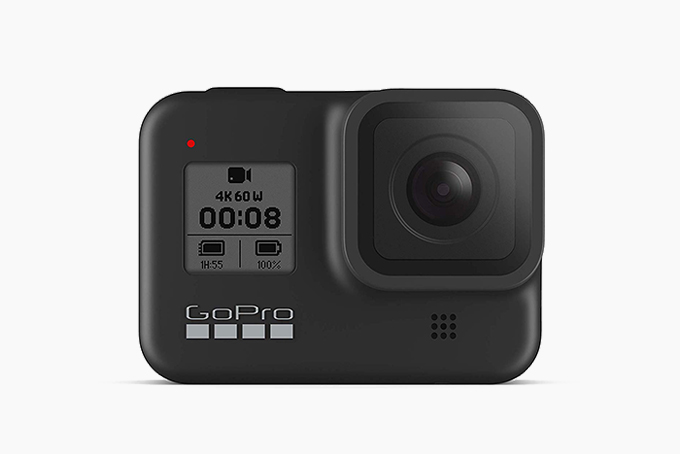 GoPro HERO8 Black
More Than Just An Action Camera
As you can clearly see, while it's definitely well equipped for all those adrenaline junkies out there, GoPro HERO8 Black is far too versatile to be pigeonholed for just extreme sports usage. In fact, most people who like to document their lives in one way or another will find that HERO8 Black a miraculous piece of tech that performs a wide variety of image-capturing tasks better than even dedicated standalone devices. The best part, however, of this do-anything technological marvel might just be that you can get your hands on one for just $399.99.
Hands On: GoPro HERO8 Black Review
If you're looking to get a little more in-depth information as to what makes this camera so great, you'll definitely want to check out our GoPro HERO8 Black review.