Many of today's most prolific camera manufacturers have a long and illustrious history within the world of visual capture. While a handful of these outfits boast decades upon decades of experience within the genre, there are a select few that transcend the boundaries of time, traversing centurial borders, and etching their names into the very fabric of the photographic world. No, we're not talking about Canon, Nikon, Sony, or any of the mainstream juggernauts that are innovating platforms for the professionals (and hobbyists) of tomorrow. Instead, we're focusing on one of the genre's most unerring manufacturers, Leica.
If you're associated with the photographic pursuit in any way, it's likely that you've heard of the Wetzlar-based outfit. From the company's debut in 1869, its very first 35-millimeter film prototypes in 1913, and the subsequent evolutions of the firm's original model, all the way to its modern-day mirrorless offerings, Leica has remained inherently true to its original mission — sometimes, to a fault. For many, the manufacturer's disinterest in technical progression is nothing short of shocking. While brands like Canon, Olympus, Sony, and Nikon continue to bolster their catalogs with each passing year, Leica stands at the edge of the proverbial battlefield, refining its already-established models, issuing new colorways, finishes, and accessories, and referencing its vintage designs for the rare flagship product. Why then, do so many enthusiasts flock to the brand as if it's a bastion of photographic principle — the grail of the visual medium, or the savior of contemporary capture? And why are the outfit's cameras so expensive, despite their apprehensiveness for change? As it turns out, there are a few simple — albeit, obfuscated — reasons why these cameras still demand top-dollar within a genre that has all but left them behind.
Who Is Leica?
A Brief History
To understand what it is that makes Leica so special, we'll take a closer look at the history of the brand. In 1849, Wetzlar, Germany became the home of (what would become) one of the world's most influential camera makers. The company, still in its fledgling days, was originally known among the town's citizens as the "Optical Institute" — a small, ambitious outfit run by owner and founder, Ernst Leitz. In the early years, legendary German instrument-maker, Carl Zeiss, would begin to fashion glass optics alongside the brand, going so far as to introduce Leitz and Oskar Barnack, the figurative "grandfather" of 35-millimeter photography. At this point in time, the compact form-factor of traditional cameras hadn't been invented, but Leitz, being the business-minded man that he was, saw an opportunity to redefine the photographic industry forever, rebranding the original "Optical Institute" as the "Ernst Leitz Optical Industry" in 1869. After learning of Barnack's expertise within the world of engineering, as well as his distaste for the oversized cameras and plates that were needed for early landscape photography, he was employed as the head of the Research & Development Department at Leitz's rebranded endeavor, where he was tasked with the creation of the next innovative design within the world of capture.
In 1913, Barnack introduced the first of his prototypical designs to Leitz. These small, compact cameras were a fraction of the size of their larger, stilted counterparts, and were devised in such a way that they could take multiple shots without the need for a new plate, cartridge, or film stock. At the time, this was a novel idea. Not only did these devices serve as a smaller, more affordable way to test lenses and stocks for motion pictures, but they were also built alongside an interesting new focal length — Leitz employee Max Berek's Elmax 50mm f/3.5 (24 x 36 mm). In 1924, after a series of refinements, Ernst Leitz II would release a preliminary run of the Barnack camera for testing purposes. These early prototypes did not fare well in the hands of their critics, causing Barnack to return to the drawing board for further innovation. Luckily, the Leitz group struck gold in 1925, when it released the second batch of prototypes at Germany's Leipzig Fair. The camera was a resounding success, spurring Leitz and Barnack to refine the platform for continuous production.
In 1930, the Leica I Schraubgewinde was born, and with it, an interchangeable lens system that was based around a 39mm diameter screw thread, which would become universally accepted as the Leica Thread Mount (LTM). Alongside the 50mm lens that was produced by Berek at an earlier date, this unique architecture would also accept a newly-devised 35mm wide-angle, and a 135mm telephoto lens, creating a "holy trinity" for early photographers. In the years to come, the brand would release a handful of rangefinders, cameras, and devices, including the renowned Leica II (in 1932), and Leica III (in 1933). Sadly, World War II would encroach on the progression of the Leica cameras until the 1950s, where variants of the Leica II and III would continue to be produced. It wasn't until 1954, however, that we would see the first introduction of Leica's M3 — a chassis that would bring the fabled Leica M mount into the hands of modern photographers. This bayonet-like mount would redefine the way that interchangeable lens systems were seen by manufacturers — many of which would follow suit to create their own bespoke offerings.
What Makes Leica So Special?
Materials, Detail, And Design
As you might have already surmised, Leica's influence within the world of photography is second to none. Not only did the outfit bring some of the world's finest (and first) compact photography platforms to market, but it did so in the most elegant way possible. Each camera was simple, boasting an ingenious chassis architecture, intuitive operational adornment, and a tasteful design terminology that would remain at the core of the manufacturer's current models. But amidst an industry rife with innovation, why do these minimalistic bodies demand such a high price? The answer is actually very simple; although, there are some technical intricacies that play into Leica's pronounced patronage.
First off, Leica cameras have remained relatively the same in size, shape, and structure since the M3 was introduced in 1954. Minor deviations in these parameters have been issued for improvements to sensor/mirror size, ergonomics, and newly-implemented technologies, but for the most part, all of Leica's models share a common aesthetic code. This means that each and every example can be produced at the utmost quality — oftentimes, in small numbers. Instead of looking at a spreadsheet that tells Leica how many cameras it should build in order to fill a quota, the brand's engineers and artisanal workers are able to devote the time needed to ensure that each model meets the standard set by its predecessors. Since almost all of the company's camera systems are built by hand in its Wetzlar factory, it makes sense that these small-batch models boast the gratuitous price tags that we've become accustomed to. But the image quality and uniqueness of their captures; well, that's something entirely different.
The second and most subliminal culprit behind the prominence of Leica's cameras can be seen in the dissection of its images. This isn't due to the chassis, perse. Rather, it's an effect that's been afforded to the Leica line by generations of research and development, resulting in the production of the world's finest glass. Because these lenses admit next to no light spillage, high-contrast shots have become a trademark of the brand's cameras. Even focus planes, unparalleled sharpness (in in-focus regions), and buttery bokeh also play a large role in the timeless recognition that Leica has received. Pair that with the quality control of the outfit's small-batch offerings, and you begin to see why it is that Leica can demand top dollar for its platforms.
Of course, there's still the fact that vintage photography gear will almost always sell for top dollar, especially if it's a relevant model with a firm basis in the historic schema. Below, we'll take a look at the reasons that collectors and enthusiasts alike flock to the photographic staple.
Why Are Leicas So Expensive?
Simplicity Is The Spice Of Life
While it's true that Leica cameras are second-to-none in terms of uniqueness, the reputation of the brand's distinct platforms has caused many a camera to fall into the hands of photography's most prolific individuals. Premier journalists from the 20th century, including Henri Cartier-Bresson, war photographer David Douglas Duncan, French visionary Marc Riboud, and Thomas Hoepker, are an exceedingly-small number who have documented history with their captivating photographs. For many, Leica is a signifier of their heritage; a connection to the history of the genre, and the "mark" of a true artist who understands the preservationist's perspective.
Surely, not everyone feels the same way. The fact of the matter is this. Within an industry that's so unabatedly focused on innovation — on the creation of the next best thing — our passion for the product has been lost. Not the product, in terms of its material meaning, but in what it produces, signifies, and means. No amount of technology can change the purpose of a camera. It's a tool; a device that was formed and fashioned from the metals of the earth (with a splash of human ingenuity) to capture our memories, freeze them in time and recall them with family and friends. Amidst it all, the appeal of these overzealous platforms is lost on the purist. In contrast, mechanical parts, pieces, and accents garner character over time. They work. And when they fail, it's often due to the inexperience of their user. Leica's examples are a testament to the lost art of camera making; an homage to an era that will live on in the hearts of those individuals who truly resonate with the meaning behind the ill-understood photograph. And that, ladies and gentlemen, is priceless.
Editor's Picks
Spanning The Generations
Below, we've curated a small, three-item list that outlines a handful of favorites from Leica's current catalog. From full-color mechanical models to monochromatic digital, the brand's reputable lineup has something for everyone. These are our recommendations.
Leica M-A (Typ 127) Rangefinder
The Leica M-A (Typ 127) Rangefinder is a testament to the founding principles of photography, boasting a classic 35mm film rangefinder, fully-mechanical operation, and a composition-focused M-Mount that accepts focal lengths from 16mm to 135mm. If you're looking for a vintage experience that's unforgiving in the face of ignorance, this is your bag.
Leica M Monochrom (Typ 246) Digital Rangefinder
Like Leica's alternative offerings in the digital realm, this camera finds a way to adapt the timeless style and structure of its mechanical offerings into a much more intuitive layout, offering shooters the pleasantries of black-and-white photography, without any of the hassles associated with film stock. Like the M10, this unique example boasts a full-frame 24MP CMOS sensor, a Leica Maestro image processor, and an ISO of 320-25000, omitting the color filter array and optical low pass filter of conventional "color" models for a sharper image, overall.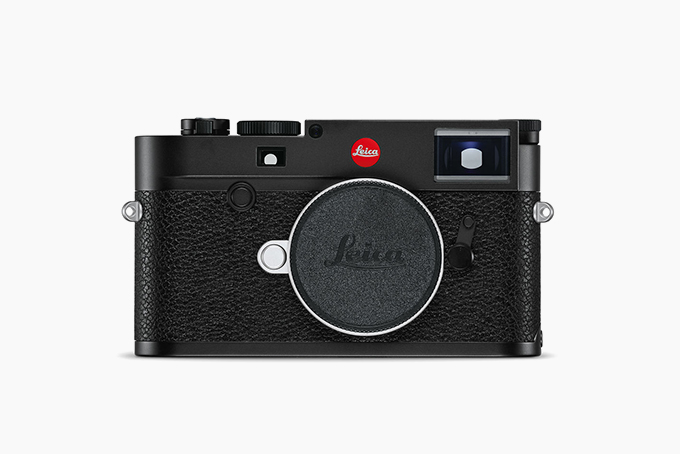 Leica M10 Digital Rangefinder
If you're into the appeal of Leica's cameras but don't want to dive into the deep end with one of its fully-mechanical models, the M10 Digital Rangefinder is for you. Not only does this camera boast the same classic design as its counterparts, but it's been incorporated with an up-to-date 24-megapixel full-frame CMOS sensor, Maestro II image processor, and an expandable ISO of 100-50,000, making it a true workhorse for the modern photographer.
The Complete Buyer's Guide To Leica Cameras
Now that you've got a foundational knowledge about what makes the brand so special, head over to our complete buyer's guide to Leica cameras, where we outline all of the brand's current offerings.