There are a plethora of camera manufacturers out there — few of which can measure up to the strength, tenacity, and size of the "Big 4." But, even when industry powerhouses like Sony, Canon, Nikon, and Olympus hold the largest stakes when it comes to consumerism, iconic companies have still found their own reasons to innovate and adapt. The truth is, if you're not already familiar with Leica, you're missing out on a significantly important variable within photographic history; but we won't shame you for it. Instead, we're going to teach you about what makes this centurial manufacturer one of the most lauded proprietors the medium has ever seen.
When it comes to modern platforms, the implementation of larger bodies, more complex sensors, and higher megapixel counts have rapidly become an industry norm. But, photographic purists will still go out of their way to tell you that minimalism is the "lifeblood" of the discipline — a characteristic that's been overlooked, lost, and diminished by the market's current figureheads. They're not wrong; in fact, it's this simplistic mindset that's kept Germany's most prolific camera manufacturer, Leica, afloat for over 100 years. A focus on minimalist design choices, subtle implementations, and a commitment to the medium's most remarkable characteristics have helped the company to become the most respected camera manufacturer of the past century — at least within certain social circles. Below, we'll go over the history of our favorite film-based troupe, define why they're so special, and then round out our feature with a guide to all of the company's current offerings.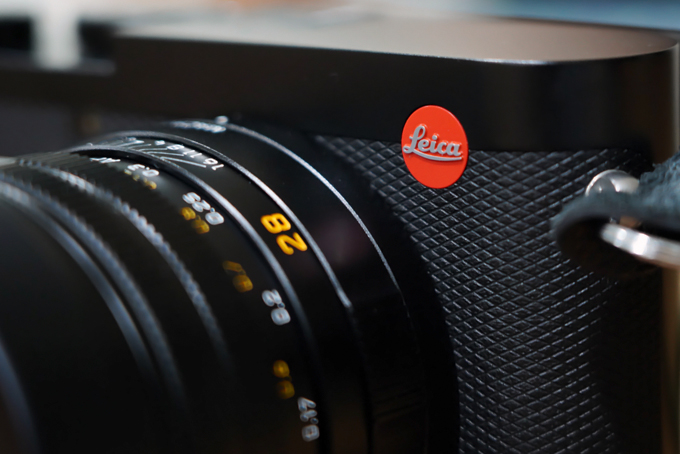 A Brief History Of Leica
Germany's Finest
Like the company itself, Leica's history is long and storied. In the early 1900s, Oskar Barnack, a photographer and intrepid inventor, was approached by and Ernst Leitz to become the head of Research & Development at his corporation. He was placed in charge of innovating a new, minimalist camera body that would transcend the use of traditional platforms at the time, which were heavy, lofty, and hard to carry to remote locations. Barnack found a way to refine the most prominent components of mankind's earliest cameras, which, at the time, fostered their image as large, plate-bearing monstrosities that required extensive setup, upkeep, and development time.
In 1913, Barnack created the first compact camera for outdoor and landscape photography. Dubbed the "Ur-Leica," which resulted from the combination of Leitz's name and the first two letters of the word "camera," this compact variant was originally conceptualized to test film stock and/or lenses for the era's fledgling cinema projects. Little did Leitz and Barnack know, the earliest prototypes of the Ur-Leica would pave the way for photography's first 35mm camera; an endeavor that would solidify Leica's name in the annals of history for generations to come.
After gauging the success of the new compact camera system in 1923 with the Leica O series, large-scale production began in 1925. Initially, only 100 cameras were produced in the company's Wetzlar-based plant per month; but, following what can only be described as a "grand reception" by an unbelieving public and apprehensive professional photographers, Barnack and Leitz were inundated with buyers who were looking to capitalize on the prospect of a small, form-fitting camera.
In 1930, Leica called upon its expertise in optics and high-end magnification to create the Leica I Schraubgewinde, which would later become known as one of the world's first interchangeable lens systems. This ambitious undertaking was built around a 39mm diameter screw thread and became universally coined as the first iteration of the fabled Leica Thread Mount. The company's first endeavor into the realm of interchangeable camera lenses was a staunch success, and featured everything from a 50mm normal lens, to a 35mm wide-angle and 135mm telephoto, and by 1932, the company's Leica II camera body was primed to make its debut.
But, like most companies who were caught within the fiery underpinnings of WWII, Leica faced a heavy blow to its business throughout the war. Production slowed; but, in the face of adversity, they continued to manufacture both the Leica II and Leica III until the 1950s. It was around this time when Leica released the legendary Leica M3 — a platform that integrated the company's revered "M" mount, rangefinder, and viewfinder into a sleek, aesthetically-pleasing package. The M3 quickly became the manufacturer's flagship model, and to this day, nearly every body style, type, or function, that the company has implemented is fashioned after this iconic platform.
Why Buy Leica
A Special Lineage
Leica cameras are decidedly romanticized by the photography community and for a number of reasons. Whether it be their history, lineage, or time-tested use throughout the war, in the world's harshest journalistic endeavors, or on the streets of their favorite city, modern photographers believe that Leica is, amongst other things, a dependable, durable platform that can stand up to anything they throw at it.
It's true that when you buy a Leica, you're joining the ranks of the elite. Each body, component, and accessory is hand-made in Germany by the company's trusted craftsman, which is one of the reasons why they're so expensive. But, what this also means is that each platform has its own quirks; it becomes an extension of the shooter, telling its own stories, documenting its own history, and aging with an unabashedly classic character that many modern cameras strive and often fail to achieve. The truth is, Leica's rugged constitution, sleek design principles, and exceptionally-sharp glass are all contributors to the company's long-winded success — but the primary pull for camera-savvy connoisseurs is as simple as you might think: it's the illustrious Leica name that commands respect wherever you might go.
The Lineup
Leica's Modern Offerings
Below, we'll outline the complete catalog of Leica's current offerings. Rest assured that, no matter which body you choose, you'll relish in the same quality, durability, and prestige associated with the company's earliest models. To this day, the German outfit takes pride in its lineage as one of the world's most trusted and respected camera proprietors. With that in mind, let's dive into our list.
M-E (Typ 240)
To kick off our guide, we're going to talk about Leica's M-E (Typ 240), which was introduced by the iconic German manufacturer to replace its Typ 220. As one of the brand's most "affordable" options, it's got some big shoes to fill when it comes to performance; but, you can rest assured knowing that a full-frame 24-megapixel CMOS sensor, Leica Maestro processor, and 3-inch 920K-dot LCD are standard practice for this miniature model. The M-E boasts some of the company's most revered characteristics, including integration within Leica's "M" ecosystem — a series of lenses housing some of the sharpest (and most detailed) glass in the industry. The camera's 1080P Full HD video and an ISO range of 200-6400 are carried over from the 220, but with an improved 2GB buffer, which optimizes the time between shooting and writing to the camera's card, and a relatively smaller size, the M-E (Typ 240) stays shockingly allegiant to the manufacturer's minimalist formula — for better or for worse.
Megapixel Count: 24
Video Resolution: 1080P Full HD
Display: 3-inch 920K-dot LCD
M-A (Typ 127)
Like most Leica cameras, simplicity is placed at the forefront of the company's M-A (Typ 127). This sleek 35mm film-based rangefinder is an iconic take on the brand's classic heritage models, providing shooters with a battery-free mechanical body and manual exposure control that's limited to the adjustment of the camera's shutter speed (1/1000 sec). It features the typical integration into the company's "M" ecosystem, but with comparative manual focus control and parallax-corrected compositional framing, which make the acquisition of your subject a bit easier than alternative film-based platforms. With an all-metal body design and a black-chromed brass top, the M-A (Typ 127) is one of Leica's most basic cameras, but it's retro silhouette and durable composition are an attractive proposition for old-school shooters who still romanticize the era of film.
Megapixel Count: NA (35mm Film)
Video Resolution: NA
Display: NA
MP 0.72
Leica's original offerings were popularized due to their use for reportage, with a number of the company's most prolific models documenting, immortalizing, and presenting history's most vital happenings in crystal clarity. The MP is one such platform, boasting the company's revered mechanical body, all-metal composition, and 35mm orientation. Manual focus and exposure modes cater to the professional photographer who revels in fully-realized control, opting instead for an adaptable shutter speed of 1/1000 sec and a manually-set 6-6400 ISO range. The 0.72 fosters its name from the .72x magnification of its viewfinder, encompassing over 50 years of experience in optics and mechanical design into one lightweight platform.
Megapixel Count: NA (35mm Film)
Video Resolution: NA
Display: NA
M10
It's no secret that Leica's extensive catalog caters to the old-school reportage photographer, and with more and more professional shooters making the transition toward mirrorless and DSLR platforms, the market for mechanical cameras has dwindled substantially. To keep the company in good standing with the industry's current qualms, the Leica M10 was created — bringing the dimensions and ergonomics of the manufacturer's analog M models into the fray with a modernized digital architecture. Aside from its title as the slimmest digital "M" platform of all time, the M10 boasts a new sensor design, improved noise characteristics at higher exposures, and a revised body that places the camera's most important dials in accessible locations. Interestingly enough, the sleek device also allows for parameters like ISO, aperture, and exposure time to be pre-selected, giving shooters elaborate control over how and when they capture a scene.
Megapixel Count: 24
Video Resolution: NA
Display: 3-inch 1.03M-dot TFT LCD
M10-D
With a staunch focus on the look and feel of analog cameras being somewhat preferable to modern-day platforms, Leica set out to create the M10-D — a timeless device that questions the propensities of today's esteemed photographers. This attractive digital body marries the soul of analog shooting to the performance-minded construction of contemporary models, resulting in a handsome rangefinder that's devoid of a rear display. In an effort to connect the photographer to the subject of his/her shot, the M10-D's simplistic design removes the need to criticize each shot after it's taken, helping the buyer to focus on the experience, and not the outcome. Like the M10-P (which we'll cover later on in this feature), the M10-D thrives within its simplicity, allowing users to influence four of photography's pillars — shutter speed, ISO, focus, and aperture — without the need for much else. A crystal-clear 0.73x optical viewfinder pairs with the camera's 24MP CMOS sensor and Maestro II image processor, offering exceptional shooting quality up to ISO 50000.
Megapixel Count: 24
Video Resolution: NA
Display: NA
M10-P
The subtleties of Leica's flagship cameras are what set them apart, and for platforms like the M10-P, the implementation of something as simple as a silent shutter might make a world of difference. Don't be fooled, though; the M10-P's silent shutter isn't just any baseless update — it's actually the quietest of any film or digital M-series camera, and features a 24MP full-frame CMOS sensor, resulting in industry-leading sharpness and dynamic range. A high-sensitivity ISO range of up to 50000 doesn't hurt either. But, unlike its counterpart, the M10-D, it gives buyers access to a slew of modern pleasantries, including a 3-inch 1.04M-dot touchscreen LCD, integrated ISO dial, and rubber seals to deter light rain and dust from entering the body. You can even link the M10-P to your smartphone via Wi-Fi for instantaneous reference and remote control capabilities. As an interesting aside, the platform is one of the only variants on the market that allows shooters to augment their "apparent image field," boasting 35mm/135mm, 28mm/90mm, and 50mm/75mm focal length pairs that mimic popular setups.
Megapixel Count: 24
Video Resolution: NA
Display: 3-inch 1.04M-dot touchscreen LCD
M Monochrom
As classically inclined as Leica is, few of the company's cameras exude an aura quite like the M Monochrom — a tailor-made icon that's oriented toward monochromatic photography. To achieve this, the company has opted to exclude the traditional color filter array found in most cameras, boosting sharpness, clarity, and resolution in the process. That exclusion doesn't affect the camera's performance, however; it still houses the company's famed 24MP CMOS sensor, Leica Maestro image processor, and an ISO range from 320-25000. A 0.68x optical viewfinder gives way to superimposed manual focusing capabilities, manual image field selection, and automatic parallax correction, helping professional monochromatic connoisseurs to nail the shot, every time. But, just because the M Monochrom is classically-oriented, doesn't mean that it can't have a touch of modernity. It's outfitted with a 3-inch 921.6K-dot LCD, focus peaking, and an electronic level display to keep everything composed correctly.
Megapixel Count: 24
Video Resolution: NA
Display: 3-inch 921.6K-dot LCD
Leica Q
Quality Redefined
Q-P
Leica's Q lineup is one of the most capable on the market, and the Q-P is a glaring example of why the company's compact cameras have garnered so much praise. The Q-P complements its larger brethren as a compact digital body that's capable of stunning image quality, intuitive use, and covert operation, thanks to its formidable full-frame 24.2MP CMOS sensor and Maestro II image processor. It can also record Full HD video and provides users with a high-resolution 3.68MP LCOS electronic viewfinder for unmatched subject clarity. On the rear of the camera, a 3-inch 1.04M-dot touchscreen LCD allows shooters to operate, control, and reference at the swipe of a finger, complementing the Q-P's integrated Wi-Fi sharing feature. As a recipient of the company's "P" treatment, it's also as unassuming as they come, utilizing an even darker appearance than many of its counterparts.
Megapixel Count: 24.2
Video Resolution: 1080P Full HD
Display: 3-inch 1.04M-dot touchscreen LCD
Q2
Like its smaller brother, the Q2 is a force to be reckoned with when it comes to intensive image quality. It features a monstrous full-frame 47.3MP CMOS sensor and Maestro II image processor for steadfast shooting alongside a 13-stop dynamic range and allows for both DCI and UHD 4K video recording, which is a welcome addition catered toward the working professional. Like some of its predecessors, the Q2 utilizes a range of Crop Modes, which allow the mimicry of longer focal lengths, including 35mm, 50mm, and 75mm, without a noticeable loss in quality. The camera still reigns as one of the manufacturer's most capable and accessible platforms, offering exceptional image quality and intuitive operation in a single, street-focused device. A crystal-clear 3-inch 1.04M-dot touchscreen LCD makes its way over from the company's other models, providing access to intuitive controls, settings, and stylings.
Megapixel Count: 47.3
Video Resolution: UHD 4K
Display: 3-inch 1.04M-dot touchscreen LCD
Leica S
Medium Format Leader
S (Typ 007)
The Leica S (Typ 007) fills the niche of the company's top-end medium format DSLR offering, placing photographers at the helm of a hefty, adaptable platform that's been tailored toward professional studio use. Here, you'll find a capable 37.5MP 30 x 45mm CMOS sensor and Maestro II image processor that utilize the camera's unique on-sensor microlenses to produce consistent light distribution. This ensures unmatched sharpness and consistent capture in a variety of situations. Furthermore, the S (Typ 007) will allow the user to record both 4K and Full HD video, offering a variety of augmented options for professional audio and video capture. An interesting trait of the medium-format platform lies in its predictive autofocus system, which utilizes a central cross-type phase-detection point for use in harshly-lit conditions. On the rear, a 3-inch 921.6K-dot LCD monitor acts as a crystal-clear reference point, recreating the scene before you in stunning detail. And, should you find yourself outside of the studio, the Typ 007's weather-sealed, magnesium alloy body construction is perfect for those questionable days where rain may be just over the horizon.
Megapixel Count: 37.5
Video Resolution: 4K
Display: 3-inch 921.6K-dot LCD
Leica SL
Mirrorless Manifesto
SL (Typ 601)
If you thought that Germany's leading camera manufacturer was going to sit idly by as giants like Canon, Nikon, and Sony vied for the mirrorless throne, you're sadly mistaken. The company's SL (Typ 601) is an all-encompassing mirrorless platform that's made waves within the photography community as an introduction to the brand's "new experience," and features a 24MP CMOS sensor and Leica's Maestro II processor, alongside an ISO range of ISO 50-50000, and internal DCI 4K (4096 x 2160) video recording at 24 fps in a Super35 mode. To keep a focus on the utmost quality while shooting, Leica has opted to remove the camera's low-pass filter, resulting in exceptional sharpness, clarity, and detail. Couple this with the camera's L-Log gamma profile, and you'll be submerged in dynamic range. Typical additions like focus peaking, exposure simulation, clipping/zebras, grid overlays, and aspect ratios come standard here, complementing the Typ 601's 0.66-inch EyeRes 4.4MP EVF, 2.95-inch 1.04M-dot rear LED touchscreen, and weather-resistant aluminum body.
Megapixel Count: 24
Video Resolution: DCI 4K
Display: 2.95-inch 1.04M-dot touchscreen LED
Leica CL
APS-C Counterpart
CL (APS-C)
To keep in-line with the company's minimalist character, the Leica CL boasts a sleek design that's actually very similar to their other offerings. However, what's special about this tiny mirrorless platform is its 24.2MP APS-C CMOS sensor, which forgoes the manufacturer's usual full-frame orientation. But don't take that as a sign of weakness; in fact, the CL still produces high-resolution stills at up to 10 fps and even UHD 4K/30p video, thanks to its Maestro II image processor, helping it to foster a working ISO range of 100-50000 for low-light supremacy. The camera's 49-point contrast-detection autofocus system keeps you locked to the subject in a variety of conditions, cooperating with its 0.74x 2.36M-dot electronic viewfinder for accurate reproduction.
Megapixel Count: 24.2
Video Resolution: UHD 4K
Display: 3-inch 1.04M-dot touchscreen LCD
TL2
The Leica TL2 sports an aesthetically-pleasing unibody design, crafted from a single block of aluminum for intensive durability. It seems fitting for such a small camera, but it doesn't take the focus off of the real stars of the show — a newly developed 24.2MP APS-C CMOS sensor and the Maestro II processor that give way to the TL2's 20 fps shooting, 49-point contrast-detect AF system, and UHD 4K video capabilities. On the rear, an enhanced 3.7-inch 1.3M-dot touchscreen boosts the camera's operating speed by over eight times, while a minimalist, intuitive design orientation makes it a viable option for shooters who are looking for a compact powerhouse that won't let them down when they need a lightweight alternative to the company's traditional cameras.
Megapixel Count: 24.2
Video Resolution: UHD 4K
Display: 3.7-inch 1.3M-dot touchscreen
Leica Compact Cameras
Packable Power
C-LUX
To bring an alternative platform into Leica's Compact Camera lineup, the versatile C-LUX was gifted with a slew of the company's finest qualities. This minimalist body houses a 20.1MP 1″ MOS sensor, an ISO sensitivity up to 25600, and a 10 fps shooting rate to make the capture of moving subjects a breeze. Aside from the camera's revered low-light performance, you'll also find a 24-360mm equivalent focal length range and 5-axis optical image stabilization for ultra-smooth capture, even while handheld. A 3.0-inch 1.24M-dot touchscreen LCD adorns the back of the device, offering a sharp reference for everything from photos to UHD 4K30p video.
Megapixel Count: 20.1
Video Resolution: UHD 4K
Display: 3.0-inch 1.24M-dot touchscreen LCD
V-LUX 5
Leica's Compact camera lineup is perfect for the avid explorer, and the V-LUX 5 reinforces that fact. This sleek variant encompasses some of the company's most revered characteristics, like a 20.1MP 1″ CMOS sensor, ergonomic design, and 4K video recording at 30p. You won't find the manufacturer's most lavish integrations here, but the V-LUX 5 still provides exceptional image capture thanks to its impressive autofocus performance, 2.36M-dot OLED electronic viewfinder, and full-resolution shooting capabilities. On the rear, a 3.0-inch 1.24M-dot articulating touchscreen LCD allows the buyer to reference their photos in a precise manner, before sharing them over the camera's built-in Wi-Fi or Bluetooth receivers.
Megapixel Count: 20.1
Video Resolution: 4K
Display: 3.0-inch 1.24M-dot articulating touchscreen LCD
Leica Sofort
Nostalgic Capture
SOFORT
To round our list, we'll focus on the Leica Sofort — an attractive little offering that privy to instant film. As the company's modern mini format film camera, nostalgic photographers who yearn for the feel of photography's classic styles can obtain color or monochrome offerings from Leica. Each Instax capture boasts a natural Warm White border, courtesy of the camera's target spot and macro parallax compensation, which help you to compose the perfect photograph. It features a bevy of automatic shooting modes, a 0.37x optical viewfinder, and intuitive controls that harken back to the "instant camera" silhouette that was popularized throughout the latter half of the century.
Megapixel Count: NA (34mm Film)
Video Resolution: NA
Display: NA
25 Best Photography Books
Now that you're familiarized with Leica's extensive lineup, head over to our guide on the best photography books to see some of the prestigious cameras in action.