Representing a counter-culture rebel that has an unwavering moral compass, in a world where media gods blur everything, the M-65 field jacket is much more than standard issue military gear. The olive green, multi-pocket apparel rivals the leather motorcycle jacket, among other candidates, as the quintessential jacket for those opposing the golden puppet strings of "The Man."
It's covered the backs of American soldiers in Vietnam, pop culture icons like Travis Bickle and the Terminator, as well as big names in the music industry, like Kanye West. It indeed has a rich history to peruse and that's the road we're headed down because it has definitely earned our time for careful analysis, so that we may absorb it as more than just that "cool military jacket." From its service in the controversial Vietnam War, to its appearances in classic films and through its various remixes, as well as its influence, in the world of fashion, the M-65 field jacket has stood the test of time and trends to earn the title of classic.
Built For A New Battlefield
Welcome To The Jungle
Before getting into the history of the iconic M-65 field jacket, we have to take a few steps back. Every piece of garb is some kind of remix or variation of a design that came before it, so let's take a brief look at the M-51 to see what the M-65 used to be. Made of 9oz water-resistant, windproof cotton sateen, the M-51 has a collar resembling what you'd find on a trench coat and a detachable hood. Adequate? Yes, but not where U.S. soldiers were headed to next in the 60s.
Cold weather jackets are necessary in war, but the M-51 field jacket just didn't cut it when the U.S. decided to drop into the jungles of Vietnam to fight on an alien battlefield where the weather was just as much an adversary as the Viet Cong. An upgrade from the M-43, which was introduced in 1943 during World War 2, the M-51 looks fairly similar at first glance; however, major upgrades were made to allow the jacket to evolve into perfection.
Alpha Industries was awarded its first contracts to manufacture the iconic jacket on the tail-end of 1965. It was issued to the young, lost soldiers in 'Nam in order to help them with jungle warfare weather, which consisted of harsh winds, insufferable heat and relentless monsoons. A diverse jacket was an absolute necessity for the intrepid souls fighting Charlie in a place where the weather has epic mood swings.
Designed For War
Breaking Down The Specs
There were several significant improvements made to the M-51 to transform it into the iconic M-65. First, the designers ditched the cotton, producing the M-65 field jacket with NYCO, a nylon/cotton sateen fabric that was a huge step forward at that particular time. Fitting for war, NYCO was practically indestructible and also extremely wind and water-resistant. Improvements also included a hidden hood within the zippered collar, brass zippers, velcro closures on the cuffs so you can easily roll your sleeves up and even a hidden triangular cuff that you could attach to gloves for radioactive fallout protection. In addition, the jacket has a snap-closure storm flap, a drawstring waist and bottom, four reinforced snap-flap cargo pockets and a warming liner that's detachable, making it versatile for the hot days and colds nights in the jungle. With its cohesive, practical design, it's not surprising that the M-65 influenced many jacket structures that came after it.
Back then, they were only manufactured in Olive Green, leaving destiny to set up the current title of the original jacket as the M-65 OG.After the initial first contracts in 1965, Alpha Industries received government contracts every year for a quarter of a century to produce the M-65. Needless to say, the jacket did its job and did it very well. Back then, they were only manufactured in Olive Green, leaving destiny to set up the current title of the original jacket as the 'M-65 OG.' In the 1980s, the M-65 was produced in 'Woodland Camouflage' and in 1990, the 'Desert Camouflage' version made its debut. Its last update was made in 2005, as the final variant was given a new 'Universal Camouflage Pattern,' along with additional shoulder velcro patches, to go in line with the army's new uniform. In 2009, after 44 years of service to the red, white and blue, the jacket was retired from the U.S. military; however, it became immortalized in the world of cinema and fashion.
Cinema Style
The Good Cop, The Bad Robot and The Vietnam Vet
As American soldiers from 'Nam were coming home, they brought back their M-65 jackets, introducing them to the urban streets of the West. Veterans sported their military apparel at protest marches, including John Kerry, who later ran for president. They also became easily accessible at thrift stores, allowing outsiders to find the perfect fit. Additionally, 70's cinema produced a vast array of movies that used the Vietnam War as their backdrop, giving the jacket a huge spotlight to bathe in.
When a maverick filmmaker named Martin Scorsese decided to take on Paul Schrader's script for a gritty little film called Taxi Driver, marking the arrival of Robert DeNiro as one of the best actors in history, the M-65 gained more exposure in Hollywood. Travis Bickle is a Vietnam Veteran trying to look for a purpose in postwar life, driving around as a cabbie in the mean streets of New York City, feeling like he doesn't exist. Scorsese, famously known for his accurate execution and precise details in his films, allowed Vietnam Vet Bickle to use an M-65 field jacket. Accented with a King Kong Company patch on the left arm and jump wings, along with a "We Are The People" button, on the right side of the chest, Bickle's military apparel became just as iconic as his mohawk and gold-rimmed aviator sunglasses. The M-65 field jacket acted as this ultimate anti-hero's cape, as he was wearing it for the intense, bloody showdown of the final act, in his attempt to be a savior for a lost cause.
The jacket symbolized the belief that war isn't just fought with bullets and bombs on the battlefield, but also on home turf with progressive thoughts and ideas used as ammo against the powers that be .Although it's not associated with the character as much, the M-65 also made an appearance in Serpico, a film led by DeNiro's good friend, the legendary Al Pacino. Based on a true story, Frank Serpico was a New York cop in the 60s and 70s who stood up against corruption in the police force. With its appearance in this film, the jacket became further associated with counterculture rebels fighting against the corrupted norm. The jacket symbolized the belief that war isn't just fought with bullets and bombs on the battlefield, but also on home turf with progressive thoughts and ideas used as ammo against the powers that be.
Olive green is the traditional color, but the jacket also got some makeovers in cinema and showed up in different, captivating versions. Covered in punk rock studs and patches of leather, the T-800 killing machine in the first Terminator film wore a gray M-65 that he stole from some punk off the street after traveling through time. Arnold Schwarzenegger showed us that the M-65 didn't just have to be worn in its classic color and style, as he pulled off a killer look with his gray variation. Interestingly enough, he swaps out his M-65 for a black leather jacket, the other contender for outsider apparel, later in the film.
Just like today's cinema lovers, many that watched these movies upon release, as well as others that showcased the M-65, went out to get their hands on the military garb. The timeless vintage look of the jacket lent itself well to be integrated easily into people's wardrobes, as it made a statement and went along well with good ol' American denim jeans.
Timeless Design
An Always In-Fashion Apparel
Along with the bomber jacket and the flight jacket, the M-65 is part of a trifecta of outerwear pieces with military origins that has entered the realm of timeless fashion. From Dior to Tom Ford, and even streetwear brands like Supreme, the M-65 is a beloved silhouette of fashion brands everywhere. Put one on and you'll feel ready to go to war, as if it amplifies the fighting spirit within you.
In contemporary style, the M-65 field jacket is just as popular as it's ever been, especially in today's world where retro is always golden. With a quick search on Google, you'll get plenty of shops offering that familiar looking army green colorway and many high-end fashion brands that have reinterpreted it, especially in terms of fabric and fit. Originally, the jacket was made to be more spacious, in order for soldiers to hold more gear and so that it can match up well with the rest of their military attire. More modern versions of the M-65 have a much slimmer fit.
What's probably most attractive about the M-65 is its versatility in a stylistic sense, mirroring its adaptability on the battlefield. The utilitarian design works well with a graphic tee, a plaid collared shirt or even over a shirt and tie combo. It's also a very masculine piece of apparel, allowing anyone wearing it to look the part of a badass, bringing them one step closer to actually being one. With a quick search, you'll be overwhelmed with the choices available on the market, so we went ahead and chose four examples with swagger that kills.
Brandit M-65 Voyager Wool Jacket
This wool variation of the classic military garb is a warm, breathable, more formal choice for those that are looking to go with a collared shirt and tie on the inside. The casual jacket has a full length zipper closure with press studs, hook-and-loop adjustable cuffs and pleated shoulders for an optimal range of movement. Like the original design, this version also has internal waist adjusters and bottom drawstrings, along with two chest pockets and hand pockets with flaps.
Alpha Industries M-65 Defender Field Coat
Coming straight from where the original military silhouette was created, this jacket is very close in style to the ones U.S. soldiers used in 'Nam. This M-65 Defender Field Coat is made with 100% vintage cotton slub and is treated with a heavy garment washed with stones for a sturdy feel. It has a signature wire field coat zipper, one interior welt pocket, an interior zipper pocket, cuff adjusters and the four familiar, spacious exterior flap pockets. Grab it in the vintage Olive Green, the always reliable black or woodland camo.
Cockpit USA Leather M-65 Field Jacket
An impeccably handsome M-65 variation, this field jacket is made from hand-cut lambskin leather and is perfect for those that look for adventure in both the city and the country. It's lined with Cockpit USA's WWII parachute camo, has an interior sage nylon hood, a bi-swing back, four oversized bellows snap down pockets and a hint of antique patina. Combining the rebellious vibe of the leather jacket with the structure of the M-65, this American-made apparel is a badass iteration of the original.
Tom Ford Light Fill Military Jacket
Clearly inspired by the M-65, yet given a more sleek spin, this Tom Ford military-style jacket is crafted with a 100% nylon outer and a fully lined-in cotton cupro. It has a single vent, a suede half moon under the collar, embossed horn buttons and a signature Tom Ford leather grab handle. For a more dapper approach to the M-65 military silhouette, this four-pocket lightweight jacket with American roots is a more pricey take on the original; however, the quality and timeless feel of the design will serve you well.
10 Most Iconic Movie Jackets Of All Time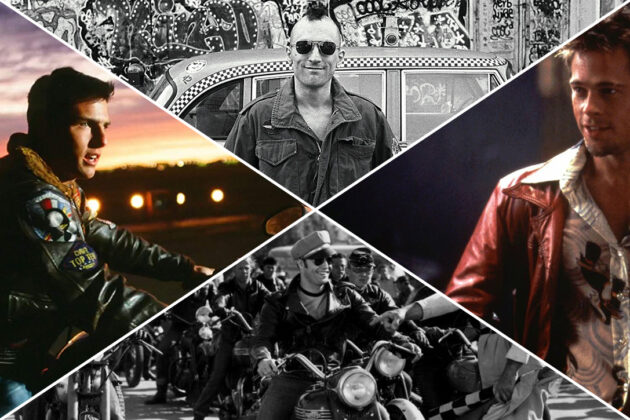 So, you've learned about the legendary M-65 field jacket, which served the American military well and found fame in some of the best films of all time. There are plenty of other classic jackets that have gained popularity thanks to some unforgettable films. Check out our list of the most iconic movie jackets that you can actually put in your shopping cart.