Assuming you're packing more than just a single change of clothes, we've always been of the opinion that traditional pieces of hard-sided luggage tend to be a superior choice for travel duties compared to most backpacks. And while we've long held this view, we may now be having second thoughts, as San Francisco's Peak Design has taken the best qualities of both travel luggage and backpacks to engineer its own take on the ultimate travel bag. Unsure if Peak Design's latest travel bag is truly game-changing or just a slick-marketed backpack, we got our hands on PD's Travel Backpack and put it to the test, putting the 45-liter bag through its paces in order to deliver this unbiased, hands-on review.
Video Review: Peak Design Travel Backpack
More of a visual learner? Then be sure to check out our 4K video review of the Peak Design Travel Backpack for a more in-depth look at this flight-ready bag.
First Impressions
Not Your Average Backpack
When removing the Travel Backpack from its packaging, the first thing you'll notice is its weight, high-end materials, and craftsmanship. Though the bag isn't overly heavy — weighing in at just 4.5lbs — it still has a solid heft to it that suggests a heavy-duty and rugged construction, genuinely feeling like a mil-spec product with its hard-wearing shell, heavily-reinforced grab handles, and metal and polymer hardware and buckles throughout. The next thing that jumps out at you is the bag's unique layout and opening system, though we'll touch on that more later on. It's also hard not to take note of the backpack's decidedly minimalistic appearance, especially considering the wealth of features it contains.
The Materials
Rugged Meets Recycled
Rather than worrying about cost, it's abundantly clear that the team at Peak Design instead set out to engineer a highly versatile and capable backpack that could legitimately stand up to years of daily use and hundreds of thousands of railway and airline miles. As such, the bag has been crafted around a 400-denier canvas shell that's completely derived from recycled content. In order to ensure maximum waterproofing, the shell has been DWR-impregnated and double poly-coated, making the material impervious to the elements — an area furthered by the Travel Backpack's use of Hypalon pull-equipped weatherproof #8 and #10 UltraZips zippers.
Not only is the bag made from a decidedly durable material, but it's also been pieced together in an equally rugged manner, with the entire backpack boasting Dyneema threading and heavy-duty reinforcements at all key stress points (the Sage color variant of the Travel Backpack, which we did not test in-house, also comes decorated with genuine leather accents that are Gold Certified by the Leather Working Group). Lastly, Peak Design has integrated what feels like a thin layer of foam into the shell of the bag that gives it some structure and allows it to stand up on its own, even when empty. And, should you somehow manage to damage this incredibly rugged backpack, Peak Design stands behind its product with a lifetime warranty.
Exterior Elements & Features
Surface-Level Ammenities
After only a few minutes of examining the outside of the Travel Backpack, it becomes increasingly clear that every inch of the bag has been thoroughly calculated, with even minor elements and components obviously receiving ample consideration. Securely fixed to the shell via metal rivets, the pack's heavily-padded and perforated back panel conceals a rolling luggage handle pass-through, as well as a set of recesses for accommodating its tuck-away shoulder straps and hip belt. Underneath the back panel is also a long set of straps that can be used to secure additional items to the outside of the bag.
Equipped with anodized aluminum and glass-reinforced nylon buckles and hardware throughout, the exterior of the bag also sports a trio of ultra-beefy top and side grab handles, a myriad of reinforced external loops and anchor points, and a set of concealed external straps that allow it to be carried like a duffle bag. The exterior also features an expandable side pocket for housing cylindrical-shaped objects like tripods and water bottles.
Internal Storage & Organization
Unpacking Peak Design's Ultimate Travel Bag
Despite looking like an ordinary everyday use backpack, the Travel Backpack 45L has zippers along the shell's back panel that extend all the way down to the base of the bag, allowing for a clamshell-style opening setup that uses the entire depth of the backpack — just like a traditional piece of luggage. Also capable of being accessed through a set of smaller zippered openings on the sides of the bag, the main compartment can also be separated into two areas via an integrated zippered mesh divider, and Peak Design sells multiple packing cubes, camera cubes, and pouches that neatly integrate into the travel bag, as well.
In addition to boasting a 900-denier waterproof bottom liner, the interior of the pack is lined with high-visibility grey-colored nylon that offers visible contrast, genuinely making it easier to locate items. Inside the main compartment are also several smaller mesh organizers and zippered pockets that are supplemented by a smaller quick-access, felt-lined top pocket for storing smartphones, passports, wallets, and other essentials, plus a hidden side pocket. For your tech gear, the inside of the backpack's padded back pannel contains a Velcro-secured padded pocket for accommodating a laptop of up to 16", along with a 9.5" tablet.
What's more, this main 30-liter compartment is made all the more impressive by the fact that it can be expanded, bolstering its internal volume by 50% and affording an additional 15 liters of storage space — bringing the total up to a whopping 45 liters. It's also worth mentioning that even with our 45-liter PD Travel Backpack fully expanded and fully loaded, it was still small enough to meet the international airlines' size requirements for carry-ons. In fact, the whole idea behind the creation of this item was to deliver the largest possible travel bag with the most storage space, while still being compact enough to be a carry-on.
The Verdict
Real-World Knowledge Applied
Though overall we were extremely happy with our experience using the Travel Backpack 45L, it wasn't without its shortcomings — as inconsequential and insignificant as they may be. While its black-anodized aluminum construction feels great and offers ample adjustability, the sternum isn't anchored to the shoulder strap, and instead uses a hook-and-friction system that, though admittedly sturdy, still makes it easy to potentially lose, especially when traveling. Another minor gripe we did have was with the layout of the zippers, as the configuration isn't exactly intuitive, requiring more time to memorize and become familiar with than many of the other high-end travel and EDC bags we've tested.
At the end of the day, however, our main takeaways from Peak Design's Travel Backpack 45L were its rugged construction, clever opening system, incredible versatility, and overall top-notch build quality. It's also extremely clear that this bag was designed by a team with extensive first-hand travel experience, as it manages to brilliantly address many of the biggest downsides to normal backpacks or pieces of travel luggage. Because this backpack can be expanded to 45 liters or compacted down to 30, it can also double as an everyday use bag, on top of travel duties — an area furthered by its bevy of organizers and its ultra-rugged construction.
We were also thoroughly impressed by the bag's collapsible design, as the backpack neatly folds into itself, streamlining its minimalist appearance and profile while looking no less attractive — and not showing any signs of being a collapsed or compacted bag. While we only spent a few weeks with the bag, it showed zero signs of wear whatsoever, and it's honestly hard to imagine any particular element on this thoroughly rugged and over-engineered backpack ever failing. For these reasons, it's frankly unsurprising that Peak Design has won a slew of prestigious awards for the Travel Backpack 45L, including a trio of coveted Best In Show titles upon the year of its release.
The 15 Best Travel Backpacks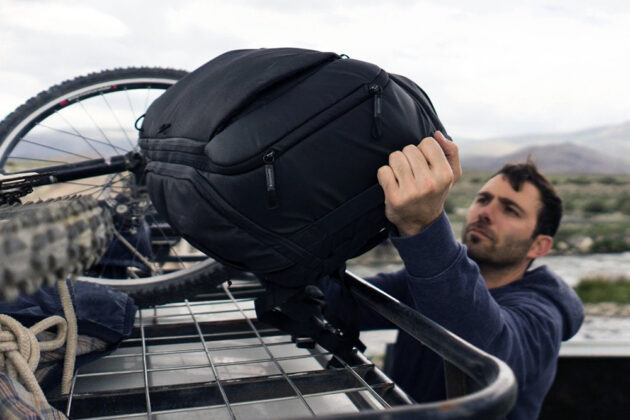 Interested to see how Peak Design's Travel Backpack stacks up against the competition? Then be sure to check out our guide to the best travel backpacks — as well as its accompanying 4K video review — for an in-depth look at more than a dozen additional travel-ready bags from some of today's most reputable brands.