The world of fashionable eyewear is full of up-and-coming companies that want to make their mark on the space, but many of these manufacturers have big shoes to fill when it comes to the industry's most prolific manufacturers. Out of a handful of the eyewear world's longest-running companies, Ray-Ban has consistently produced some of the most iconic silhouettes to ever be released, fostering an expansive catalog of styles and shapes that serve as the progenitors for many new adaptations.
If we're being honest, the fact that Ray-Ban has been around since 1937 means that there are far too many products in the company's repertoire to take on singlehandedly. Researching, understanding, and choosing one of your favorite models from the brand's vintage, modern, or experimental lineups can be daunting, especially when you have limited time to comb through each and every aspect of the manufacturer's current, and past lineups. Luckily, there are a few variants that stand out as Ray-Ban's most popular, making it a simple task for us to give you a run-down on what to look for, what's interesting, and what's unique. So, whether you're new to the world of Ray-Ban, or a seasoned vet in the realm of fashionable eyewear, our guide will fill you in on what makes the company's prominent silhouettes so remarkable.
The Classics
Nostagia In Practice
Ray-Ban has been around since 1936. And in that time, they've had no shortage of iconic sunglass silhouettes, many of which have transcended the era in which they were created and are still stylish staple accessories to this day. You'll find them in abundance below.
New Wayfarer Classic
Ray-Ban might not be where it is today without the Wayfarer, and although the original silhouette hasn't seen much innovation in the past 50+ years, the New Wayfarer Classic has stepped in to recreate the iconic silhouette for a more contemporary audience. Like many of today's most handsome variants, the newly-revised example boasts a frame that's a bit smaller than before and even features a softer eye shape to complement your facial features. But that doesn't mean they're all looks — a pair of green G-15 lenses, which were originally used by the military, add a function-focused touch for those who enjoy a bit of polarization.
Erika Classic
Ray-Ban's Erika Classic sunglasses are a timeless pick for any fashion-forward guy. Calling upon an extremely lightweight nylon frame, metal temples, rubber fronts, and bespoke styling that's become a staple of the brand's oversized glasses, these one-of-a-kind examples boast a tonal contrast that will help to accentuate the angular features of your face, while keeping any nose and ear fatigue to a minimum. If you're looking to stand apart from the crowd, these UV-protective variants blur the boundary between the iconic circular frame structure and blocky stylings of Ray-Ban's alternative offerings, while maintaining their own identity, courtesy of a soft bridge and tone-on-tone temple tips.
Aviator Classic
As one of the most iconic silhouettes ever devised, the Aviator Classic has become a staple of many a man's stylish wardrobes. With a company like Ray-Ban at its back, the military and aviation-inspired glasses have steadily become as much of a fashion statement as they were an actual aviation example. In 1937, the silhouette was introduced for flight crews and pilots alike, and today, they retain their reputation as a trusted design used by airmen everywhere. A classic gold frame, G-15 polarized lenses, and 100% UV protective qualities keep the Aviator's competent when compared to a number of today's alternative models, while a timeless rounded structure, double nose bridge, and comfortable temples complement the glasses' polished frame.
Clubmaster Classic
Almost all of Ray-Ban's silhouettes promote an air of importance and class, but few can hold a candle to the Clubmaster Classic. These timeless variants have adorned the eyes of more than a few cultural intellectuals, making them a trusted peripheral that's become synonymous with shakers and movers. As one of the brand's most progressive models, the Clubmaster Classic boasts a 1950s-era style, crystal lens treatment, and an acetate frame that blends the attributes of durable, long-lasting plastics, with the weight of thin metal. The classic half-frame design is immediately recognizable among those who know fashionable eyewear, and with an example like the Clubmaster at your beck and call, you'll be turning heads wherever you go, regardless of someone's affinity for transcendental sunglasses.
Original Wayfarer Classic
While the New Wayfarer has done its job as the somewhat-successor to the original Wayfarer model, the Classic is still the undisputed king of the Ray-Ban catalog. This one-of-a-kind variant is the example that started it all, catapulting the company into the contemporary limelight in 1952, where it was found on an array of celebrities, artists, musicians, and other fashionable individuals. It wasn't long before the silhouette gained traction within the world of the everyday consumer, and rightfully so — an iconic black frame, rounded, but rectangular lenses and thick acetate temples keep things looking bold and beautiful, while the Wayfarer's immediately-recognizable detailing does the rest of the difficult work.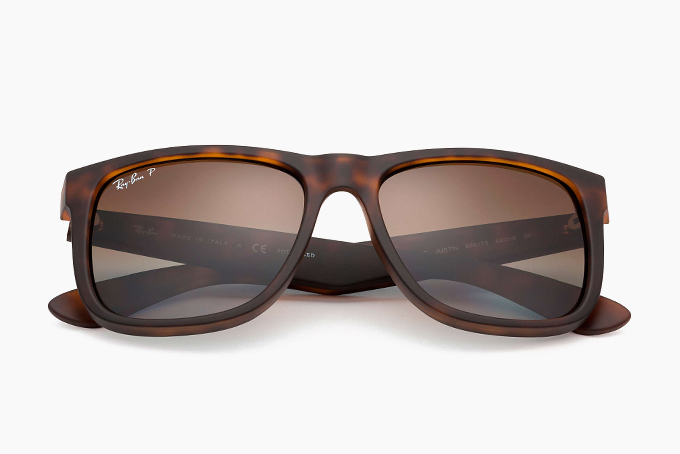 Justin Classic
With a mentor like the original Wayfarer, it's no wonder that the Justin Classic is one of Ray-Ban's most sought-after silhouettes. After all, it's essentially the same model, but it's been revised to cater to a more contemporary audience, thanks to its polarized lenses, a rubberized finish, and pronounced angles. Calling upon a tough, ready-to-rumble nylon construction, these youthful variants have taken on so many of the Wayfarer's traits that it might be difficult to tell them apart from a distance — but that's not entirely bad, considering it's one of, if not the most, iconic silhouettes that's ever been produced. Step up your game with the Justin, and while you're at it, set yourself apart from the rest of the Wayfarer-wearing masses.
Hexagonal Flat Lenses
There are few things as retro as a piece of hexagonal flat lens eyewear, especially when it has Ray-Ban's revered namesake behind it. While it might seem a bit abnormal to some, it makes a lot of sense why the brand would bridge the gap between two of their most iconic silhouette shapes — the circle and the square — to create something a bit more innovative. A super-sleek profile and flat crystal lenses give the Hexagonal Flat its very own persona and one that's yet to be matched by similarly-shaped examples set forth by other companies. If you're trying to stand apart, these all-steel peripherals might just make you the talk of the town, the bar, the boardroom, and everything in between. The best part? You'll never be stuck in the same confined style space as the rest of the industry, and if you find that you enjoy the Hexagonal Flat more than other examples, you can rest assured knowing that your originality is never in question.
Round Double Bridge
As one of the company's most recognizable, street-smart offerings, the Round Double Bridge silhouette is the perfect peripheral for the urban-minded guy who's looking to straddle the line between retro and modern. Ray-Ban must have done something right with these examples, considering they're one of its best-selling models, but we're willing to bet that a large portion of the talk surrounding them has to do with their customizable nature. Each example boasts a minimalistic appeal that's accented by transparent frame colors, allowing Ray-Ban to house an ultra-fine metal frame inside. The result is a semi-clear accessory that's both durable, and stylish, allowing wearers to express themselves through a variety of different colors, original construction, and an urban-approved double bridge that oozes retro nostalgia.
Wayfarer II Classic
While the New Wayfarer decided to take a more modern route with its contemporary restyling, the Wayfarer II Classic has decided to take the iconic frame in an entirely new direction. While still under the umbrella of the Wayfarer name, the II Classic has made some drastic changes to its overall persona, dismantling, and reevaluating what made it so prolific in the first place. Now, the stylish sunglasses have a circular orientation, a slim acetate frame, and skinny, refined temples that set it apart from the other models in the Wayfarer family, without dishonoring the name entirely. What you get is a sophisticated take on the legendary style, while still taking on a number of the brand's timeless style principles, including a dependable acetate construction, gradient lenses, and signature detailing.
The New-School
An Ever-Evolving Medium
Though Ray-Ban has been around for nearly a century now, they're not simply resting on their laurels. In fact, they still pretty regularly come out with new styles and silhouettes, many of which have become iconic in their own right. For these newer styles, check out our list below.
RB2180
Innovating on the styles of old has always been something that Ray-Ban has excelled at, and now, they've decided to create the next generation of rounded sunglasses with the RB2180. After revolutionizing the circular realm, the company is back at it again with this unique model, calling upon its signature shaped temples, a set of unique rivets and a flattened bridge to give the RB2180 its very own visual identity. To contrast the RB2180's great-looking frame, a set of tinted, gradient-imbued lenses also make an appearance, accenting the style's interesting colorways, which include fan favorites like Tortoise/Red, Brown/Brown, Blue Havana, and Red Havana.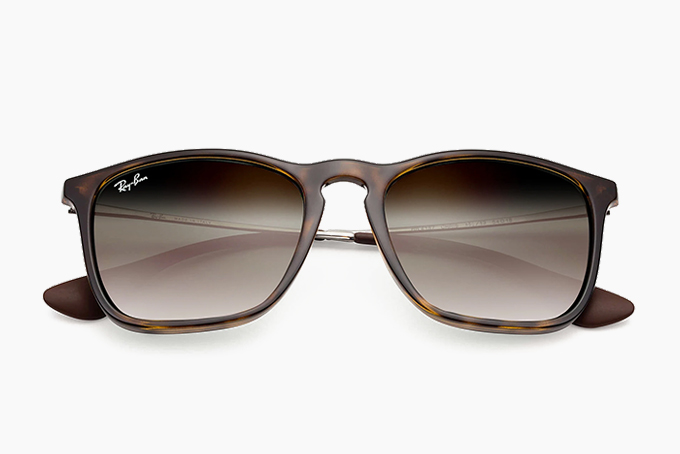 Chris
As part of Ray-Ban's cutting-edge Highstreet Collection, the Chris silhouette is a modernized eyewear variant in virtually every way. These progressive unisex models boast a masculine shape that's perfect for fans of a square, angular frame, and draws at least some inspiration from the brand's iconic Erika model, which relies on oversized characteristics to draw attention toward your face's delightful attributes. To appeal to a more contemporary audience, the youthful silhouette adapts the brand's nylon construction with a customized rubber finish, giving it a textured, gummy feel when compared to its more hardened counterparts. But all of these additive measures don't make the Chris inherently heavy — it's still a lightweight, comfortable peripheral that can be worn throughout the day.
Caravan
The Caravan silhouette was originally launched all the way back in 1957, but they were overshadowed by Ray-Ban's more popular Aviator Sunglasses. As an alternative to the iconic style, the Caravan fell on the back burner for the brand, but has recently made a comeback as a geometric model, taking on a more angular persona than its counterpart. Instead of the teardrop lenses afforded to the Aviator, Ray-Ban's signature logo and nose pads have been implemented alongside a squared frame, accented by the example's full-metal construction. As with a number of Ray-Ban's other models, the Caravan can be outfitted with a variety of treated lens types to battle UV exposure and give the glasses an aura of true personalization.
Outdoorsman
The Outdoorsman glasses are as equally as recognizable as their Aviator counterpart but boast an enhanced brow bar, cable temples, and wrap-around earpieces to keep them secure, and attached to your head at all times. As you might expect, this is perfect for any adventurer who wants to take his glasses into the field, without having to worry about alternative security and fastening, allowing them to stay compact and efficient. But if you're not the outdoor type, never fear — the Outdoorsman glasses are just as apt when worn in an urban setting, thanks to their iconic black (or gold) metal frame, crystal green lens treatment, and stylish silhouette, making them a versatile pair of glasses for any aspiring style connoisseur.
Round Flat Lenses
Ray-Ban's Round Flat Lenses aren't exactly the "the kids on the block," but in the past couple of years, they've been catapulted back into relevancy for the fashionable male audience. Calling upon the brand's spirited remembrance of the prolific 1970 and 80s style, these lightweight peripherals have been crafted to help you stand apart in the neverending torrent of square, and subtly-rounded frames. Although the glasses certainly solicit a feel of nostalgia, modern materials, and durable polished metal make up the majority of the Round Flat's persona, while flash lenses of varying colors can also be acquired to bring even more awe-inspiring character to the favorite facial accessory.
General
As the staple of every high-ranking military official's utilitarian getup, the General silhouette is one of the brand's most well-known variants. The history behind this bold design can be traced all the way back to 1987, when it was introduced to pay homage to General Douglas Macarthur, before gaining popularity with the masses due to its militaristic connection. Today, it's become one of the foremost models within Ray-Ban's ranks, accruing even more aviator-inspired trappings over the past decade, including squared lenses, a bold upper bar, and durable metal construction that's as dominant as they come.
Blaze Meteor
The Blaze Meteor silhouette is one of Ray-Ban's simplest, and oddly enough, one of its most bold offerings. Utilizing the glasses' flat, one-piece lens, and striped nylon construction, wearers are treated to an extravagant display of Havana, Tortoise, and Black colorways, while a less-obtrusive bridge, uniform temples, and sleek temple tips create a streamlined look that will fit well with almost any face structure.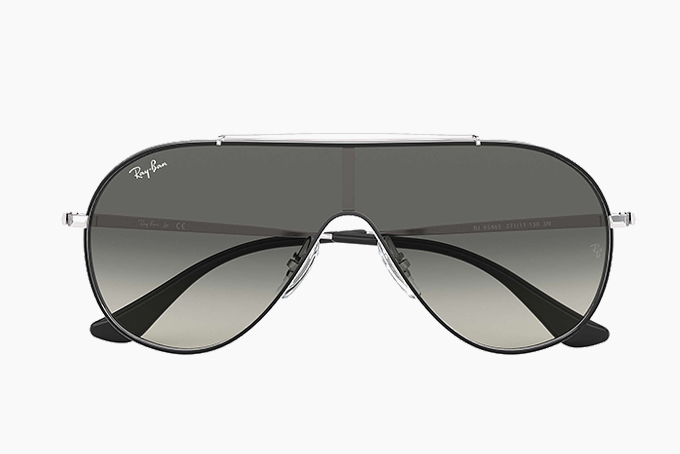 Wings
Back in the 1980s, the Wings silhouette made quite a statement with its abnormal design, and futuristic persona. While it didn't get the recognition it deserved for over two decades, the transcendental style has been revitalized for a more contemporary audience, calling upon the same iconic shape, bridge, and flat temples of its predecessor to create something entirely unique — especially when compared to the vast majority of popular silhouette shapes in today's market. A one-piece nose pad, gradient lens, and legendary "Wings" logo round out the reconciled model, gifting adamant buyers with an 80s-inspired accessory that will make them the talk of any social event.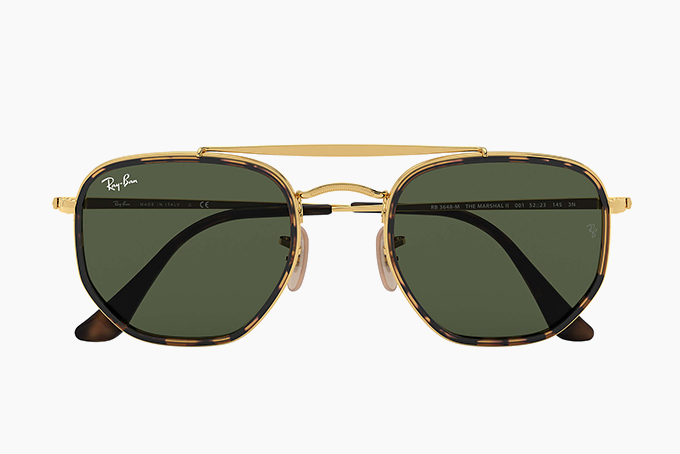 Marshal II
The Marshal II is yet another play on the iconic General silhouette; albeit, slimmed down, minimalized, and made a tad bit sharper for the modern wearer. These distinctive glasses feature Ray-Ban's trademark flat double bridge and temples, as well as a plastic-lined metallic frame to promote increased durability. Whether you're looking to adopt the classic black, gold, or gunmetal peripheral, or admiring it from afar, the Marshal II is sure to be a hit among militaristic and civil-minded individuals who are looking to take their personal style to the next level, without having to settle for some of the brand's vintage variants.
The 15 Best Men's Sunglasses Under $100
Shopping for high-end eyewear can be rough on the bank account. Luckily, there are more than a few capable brands out there who provide the same comfort, style, and performance as the industry's most legendary brands, at a fraction of the cost. Head over to our guide on the best men's sunglasses under $100 to find your next affordable pair.