There's a time and place to utilize today's most prominent outerwear. Sometimes, a quick jaunt outdoors doesn't warrant the use of a heavy expeditionary jacket. A temperate fall evening doesn't call for lined legwear, insulating layers, or wool socks. It's obvious that transitory seasons aren't always defined by their abrasive weather. For the days when unbearable heat and unprecedented cold aren't an issue, you'll be glad to hear that you won't need to bring an article of heavy, hardly-used clothing. Instead, settle on something from our best men's vests guide.
Best Vests Breakdown
The Most Durable Vest

Carhartt Relaxed Fit Firm Duck Insulated Rib Collar Vest

The Best Active Vest

Arc'Teryx Atom SL Vest

The Best Vest for Traveling

Patagonia Men's Nano Puff Vest

The Best Layer

L.L.Bean Upcountry Waxed Cotton Down Vest

The All-Arounder

Taylor Stitch The Workhorse Vest

The Best Puffer Vest

The North Face 1996 Retro Nuptse Vest

The Best Reversible Vest

Filson Eagle Plains Vest Liner

The Grail Pick

Canada Goose Garson Vest
What are vests for?
The vest is a staple in the history of men's outerwear, but applying it at the right time has always been a bit of a toss-up. Luckily, modern variants are encroaching on the realm of the traditional jacket, thanks to their innovative technologies. Unlike their counterparts from the tail-end of the 20th century, today's models revel in their utilitarian construction, implementing things like Ripstop nylon, water-resistant shells, and quick-drying down for unparalleled heat retention. The best part? They're the sleeveless alternative to heavier mainstays that don't mesh well with the changing seasons. If you're looking for a garment that can help to bridge the gap between summer, fall, winter, and spring, then a vest is a good choice.
How to style a vest
Because there are so many variants, there aren't any hard and fast rules you'll want to follow when throwing an outfit together. But puffers go well with other outdoor staples like hiking shoes and work well as a solo piece. Additionally, other vests can double as layers so the options really are limitless.
Carhartt Relaxed Fit Firm Duck Insulated Rib Collar Vest
Pros
Affordable durability
Good layer too
The Most Durable Vest: Carhartt kicks off our list with the Duck Vest — an outdoor staple that's fluent in both technicality and trendiness. Unlike other utilitarian vests, this workwear-inspired example keeps things tasteful enough for wear off the job site, thanks to its simplistic design. That doesn't mean it won't stand up to anything you throw at it, however. A tough cotton duck construction allows it to be put through the paces, while arctic-weight polyester insulation provides improved coziness during the colder months. Wind and water-resistant qualities round out the labor-inclined piece.
Arc'Teryx Atom SL Vest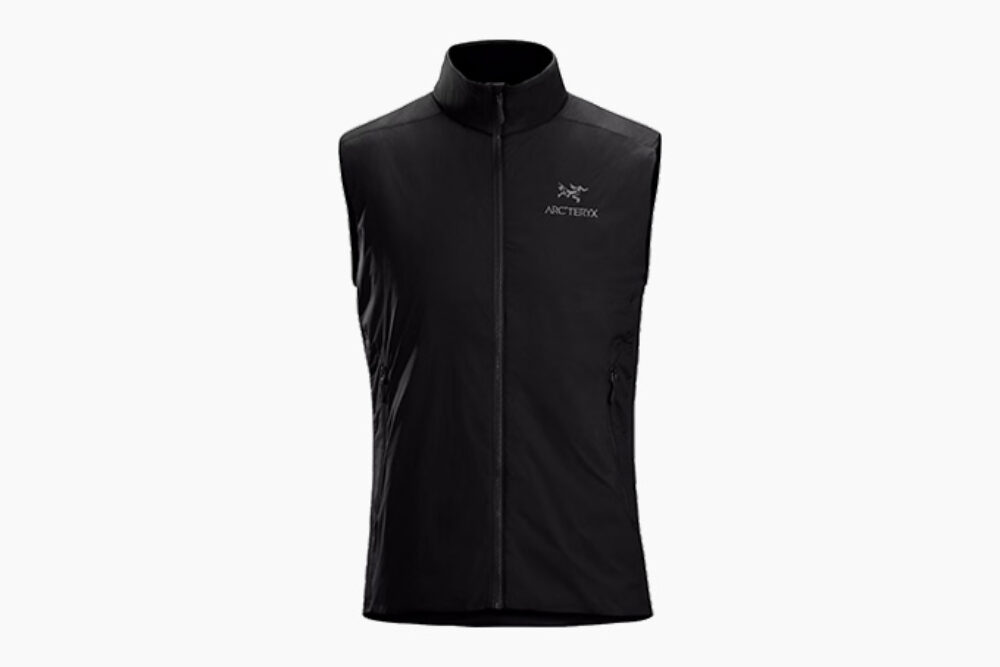 Pros
Easy to pack
Wind resistant
Cons
High collar may not be for everyone
The Best Active Vest: Arc'teryx has the world of technical outerwear in the palm of its hand, so it makes sense that the brand would boast a quintessential vest (or two) like the Atom SL Vest. This vest is insulated with the label's Superlight Coreloft making it ideal for physical activity, and also providing needed warmth. It's also light and easy to pack away making travel easier if you choose to bring it.
Patagonia Men's Nano Puff Vest
Pros
Windproof and water-resistant
Sustainable construction
Cons
Can be tight around the hips
The Best Vest for Traveling: Patagonia's Men's Nano Puff Vest is a versatile and lightweight puffer that provides ample weather resistance and comfort. And since it's made with compressible PrimaLoft Gold Insulation, it's easy to pack away and take anywhere. Additionally, the recycled polyester shell is water-resistant and windproof.
L.L.Bean Upcountry Waxed Cotton Down Vest
Pros
Lightweight
Soft corduroy collar
Cons
Could use a little more insulation
The Best Layer: L.L. Bean's Upcountry Waxed takes on an inherently unique appearance, thanks to the company's heritage roots. As such, it fits right in with the brand's other iconic offerings, thanks to its timeless silhouette. But don't let its vintage styling fool you; the vest is chock-full of amazing details that keep it afloat in a sea of modern offerings. Its DownTek 650-fill insulation repels moisture and dries faster than many traditional alternatives, while a highly-waterproof external fabric provides improved protection against the elements. Each example also boasts a suite of aesthetically-pleasing details, including brass hardware, a zippered internal chest pocket, and comfortable corduroy inside of its collar/pocket flaps.
Taylor Stitch The Workhorse Vest
Pros
Sustainable construction
Rugged yet stylish
The All-Arounder: Taylor Stitch brings yet another heritage-inspired icon to the table with The Workhorse Vest. Inspired by the label's own Workhorse Jacket, it features the Boss Duck blend, consisting of hemp, polyester, and cotton, along with a quilted liner. But it's not just built like a workhorse, it's also stylish making it a versatile vest to have in your wardrobe.
The North Face 1996 Retro Nuptse Vest
Pros
Classic style
Goose down insulation
Cons
Best suited for cold weather
The Best Puffer Vest: If you're looking for a retro vest that taps the trademark urban examples from the 1990s, search no further than The North Face's 1996 Retro Nuptse. This iconic clothing item was crafted for everything front the city to the trail and features a recognizable silhouette that's been imbued with lofty goose down for improved insulation during the winter. To complement its puffy personality, it's also been treated to oversized baffles, water-resistant fabrics, and a packable hood, making it an attractive piece for use alongside sweaters and jackets. It also boasts a cinch at its hem, meaning you won't have to worry about any unwarranted air making its way into your cozy sanctuary.
Filson Eagle Plains Vest Liner
Pros
Good layer
Hand pockets lined with flannel
Cons
Relaxed fit may not be for you without other layers
The Best Reversible Vest: The Filson Eagle Plains Vest Liner is another versatile vest that works as a layer, a solo piece, and can even be reversed for more options. It's made with PrimaLoft Gold insulation to keep you warm, and the wool-blend collar complements it nicely. Additionally, two hand pockets are available even when you reverse the vest.
Canada Goose Garson Vest
Pros
Made with heritage material called Arctic Tech
Water-repellent
The Grail Pick: Canada Goose's Garson is a classic, quilt-through silhouette that was crafted to bring inclement weather to its knees. It's inherently urban but does its part to counteract frozen environments through the utilization of a suede tricot-lined chin guard, storm flap, fleece-lined handwarmer pockets, and a hip-length cut that protects from unforeseen drafts. Dive deeper and you'll find a 625-fill-power White Duck down, ultra-durable Arctic Tech textile, and water-resistant qualities that help to keep sudden bursts of precipitation from ruining your day.
The Best Chukka Boots for Versatile Style
Now that you have a puffer that looks and feels good, you'll probably want some shoes that do that just as well. So check out our best men's chukka boots guide.